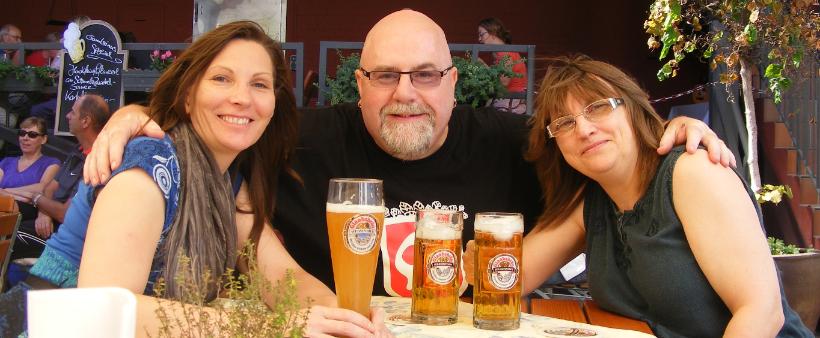 FOLLOW THE LINKS TO FIND OUT ABOUT OUR GERMAN ADVENTURES:
Berlin
Brandenburg
Bremen
Hamburg
Hessen
Darmstadt (inc all towns)
Lower Saxony
Mecklenburg-Vorpommern
North Rhine-Westphalia
Rhineland-Palatinate
Saarland
Saxony
Saxony-Anhalt
Schleswig-Holstein
Thuringia
What can I say that has not been said before? Lets begin with a brief out line of Germany. Experience new things, have fun and relax. Vibrant cities with amazing architecture, fabulous shopping and pulsating nightlife.
Enchanting medieval villages and traditional wine villages with friendly festivals and regional specialities. Picturesque countryside which is perfect for walking or simply relaxing in. Castles, palaces and abbeys that are the epitome of German romanticism. That may be so but we are only here for the beer, pardon the pun.
Why not try the Alpine Region? The German Alpine Roads and the snow-covered landscape are delightful in winter. After exertions on the pistes, skiers can enjoy a warm welcome and some hearty refreshment at a traditional mountain hut.
On Lake Constance, Lindau awaits with its mild climate, closely packed gabled houses and maze of narrow streets. We then come to Linderhof Palace, a white jewel surrounded by glorious natural colours; Ettal Abbey, where you must try the famous abbey liqueur; Mount Karwendel with Mittenwald, a famous violin-making tow; Füssen; Neuschwanstein Castle; idyllic Berchtesgaden; Lake Königssee and the Watzmann peak, to mention just some of the places you might like to break your journey.
There are opportunities to try delicious Bavarian specialities, both in the fresh air at a beer garden or at traditional inns – hearty roast pork with dumplings, oven-fresh veal shanks, aromatic cabbage dishes and, last but not least, the famous "Mass", a litre tankard of beer.
(Click on the map below for more information about visiting Germany)