When it comes to dining, beer is being given a major push by brewers and beer writers as an accompaniment to food. With the variety of flavours derived from different hop strains and ingredients, different beers are able to contrast and complement a range of different tastes and dishes.
Here are some suggested beer and food matches, followed by a number of recipes you might like to try, oh and don't forget the "beer and cheese" section:-
Starters Soups
Vegetable - Pale bitters
Meaty - Malty ales
Shellfish - Stouts; porters; Belgian wheat beers
Fish - German lagers; light bitters; Belgian wheat beers
Pâté - Milds; Strong dark lagers
Quiches/soufflés - Light bitters
Cheeses
Mild -Light bitters
Stronger -Full-bodied ales
Mature/Blue - Trappist ales; old ales; barley wines
Desserts
Chocolate - Coffee Porters; stouts; Belgian fruit beers
Red Berry - Porters
Apple/Banana - Bavarian wheat beers
Creamy - Stouts
Spiced - Bavarian wheat beers
Main Courses
Beef - Full-bodied bitters
Pork - Pilsners; Bavarian wheat beers; strong dark lagers
Lamb - Spicy malty ales; dark lagers
Chicken - Lagers; wheat beers
Turkey - Malty ales
Duck -Kriek
Game - Malty ales; Trappist ales
Sausages - Full-bodied bitters; dark lagers, Bavarian wheat beers
Meat Pies - Full-bodied bitters
Barbecue - Smoked beers; dark lagers
Oriental - Wheat beers; ginger / spiced beers
Curries Strong IPAs; premium lagers
Salads Floral-hopped bitters; nutty, malty ales; wheat beers
Pizzas - Malty lagers
Ploughman's -Hoppy, fruity bitters

Those recipes to get your taste buds tingling!
OLD PECULIER BREAD:
1/2 Kg Granary Flour, 1/2 Tsps Sea Salt, 1tsp Sugar, 75g Best Butter, 60g Fresh Yeast, 3/4 pint Theakstons Old Peculier, at room temperature.
Mix the sugar, yeast and ale together With a food mixer add the liquid to the flour and sea salt at slow speed. When it comes together, add the butter kneed for 5 min's. Prove for 1 hour until bread has doubled in size. Knock air out of the bread & shape into loaves. Allow to double in size again. Add flour to top and bake in a hot oven at 230°C (Gas Mk.8) for 30-40minutes. Serve warm with butter, mmmmmmmm!
BLACK COUNTRY STREW: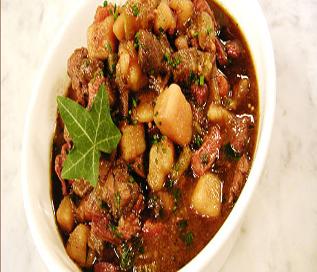 450g Stewing Steak, ½ pint Mild or Stout, ½ pint Beef Stock, 225g Black Pudding, sliced, 110g Mushrooms, 2 Large Onions, 1 tbsp Tomato Puree, 1 tsp Parsley, ½ tsp Sage ½ tsp Thyme, 1 Bay Leaf, Salt and Pepper to taste, Oil, Chives Slice the onions and dice the steak. Heat a little oil in a medium sized saucepan. Fry the onions until softened. Add the steak and lightly brown. Add the ale, tomato puree and the finely chopped fresh herbs, season. Simmer gently for 20 minutes to reduce slightly. Add the stock and simmer for 1½ hours.
Fry the slices of black pudding and mushrooms. Add to the stew. Return to the boil briefly. Garnish with chopped chives. Serve with new potatoes and green vegetables, or big thick slices of warm beer bread. Delicious.
Otto says forget wine and cheese parties - the true partner for fromage isn't made from grape juice.
It's Beer!
Beer works well with cheese. The carbonation and elegant maltiness of a fine beer compliment the creamy texture and thick mouth feel of cheese. The biased opinion that wine goes best with cheese is simply not true. Wine is very acidic with cheese & it quickly washes the cheese coating & flavour off the tongue. Beer nurtures the flavours of the cheese in the mouth, thus producing quite an interesting array of remarkable combinations.
"It's rare to find wines that echo any flavours in cheese," says Garrett Oliver, author of "The Brew master's Table" (HarperCollins, 2003). A nutty aged Gouda might find a complement in sherry, he admits, but dry table wines largely lack the nut and caramel aromas found in aged cheeses, aromas plentiful in malty beers like nut- brown ales, stouts and porters. "With wine, you're almost always working just with contrasts, that's not as satisfying as also working in some harmonies." Here are some examples of pairings of cheeses different beer styles.
Very soft cheeses include pot cheese, cottage cheese, cream cheese and ricotta These cheeses have low taste profiles and go well with more mellow beers such as a wheat beer, American lagers, amber lagers, and Munich lagers.
Soft, spreadable cheeses, such as Camembert or Brie, have bloomy rinds and go well with German pilsners, pale ales, porters and Belgium fruit ales.
Semi-soft cheeses include Trappist cheeses and Muenster, Gouda, Havarti, Tilsit, Liederkrantz, Port-Salut and American, Colby, Monterey Jack These all go with more energetic beer at the lower end of the hop rate, such as English brown ales, amber ales, bitters, and Belgian pale ales, and Vienna lagers.
Cheddar, Swiss, Cheshire, Tilsit, and other sliceable cheeses, such as Edam, Gruyere, Emmentaler, Jarlsberg, and aged Gouda. All good sandwich cheeses go well with pilsners, extra special bitters and pale ales, plus IPAs, double bocks, strong ales and almost any Belgian ale, particularly wits and fruit ales.
Hard cheese, are very firm & grainy, a good example is Parmigiano. They are nice to nibble and need something heavy in a beverage. Try with a doppelbock, stout or porter.
Blue vein, marbled cheese, strong flavoured and crumbly, including Roquefort, Stilton, Gorgonzola, and other blues. Try with imperial porters & stouts, and heavier dark beers, such as old ales, & barley wines.
Goat cheeses such as Chevre are usually a bit more flavourful than regular cheeses of similar types. Roquefort, Romano and Feta are good examples to try with IPA's, ESB's, Milds & Porters.
Chocolate Beer Cake
6 oz cream cheese, 4 oz semisweet chocolate chips, 1 cup beer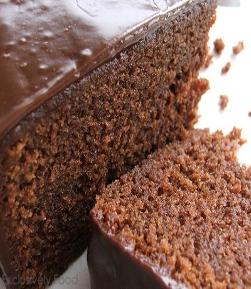 (pale ale or IPA), 2 cups flour 3/4 cup sugar, 2 tsp baking soda
Put the cream cheese and half the chocolate (2 oz) into a bowl. Heat in microwave until soft (neither really melts, but you should be able to mix them to an even consistency after they're heated) Add the sugar, and mix well. Add the beer, the flour, and finally the rest of the chocolate chips, while continuing to mix. Add the baking soda. Mix quickly, since I think the beer will start to trigger the soda immediately. Pour the batter into a pan and bake at 350 F for 35 minutes, or the usual knife-comes-out-clean test. I find the that if you use Sierra Nevada Pale Ale. You get excellent results. mmmmmm!!!
Baked chicken with beer
6 slices bacon, diced,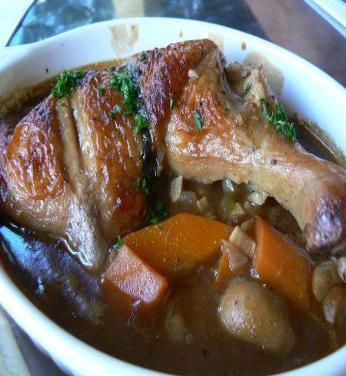 3 to 3 1/2 pounds chicken pieces, such as leg and thigh quarters, 4 medium onions, thinly sliced, 2 tablespoons flour, 1/2 teaspoon ground marjoram, 1/2 teaspoon black pepper, 1/2 teaspoon leaf thyme1 teaspoon salt, 1 teaspoon sugar, 1 clove garlic, minced, 1 bottle of Best Bitter, at room temperature, 2 tablespoons cider vinegar. In a large saucepan, fry the bacon until crisp. Remove with slotted spoon to paper towels to drain. Over medium heat, brown chicken pieces in the bacon drippings, turning to brown all sides. Remove to a platter as chicken browns. Add onions to the pan and cook until tender, about 4 to 5 minutes. Drain off excess fat. Sprinkle on the flour, marjoram, pepper, thyme, salt, sugar, and garlic. Stir in beer. Cook over medium-high heat, stirring constantly, until thickened and bubbly. Stir in vinegar. Add chicken back to pot. Sprinkle with bacon. If necessary, transfer to a large baking dish. Cover and bake at 350° for 55 to 65 minutes, or until chicken is tender. Serves 6 to 8.
Grilled Zucchini with Lemon and Porter with Pasta
Ingredients;
Zest of one half lemon, grated
2 large cloves garlic, pressed
1 tablespoon fresh lemon juice
1 tablespoon olive oil
4 ounces porter
6-10 slices thick-cut zucchini
1 can (15 ounces) white beans, drained and rinsed
2 roasted red peppers, diced
12 to 14 ounces dried fusilli or cavatappi pasta
1 1/2 cups coarsely chopped fresh flat leaf parsley
1/4 cup coarsely chopped fresh sage
3 tablespoons coarsely chopped fresh rosemary
Kosher salt and fresh ground pepper to taste
Grated Romano cheese for garnish
Method;
1. In a zip-seal plastic bag, blend together the lemon zest, garlic, lemon juice. porter and olive oil. Add the zucchini strips and let marinate 1 hour.
2. Reserve the marinade for salad. Prepare a grill and grill zucchini until tender, but still holding its shape. Cut into 2-in. chunks, and toss with beans, roasted red peppers, and the remaining marinade in a large bowl.
3. Meanwhile, prepare the pasta according to package directions, or until pasta is tender but still firm (al dente). Drain, place in bowl and stir.
4. Spray a non-stick skillet with cooking oil. Add the chopped herbs and heat until aromatic. Scrape the heated herbs into the pasta mixture and stir to blend. Season with salt and pepper to taste, and serve garnished with grated Romano cheese. Serves 4
Welsh Rarebit

Serves

4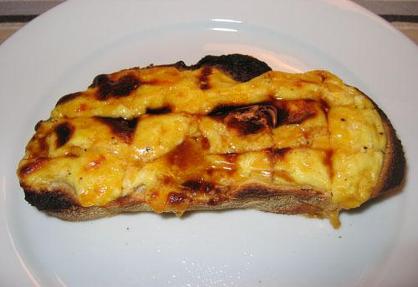 Ingredients:
4 thick slices of
Bread
from a large loaf
25g/1oz Butter
225g/8oz Mature Cheddar Cheese, grated
1 level teasp English Mustard
4-5 drops Tabasco Sauce
60ml/2fl.oz. Brown Ale or Bitter (Beer)
Mixed salad and dressing to serve


Instructions
Preheat the grill to hot. Remove the crusts from the slices of bread then toast on both sides until lightly browned.
Place the toasted bread in a shallow oven-proof dish and set aside.
Slowly melt the butter in a saucepan then stir in the grated cheese, mustard, Worcestershire sauce and the ale ( beer ). Mix until well blended.
Divide the mixture between the slices of toast, spreading it evenly, then
grill until bubbling and golden.
To serve - transfer to heated plates and serve with a lightly dressed salad.
BEER BBQ SAUCE
1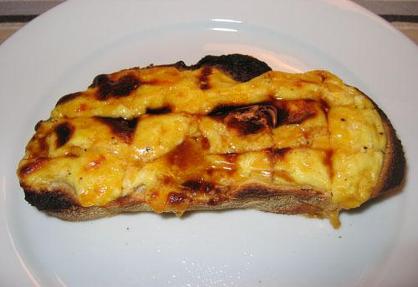 2 oz. commercial BBQ sauce
2 tablespoons white horse radish
1 small onion, peeled and minced
1 green pepper, seeded and minced
2 garlic cloves, peeled and minced
2 tablespoons apple juice concentrate (undiluted)
3 tablespoons hot sauce of your choice
1 teaspoon fresh ground pepper
12 oz. dark stout or porter
In a medium sauce pan, braise the onion, pepper and garlic in a few tablespoons of the beer. Add the remaining ingredients and bring to a simmer. Cook until vegetables are tender.
Remove from heat and let cool. Puree in a blender until smooth, and use as a BBQ sauce to brush on chops or ribs during the last 15-20 minutes of cooking. Reserve some sauce for table service.