Discover a modern, lively and cosmopolitan city with a history of over 2.000 years. Beethoven's native city is situated on the banks of the Rhine and surrounded by lovely nature. The attractive historic centre with its extensive pedestrian precinct is a tempting place for a pleasant stroll, and about 30 museums and numerous sports and music events offer entertainment and variation. Experience the many facets of a city characterised by the savoir vivre and hospitality of the Rhineland!
Bonn is the 19th largest city in Germany. Located on the river Rhine in the State of North Rhine-Westphalia, it was the capital of West Germany from 1949 to 1990 and the official seat of government of united Germany from 1990 to 1999. F0r more information check out the Tourist Information Website.

Otto's Top Tip: Cologne & Bonn are considered to be the same metropolitan area as they are only 17 miles apart. Therefore you could use local public transport to travel between the two. A single ticket costs approx €7. the "R" train is the best and only takes 35 minutes.
There are three breweries in Bonn and some good bars so well worth a couple of days. So as normal lets start off with the brewpubs, then the bars and bottle shopsthat the city offers the avid bier tourist.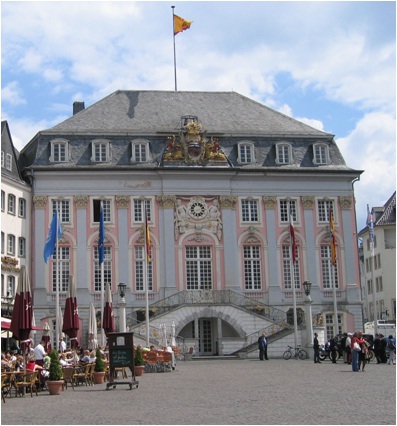 Bierhaus Machold, Heerstraße 52, Bonn, North Rhine-Westphalia.
Hours: Mo-Sa 17.30-01.00
Huge pub & restaurant with a brewery in the back. They serve three beers, a Kölsch, Pils and a really tasty Dunkel. Food is decent but the restaurant completely lacks personality, heart and soul. Have the beers then just leave the Machold's to travelling businessmen and other folks who don't know any better.
Brauhaus Bönnsch, Sterntorbruecke 4, Bonn, North Rhine-Westphalia.
Appealing location with larger-than-expected Brauhaus cum brewing facilities and former malting chambers in the cellar now used as party vaults, including an interesting fresco uniting all of Bonn's famous native sons. The unusual thing about this place is the service lift which rises straight out of the floor in the entrance. The brewery can be seen behind glass at the back of the pub. The Bönnsch they serve in a curved Kölsch glass with a handgrip imprint is something else. Service at the bar was friendly, prices are ok.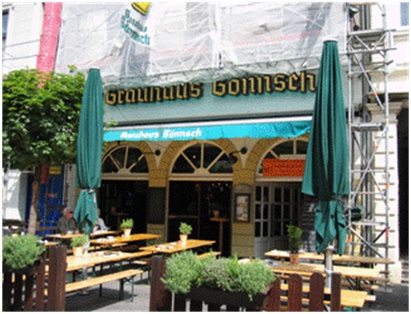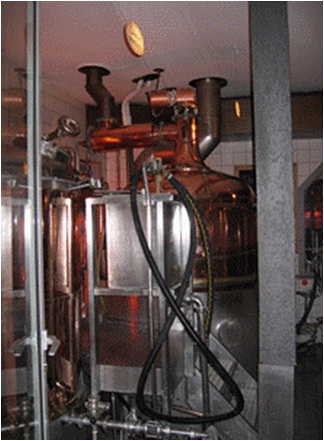 Ennert-brau, An den Hecken 1, Beuel, Bonn, North Rhine-Westphalia.
Which is about 5km from town centre. The building is a Swiss Chalet on the edge of the forest close to the A59. You can't beat the setting set in the nature reserve Seven Mountains in Bonn Beuel Pützchen, it's perfect for a bike ride/day trip from the bustle of the city centre. You can sit on the beautiful terrace on a sunny day. Inside the brewery it was very cosy and rustic. The beer is very drinkable and the menu was extensive else with rustic dishes (schnitzel, salads, quiche, etc.) I would recommend a visit to the brewery anytime.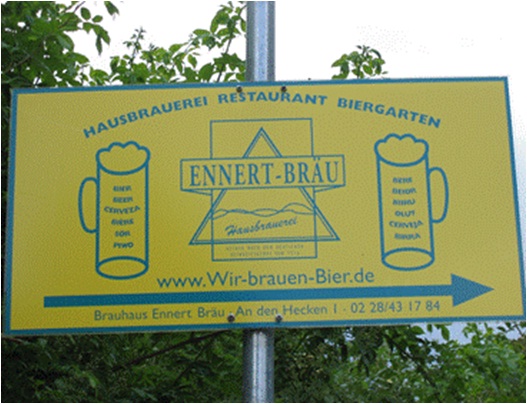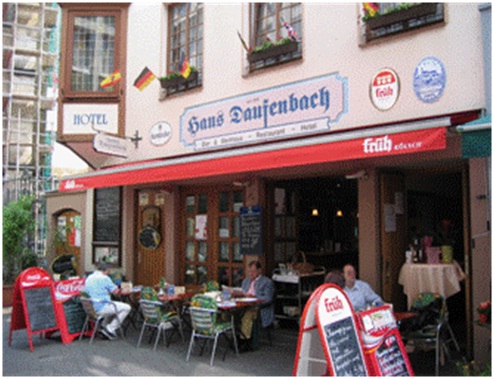 While at the former brewpub why not visit the following two bars?
Haus Daufenbach, Bundergasse 6.

A cafe bar selling a decent range of classic Germain biers. The building was formerly a weinstube & bakery. It was bombed in 1944 & reopened in 1954. It also had a decent wine list.
Em Höttche,Markt 4. Is around the corner in the town hall square. The building dates back to 1389. Beethoven is said to have once stayed there. It too was bombed in 1944. Take time to have a look at the interior with it's wooden beams painted ceiling,& carved wooden pillar. Standard National Biers on offer.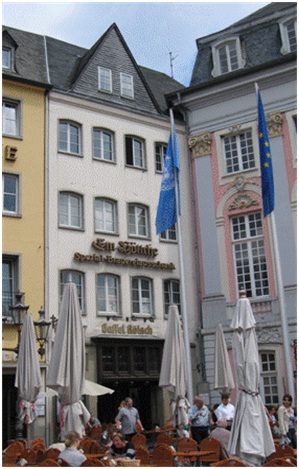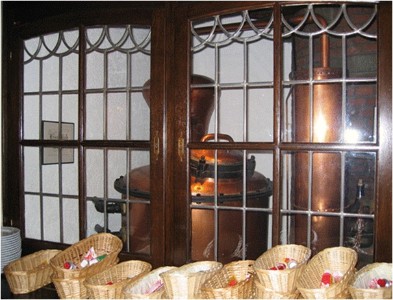 Gasthaus Im Stiefel, 30 Bonngasse Strasse (back in the centre of Bonn), just a couple of doors down from Beethoven's birthplace A nother cafe bar selling a good range of National biers. Inside the bar was long & thin is three distinct areas. The front section was for drinking with stand up tables. Further back was a dining area & at the back a red leather chair area. The ceiling had stained glass sections.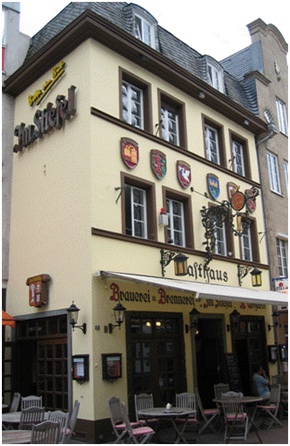 Brauhaus Zum Gequetschten on the corner of Sternstrasse & Kasernenstrasse. A busy bar with tiled floors & pale wooden tables, lots of "snob" screans in dark wood & blue & white tiles. The beer choice was again Reginal/National bier.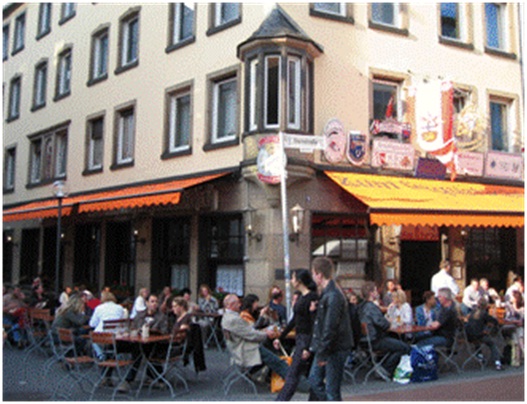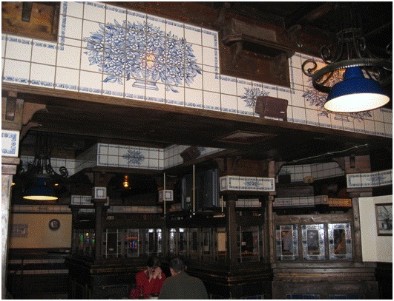 In Der Surst (The obligatory Paulaner pub) Always great food in this chain of bars all serviing the full Paulaner range of beers. It was another classic interior, typically Bavarian, where Paulaner is brewed (?) with ornate black & gold ironwok sectioning off eating booths.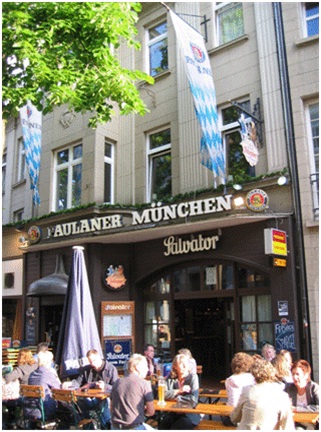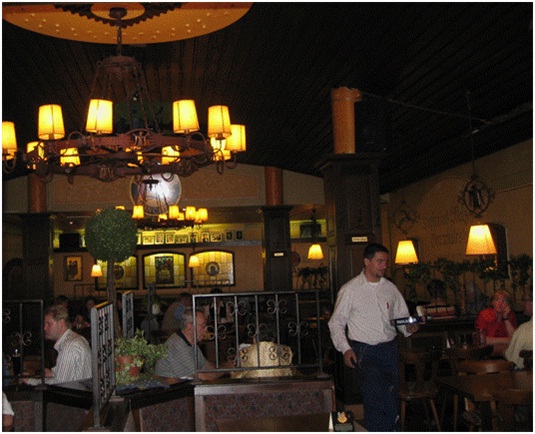 Now for three of the better beer shops in the city (well we did have three brewpubs):
P&M Getränke, Elsaesserstrasse 33, Bonn, North Rhine-Westphalia.
Hours: Mon-Fri 9:00-18:30, Sat 9:00-14:00, Sun closed.
Medium-sized bottle shop with a relatively small amount of beers compared to the wines and spirits they have. But the selection is really good: An especially wonderful selection of Franconian beers, classy Belgian also beers from the British Isles and the USA. They have some curiosities that cannot be found often in Germany. The store itself is a bit narrow but who cares about that if the quality of the beers is so high?! The advice by the staff is fantastic, they are experts concerning beer. The prices are quite good.
Edeka Mohr, Bornheimer Strasse 162, Bonn, North Rhine-Westphalia.
Hours: Mo - Sat 08:00 - 22:00
A shockingly well stocked supermarket. Selling the whole Kölsch range, unknown locals like Vulkan, all Hopfenstopfers, lots of Bavarians and a particularly well-picked Franconian selection, a whole pricier aisle of UK, USA, Belgian and NL Beers. Overall a very good beer shop for German standards. Prices are very reasonable.
MC Kiosk, Breite Str. 87, Bonn, North Rhine-Westphalia.
Hours: Mo-Th: 10am-1:30am, Fr-Sa: 9:30am-2:30am, Sun: 9:30am-12:00am
This is a very small kiosk in the old town of Bonn. They have a really nice beer selection which can include Belgian Trappist beers, craft beers from all over the world and traditional German stuff. That's because their selection changes regularly. You wouldn't expect such an assortment in other comparable kiosks. The staff are very friendly. Prices are normal for a kiosk. Good if you need a decent beer late in the evening!