Lübeck just an Autobahn away from Hamburg and Denmark, is the perfect destination for a day trip. It is a Northern German city distinguished by Brick Gothic architecture, which dates to its time as the medieval capital of the Hanseatic League, a powerful trading confederation. Its symbol is the Holstentor, a red-brick city gate that defended the river-bounded Altstadt (old town). Rebuilt following WW II, the Marienkirche is a 13th–14th-century landmark that widely influenced Northern European church design. Picture-postcard courtyards, getting lost in the by-lanes of Lübeck is the stuff a true wanderer's dreams are made of. You never know when you will find yourself in a hidden cobbled courtyard in the midst of adorable colourful houses, where time seems to have stood still. If you like marzipan, Lübeck is the place to indulge in it. Lübeck has a famed marzipan industry that dates back hundreds of years. The 212-year-old Café Niederegger serves 100% pure marzipan (with no additives) and a host of delicious marzipan-infused treats, including tarts, cakes, beverages, liqueur and chocolates. Do try their most famous treat, the nut cake. It is also the perfect place to pick up authentic foodie souvenirs for loved ones back home. The main café is right in the city center, while there are also several branches in the city. The skyline of Lübeck is graced by a series of beautiful churches. The main church of the city is the UNESCO-listed 12th century brick Gothic Lutheran Lübeck Cathedral, with twin spires that tower over the Old Town.
So don't expect "beer heaven" with only one brewpub, but this is a city with a deep-rooted pub culture. So if you like traditional bier served in pints and idyllic beer gardens, (and who doesen't?) then this is the place for you;
Brauberger zu Lübeck, Alfstrasse 36
Hours: Daily 17.00 - 22.00
The place is located on the edge of the Old Town, about 15 mins walk from the Hbf, close to the museum quays. A nice, three storeys brewpub, rather dark inside, especially in the fantastic old vaulted cellar, which is the oldest cellar of this very old town. It's decorated with breweriana of the defunct local "Lück" brewery. The one (Yes 1!) beer is tapped by gravity from a real wooden barrel, and it's a very good unfiltered Kellerbier. The food is classic German and quite good, and the service is OK. Worth a visit, but don't come here for ticks.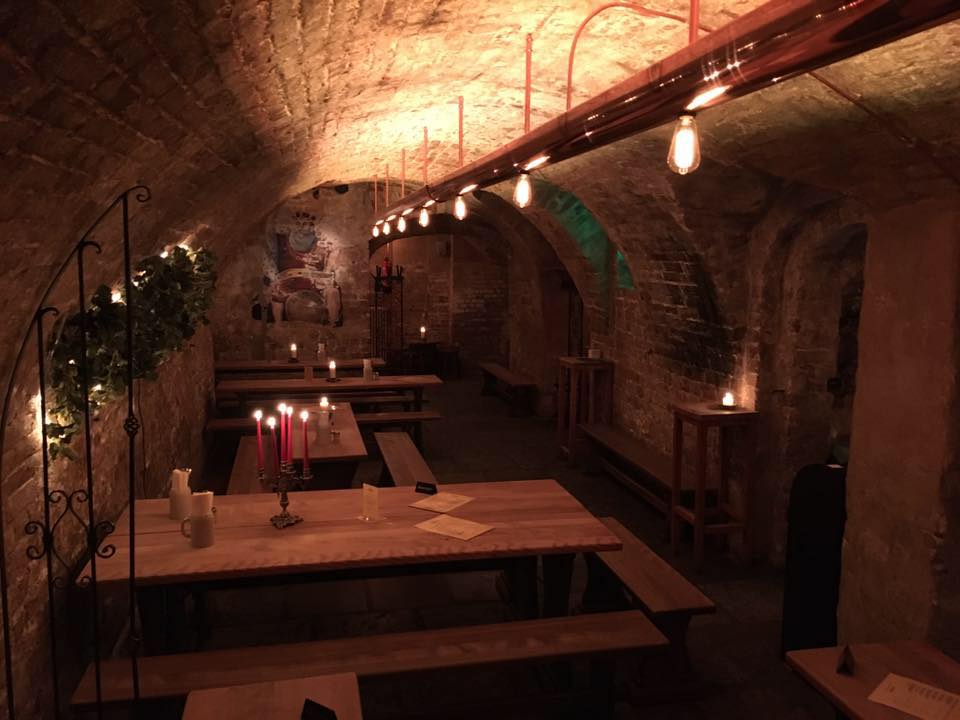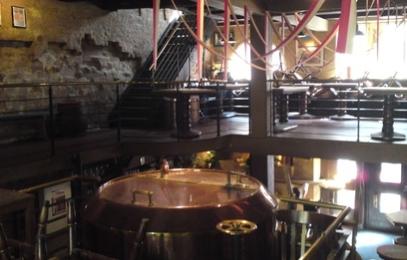 Buthmann´s Bierstuben, Glockengießerstraße 3
Hours: Mon - Sat 14.00 - 00.00
This is a smoking bar! Serving three good biers Jever Pilsener, Krombacker Pilsener and a Lowenbrau, so no real ticking to be had here. This is a 'throwback sort of Bierstuben' dark wooden bar, nicotine stained walls and ceilings, two joined drinking areas, one small serving counter and a clock that stopped years ago which no body can be bothered to correct and wind up. Come here for a decent beer and take a step back in time (before everywhere like this disappears) and look at the old pictures on the walls and the faces of the aging regulars.
Im alten Zolln, Mühlenstraße 93-95
Hours: Mon, Wed, Fri 12.00 - 23.00 Tues - Wed 17.00 - 23.00 Sat 15.00 - 23.00
A student place located in one of the main streets of the Old Town in Lübeck, it is some what between kneipe and the brewpub. A medium sized biergarten area with view's towards the street. Inside there are two floors with a smoking room. The interior is rather dark and small and is filled with old-fashioned, worn out furniture. They have six beers on tap, such as Haake Beck Krausen, Einbecker Ur-Bock (Dunkel) and Zolln Dunkel, all at affordable price's. Good food, be sure to try the home-made Sauerfleisch, potted pork slices in a spiced sour jelly.
Otto say's it's surely the best place in town for beer-geeks! It's a cosy dark old fashioned bar with decent service, so why not try it out?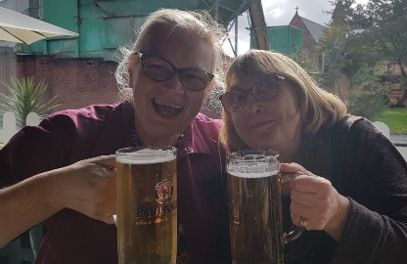 Craft Beer Rockstars, Hüxstraße 75
Hours: Tues - Sat 10.30 - 18.00
A small, narrow shop, two long shelves with bottles and cans grouped by style. Decorated with Brewing equipment and a small assortment of related litterature as well. Beer is mainly from Schleswig Holstein and Hamburg, some European and a handful US bottles. Selection is rather decent and by far the best you'll find in this area. It's centrally located, on a busy street. Helpful knowlegable young staff. Amount of locals inside suggests it's the best place in Lubeka.
Altstadt-Bierhaus, Braunstraße 19
A fine restaurant rather than a place to go for a couple of beers. Old-fashioned typical German interior, except for island bar. Nothing terribly special about the place.
Kneipe If Bistro, Engelsgrube 41
A dark, small, well-worn, and definitely smoky pub. A surprisingly nice place, once you get used to it. A real cosy atmosphere. Very nice and friendly service. Cult music. Everything fits.
Tonfink, Große Burgstraße 46
This eco café transforms into a hip bar at night where you can experience live music and a great crowd.
Tibia Tick, Dr.-Julius-Leber-Straße 76
The smallest pub in Lübeck. Here you can find everything that is usual in old pubs, namely drinking beer, clapping and listening to good music. The ambience is very rustic and invites you to stay and relax and the service is great.
Buthmann's, Glockengießerstraße 5
A genuine old pub in the centre of Lübeck. Jever beer on draught. Small dark panelling and cosy. It is a smoking pub so take note before visiting.
Blauer Engel, Clemensstraße 8
A bar mostly frequented by students, like the other bars on Clementestraße, open minded, with strong social political movements, alternative.
ColeStreet Cafe Bar & Taste, Beckergrube 18
A very comfy and cosy place with amazing vibes to grab a beer. The service is really good and they play great music as well.
Bei Ulla, Mühlenstraße 19
A local favourite and a great spot to grab some traditional German food and great beer. A no-nonsense German pub experience.