A ramble around Augsburg the third largest city in Bavaria and home to six breweries. Its only 45 minutes, by train, from Munich. It is a university town (German:Universitätsstadt') and home of the Regierungsbezirk Schwaben and the Bezirk Schwaben. Augsburg is an urban district and home to the institutions of the Landkreis Augsburg. It is, as of 2008, the third-largest city in Bavaria with a population exceeding 264,000 citizens. After Neuss and Trier, Augsburg is Germany's third oldest city. Other sights worth seeing are the Rathaus, Church of St. Anna, Maximilianstrasse & the Fuggerei (Europe's oldest social housing project.) It was founded by Emperor Augustus in 15BC and is still economically & culturally important in the 21st century. Augsburg is the only German city with its own legal holiday, the Hohes Friedensfest, celebrated on August 8 of every year. This gives Augsburg more legal holidays than any other region or city in Germany.
Getting about we bought an All-Day Bavaria train ticket (for 2 to 5 people) from one of the machines in the Hauptbahnhof (main railway station) for around €30. The ticket holder must sign the ticket on the day of travel.
So off to the brewpubs first as of Feb 2022 there are seven 👍🏻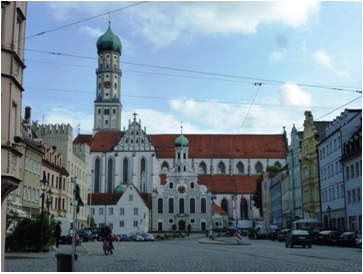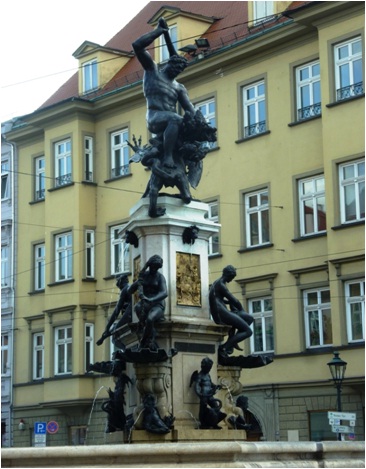 Privat Hotel Riegele, Viktoria Str 4, 86150 Augsburg.

Open: Mon-Sat 11:30-22:00, Sun 11:30-14:00
Almost opposite the rail station, look straight ahead and slightly to your left. Quite an up market hotel with posh table cloths. We explained that we just wanted a drink, so they showed us to a table at the back & took away the crockery & cutlery. The breakfast serving area was at the side of us, clean and tidy ready for tomorrow. At the back was a small beer garden. We sat and watched hoping the rain would soon stop. A coach party arrived and they were taken through to one of the side rooms. The Commerzienrat was quite nice & not too fizzy. The pils was fairly standard.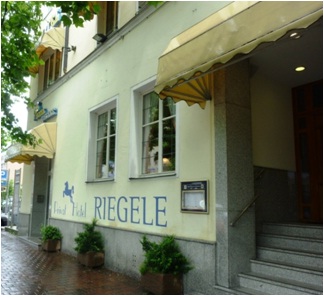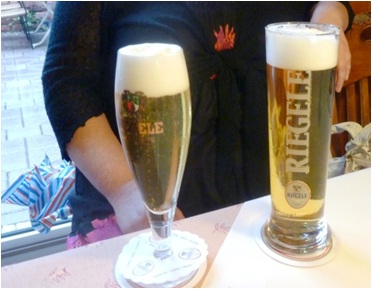 König von Flandern, Karolinenstr. 12, 86150 Augsburg.

Open: Daily 12.00 - 21.00

Traditional-style German restaurant with an on-site microbrewery. Located underneath a bookshop. Entrance is via the arch 2 from the end and down the stairs. The brewery is in front of you in the middle as you go in. The brewer was busy cleaning it as we entered. There are two rooms, one each side of the entrance. There is brewery memorabilia dotted around the place, just enough to make it interesting. We tried the Hell which tasted a little homebrew-ish and the Alligator which was very dark.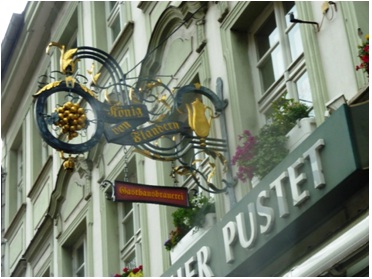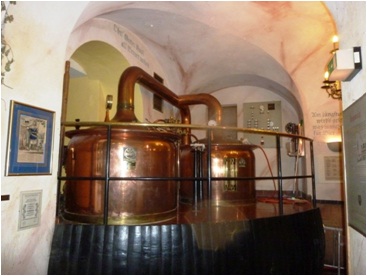 Open: 17.00 - 23.00 Closed: Tuesday

Situated in the Altstadt to the north of the centre in a rather quiet street in the old centre of Augsburg. Beers from the Memminger Brauerei, but also one house brew, Hausbräu. The brewer will be behind the bar most evenings. His own beer is a very good Zwickl. Simple food, good value. If coming by public transport get off at Augsburg Oberhausen and catch tram 2 toward Haunstetten and alight just after going through the Fischer tor. Much easier than coming from the HBF which involves a bus and tram.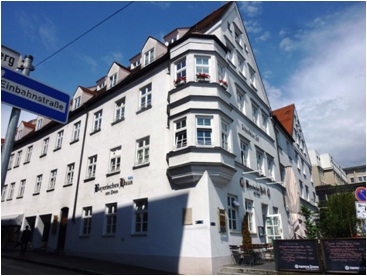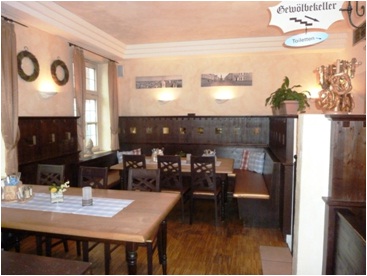 Hasen-Bräu Brauereibetriebsgesellschaft mbH, Unterer Talweg 87

Open: Tours by appointment Mon-Fri?

The Hasen-Bräu is one of the oldest breweries in Augsburg. Its roots go back to the year 1464. Already in the early Middle Ages - we're talking about a time when Munich was not even founded - Augsburg's brewers formed a proud and respected guild. Those who wanted to settle down in the city as "beer chaff" had to follow strict guild rules: Augsburg beer was only allowed to be made from water, malt and hops, as the city charter of Augsburg demanded as early as 1156 - 360 years before the Bavarian Purity Law was enacted. The Augsburg Purity Law is the first purity law in German beer history. At that time, brewing and serving was done in small house breweries; the "Haus-Preu" was therefore a brewery and pub in one. The Augsburger Hasen-Bräu also goes back to such a house brewery: the tavern "Zu den drey Glass".

Brauereigasthof Drei Königinnen, Meister-Veits-Gäßchen 32,

Open Daily 18.00 - 00.00

This is the tap of the former Augusta Brewery and is located at the eastern side of town at the end of a residential street. Typical wood pannels and marble floor, cellar partioned into a couple of different areas. Three or so beers on tap plus a couple of bottles. A cosy place, with lots of nooks and crannies and a terrace out back. The standard Bavarian food menu.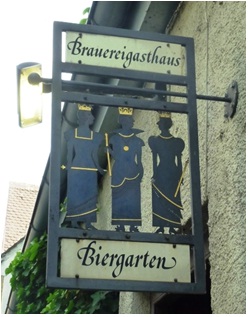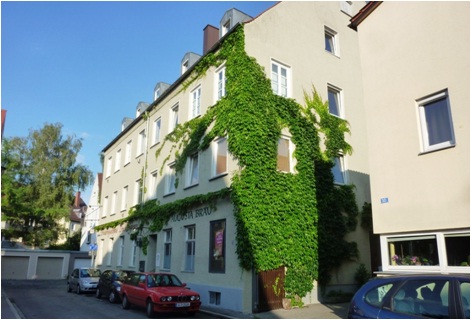 AuXburg City Brewery GmbH, Ulmer Str. 43
Located just across the square from Oberhausen station and on the No.2 Tram route, (3 minute ride from the Hbf). Auxburgers taproom is located in the site of the former Charly Brau. Wooden floors and a rock bar theme. Beers with the word Fuck in them that don't deliver much. Two on tap and a couple of bottles. Service was just fine. Lower down the pecking order on an Augsburg tour if you miss this place, no worries.
Bräustüberl zum Thorbräu , Wertachbrucker-Tor-Str. 9, 86152 Augsburg.
Open: Daily 11.00 - 00.00

Located about a mile north of town. The brewery tap is located on the corner next to the brewery. The old kettles were full of dust & can be seen at the back through a window or from outside through larger windows. The Schwarzbier was served in a pot mug and was slightly bitter. The bar was quite modern. The wooden panelled walls were dark stained plywood. Who could afford the real thing these days? The windowsills contained old brewerania. There was also a bear skin in the middle of the floor with a wooden barrel on top of it.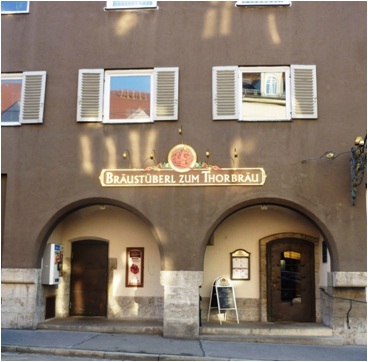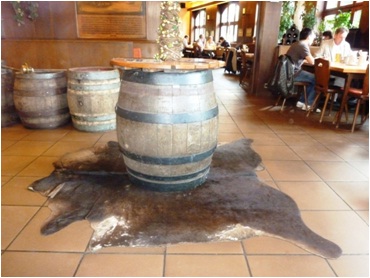 The Drunken Monkey, Auf dem Rain 5
Open: Wed -Sat 18.00 - 01.00
A great craft beer place. Located close to the old town of Augsburg. A cool rustic ambient vibe. They have a nice selection of beers from Bavaria, Northern Europe, some American ones. No taps though, only bottles and cans. Reasonable prices, take away is lower. Very friendly service. It's great that such pub exists in Augsburg!
Kälberhalle, Berliner Allee 36
Open: Dailly 11.00 - 23.00
Located a couple of minutes walk from Konig von Flandern this is a nice traditional corner beer hall. Its massive inside with a roof reminiscent of a railway station, lots of bench seating on different levels. Also a large Biergarten. The service is good, beer are from Hasen Brau. Nice place.
Bauerntanz, Bauerntanzgäßchen 1, 86150 Augsburg.
Open: Daily 11:30- 23:30.
We found the "Peasants Dance" at the back of the town Hall, down a flight of steps and opposite one of the 2 canals which run through that side of town. Dating back to 1572, it's one of the city's oldest pubs. It used to have it's own brewery, but that has long been closed. Inside there were pine panelled walls, almost to the ceiling. Lace and small cushions adorned the plate rack at the top of the panelling. The bar is in the middle with a room on each side. The wooden ceiling beams were fake along with most of the interior. There are a few tables outside in the quiet street for when the weather is better.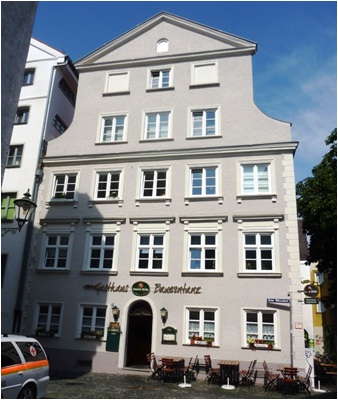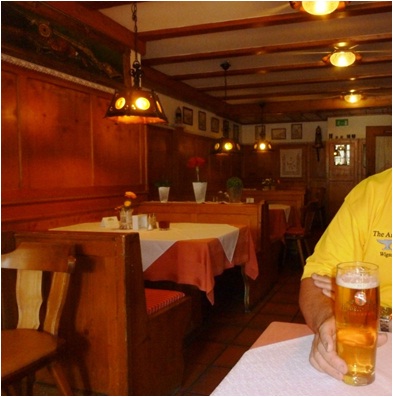 Der Commerzienrat, Bürgermeister-Fischer-Straße 12
Open: Tues - Sat 16.300 - 00.00
A grand building, that has very close connections to Riegele Brewery and I understand was many, many years ago the original site of the brewery? The choice of beers is all from the Riegele Brewery on tap or bottle, there is a fridge literally inside the door. A very good beer and atmosphere. The "old school" concoctions of dark beer with a shot of cognac thrown in is very tasty but you need to have a good head for alcohol! They also have a large Biergarten. The staff are friendly, prices good and it's well located.
Lauterbacher am See, Mühlhauser Str. 54D
Open: Wed - Sun 12.00 - 23.00
This beer garden is pleasant and beautifully located on a lake. All self-service.
The beers are from Lauterbacher brewery. The food is average. The service at the cash register and at the counter is friendly.
Brauhaus 1516, Viktoriastraße 1
Located right inside the Hauptbahnhof. A cosy traditional Bavarian (or Svabian?) "wirtshaus". Not a brewpub anymore despite still having the trappings of one, they serve beer from Meckatzer and Gutmann. A slightly lived-in interior, Bavarian/schwabian fare. Live-music venue.
R.I.P.
Bayerisches Haus am Dom, Johannisgasse 4, 86152 Augsburg.
Formally known as König von Bayern. New owners took over in 2008 and decided on a name change. The beers served, however, have not changed. This was a very tidy sort of pub, with large wooden tables seating up to 8 everywhere. The benches were quite posh and were covered in leatherette. There was a further seating area outside at the front, but not in use today due to the inclement weather. Formerly owned by the hypothetical heir to the Bavarian throne. Hence the "King of Bavaria" name.
Charly-Bräu, Ulmerstr. 43, 86154 Augsburg.
Mon-Fri 17:00-01:00, Sat-Sun 10:00-01:00
Located about 3/4 mile from Thorbrau and close to Augsburg-Oberhausen railway station. (on the corner, opposite the park) This nineteenth century pub, now houses a brewery with, what Info I've been able to pick up, rather a diverse range of beers. We didn't get to visit Charly-Brau on this occasion, but hope to visit on our next Bayern trip.
Zum Weißen Hasen, Unter dem Bogen 4.
On the corner of the main street. We had read that it sold the full range of Hasen-Bräu beers. (AB -Inbev owned) It was now part of a chain of steak houses. We did not venture inside.