Dusseldorf, which is the state capital of North-Rhine Westphalia. The heart of the city is the Alstadt on the banks of the Rhine. Famous for its Altbier, "old beer", which is reddish brown in colour and similar to a British bitter. It is top fermented and then cold conditioned and always around 4.8% abv. It is fairly fruity with a dry bitter finish. Dusseldorf has 9 working brewpubs as of June 2022, plus some cool bars. So lets start with one of the Brewpubs;
Zum Uerige, Bergerstafe 1.
Hours: Daily 10:00-24:00
This is a rambling and justly famous brewpub it is located on the corner of a busy shopping street in the Altstadt. To the right of the entrance is an L-shaped taproom with beautiful stained glass windows depicting old Düsseldorf scenes and carved wooden panels with similar motifs. We got here around 10am on Saturday morning and the place was packed, we sat in the back room were you can see the brewing vessels behind a glass screen, they also have a large outside area. For those of you who remember Auf Weidersehen Pet, the lads met in this bar in the first series. They also have a wheat beer (weissbier) available, which is interesting.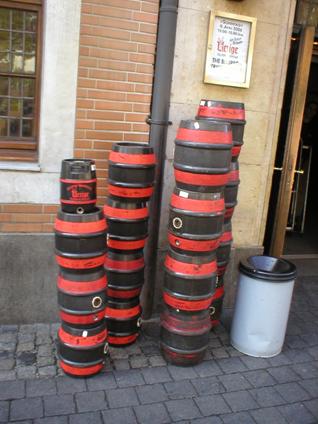 Brauhaus Joh. Albrecht Düsseldorf, Niederkasseler Strafe 104.
Hours: Daily from 12:00 - 00:00

Medium-sized Brauhaus in a quieter part of Düsseldorf on the other side of the Rhine, a short bus ride or 15-minute-walk away from Alter Bahnhof. It's located behind a small courtyard in which there are a few tables and parasols to enjoy the summer air. It's not the most tradtional one compared to the authentic brewpubs in the old town. It has a county pub feel being quite rustic, with a cozy and welcoming atmosphere to it as well. Also for those who like a change from bier it acts as the tap for the Schimittmann Distillery next door. With four biers on draught this brewpub is part of a small chain of six. The brewery is at the back of the building in a conservatory. Friendly helpful staff. Served tasty but pretty standard German grub. Well worth a visit, might be a good idea to get the number 833 bus. But we like the exercise!
Hitchcoq, Nordstr 30
Hours: Tues - Sat 17.00 - 21.00 Sun 15.00 21.00 Closed Sun
An ultra modern Diner, Winebar and Brewhouse serving "fried chicken & beer" something different. Exactly my thing. There is indoor and outdoor seating in a no nonsense modern clinical style. A super selection of Craft Beers mixed with various spicy (according to taste) chicken based dishes. Cheesecake to die for and on top of all that, the owners are the friendliest guys around, I would highly recommend.
Brauerei im Füchschen, Ratinger Strafe 28.
Hours: Daily 09:00-24:00.

A wonderful, friendly old pub-brewery with an impressive wooden interior. Feels authentic and it gets crowded quickly. It's a traditional brewery on the north of the town. They have a small restaurant serving traditional Dusseldorf dishes, plus they have a small snug at the back were you get to meet all the local characters. They do two beers from the barrel an Alt and a Weihnachtsbier, plus bottles of weizen bier. Very huge terrasse. Service was friendly. The best alt in town, do not miss this place!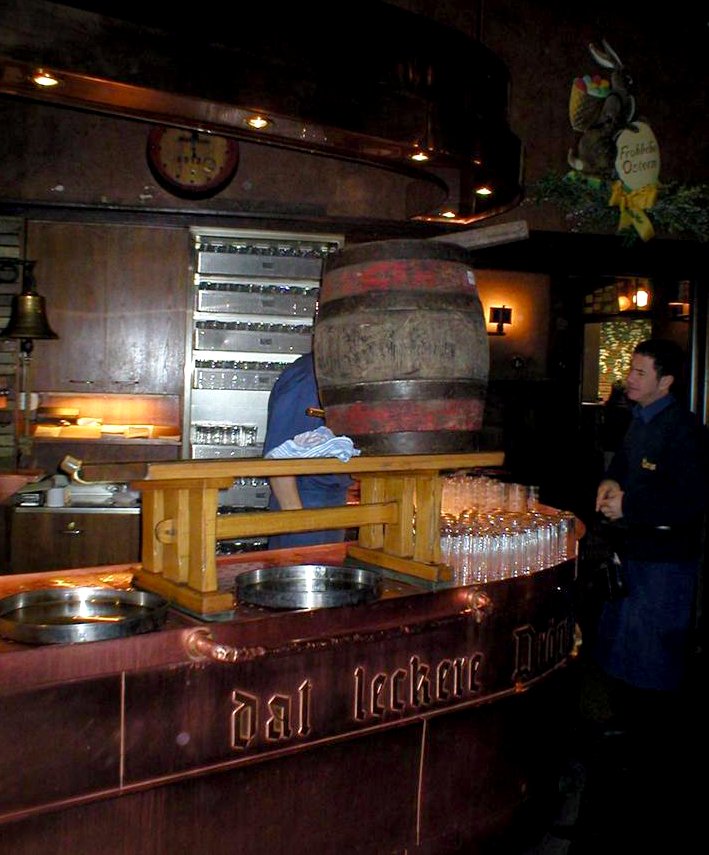 Ferdinand Schumacher Stammhaus, Oststrasse 123, Duesseldorf.
Hours: 10:00-00:00.
A classic "Rhenish" beer-hall, not really cozy, but always busy; typical prompt service, by the "Köbes". Predominately a resturant, it also has a small vertical drinking area to the left of the main entrance. When visiting the toilets, have a peep outside at the impressive tower brewery to the rear of the building. The food is superb, easily the best of the town's brewpubs.Three times a year they serve there the stronger "LatzenBier". The pub is situated not very far from the Hauptbahnhof (main railway station), ideal for a last bier on the way back to the Bahnhof. They own a second pub in the Altstadt, Goldener Kessel, which is smaller and more "bourgeois", but also worth a visit?
Brauereiausschank Frankenheim, Wielandstrasse 12
Hours: Mon - Sat 11:30 – 14.00 & 16.00 - 21.00 Closed Sun
Düsseldorfer Privatbrauerei Frankenheim GmbH & Co. KG (Brauereiausschank Frankenheim) now part of the Warsteiner group. A very large brewpub a bit outside of the Düsseldorf old town. Inside its a typical "Bavarian style" half dark wood and white paint above, there is an inverted copper brew kettle over the bar. Out side there is limited street seating area and the front and a small courtyard area to the rear. The food is hearty German fare (Really good Schweinshaxe and one of the best Alt-biers in the area) as expected with very friendly service typical of this area.
Zum Schlüssel, Bolkerstrasse 47.
Hours: Daily 10:00-24:00.
Has a narrow frontage but when you enter its like a tradis, as it rambles backwards through a variety of rooms to the brewery at the rear.
The main bar is placed centrally at the front and has a standing taproom to one side of it. It's more restauranty, but eating is not compulsory. Although the food is really good and not to expensive. We had a very good traditional meal here. The brewery itself can be observed through a glass wall. It has the usual collection of shiny copper equipment which so impresses us beer aficionados! They also sell beer related merchandise.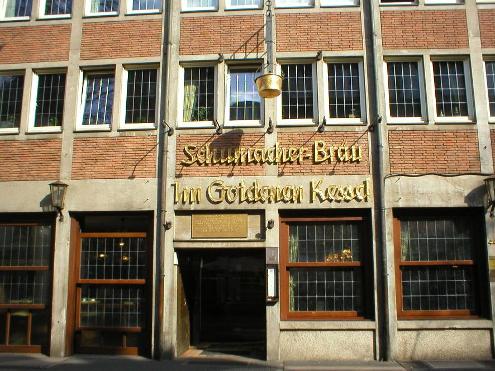 Alter Bahnhof (Hausbrauerei), Belsenplatrz 2 (Over the Rhine)
Hours: Daily from 10:00-01:00

An old-fashioned Brauhaus on the other side of the Rhine, easy to reach by U-Bahn which stops just outside. (or a 15-minute-walk from the old town). The brewpub has a bright yellow bricked front and was once a railway station. Looks almost like a traditional brewpub, but lacks the "original" atmosphere. It has a small pation in front of it and a nicer Biergarten in the back. This place does a nice tasty Altbier plus a Pils and a Weissen. Whist you are over this side of the Rhine, check it out. Overall reasonable prices, quick service, a nice place off the busy centre.

Brauerei Kürzer, Kurze Strasse 18-20.
Hours: 18.00 - 22.30
A smaller quieter brewpub type beer hall near the main market and river. Smells of spent grain/brewing, always a good sign. Sparce and modern with exposed brickwork. The conditioning tanks are in the rafters! A unique, transparent "bottomless barrel" as the centerpiece of the bar. A distinctive place with a distinctive Alt, that is untraditionnal, much more darker and hoppier, which is quite nice.. I like the contrast between this one and the traditional brepubs. Service is not by Köbes, but typical young bar personnel. Prices were in line with other beer halls around town.
Brauerei Zur Uel, Ratinger Straße 16.
Hours: Daily 09:00-01:00

A former brewery, it has large wooden tables, but none of the odd old paintings and prints on the walls that is usual in this area, its basically one large room geared up for young drinkers. Füchschen Alt on tap and some bottles. Very nice food. Good choice if you cant find a table at Füchschen?

Schalander, Koelner Landstrasse. 247.
Hours: Daily from 17:00-01:00

Maybe the largest tap list in Düsseldorf that includes 4 Altbiers, 3 German pilsners, Andechs Speziel Hell plus Internalional beers. Very tasty bar food and very good service. This place is very popular and it fills up pretty early so it is best to make reservations. The front section is more of a pub and the rear is the restaurant. It is accessible from the U74 and U77 from the Hbf .
Holy Craft Beer Bar, Liefergasse 11
Hours: Tue-Fri 17.00 - 01.00 Sat 15.00 - 01.00 Closed: Sun - Mon
This is pretty much the only bar in Düsseldorf with a good selection of craft beer in a sea of bars selling local alt beer. Just 2 minute walk from the busy night life of the centre, on top of a small staircase is this small and mellow gem. A good selection of craft bottles, German and import alike, plus good selection of well kept kegs from 12 rotating taps, mostly from Germany craft breweries. They have tasting flights and Teku glassware, the staff are friendly, helpful and patient. It's a pretty laid-back place, urban - recycled decor, some hard wooden park-style benches and some more comfortable seating mostly made out of old pallets. Yeah, craft beer bar in Dusseldor at last! A must visit for "tickers".
Holy Craft Beer Store, Friedrichstraße 79
Hours: Tue-Fri 12.00-19.00 Sat 10:00-17.00 Closed Sun-Mon
A modern, upmarket bottle-shop, south of the Duesseldorf Altstadt, with a rather small, but well assorted selection of local heroes (e.g. Hensen), German and American microns and some standards from everywhere. Friendly and knowledgeable service. Attention: This is no place for bargain hunters...!
Britische Biere, Emmastrasse 25
Hours: Wed-Thu: 13.00-18.30, Fri. 13.00-22.00, Sat 12.00-20.00
Hidden in the backyard of a commercial complex, it's a cosy and inviting small bottle shop which offers a nice mix of German craft beer, British Ales and Stouts and some international beers, mainly from the US. It's a joint venture of 'Crafters' and 'Britische Biere' and therefore offers a mix of both selections. Prices are expensive, service is really good, very friendly and authentic people with passion, very pleasant. Recommended.
Brass Bar, Ackerstrasse 49
Hours: Tues - Sat 19.00 - 00.00 Sun 19.00 - 22.00 Closed Mon
A fairly new beer bar located a ten minute walk from the Hauptbahnhof. Not a typical modern craft bar, more of a themed? wood panel that gives it the feel of a "train" carriage, that creates a cosy atmosphere. A long bar with seating at the front. There are eight tap's with a mix of German craft beer and classic styles. Plus a bottle menu with 20 or so interesting (mainly Berlin) beers. The staff are friendly and enthusiastic about the beers they serve. This place has kind of a Houseparty cool vibe. You can even charge your phone as you wait. I would recommend this bar to all friends old and new.
Vereinshaus Unterbach, Gerresheimer Landstrasse 84.
Hours: Tues-Sat 1600-0100, Sun 1100-1400 & 1700-0100
Ample old-fashioned street-corner pub that started brewing its own Alt in 2005; located very far from the beaten track, but absolutely worth a visit! The brewer is very enthusiastic, and he holds brewing seminars. Nice outside patio, good food. Worth a stop if you're in the area.
Dibels Fasskeller, Bolkerstafe 14-16.
Hours: Daily 10:00-23:30
This is a large one roomed bar with an eclectic collection of tables and chairs, They have the Altbier from the barrel as always and also a Pils and a weissbier.
Schumacher Im Goldenen Kessel, Bolkerstafe 44.
This is Schumacher's second outlet in the city centre, though not brewing itself. It's been owned by the Schumacher family since 1902 The beer her is served from wooden barrels and is a nice quaffing ale called Schumacher Junj Alt, go in November for the special or March to try the Latzenbier.
Hausmann's Düsseldorf, Hafenstraße 9
Hours: Daily 12.00 - 00.00
A modern restaurant in the Altstadt, not too chic but very warm and cosy. Relatively large with a spacious dining room at its centre and a small bar area with high tables and stools. Small menu with not too cheap but affordable fare and a very decent beer selection for German standards and thus one of the few options in Düsseldorf with other than the traditional Alt. It's quite German-accented but has some Dutch, Belgian and US influences as well. Nothing exciting as you'll be able to find all of those beers in many craft beer shops or, nowadays, even in supermarkets, but still nice to see such options in a restaurant. A sample tray with five of the six tap beers is available as well for a reasonable price. Service is great, very friendly and attentive. Recommended as the food is good.
Im Weissen Bären, Bolkerstrasse 50.
It's a long, thin, one-roomed place. The bar, which runs along one wall, has a carved wooden cabinet. The part where you stand your drinks or lean your elbows is much more modern. The walls are lined with benches which have fixed high tables in front of them, they play loud rock music the bier is OK but not the best.
Edge Bar, Bruchstraße 34
Hours: Mon-Fri 16.00-03.00, Sat-Sun 12.00-03.00
A small sports bar in a nice neighbourhood of Flingern. There are three large screen TV's around the bar area which show all kinds of sports, usually football. There are a few chairs outside on the sidewalk, not really a nice option to down a few glasses though? A few small tables are inside, it's a bit narrow, fortunately more seats are available at the bar itself. They might have a larger room in the back. Only two taps available of which one is a macro Pils, while the other one seems to be rotating. Around twenty different bottles to try, some German Lagers, Düsseldorf Altbiers and craft beers. Nothing overly exciting, but still a nice list, it's so far the only place to try Flinger Bräu. The staff are very friendly and helpful. Overall, it's a nice small bar to have a good beer or two.
Note:Paulaner Botschaft & Pilsner Urquell have outlets in the city that are also worth a visit.
I hope you found my guide to the brewpubs and bars in Dusseldorf useful?
Now you just need to get yourself out there and start the beer adventure for yourself!
Go grab a locally brewed pint (or 2) and support your local brewers!
Jubel auf Bier Otto