Dusseldorf, which is the state capital of North-Rhine Westphalia. The heart of the city is the Alstadt on the banks of the Rhine. Famous for its Altbier, "old beer", which is reddish brown in colour and similar to a British bitter. It is top fermented and then cold conditioned and always around 4.8% abv. It is fairly fruity with a dry bitter finish. Dusseldorf has 7 working brewpubs as of December 2014, plus some cool bars. So lets start with one of the most famous Brewpubs;

Zum Uerige, Bergerstafe 1. Hours: Daily 10:00-24:00
This is a rambling and justly famous brewpub it is located on the corner of a busy shopping street in the Altstadt. To the right of the entrance is an L-shaped taproom with beautiful stained glass windows depicting old Düsseldorf scenes and carved wooden panels with similar motifs. We got here around 10am on Saturday morning and the place was packed, we sat in the back room were you can see the brewing vessels behind a glass screen, they also have a large outside area. For those of you who remember Auf Weidersehen Pet, the lads met in this bar in the first series. They also have a wheat beer (weissbier) available, which is interesting.
Dibels Fasskeller, Bolkerstafe 14-16. Hours: Daily 10:00-23:30
This is a large one roomed bar with an eclectic collection of tables and chairs, They have the Altbier from the barrel as always and also a Pils and a weissbier.
Schumacher Im Goldenen Kessel, Bolkerstafe 44.
This is Schumacher's second outlet in the city centre, though not brewing itself. It's been owned by the Schumacher family since 1902 The beer her is served from wooden barrels and is a nice quaffing ale called Schumacher Junj Alt, go in November for the special or March to try the Latzenbier.
Im Weissen Bären, Bolkerstrasse 50.
It's a long, thin, one-roomed place. The bar, which runs along one wall, has a carved wooden cabinet. The part where you stand your drinks or lean your elbows is much more modern. The walls are lined with benches which have fixed high tables in front of them, they play loud rock music the bier is OK but not the best.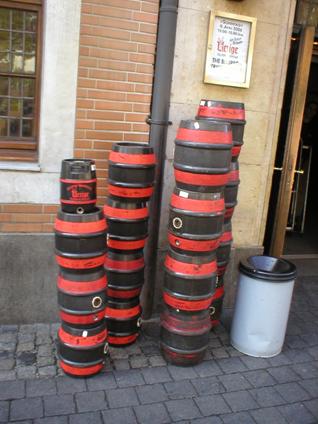 Vereinshaus Unterbach, Gerresheimer Landstrasse 84.
Hours: Tues-Sat 1600-0100, Sun 1100-1400 & 1700-0100
Ample old-fashioned street-corner pub that started brewing its own Alt in 2005; located very far from the beaten track, but absolutely worth a visit! The brewer is very enthusiastic, and he holds brewing seminars. Nice outside patio, good food. Worth a stop if you're in the area.
Brauerei Kürzer, Kurze Strasse 18-20. Hours: Evenings only?
A smaller quieter brewpub type beer hall near the main market and river. Smells of spent grain/brewing, always a good sign. Sparce and modern with exposed brickwork. The conditioning tanks are in the rafters! A unique, transparent "bottomless barrel" as the centerpiece of the bar. A distinctive place with a distinctive Alt, that is untraditionnal, much more darker and hoppier, which is quite nice.. I like the contrast between this one and the traditional brepubs. Service is not by Köbes, but typical young bar personnel. Prices were in line with other beer halls around town.
Brauerei im Füchschen, Ratinger Strafe 28.
Hours: Daily 09:00-24:00.

A wonderful, friendly old pub-brewery with an impressive wooden interior. Feels authentic and it gets crowded quickly. It's a traditional brewery on the north of the town. They have a small restaurant serving traditional Dusseldorf dishes, plus they have a small snug at the back were you get to meet all the local characters. They do two beers from the barrel an Alt and a Weihnachtsbier, plus bottles of weizen bier. Very huge terrasse. Service was friendly. The best alt in town, do not miss this place!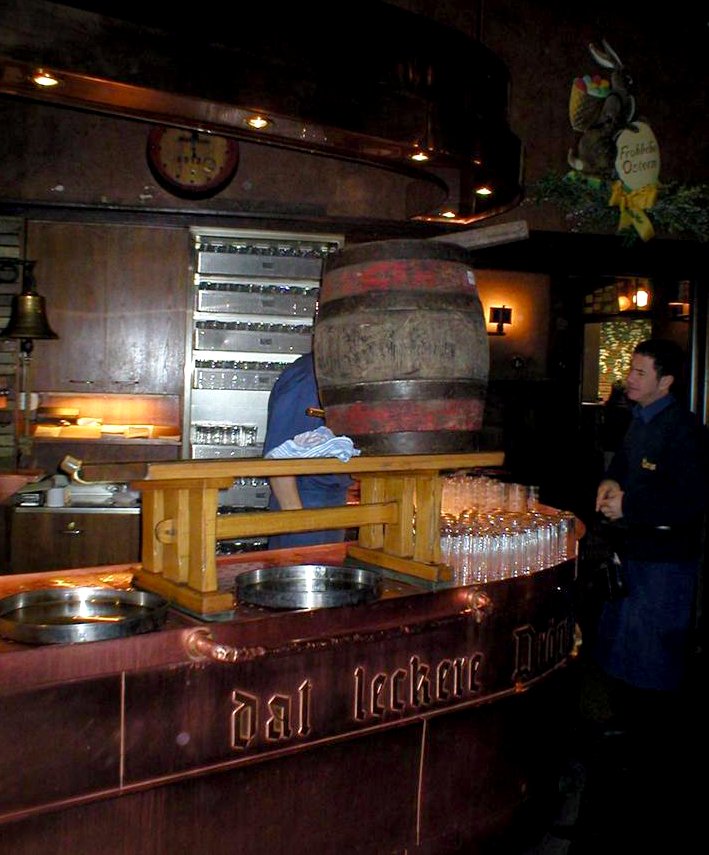 Brauerei Zur Uel, Ratinger Straße 16. Hours: Daily 09:00-01:00

A former brewery, it has large wooden tables, but none of the odd old paintings and prints on the walls that is usual in this area, its basically one large room geared up for young drinkers. Füchschen Alt on tap and some bottles. Very nice food. Good choice if you cant find a table at Füchschen?

Schalander, Koelner Landstrasse. 247. Hours: Daily from 17:00-01:00

Maybe the largest tap list in Düsseldorf that includes 4 Altbiers, 3 German pilsners, Andechs Speziel Hell plus Internalional beers. Very tasty bar food and very good service. This place is very popular and it fills up pretty early so it is best to make reservations. The front section is more of a pub and the rear is the restaurant. It is accessible from the U74 and U77 from the Hbf .
Ferdinand Schumacher Stammhaus, Oststrasse 123, Duesseldorf. Hours: 10:00-00:00.
A classic "Rhenish" beer-hall, not really cozy, but always busy; typical prompt service, by the "Köbes". Predominately a resturant, it also has a small vertical drinking area to the left of the main entrance. When visiting the toilets, have a peep outside at the impressive tower brewery to the rear of the building. The food is superb, easily the best of the town's brewpubs.Three times a year they serve there the stronger "LatzenBier". The pub is situated not very far from the Hauptbahnhof (main railway station), ideal for a last bier on the way back to the Bahnhof. They own a second pub in the Altstadt, Goldener Kessel, which is smaller and more "bourgeois", but also worth a visit?
Zum Schlüssel, Bolkerstrasse 47.
Hours: Daily 10:00-24:00.
Has a narrow frontage but when you enter its like a tradis, as it rambles backwards through a variety of rooms to the brewery at the rear.
The main bar is placed centrally at the front and has a standing taproom to one side of it. It's more restauranty, but eating is not compulsory. Although the food is really good and not to expensive. We had a very good traditional meal here. The brewery itself can be observed through a glass wall. It has the usual collection of shiny copper equipment which so impresses us beer aficionados! They also sell beer related merchandise.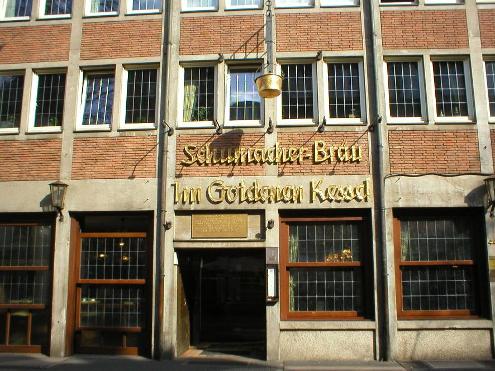 Alter Bahnhof, Belsenplatrz 2 (Over the Rhine) Hours: Daily from 10:00-01:00

The pub has a bright yellow bricked front and was once a railway station. Looks almost like a traditional brewpub, but lacks the "original" atmosphere. This place does a nice tasty Altbier plus a Pils and a Weissen. To get there, if you don't fancy a nice stroll through the city, better to get the U-Bahn which stops just outside.
Whist you are over this side of the Rhine, check out:
Johann Albrecht, Niederkasseler Strafe 104. Hours: Daily from 12:00-00:00

With three biers on draught this brewpub is part of a small chain of six. It has a county pub feel being quite rustic, also for those who like a change from bier it acts as the tap for the Schimittmann Distillery next door. The brewery is at the back of the building in a conservatory. Well worth a visit, might be good to get the number 833 bus. But we like the exercise!
Note:Paulaner Botschaft & Pilsner Urquell have outlets in the city that are worth a visit.
Jubel auf Bier Otto