Hamburg, the largest city in Germany after the capital of Berlin, lies at the head of the long funnel-shaped estuary of the River Elbe. Its location makes it an important link between the sea and Germany's network of inland waterways and numerous islands. The city is best known for its famous harbor area, the Port of Hamburg. In addition to being a major transportation hub, Hamburg has become one of Europe's most important cultural and commercial centers, as well as a major tourist destination. The only part of old Hamburg to survive centuries of fires and wars, the narrow, curving Deichstrasse gives a sense of the city's past. Built long before the 19th-century warehouses and 21st-century harborside complexes, the street offers a glimpse into the city's Hansa past. The Hanseatic League was a medieval association of independent port cities and merchants along the Baltic and north Atlantic from the 11th to the 18th centuries, and even into the 19th century. Its distinct architecture is found throughout Baltic Germany. Deichstrasse takes you straight onto a bridge over one of the city's many canals. Massive brick warehouses, built a couple of centuries after the Hansa's power faded, form a canyon along the canal's sides. A second footbridge leads into the hottest new neighborhood, Hafencity, where old and new mix in a striking blend of 19th-century, neo-Hansa brick with contemporary steel-and-glass apartments, their balconies jutting out over attractive cafés, eye-to-eye with vintage sailing vessels. Many of the most interesting things to do in Hamburg are in this port area.
Public Transport ─ HVV Underground Trains, Ferries & Buses
Hamburg boasts an extensive public transport system including underground trains, a light-rail network, buses and ferries. Whether you prefer walking, driving or biking ─ getting around in Hamburg is easy. The city boasts an extensive public transport network of rapid transit and regional trains, buses and harbour ferries, operated by Hamburg's public transport organisation HVV.
Tickets: A range of single, daily and weekly tickets that are valid for all buses, trains and ferries are available at HVV ticket machines. For frequent travellers, monthly or annual tickets are the cheapest options. Also, be sure to ask your Hamburg-based employer if the company takes part in the ProfiCard-programme. The Hamburg CARD is recommended for tourists, as it grants discounts on various cultural and leisure activities in addition to free transportation. Note: Day-passes are cheaper after 9:00 a.m.
S-Bahn and U-Bahn: The key element to Hamburg's public transport system is the network of rapid transit and regional rail services that connect the city centre to the greater region. There are four U-Bahn underground lines, six S-Bahn suburban lines and nine regional rail services that link Hamburg to other cities in the region.
Bus: The rail network is complemented by an extensive range of bus services with metro buses (frequent services), express buses, sprinter buses and regional buses (connecting to stations and surrounding towns).
Ferry: There are six ferry lines serving the harbour and the River Elbe. These routes have two-digit numbers starting at 61. You can use your HVV ticket to 'set sail' and even go on a little trip around the harbour. All ferries stop at Landungsbrücken.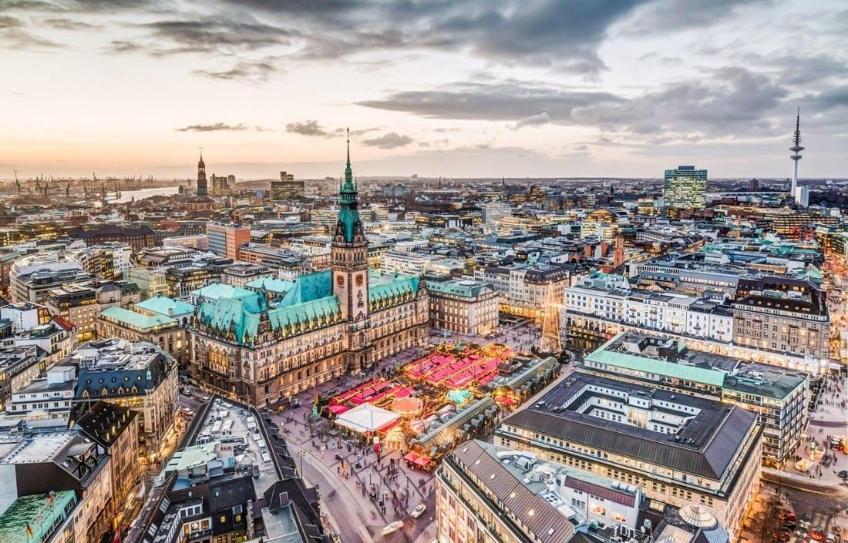 So in this beer guide I'm going to be covering the inner and outer city of Hamburg which includes Hamburg-Mitte, Hamburg-Nord, Hamburg-Wilhelmsburg. I hope you find this interesting and if you come across any changes or new venues please email me an update, cheers to beers. As of July 2022 Hamberg central has 15 breweies/brew-pubs.
Brews Brothers, Talstrasse 29, 20359 Hamburg
Open:Wed: 08:30-15:30 Thu - Fri: 08:30 - 15:30 & 17:00 - 23:00 Sat: 10.00 - 23:00 Sun 10:00 - 16:00 Closed: Mon - Tues
A classy bar with 12 taps featuring six of the fantastic Kehrwieder brewery and sic guest beers from the main stream German breweries and a couple of Belgian beers plus cocktails and gourmet coffee. The staff are a top-lot with expertise and good entertainment value! A very comfortable atmosphere, in modern surroundings. Well worth a stop by for a few scoops.
Bar Oorlam, Kohlhöfen 29, 20355 Hamburg
Open: Wed – Fri: 16.00 – 22.00, Sat - Sun: 12.00 – 22.00 Closed: Mon - Tues?
This is a brewery outlet for Buddelship. It's located on a corner and is quite a small cosy bar, quite modern and no soft furnishings so can get quite noisy. The 15 taps face you as you enter, flights of five beers are available, In addition to the taps they have lots of different Buddelship beers in bottle as well. You can buy the bottles to go at a reduced price. This is a great place to visit, with great staff who are knowledgeable and polite.
Omnipollos Hamburg, Kampstr 36, 20357 Hamburg
Open: Wed - Fri 17.00 – 01.00 Sat 12.00 - 01.00 Sun 12.00 – 23.00 Closed: Mon - Tues?
The taproom for Omnipollo (the fanciest gipsy brewery from Sweden) in Hamburg, a bit off the beaten track but well worth a visit. They have 14 taps serving there own and rare guestbeers they also do the famed beer smoothie's! (Beware it's very expensive!) It's very colourful, if you like pink 👍 with a atmosphere that is unique, it has a neon lighting style that is interesting to explore the bar in? They only accept card payment which is easy and fast. Tap water is for free. The pizzas are great, even with the unusual toppings. The tap list is like heaven for every craft beer nerd, plus a bartender who is really passionate and does not hesitate to let you try a beer first. Overall: Great beer, great pizza, great people, Pink and expensive.
Craft Bier Bar Hamburg, Max-Brauer-Allee 275, 22769 Hamburg
Open: Non - Sat 17.00 to late? Closed: Sun
An excellent craft beer bar located close to Sternschanze. They boast more than 30 beers on tap 😍 (4 taps for self-service) and additional bottles and cans as well. They have a nice mix of German and import beers and the prices are reasonable. There is a range of beers for beginners and really fine stuff for the real beer geeks! The bar is bright and long with the beers on an illuminated board at the back. There are lots of rugs scattered about the floor and an eclectic mix of seating ranging from tall stools the cosy leather high back chairs although not many places to sit because of the funky interior and the ordering process takes a bit too long during peak hours? But this is a really awesome spot with cool music. It's awesome that the craft beer scene is evolving in Hamburg to support breweries outside of Hamburg! Note it is a cash only bar? Probably the best craft bar in the city.
Kyti Voo, Lange Reihe 82, 20099 Hamburg
Open: Mon - Sat 17.00 till close! Sun - 14.00 - 20.00 Cocktail Happy Hour 17.00 - 20.00
A modern hipster cocktail bar in a very trendy location, that has an outside seating area. They have six craft beer taps with the occasional hard to find scoop. Overall a good place for getting a drink in a chill environment with nice staff and cosy atmosphere.
Edeka Lars Tamme - Hauptbahnhof, Glockengiesserwall 8, 20095 Hamburg
Open:Daily 07.00 - 11.00
Hidden upstairs in the northern part of Hamburg Hauptbahnhof is a small supermarket with a quite decent selection of local craft beers on top of the usual big Brewer fare. A good place to stock up when you have a bit of time between trains.
Alles Elbe, Hein-Hoyer-Str. 63, St. Pauli, 20359 Hamburg-Mitte
Open: Tues - Sat 18.00 - 23.00 Closed: Sun - Mon
Getting There: U3 St. Pauli, U3 Feldstrasse, S-Bahn Reeperbahn
A cute little pub tucked away in a quiet spot away from the Reeperbahn. A few tables outside, and a nice cosy atmosphere inside. They had approx 10 beers on tap, 6 locals, the others from Czechia, plus a lot more in bottles. The range was is good sample of styles. Great service, lovely vibe, very nice beers.
ÜberQuell Brauwerkstätten, St. Pauli Fischmarkt 28-32, St. Pauli, 20359 Hamburg-Mitte
Open: Brewpub: Wed-Thu 18-00 to late Fri- Sun 16.00 - 22.00 Restaurant: Mon-Sun 12.00 - 22.00
A nice brewpub located by the harbour, what looks like old bridge arches? Inside its has an urban - industrial vibe. The steel brew kit setup is located near the end of 2nd room, they have 14 taps serving mostly their own modern style beers and a few craft guest beers. Flights are available and at a reasonable cost. The kitchen focuses on wood fired pizza and you can see into this as its near the main entrance. There is a large outdoor patio for the warmer evenings. Otto say this is one of the better places for scoopers to check out in Hamburg.
Astra St.Pauli Brauerei, Nobistor 16, 22767 Hamburg-Mitte
Open: Daily 12:00 to last customer!
A classic place on one of the less raunchy bits of the Reeperbahn? Located literally next to the Reeperbahn S-Bahn. Atmospheric, dark and modern with a "cool" vibe. The conditioning tanks are located right behind the bar, that has 10 taps serving the Astra, range of beers only. Good beers and a tasting board with 5 beers makes it easy to sample all 10. Inside it is urban chic, some of the high chairs are so cool, from old junk metal, cool concept. There's DJ's spinning away, cool nice songs. Also a dance floor. There is also table Fussball with a terrace of seating to watch the game! When it gets crowded, at times you have to wait for some time until you get to place your orders. But some staff are really nice, and overall it's good service. Also if your hungry the food is good and plentiful.
BrewDog St. Pauli, Reeperbahn 1, 20359 Hamburg-Mitte
Open: Daily 12.00 - 00.00
One of the more salubrious places on the Reeperbahn. Typically BrewDog inside. Urban and somewhat stark. Good staff and te normal BrewDog offerings and some expensive guest beers, but why would you want to drink British beers when in Germany is beyond me?. But hey what do I know check it out on the Hamburg tour.
Bunthaus Brauerei Schankraum, Kurdamm 24, Wilhelmsburg, 21107 Hamburg-Mitte
Open: Thu-Fri 18:00 - 00.00
What a nice place for craft beer. A unique tap room in the brewery, not crowded and a chilled out atmosphere, in a classic industrial building of the pre-war period on the beautiful Wilhelmsburger island park. A bit of interesting taproom history, sitting in a water basin with 30cm thick walls of solid steel (with breakthroughs), which at times when the building was an extension of the waterworks next door, the ventilation of freshly pumped groundwater was used to remove the carbon dioxide contained. It's a cosy place to be, as a couple or in a group of friends. There is always a good selection of their own micro-brewery beers changing guest beers from other craft breweries. The brew dude's are really friendly and helpful and will even share their recipes! Did I mention that there is delicious food to go with the bier's, for example homemade ramen, at very affordable prices. A must do place to visit on a Thursday or Friday when in Wilhelmsburg.
Cucco Kiosk, Vogelhüttendeich 57, 21107 Hamburg-Wilhelmsburg
Open: Mon - Sat 05.00 - 01.00 Sun 07.00 - 01.00
Basically a Kiosk with a broader selection of beer. They have all kinds of Hamburg Craft, as well as internationals like Sierra Nevada and the like. You may find a few beers that you don't know, which is always nice. On the downturn, some of their beers are passed there BBD! Nevertheless, when in Wilhelmsburg, it's worth a visit.
Hopper Brau GmbH & Co.KG - (Landgang Brauerei), Beerenweg 12
Open: Thu-Fri 17.00 - 23.00 Sat 12.00 - 23.00
A medium-sized garage brewery, located about a 10-minute walk from the Diebsteich S-Bahn station. An industrial feel to the tasting room. They have 10 beers on tap, 7 house beers, and 3 guest beers. The quality fair without being jaw-dropping, but generally good, no duds here? A flight of 5 pick yourself beers avaibale for 8€. Brewery tours can be booked online, and includes a beer tasting. Otto says; a cool relaxed place especially early Saturday afternoon with very laid-back service. Definitely worth a visit 👊🏽
Brauhaus Joh. Albrecht , Adolphsbrücke 7, Hamburg-Altstadt, 20457 Hamburg-Mitte
Open: Daily 11.00 - 00.00
A large modern riverside brewpub and restaurant. Normally there are 4 beers available 3 regulars and a seasonal. There are four coppers that are nice and shiny in a central location and there is also some old brewery equipment in corners that is quite interesting. This is a great place to eat, their Schweinshaxe is the best in Hamburg? Also their Schnitzel is very tasty, so don't miss it (with a beer or two!). Their portion are big in the evening, but if you go for lunch, you can enjoy a smaller portion of Schnitzel at a cheaper price. It's very crowded in the evening so recommend booking to avoid disappointment. The staff are friendly, but there are not many, so it can take some time to be served. The atmosphere is casual and definitely worth visiting if in the area, as a very good place to see experience German food and people
Gröninger Braukeller, Willy-Brandt-Str. 47, Hamburg-Altstadt, 20457 Hamburg-Mitte
Open: Mon-Fri 11.00 - 11.00 Sat 17.00 - 11.00 Sun 15.00 - 22.00
A huge cellar brewpub, with wooden floors, bare brick walls and arched ceilings, huge brick and stone pillars, with beer garden like furniture, providing a cool ambience. Heavy touristy of course as you would expect, but still it was a pleasant surprise if not a beer ticker's paradise? But it's a better choice than Paulaner or Hacker-Pschorr. Only their own beers four on tap at most times. The brew-kit is at the side of the bar and you can sit on huge wooden barrels opposite and soak up the vibes for a brewery. The food is outstanding, typically German, very tasty and the ideal partner to the beer. Good staff so well worth a visit if you are in town doing some "Beer Research"
Pappenheimer Wirtschaft Hamburg, Papenhuder Str. 26
Open: Daily 12.00 - 23.00
The only Franconian restaurant in Hamburg! Dark wooden interior.It really is authentic Franconian cuisine, even though the price very high (same with beers). Krug and Meister on tap and a range of ~12 beers in bottles, all from rather small Franconian breweries which are not easy to find in northern Germany. Otto says; A cool, slightly trendy ambiance with very friendly service. 🙃 PS: They only accept cash.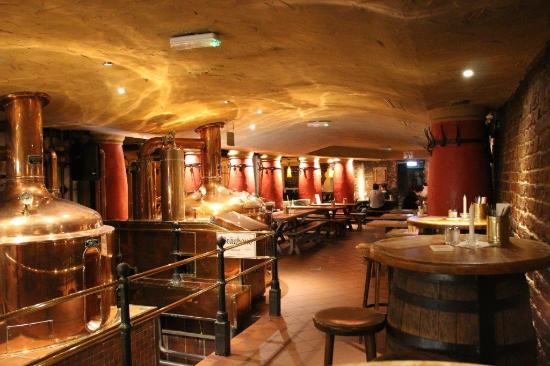 Blockbräu, Bei den St. Pauli Landungsbrücken 3, St. Pauli, 20359 Hamburg-Mitte
Open: Daily 11.00 - 00.00
This brewpub is located just beside the massive tourist attraction Landungsbrücken in Hamburg, in a two storey high khaki brick building with a tower, with a magnificent view to the Elbphilharmonics and the cruise boat quays, this venue has a very spacious restaurant and of coarse a shiny brew-kit that produces a couple of average biers. The place belongs to a well-known regional chain of steak houses. Food is not very remarkable. Inside there is room for 400 people. The place is very crowded and loud, in the evenings you might have to wait a few minutes to be seated. Weather permitting, there is a terrace on the roof with a nice view of the Elbe river and a smaller choice of food and drinks. Staff are friendly, English is spoken. Otto's tip if its nice sit on the terrace as its a lot quieter.
Altes Mädchen Braugasthaus, Lagerstraße 28B
Open: Daily 12.00 - 00.00
Otto says; A brew-pub that offers homemade bread, organic burgers and craft beers in this country-style alehouse. A very nice place located near the Schanzenhöfe and close to the Craft Beer Store and the brewery. Sometime it gets to over crowded? The biergarten and the courtyard are sunny (weather permitting) and nice to sit and chill out in. The service is mediocre but knowledgeable. The food selection is regional classics and modern North German brewery cuisine. They have 30 craft beers one tap and more than 70 bottled beers from craft beer breweries around the world, so there is something for everyone, whether you're a hop novice or an avid beer geek (ticker)😜.
Hacker-Pschorr Hamburg, Lange Reihe 97, 20099 Hamburg-Mitte
Open: Daily 10.00 - 00.00
A typical Hacker-Pschorr outlet, with an excellent Bavarian restaurant. Located on a corner with street seating when its warm, inside its a typical German bar lots of dark wood etc.. Good food and beers if not a scoopers heaven.
Störtebeker Elbphilharmonie, Platz der Deutschen Einheit 3, 20457 Hamburg-Mitte
Open: Mon - Thurs 11.30 - 00.00 Fri - Sun 09.00 - 00.00
Located at a high altitude in the impressive Elbphilharmonie building, this is an entirely modern bar, with a dark and wooden interieur with a nice view to St. Pauli Landungsbrücke and old Elbtunnel. Devoted to the promotion of everything Störtebeker. There are 21 taps and the full range of bottles. The service is great, very friendly and enthusiastic, though never pushy. The prices here are a little high, but the attention is nice, the views are amazing and the selection of beer is very good. They also offer tutored beer tastings and the bar also has a growler station where you can fill with fresh tapped beer to take home along with other awesome goodies from their fancy shop. The food is of the gourmet style and very tasty.
Barley & Malt, Deichstrasse 36, Hamburg-Altstadt, 20459 Hamburg-Mitte
Open: Mon-Thurs 17.00 - 00.00 Fri 16.00 - 01.00 Sat-Sun 14.00 - 20.00
Located on Deichstraße one of the last remaining pieces of old Hamburg with restaurants, boutiques and creativity and it is situated just a short walk from Rathausmarkt. Here you will find some of the oldest buildings in Hamburg including attractive timber framework housing and baroque facades. This is a decent Irish bar with a pretty average interior, full of memorabilia, but you can easily feel cosy here. But they support the local craft brewers. So there's a few on the 12 tap's and in the fridge. So there's some interesting (if not necessarily great) beers to hunt out amongst the obvious commercial beers, plus they do tasting tray's (always a plus). Food is largely a menu you'd expect from a Irish theme pub, but there's a couple of American BBQ style smoked meat burgers in there to spice things up? Worth of visiting it if in the area.
Paulaner's Miraculum, Kirchenallee 47, St. Georg, 20099 Hamburg-Mitte
Open: Daily 11.30 - 23.00
Located just over the road from the main HBF this is a typical Paulaner Brauhaus. Nicely laid out and clean inside, seemed more of a drinking place and less of a restaurant than many Paulaner venus are? Effective service and a good dozen or so different beers to go for across the tap and bottle ranges taking into account the majority of traditional German styles.
Malto, Max-Brauer-Allee 88
Open: Mon - Sat 17.00 - 00.00 Fri also open for lunch? Closed: Tues
A cosy bar that is turning into a brew-pub in late 2021, a short walk from Reeperbahn. A really cool place, very chilled, even better now opens at 17.00. About 10 beers on the tap's, 3 Shanghait, guest includes locals, as well as international brew's. No tasters or flights, small pours available. Friendly and knowledgeable service. Fair prices. a good price to visit. ;) Stefano a top bloke who really knows his beer - seems to be very few craft ale places in Hamburg so I wish this place all the best!🤞🏼
Hofbräu Wirtshaus, Esplanade 6, Hamburg-Neustadt, 20354 Hamburg-Mitte
Open: Sun-Thurs 10.00-01.00 Fri-Sat 10.00-02.00
This is a very Bavarian style beerhall, with occasional live music consisting genuine "schlager" music! They had around 10 of their own beers on either tap or bottle. Food is traditional Bavarian as well. You can get apfelstrudel and germknödel for dessert :) The service is efficient and the staff are dressed in traditional lederhosen or dirndl. Great bier hall atmosphere Prost
NAGEL Restaurant und Kneipe, Kirchenallee 57
Open: Daily 10.00 - 00.00
A traditional kneipe with typical dishes from Hamburg. Located just across the street from the Hamburg Hbf. The atmosphere is welcoming and even without booking you can find a table. The waiters are very nice and you are served quickly. Tried the Labskaus, the Gulash soup and the herrings it's yummy. They only one (1) beer brewed on site, a tasy dark beer, on their nano kit on tap, but other commercial beers on tap as well? (Why!) The ambiance is like an old pub style. A cool place to go if you want a true taste of Hamburg.👍🏻
Circle 8 Brewery, Alsterdorfer Str. 267, Hamburg-Alsterdorf, 22297 Hamburg-Nord
Open: Wed - Sat 16.00 - 20.00 Closed: Sun - Tues
A rustic bar, where the finest, home-made beers are served. The brewery is hidden in a backyard in Alsterdorf, from the outside it is very inconspicuous, so you can easily walk past it! Inside it is very authentic with the nano stainless steel brew kit easily located and a few bench style pine tables and chairs plus really great beer served in a friendly welcoming atmosphere. There are 10 different varieties on tap, all costing only €3 for 0,3l glass of probably one of the best beers in Hamburg? No food available, but salt sticks are available on the tables for free. Tasting is encouraged and makes it more enjoyable to get involved in the varietie of styles and tastes. The owner/brew dude and staff are great folks and really make you welcome. For a really satisfying beer in Hamburg, make it Circle 8.
Galopper des Jahres, Schulterblatt 73
Open; Daily 17.00 - 02.00
A bar next to Rote Flora in the heart of Schanzenviertel. A bit of a rough gem. Inside it's an 80's style Disco interior theat is fun and ironic. Probably one of the best craft beer places in Hamburg? If you only have time for one place to go and have a tipple I'd make it this one 🙃
Otto's Burger - Grindelhof, Grindelhof 33
Open: Daily 12.00 - 22.30
Sorry had to add this cool burger joint😜. Amazing burgers. They even have a vegan patty that you can put in any style burger. Incredible raclette fries, chilli fries (nice and hot hot sauce!) and delicious poutine. The milkshakes are super thick and tasty great big portions. Comfy seats, wonderfully lovely staff and perfect atmosphere to be with friends. They even have a few cheeky hard to find bottles of German craft beers 😎
I hope you found my guide to the brewpubs and bars in Hamburg useful?
Now you just need to get yourself out there and start the beer adventure for yourself!