Otto Rambles around Karlsruhe with Bernie and t'Littl'un
The city of Karlsruhe is in the Baden Württemberg, region of Germany and is the youngest city in Germany. Karlsruhe is located on the Rhine and in the top of the Black Forest, close to the French border. The city was founded in 1715 by margrave Karl Wilhelm von Baden. The city was laid out on the drawing board. It consists of a central circle, containing the castle, and streets running towards the castle as radial "spokes". This pattern is still visible today. Due to the fan-like layout, Karlsruhe is known as the "fan city" (Fächerstadt). .The Rhine valley, where Karlsruhe is located, is the warmest part of Germany because it is only about 115 m above sea level and there are mountains in the east (black forest) and west (vogesen). Therefore, Karlsruhe has more sunny days than many other parts of Germany.
There isn't a lot of tourist traffic to Karlsruhe. Tourists generally tend to gravitate towards the cities of Heidelberg (50km to the north) and Freiburg (100km to the south), with their well-preserved old towns. It's a shame though, as Karlsruhe's radial layout is one of the best early examples of New Urbanism, and is really a joy to explore especially for the beer rambler. Maybe that's a benefit to Ramblers who do venture there, as the number of visitors is low enough to be sort of a novelty for the locals.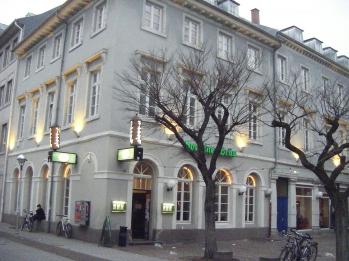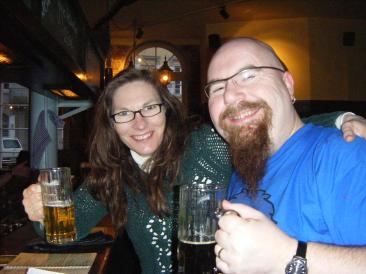 Getting there is quite easy now; Baden-Airpark is the nearest local airport, about 40km from the city. The airport is now served by low-cost carrier Ryanair, which offers cheap flights to several European destinations. There is a cheap airport shuttle bus (Baden-Airport-Express) (leaving 8 times a day on weekdays, 3 times a day on Saturdays, synchronized with the flight schedule) to Karlsruhe Main Station. One-way-tickets can be bought from the driver (9 EUR, cash only, accepted currency: euro); alternatively, you can take a train or a tram-train to Rastatt or Baden-Baden and take a connecting bus to Baden-Airport.
There are ten breweries in Karlsruhe (2022).
Privatbrauerei Hoepfner / Hoepfner Burghof, Haid-und-Neu-Strasse 18.
Hours: 11:30 - 24:00
The brewery now produces a wide range of beers, of special mention is their Porter which is available only during the winter months. This is one of the only Porter's brewed in Germany and was actually the first beer we tried in the bar.
Litfaß Brew pub, Kreuzstraße 10.
Hours: Mon - Sun 10:00 - 01:00
Certainly a brew pub with atmosphere, extremely busy when we arrived on a carnival day during "fasching" , the fifth season according to the German's. Wood panelling and exposed brick work with an eclectic art mix, painted gals and sculptures. On offer was a very good selection of beers in the usual Germanic style, Hefe, dunkel and kristal all full flavoured and refreshing. A good start to our tour of Karlsruhe, with the added bonus of the Jubelbeir (Porter) which was superb. Essential to any beer lovers visit to Karlsruhe is a trip to one of the oldest established microbreweries in Germany founded in (1985) by Rudi Vogel;
Vogelbräu Karlsruhe (Bird Brew), Kapellenstrasse 50
Hours: Daily from 10:00
They serve an refreshing unfiltered Pils all year round, and between Oct. and May speciality beers are produced from Märzen to Doppelbock, Dunkles Weizen, Weizenbock, Mai bock and even a Rauch beer unequalled outside of Bamberg. These speciality beers are of the finest quality and can be enjoyed with simple snacks or a choice of two or three daily menus. The unfiltered pils and the rauch beer were on offer when we visited. The place was large, loud and in full carnival mood with everyone dancing and sing and general having a great time. They have free internet!
Its very hard to imagine this place being anything other than lively loud and loveable and definitely not for the faint hearted at carnival time—great fun.. The bar consists of seating and standing areas with additional conservatory and garden areas. No fancy art work here, but there is a colourful array of bras and bikinis over the bar.
A second Vogel Bräu can be found in the district of Karlsruhe Ettlingen which can also get very full especially on Sundays when they have good live music.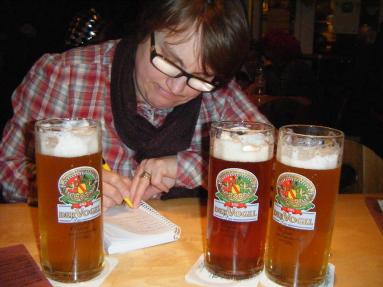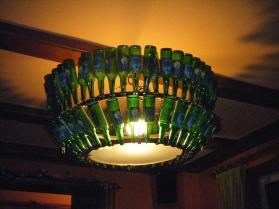 Fächerbräu GmbH, Erbprinzenhof 3
Fächerbräu is a brewery that, is a cuckoo brewer in Baden breweries, it brews organic festival beer, organic pils, organic hefeweizen ale and organic natural cyclists. The range also includes an organic schnapps that was distilled from the festival beer in Karlsruhe. There are draft and bottled beer and beer glasses to buy. Karlsruhe beer is available in various inns with beer gardens and on the beer exchange. A brewery tour within a brewery is offered. The craft beer can be bought in the organic market, in Edeka, in Rewe and in the online beer shop or ordered online. Other beer gifts are also available.
Nanobrauerei Hopf nei, Westmarkstraße 15
Here Felix Steinhardt really thinks about craft beer and how he can create the best taste fireworks. With only the finest and optimally coordinated raw materials, he brews beers precisely to the point in accordance with the German purity law. With the noble hops alone, he creates worlds of taste that are bigger and bigger than any wine. The prices are almost cheeky cheap for such a noble handicraft product which does not come from mass production. But don't believe me! Try it!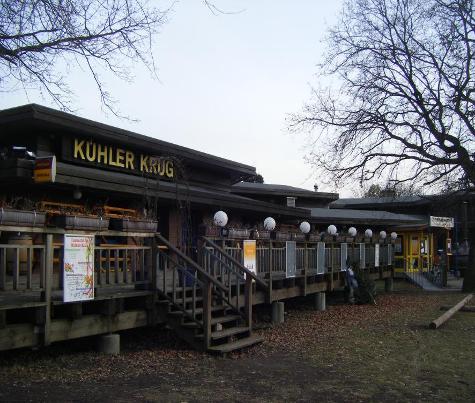 Another brewpub which has been setup by the Moninger brewery can be found in Karlsruhe and is the;
Brauhaus Kühler Krug, Wilhelm-Baur-Strasse 3a
On the outskirts, get the number 5 tram or 55 bus and get of at "Kuhler Krug, the pub is across the road. This is a large complex which can cater for many visitors and is situated in the Wilhelm-Baur Strasse 3a, first impressions are of an upmarket McDs. Inside again a bit McDs meets knights of the round table/medieval carnival. The usual Helles, Dunkles and Weizen beers are available which are of good quality, although the Weizen is perhaps a bit ordinary. A surprisingly good fruity full bodied seasonal Maibock is also worth trying out if you are visiting during its period of availability. The large beer garden and its proximity to the park and children's playground make this a popular family destination in Summer.
Badish Brauhause, Stephanienstrasse 38-40.
Hours: Mon-Sat 11.30-1.00 Sun 11.00
Welcome to one of the world's whackiest breweries. As you can see from the photo the front looks like any other bar or hotel and gives very little idea of the oddities and unusualness contained within.
Down the steps into a weird and wonderful combination of steel, concrete and marble. Take a look upwards through the glass roof to see more striking architectural features including a large smiling concrete face. All this combines with the slow melodius sound of water flowing into the Koi fish pond (yes it does contain real fish) , wicker seating, plants galore along with great food and of course the beer which comes in helles and dunkel varieties with the seasonals at the appropriate times.
To add to its whackiness the bar also has a slide which takes you to the lower floor where there is more seating area and the brewery. Brewing was in progress when we visited so the aroma of malt and hops pervaded the whole place. Sadly the slide was closed as they were catering for a very large party of people all celebrating "fasching".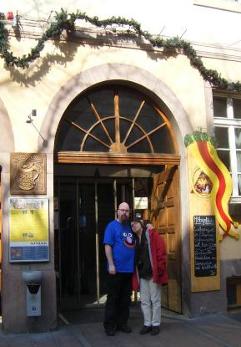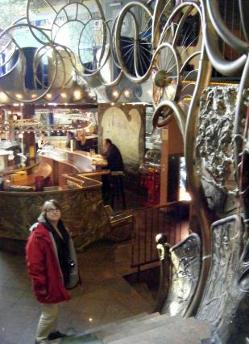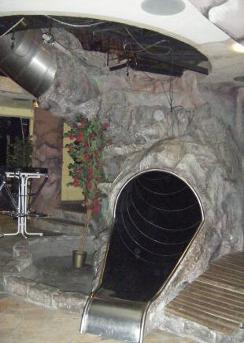 Bierakademie, Douglasstrasse 10.
A street corner, L-shaped bar within sight of the Badisch Brauhause. The narrow island bar is squeezed in down one side of the pub and dominates the single room, with bar stools for those who wish to sit there. On the other side of the space there are a few tables on a raised area for a more intimate experience. A few brewery mirrors and signs hang from the walls and ceiling. This is a real gem, up to 10 draught beers from a range of regular suppliers with guest beers appearing occasionally. We scored a "tick" from local micro "Kasi-Brau" Hallelujah Pils, which was really tasty and unfiltered.
Be aware though, unlike in the UK not all pubs/bars are non smoking, some like this one have special licences and are classed as "smoking pubs", however, there are rules and regulations that govern them one being their size, another that they don't serve food. It was opening time when we arrived so very quiet, definitely a must do of an evening or on a match day when, as advised by the very helpful barman, it gets busy and lively. PS: Beware of the "Skeleton in the closet"!!! You will usually get to see him on match days when he adorns a chair outside the pub rigged in full local football colours!!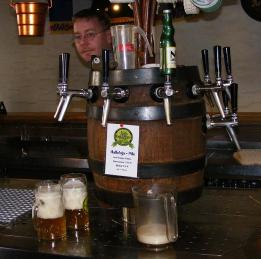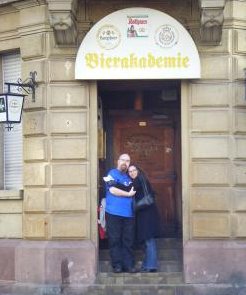 Brauhaus 2.0, Egon-Eiermann-Allee 8
A brewpub, which is located a long way from the city centre in the suburb of Knielingen. Take tram 2 from the station to its terminus at Siemensallee, then either take bus 76 for 3 stops, or walk 15 minutes. It's based in a converted military building on the edge of a new industrial estate. It has 3 beers on including a seasonal, and all are good quality. The food menu has all the German brewpub standards on, and appeared to be popular with the workers at Siemens, which is nearby. Well worth the effort of getting here if you have the time. A great beer garden for those sunny day, and at night it changes into a bit of a dance club?
Neureuter Braumanufaktur, bei DEUTSCHER KAISER, Teutschneureuter Str 30
A small brewery founded in February 2015, they search for perfection in barley is particularly intense. When you drink a well-chilled Neureuter craft beer, you can feel this passion with every sip. However, it could be too much for those who want to try the full range of products on offer. Because NEUREUTER BRAUMANUFAKTUR can offer many different and unusual types of beer, especially by brewing small quantities.
PØBELBRÆU GbR, MARIENSTR 78
Freshly garage brewed craft beer made in Karlsifornia, Germany. In the hot summer of 2016, they discovered their passion for honest, handmade beer. Bored of the wasteland in the fridge of their drinks dealer, they decided to pick up the spoon and started brewing in a small garage on the Hedwigshof near Ettlingen. Since then they have been working on new recipes that stimulate the taste buds and cool the soul. They are now brewing in a local brewery to make even more thirsty Karlsifonians happy! Their beers are made with only the best ingredients from Mother Earth: the freshest spring water from the foothills of the northern Black Forest, sacks of barley malt from local malt houses, heaps of hops from the best growing areas in the world and, last but not least, their own little special yeasty friends.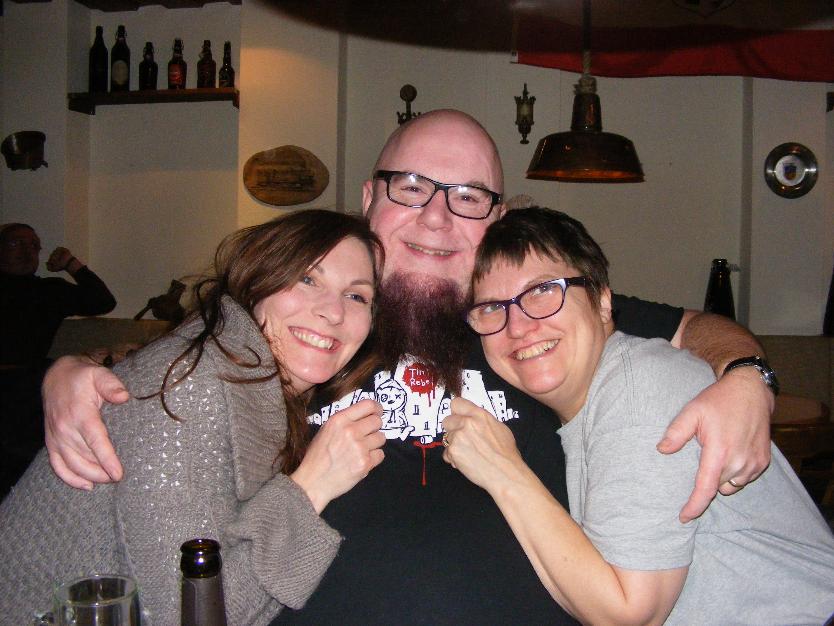 Braustübl Hatz-Moninger, Zeppelinstraße 17
Located a 10 minutes from Karlsruhe West station and 15 mins from Kuhler Krug. Attached to the brewery, a traditional pub with a large terrace out back. A decent selection of beers from the tap house, good service and nice feel to the place. Otto says; Super service and super beer, especially during happy 2 hours (15:00 to 17:00). Good starting point for a crawl.
Bray Head, Kappellenstrasse 40
Hours: Daily 16:00 till late
A small pub. They have their own stout and ale made by Vogelbräu. The stout was really good. You can get a 1,5L pitcher. You can also get Strongbow and Schneider Weisse. It is like a typical Irish pub with really good service.
Die Kippe, Gottesauerstrasse 23
Hours: 8am-1am Wochentags , 8am-2am Freitags, Samstags und vor Feiertagen
Interesting place, walls are completely covered with old time advertising bill boards. Fun to recognize many of them. A mainly student-pub near KIT in Karlsruhe. The selection is not wide and maybe too much focused on Moninger, the local Brewery, but the ambience and the low prices make this place a must in Karlsruhe. Live music?
Old Chapel Pub, Kapellenstraße 40
A a cozy Irish style bar, clean, quiet place, a great place to gather your thoughts. Its nice to spend a few hours there with some great local beer. An excellent bartender who knows how to treat the guests of this nice pub. I would highly recommend.
Brauerei Max Wolf, Daimlerstraße 5. (closed 2014)
During the winter time it is also worth going along to the 1885 established brewery tap, which is situated right in the centre of town. Try the Indianerbock which is served in stone mugs. A relatively strong beer with a full taste and a slightly bitter finish, this beer goes down well with some of the good Italian food which is also served in the Brewery.
The Wolfbrau was a complete contrast to Vogelbrau, with a calm, quiet and relaxing atmosphere. Customers dotted about the place around curved seating bays deep in conversation and enjoying the food which smelt absolutely delicious and the beer was good too. The décor was eclectic with some great art pieces, particularly the green bottle lamp shade, artificial hops, sponged terracotta walls and the obligatory wood panels of a typically German beer emporium.