Potsdam is a city on the border of Berlin, Germany. Sanssouci Palace was once the summer home of Frederick the Great, former King of Prussia. On the grounds of the complex, the Renaissance Orangery Palace overlooks Italian-style gardens with fountains. Historic Mill offers city views. English gardens surround neoclassical Charlottenhof Palace. The 19th-century Roman Baths were built in several architectural styles. (Updated March 2022)
BRAUHAUS MEIEREI Am Neuen Garten 10 14469 Potsdam –Nauener Vorstadt
Open: Tue-Sat 12-22. Sun 10-20. Mon-CLOSED.
Literally brew house "Dairy". The concept for the brewery was based on the tradition that originally the dairy farmers were also the local brewers.
This is a very large castellated building on the side of a vast lake with plenty outside space for hot summer days. Inside there is a spacious restaurant area, which was completely reserved when we arrived, a favourite spot for tourist coach parties.
We found a spot at the bar and sampled the beers on offer Hell at 5.2%, Weizen at 5.2% and Sollator Hebstbock at 6.8% which was the current seasonal beer.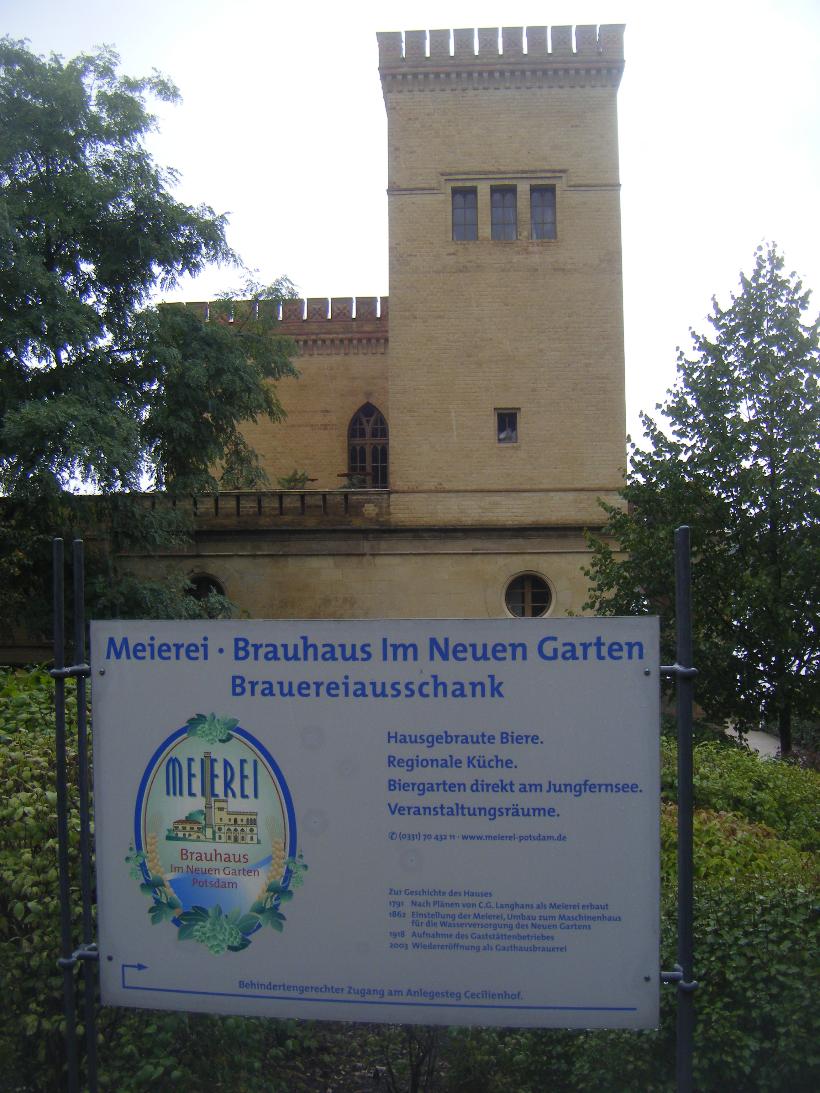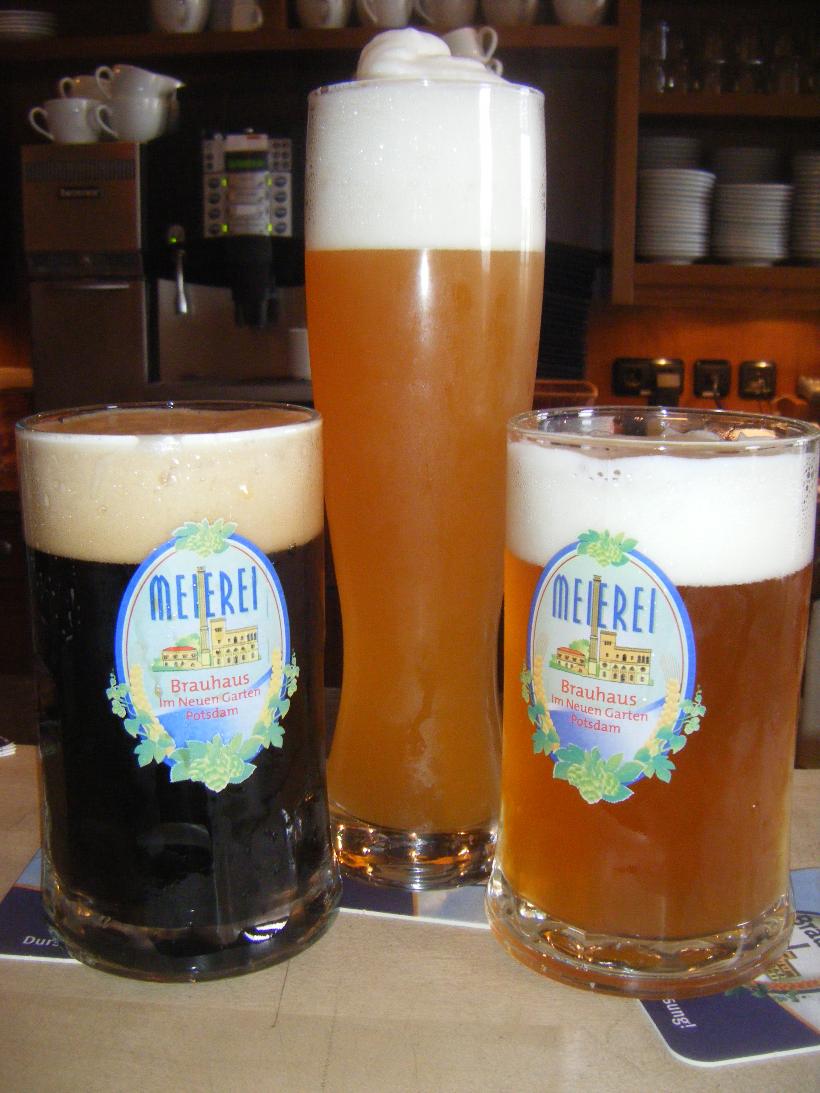 HOFBRAUEREI KRONGUT BORNSTEDT (Brewery in Schloss) Brau-und Brennhaus Ribbeckstrasse 6-7 14469 Potsdam-Bornstedt
Open: Daily 11:00-22:00
The Bornstedt in Potsdam is a unique venue and one of the most popular destinations in the region Berlin-Brandenburg. The listed area is part of the UNESCO World Cultural Heritage Sites and fits into the ensemble of the famous castles and gardens of Potsdam.
The brew house is part of a former model farm and there has been a "brew house" on the site since 1689, it was also home to Crown Prince Friedrich Wilhelm and his wife Victoria, daughter of Queen Victoria.
The main restaurant area is a large banqueting hall with heavy pine furniture, paneled walls, vaulted ceilings and medieval chandeliers.
The beers on offer were "Bornstedter Buffalo Light and Dark. Both of below average quality.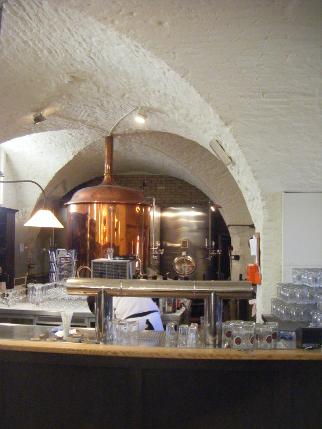 BRAUMANUFAKTUR Forsthaus Templin Templiner Strasse 102, 14473 Potsdam-Templiner Vorstadt
Open: Sun-Sat 11-22, October-Easter: closed Mon & Tue
Take Bus 607 hourly service, alight at "Forsthaus Templin" (Right outside the brew pub).
Yes, it is, seemingly, in the middle of nowhere, surround by a chestnut forest, this brew pub is ideal if you want to take a summer hike from the centre of Potsdam to the lakes in the area.
The building is surround by a large beer garden and inside there is space for 100 people in the main bar area, they also have a function room for up to 80 guests. Inside is bright and spacious with, naturally, a forest and hunting theme.
The beers on offer were Pils, Weizen, Dunke and Stangenbier. All very quaffable indeed and with excellent hearty stick to the ribs food, it was a very good end to an enjoyable day.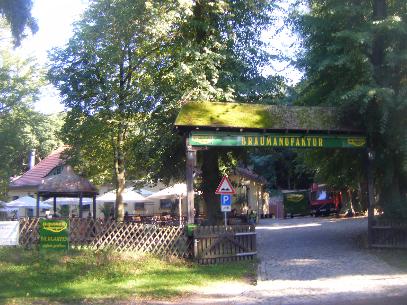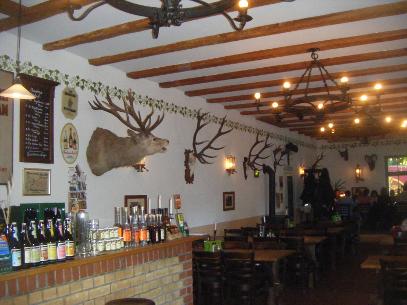 Bar Gelb, Charlottenstrasse 29
Open: Daily 19.00 - 02.00
A modern hipsters bar that look's more like a youth club than a beer bar? Lots of young folk "it's cool kids". It's a bit hidden in the second row of the main street. They do more cocktail's than beer and there list is a dream of creative inventions with super cool drink names. They have a couple of tap's with a varied selection of craft beers and occasional tap take over's, plus a good bottle selection. There is a nice atmosphere, with nice painting's on the walls, with great friendly staff. Plus outdoor seating is available as well, better than many places in Potsdam.
Waschbar, Geschwister-Scholl-Str. 82
Open: Mon - Sat 15.00 - 01.00 Closed: SUn
You can't miss this place as it has a "UFO" on the roof! It's a nice cozy place eclectic bar with some ostentatious weirdness and a relatively transparent attempt at being a "Szenenkneipe". The pitch is that you can have a few drinks while you wash and dry your clothes, in the line of automatic washing machines! what a great idea and which seems to have worked well here! Lots of American Indian decorations a totem pole plus Mexican Day of the Dead stuff. Awesome cocktails, a couple of decent craft taps and a few good bottle's plus a great choice of burgers (even vegan), plus some Mexican food too such as Nacho's A nice place with a great ambiance with trendy crowd a top place to spend some easy evenings and afternoons. There is an outside seating area, with lots of fun graffiti on the wall's plus very friendly staff, what more can you ask for?
BIERLESE, Dortustraße 2, 14467 Potsdam
Open: Tyes - Fri 12.00 - 19.00 Sat 10.00 - 15.00 Closed Sun - Mon
Visit this shop either for a present or something a little special for yourself. The owner is such a lovely positive person with a huge knowledge about any kind of beer. You can find a variety of different mouth watering Lagers, Pils or Craftbeers from different countries, at awesome prices. A plus is there are a couple of cosy sofa's and some stools and table for tastings and bottle shares plus street seating, and beer food, and if you need some outstanding catering or an special event for some friends or family, ask him! You will get more than you expect.