Here it is, our trip to Germany's brewing heartland, Bamberg, where you can breathe the air of past centuries and experience a world heritage city that is endowed with one of Europe's largest intact old town centres, a major highlight for anyone traveling in Bavaria. It's also has the reputation a of being the secret capital of beer!
Bamberg and its surroundings are a paradise for the beer-lover having 10 breweries as of December 2020. This is where the myth of German beer - "lots of good quality, cheap beer" is actually true. Not dozens, but hundreds of tiny breweries continue to brew traditional styles in the traditional way. You'll find more variation here, both in terms of different types of beer and in the differences between examples of the same style, than in the whole of the rest of Germany. Bamberg brewers aren't afraid to give their beers some individuality, or risk upsetting a few unadventurous consumers.
"To eat & drink holds body and soul together" According to this motto, good Bamberg landlords spoil their guests with dishes from Franconian cooking : beer, frying sausages, pretzel, and Franconian wine in a wide, rounded bottle called Bocksbeutel. There are always many dishes on the table and according to the season, there are additional pleasures like fresh picked asparaguses, carps and trouts.
Beer drinking in the beer garden, Thanks be to King Ludwig I, there would be no beer gardens without him. Bamberg has the reputation of Germany's beer city. And it is justified. There are ten breweries in the town: the really cosy beer gardens on Stephansberg and Kaulberg underpin Bamberg"s special position regarding beer. The creation of the beer gardens is due to a royal decision. King Ludwig I of Bavaria decided that beer could be brewed only in the winter between « Michaeli and Georgi ». Nevertheless, the citizens didn't want to abstain from bottom-fermented beer, which needs a temperature from four to eight grades to mature, and the resourceful brewers had deep caves built in the rock. Beer was stocked there and it matured in barrels under huge chunks of ice. To protect the caves against the sun heat, the brewers strewed light gravel upon the caves and planted chestnuts or linden trees, which provided shade. In the summer, the fresh beer was served in this pleasant place.
Any way enough of the history, onto the beer. You can compare and enjoy all sorts of different beers Pils, smoky beer ,wheat beer or black beer. There is everything, that the beer-lover wants or needs. So lets start off with the 18!brewpubs (updated August 2023);
Schlenkerla, Dominikaner Strasse 6
Open: Fri- Sat 417:30-20.00 Sat 12.00 - 20.00 Sun 11.30 - 15.00
This place looks great! So old-fashioned, in the classic style. In winter time this is a comfortable place to visit as it is full of locals, getting a table is quite easy, and the service is good. Entering from the street, on the left is a small bar while to the right is the dining area which has church-like architecture (domed ceilings, etc) while a walk though the place offers more rooms with similar architecture, all adding to the ambience of the place. Food is Franconian-style and is reasonably priced. There are only three beers available, the famous, quaffable Rauchbier Märzen tapped from wooden barrels at the source probably is the one thing you have to do at Bamberg. They have their fare share of tourists and a gift shop even.
Ahörnla Braugaststätte, Ob. Sandstraße 24
Open: Tues 0 Sat 12.00 - 02.00
An historic brewpub it's one of the oldest and most traditional buildings in the area, dating back to the 1300s! (Newly renovated in 2013 when the brewery started up again) with wood beams and outdoor tables, serving typical Bavarian meals, beer and cocktails, with an area for smoker. A great atmosphere, frequented by locals, who are friendly with us foreigners 🙃 Very friendly and helpful staff. A perfect location with in the heart of everything. A must visit when in Bamberg!
Ambräusianum, Dominikanerstrasse 10.
Open: Tues - Fir 16.00 - 23.00 Sat - Sun 11.00 - 23.00
This is a modern brewpub / gastropub that opened in 2013. Located in the small town square, very central in town center. Being the new kid in town, their beers are different than what the other, older brauhaues. Typical German interior, quite dark, tables for 4 people in the large, more restaurant than pub, the brew kit is on display. They do a sampler tray of the 3 house beers - a refreshing site to see in Germany! They do rustic Franconian food with a twist, the staff are friendly.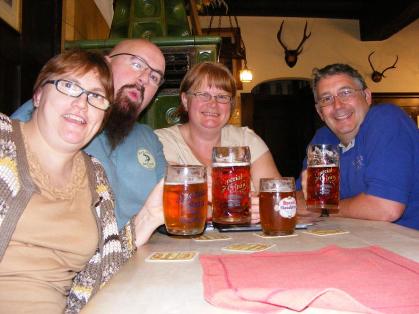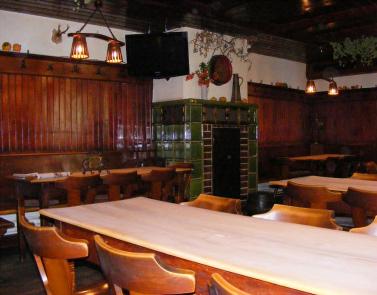 Fränkisches Brauereimuseum, Michelsberg 10f
Open: April to October, Wed - Fri 13:00 - 17:00 Sat - Sun 11:00 - 17:00
Group tours are also possible outside these times by arrangement.
If you're interested in Franconian beer and everything associated with it, this is the place for you. A great museum in an old cloister brewery. The museum shows all the stages of brewing beer (and ingredients) as well as the business side of brewing. It's not huge and could benefit from some more multilingual signage for some of the more interesting/complex/historical exhibitions but the sheer amount of breweriana under one roof makes it a worthwhile stop off. It's like an attic full of interesting things for beer lovers. There's also a bar so you can put your education into practice, by trying some of their own brewed beers! I should add it isn't suitable for anyone with mobility issues or who can't do a fair number if relatively steep stairs. Very nice staff. The copy of the Bavarian Purity Laws alone make's it worth a visit any time 🤪
Brauerei Greifenklau - Bamberg, Laurenzipl. 20
Open: Tues - Sat 15.00 - 22.30
Among the many breweries of Bamberg this one is just as amazing as the others. The food is really good and authentic and the staff are friendly and very helpful with my beer choices. What makes this brewery stand out is the friendly atmosphere and the location, which is up the hill so not as many people venture there but if you do, you'll be rewarded with a more local experience, great food and some very nice beer, too. It's a long hike to the top of the hill, but there is parking up there and the bus runs there too. It's well worth the hike, as the beer and food are among the best. Be prepared to sit with strangers in a warm and relaxing ambience and leave with new friends. Thay have a great Biergarten for the summer months.
BlechBrut GmbH, Benedikt Steger Heumarkt 5, 96047 Bamberg
Open: Tours Only?
Modern beers like IPA or NEIPA with a German twist. Check them out! Nothing else know about this place so if you visit please email me ottosrambles@duck.com
Brauhaus Zum Sternla, Lange Str. 46
Open: Tues - Sun 11.00 - 23.00
One of the oldest restaurants in Bamberg (1380) with a great Biergarten (very cozy between the buildings). Inside its a classic Beerhall feel so with their classic Franconian beers are on tap plus some bottle beers its always busy. The Fränkish dishes are very natural and very filling.
Good friendly servicy, good food and decent selection of local beers. This is a great taste of the German experience!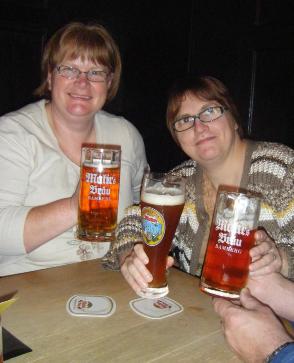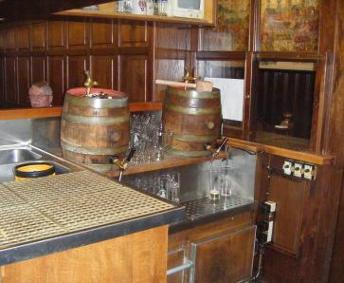 One of my favourite brew pubs of the visit was;
Brauerei Fässla; Obere Königsstraße 19-21.
Open: Daily 09.00 - 23.00
A corner pub with several rooms off a corridor. The style is usual for a brewery tap, a nice pub with panelled walls, white pine topped tables and bare wooden floor. The brewery emblem is a gnome and the seat backs are carved with the design of a gnome pushing a barrel, We tried all the range of bees here and had a good hearty meal to boot. The brewery buildings and bottles bottling line are to the rear of the building just off the small beer garden. I was luck enough to be allowed to walk at around the plant. The building also houses a hotel with 20-odd rooms.
Fässla Keller Biergarten Bamberg at Moosstrasse 32

Open: Daily 10.00 - 23.00
Is another walk out of town and has a very large beer garden with an outside bar. The interior is quite retro. The best Schäufele (pork shoulder) in Germany. The staff are really nice, super duper good vibe beer garden and affordable price, I can say that you need to try when you're in Bamberg.🥨
Brauerei Spezial, Obere Königsstraße 10.
Open: Sat 14.00 - 21.00 Sun 10.30 - 16.00
Spezial is an absolute must for rauchbier (smoke ale), with no fewer than four different varieties. The building is an attractive, ancient, half-timbered edifice, with an old-fashioned wrought iron sign. We sat at one of the long pine tables and took in the abundance of animal skulls around the walls. In one corner, atop a small bar, sit wooden barrels and this is where the beer is poured. We visited here early on a mid week afternoon and the place was packed.These were two of the best brew pubs that I have visited and they both have an excellent atmosphere.
Onwards and upwards as they say, and as Bamberg is built on seven hills this is always the case.
Kaiserdom Brauereigasthof & Hotel Gaustadter Hauptstrasse 26.
A hotel, restaurant and beer garden close to the brewery. It seems to be quite a new building, which lacks character and atmosphere. The beers, however, are good, especially the schwarzen beer, which is served in large stone pots. Well worth the walk, especially for the cake shop half way there!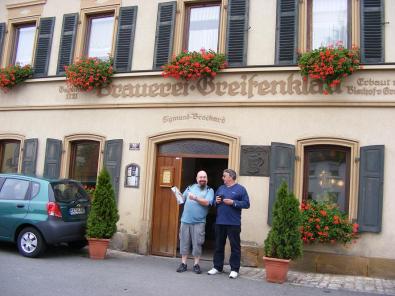 Privater Brauereigasthof Greifenklau Laurenziplatz 20.
This is a small brewery which was about 10 minutes out of town, on an old 18th century street snaking along a ridge. There are rooms either side of the entrance, the larger one on the right also housing the bar counter. We got there at 9:15am and were not the first in! A couple of the local were already knocking them back. The beer garden is supposed to be well worth a visit but was closed at this time of day, apparently there is a fantastic view of the forested hill where the Altenburg castle perches. Greifenklau is very much a pub brewery, not supplying draught beer elsewhere. Only one beer on offer, a Pils, which we found very refreshing, setting us up nicely for a day of beer hunting.
Die Landwinkl Bräu, Siechenstraße 24
Open: Wed - Fri 18.00 - 23.00
This is another must go when you are in Bamberg, probably the smallest brewery in Bamberg, with a special charm, fantastic beer, a wonderful owner, amazing bartender. Plus friendliness towards the guests that only Bamberg can offer. A small cosy brew pub with a great atmosphere. Located on the same street as Brauerei Spezial and Fässla.
Kronprinz Bamberg, Gaustadter Hauptstrasse 109
Open: Daily 17.00 - 23.00
This modern style brewpub is located a 15min walk (or take bus 906 to Gaustadt Fabrikbau), from city center on a busy road next to a Lidl supermarket. A nice modern setup, quite dimly lit, with lots of tables and a bar to sit at, also free wifi. The beers here (10 taps) are solid to very good, flight's are available, as are small pours. Service is always very friendly and attentive, the absolute best. A bit upscale and pricy, but overall a great place to quaff some bier.
Brauerei Keesmann Wunderburg 5.
The entrance to Keesman is through a wide arch, behind which is a stone-flagged corridor. To the left is an L-shaped room containing the bar. It has the usual pine tables and panelled walls adorned with dead animal skulls. There is a courtyard which separates the pub from the brewery and a small beer garden. Only 2 beers here, but both ok.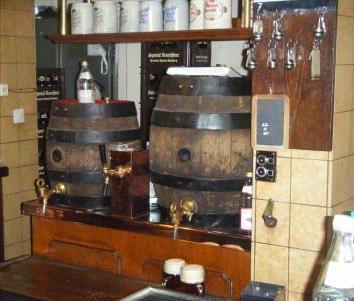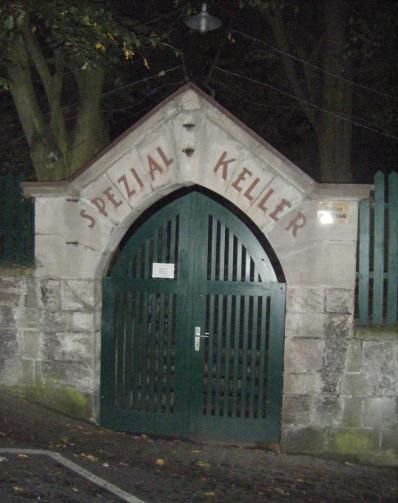 Mahrs Bräu Bamberg, Wunderburg 10.
Open: Mon 15.00 - 21.00 Tues - Sun 11.00 - 22.00
This is a must do pub, bursting with atmosphere, characterful rooms and a beer garden too. You enter the brewery through the garden. The inside of the pub is reached via a wide flagged corridor, which stretches right to the rear of the building. The first small irregular-shaped room contains the bar where the beer is dispensed from wooden barrels. All three beers were duly sampled and were not found wanting, my favourite was the Ungespundet (Unfiltered) at 5.2%, very suppable.
Hopfengarten Bamberg, Zollnerstraße 24
Open: Thurs - Fri 09.00-12.00 & 13.30-18.00 Sat 09.00 - 13.00
A lovely event location just behind the Bamberg train station. Hosts several beer-related happenings during the year, including a Craft-beer fest in the early summer which is really pleasant. It's a very beautiful garden with hops, flowers, fruit trees, vegetables and a brewery. An amazing setting. Great people, fun beers that are likely to improve even more🤞🏼 Try it 🤩
Klosterbräu Bamberg, Obere Mühlbrücke 1-3.
Open: Wed - Fri 14.00 - 01.00 Sat - Sun 11.00 - 23.00
Klosterbräu is Bamberg's oldest brewery, dating back to 1533. Around the corner from the pub, on Concordiastraße, is the facade of the brewery, with the name almost totally obscured by climbing foliage. The pub itself has the usual wide arch with a room on either side. The larger room to the right houses the bar counter, which is where we decided to sit and enjoy the beers and soak up the charm of the place. The interior is very simple, but pleasant. We did not try the food, however, it looked excellent and there were a lot of people eating. The staff all sat at the side of us and devoured a large pot of mussels! My favourite beer was the Schwärzla, a black beer unlike anything else brewed in Bamberg!!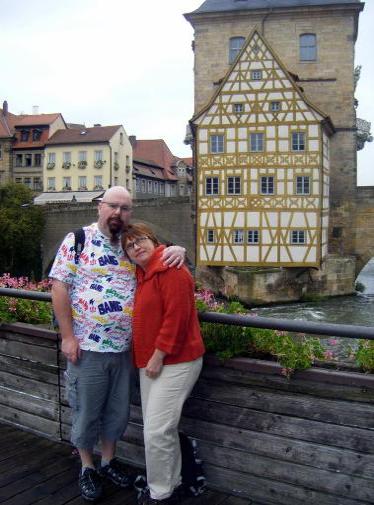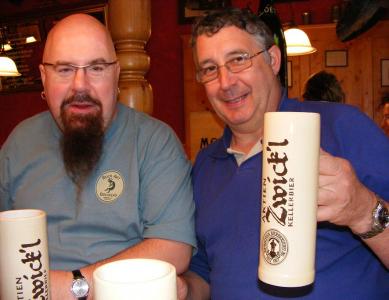 Café Abseits, Podeldorfer Strasse 39.

Open: Daily 09.00 - 14.00 then 17.00 - 00.30
Café Abseits is very much different to all the bierkellers and gasthaus in Bamberg. It's a freehouse with five different German beers on tap, supported by about 70 bottled beers, most of them Germans and a few Belgian ones. It's located 'on the other side' of the railway station, easily reached by walking under the railway tracks. Well-made food, great atmosphere inside as well as the great biergarten. World class, indeed.
Stöhrenkeller, Oberer Stephansberg 11
Open: Sat - Sun 16.00 - 20.30
A small inconspicuous pub located a short walk uphill, near Spezial Keller and Wilde Rose Keller. It's stylishly decorated with a combination of modern-retro almost minimalist, feel with vintage elements, a rarity in Bamberg. A few rotating taps of local and regional beers, as well as some bottles. Friendly service very knowlagable about the beers they have.
Open: Mon - Sat 10.00 - 18.00
An awesome brewery and shop! A good beer selection. Every Saturday they offer an open bottle for every guest where you can try their beer. They have a great selection of goodies and display of breweries that they work with. They sell some nice beers brewed with their own malts as well. A must-visit for (home)brewers and enthusiasts.
Der Pelikan, Untere Sandstrasse 45
Open: Thurs - Tues 17.00 - 02.00
Located close to the city centre as to be expected but with a neighbourhood feel. This place has multiple themes going on at the same time successfully. Thai cuisine, cocktail bar and Bavarian bar. The service is great. Their selection of Fraconian beers is extensive, and constantly rotating. The crowd is young locals speaking loud and having fun. Miles from the traditional German pub. Their Biergarten has about ten tables in it making it a cosy place to sit on a summer evening. Good food, good beers, good ambiance. Hidden gem of Bamberg.
Zapfhahn, Untere Sandstrasse 14
Open: Mon - Fri 17.00 - 00.00 Sat - Sun 11.30 - 01.00
A nice place with a Biergarten located close to Schlenkerla. They have some German craft beers and an interesting selection of Franconian beers, different from elsewhere for sure, as well as some Belgians. The menu has a big selection of Burgers as well. The prices are fair. A fairly young clientele, and there's always something going on here, this seems to be the dive bar of Bamberg!
Café Esspress, Austraße 33
Open: Daily 09.00 - 23.00
A nice student café with a decent menu for lunch in downtown Bamberg. They have some uncommon beers on tap and of course, there are also Franconian local beers. It has Wi-Fi, one of the few places in Bamberg that does, ja! The service is friendly. Why not it it a go?
Eckerts Wirtshaus, Ob. Mühlbrücke 9
Open: Mon -Fri 09.00-14.30 & 17.30-22.00 Sat-Sun 09.00-12.00
A great spot along the Regnitz river. What a nice view, especially when sitting outside, on a small bridge terrasse. Impeccable service and food. Traditional German cuisine, abundant but stylish and of a refined taste. Maybe possible to find a Gänstaller vom Faß you haven't tried. Not very beer-geeky. But location-geeky indeed.
Das Pelikan, Untere Sandstraße 45
Open: Daily 17.00 - 02.00
Thai food in a very German style tavern, with awesome feel and super friendly staff. Also a good selection of Franconia beers plus a Biergarten has about ten tables that's a great place to spend an evening supper in Bamberg and relax in the beautiful atmosphere of the place 👍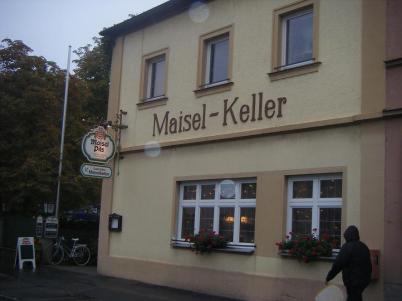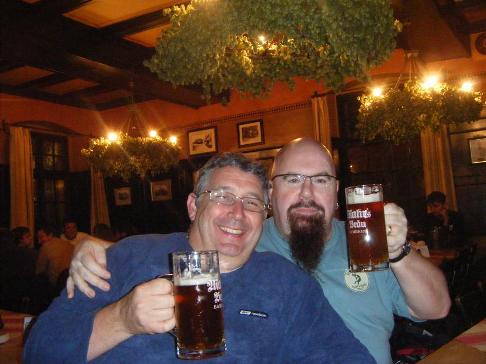 I hope you found my guide to the brewpubs and bars in Bamberg, useful?
Now you just need to get yourself out there and start the beer adventure for yourself!
Go grab a locally brewed pint (or 2) and support your local brewers!
Prost Otto