Hello again Otto here rambling around France :-)
France has a bit of a renaissance going at the moment concerning beer. You may not think it, with all the wine that is drunk over there. There are, however, quite a few new micro breweries springing up and why not, as beer goes much better with cheese than wine does. But the French have always enjoyed their beer. At the end of the 19th century, there were 2,800 small breweries in France. By the mid-20th century, production had been concentrated in the hands of a few large producers. And with that switch, flavour, the cornerstone of craft beer, took a backseat to profitability. Beer consumption began a five-decade decline. By 1975 there were only 23 breweries left. Wine, with its temperamental grapes and much-lauded craftsmanship, easily outshone the bland, industrial product to which beer had been reduced.
Until recently, beer drinkers in France who wanted to quaff anything with character had to be content with a limited number of foreign beers, mostly from Belgium. Microbrewers in the US and UK have been bucking tradition for decades now, and in doing so have revitalized an industry and gained legions of passionate customers. In more recent years, while craft beers have taken off in neighbouring countries like Denmark and Italy, France has lagged behind, content with its industrially-made Kronenbourg. That's all changing. It seems that in France, craft beer has finally arrived. The French beer revival is now in full flow to the point that around over 150 breweries have opened since 2000, with a wide variety of beer styles and brewing techniques. Now it is possible to drink British-style real ale, German-style weissen bier, Belgian-style witbier and spiced beer, along with the traditional Alsace and bière de garde styles. A handful of tiny rural breweries have found the trend towards organic produce in France a real benefit, with a ready market for organically-accredited beers. The micro breweries are introducing the French to new, more interesting styles, such as the 'biere au malt whiskey' a reddish ale quite smoky and peaty. Also some brewers make a strong dark stout in the traditional style around 6%.
Although almost half of all the breweries of France are in the highly populated and quite industrial regions of Nord/Pas-de-Calais and Alsace/Lorraine, the current trend is for new breweries to open in the rural provinces. Brittany is becoming a brewing centre of its own with over 16 breweries operating at last count, but the rest are scattered thinly around this huge country.
(Click on the Map for more information on visiting France)
(also my link section over my imoji and top of each page)
One of the first small micro brewery that was set up is;
'Le Brewery' La Poelerie 61320, Joue du Bois
A producer of traditional beers using traditional recipes and techniques. It is located on an old cider farm that dates back to an 11th Century forge. The brewery entered production in May 2001 and is run by an English couple Steve and Jane Skews. On our visit they were in the process of brewing a strong rich and warming stout called 'Odo'. This is a traditional English milk stout at 6.5% and is available in 75ml corked bottles and in cask form. This is one of our favourite beers. (We have been there twice now).
Also during the visit Steve and Jane were preparing for a major French TV station to pay them a visit. Le Brewery brews a biere brune @ 5% called 'Conquerant' and a 'Blonde' bier @ 4.8%. Also, they brew seasonal biers and at the time of our visit a bier called 'Allies' celebrating the D-Day landings was available.
A trip to the brewery is a grand day out, you get to see all around the brewery and to taste each of the brews. There is an outside bar with hand pumps on and you can play boules in the courtyard. Just past the bar area and over a bubbling brook and up a hill they have a field were they grow their own hops (3 varieties) There is a small shop were you can purchase bottles of bier and some small souvenirs.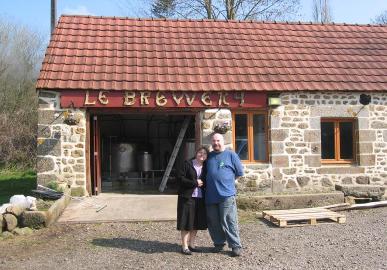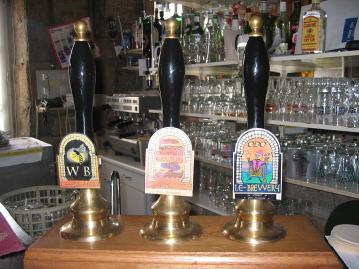 Other breweries of note in France are 'Fischer' based in Alsace. You will find these brews in most of the supermarkets and in quite a few bars. They do a Fischer Strong Larger 4.5% not really strong but quite refreshing served cold on a hot afternoon playing boules. Another brew is Fischer Amber - a sweetish malty bier. We have also come across Fischer Bitter a bitter larger bier quite malty.
'La Choulette' is a brewery of some renound with biers such as Ambree a malty beir with vanilla notes. Blonde - fruity larger style bier. Framboise - a lambic bier which has a firm maltyness with an abundance of fresh raspberries. You can also find these beers in England in specialist off-licences.
Another brewery in Brittany is 'Lancelot' based in St.Servant. This is a small micro that produces some interesting, spicy and herby biers. Such as Cervoise Lancelot, Biere Bretonne and Blanche Hermine, the later is a fruity spicy ale with coriander notes.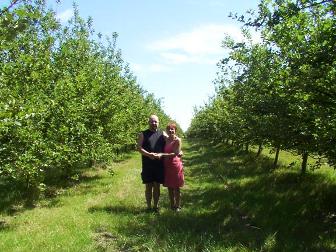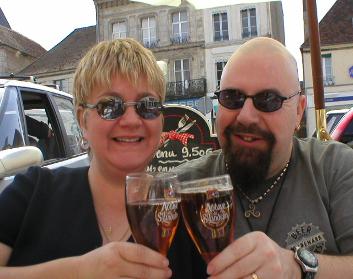 One brewery that everyone with be familiar with is 'Kronenbourg' down on the French / German border this is Frances main international brewer the main brew is '1664' which is a standard euro fizz larger available across most of Europe. They also brew some special beers such as Allemande a pilsner which is also quite bland.
Another brewery of not is 'Jenlain' if you are lucky enough you can find these in the UK. Biers include a Biere de Garde a fruity spicy soft bronze beir around @ 6.5% A Biere de Noel a spicy complex Christmas bier quite malty, and a 'Blonde' a strong golden ale woody spicy with apples and peaches in the nose and on the pallet.
Other brewery's of note are 'Cimes' - Belgian Style ALES. 'Coreff' - One of the new Breton breweries. 'Meteor' of Strasbourg. 'Thellier' A farmhouse brewery in Bavay. Also of note is the cider industry of Normandy and Brittany normally sweeter than English cider and lower in strength. If in the area it is well worth a visit to a cider farm.
A votre sante Otto