Hi, Otto here with all the gen on Köln (Cologne), home to Kölsch. What is Kölsch? According to the 'Kölsch Convention', an agreement between the German government and brewers, a beer may only be called Kölsch if it meets the following criteria: it is brewed in the Cologne metropolitan area, and if it is a pale in colour, top-fermented, hop-accented, filtered, 'Vollbier' (11 - 14º plato}. There is little ale character to be found, apart from a little fruitiness. It has a very soft, rounded character and can be quite sweet. But saying that Köln is well worth a visit there are plenty of brewpubs/brewery taps in the city and all except one within walking distance. You need 2-3 days to do them all justice. It is easy to get there with cheap flight from Manchester and Liverpool and you can get the train straight from the airport. We were lucky and were picked up by Bernadette, our interpreter, guide, driver and all round top bier babe over the next 10 days. Hotels are plentiful but better to book before hand. As of March 2022 there are 14 Brewpubs.
Also a must while you are there is a trip to the Dom (cathedral) a stunning gothic building and in its shadow is the;

Früh am Dom, Am Hof, Cologne.
Open Daily: 08:00-24:00

The brewery itself is no longer housed here. The main room has a medieval atmosphere and conjures up the image of a baronial dining hall. Adjacent to the beer serving area is a taproom. But you do get to see the assortment of odd-sized barrels from which the waiters pour the glasses of fresh Kölsch. (Note: as soon as you empty your glass a new one will be brought until you cover your glass with a beer mat). The meals are very good if a little expensive; well you are in a city.. Spacious outdoor seating in the shadow of the Kölner Dom. Fast and nonchalant service, very busy, noisy, and touristy.
Sünner Keller, Kalker Haupstrasse 260.
Open: Mon - Wed from 15.00 Thu - Sun from 12.00

A great brewery and Biergarten. That is a little way out from the centre but easy to get to and just a 2-3min walk from Kalk Kapelle UBahn. A great atmospheric Biergarten that is a great place to chill out on a warm evening. Also a very nice cellar bar that you can see the brew kit from. Good traditional beer food and service is good.
Heading passed the Dom and towards the Rhine is;
Peters Brauhaus, Mühlengasse 1.
Open: 11:00 - 24:00 Daily?

This is the brewery's showcase outlet, located in an alleyway just off the Alter Markt. The building used to be home to Brauhaus "Zum Kranz", which stopped brewing in 1898 and closed its doors as a pub in 1907. At the end of the war little more than the facade remained. Peters re-opened it in 1994, after having lovingly recreated a traditional Brauhaus interior. The pub rambles around, with rooms of all shapes and sizes. Pine-topped tables, leaded glass, panelled walls and a stained glass domed ceiling in one room. The Kölsch is wonderfully refreshing we visited here 3 times on our visit. There is a shop across the road selling souvenirs.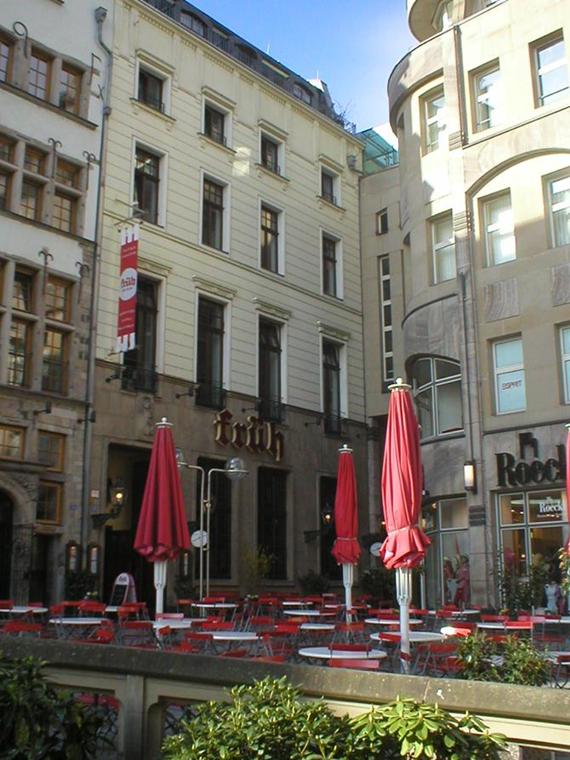 Gastwirtschaft Hans Lommerzheim, Siegesstraße 18, 50679 Köln.
The holy grail of pork knuckle and sausages in Köln? If you like Pork and Beer, this is heaven. A Kölner classic, revived and now comfortably at ease with being a revived run-down stereotype of solid Cologne, no-nonsense Brauhaus tradition.The place is crowded with locals and the odd beer geek, loud and beery. Highly recommended. An authentic Cologne beer experience.
Brauhaus Goldener Pflug, Olpener Strasse 421.
Open: Daily 16:00 - 24:00.

This pub is about a couple of blocks from the light rail station in the suburb of Merheim. A great Biergarten and bar/brewery? The restaurant is devided in two parts, one like a classical restaurant and one a bit like a bar where you can eat some small but tasty things from the "Cologne menu", having a beer and watching football. Delicious fresh beer on tap and delicious meals and all served by a friendly staff. Especially recommended: "Sharp Merheimer". What's this? Find out for yourself.
Brauhaus Sion, Unter Taschenmacher 5.
Open: 10:00-00:30

Located very, close to the Cathedral and very easy to spot. The inside is impressively big with a huge hall in the back with lots of sitting. Service was pretty standard. There is one beer available, their Kölsch which is good. Like the other Kölsch places, food is the focus or an essential part of the drinking. There are some tables outside which were quite popular despite the cold weather and give the impression that it was overstuffed despite the fact that there was lots of place available still in the back. Well worth stopping here while hitting the palces.
Top tip; check out the massive subterranean Roman ruins right around the corner!
Sünner im Walfisch, Salzgasse 13.

Open:Montag – Freitag 17:00 – 1:00 Uhr Samstag & Sonntag 11:00 – 1:00 Uhr
A multi roomed interia, very traditional with wood panelling, wooden floors and scrubbed tables etc.. There is a small tap room just to the right that will seat approx 10 and you get to see the Kölsch poured from the barrel, they also had on an excellent Hefeweizen bier, the northern take on Weiss bier is more bitter than the southern but still refreshing.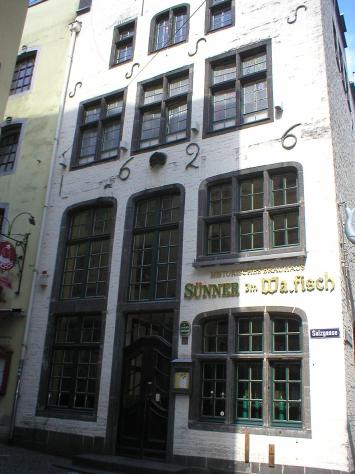 Brauerei Zur Malzmühle, Heumarkt 6.
Open: Daily from 11:30 till late?
Probably, the best pub in the Altstadt. It has a room either side of the entrance. Wood-panelled walls and pine-topped tables give it a real pub feel. The beer is well-liked locally and with good reason - it's very nice indeed. Malzmühle Kölsch is malty, light-bodied and dry. There's a decent selection of local food, but the emphasis is more on drinking. Well worth crossing various roads and tramlines to get to it.
Bierhaus en d'r Salzgass , Salzgasse 5-7.
A large rambling building that looks like they raided a church for the decoration, the menu looked good so we had a meal here and as always in Germany it was large and substantial, no nonsense and very filling. The Päffgen Kölsch here was bitter and went well with the food. It was formerly Brauhaus zur Tasch, but brewing stopped around 1907.
A tram ride out of the city and then a bit of a walk is:
Brauhaus Reissdorf, Kleiner Griechenmarkt 40.
This is a large modern building with the top of a brew kettle over the bar, the waiters are friendly and the Kölsch is very refreshing after the ride out there.
Craftbeer Corner Coeln, Martinstraße 32
Open: Mo.-Do. 18:00-00:00 - Fr. & Sa. 17:00-01:00
Located not far from the Heumarkt. If you are a beer lover, Craftbeer Corner is excellent, a perfect laid back beer bar that you must visit if you are a "beer geek". They offer 15 different craft beers on tap. For only €9.00... you can have a flight of 5 different ones. In addition, they have a wide range of bottled and canned selection of craft beer from around the world. I also like the fact that the staff are multilingual and so are most of the clientele hence making for a great atmosphere to meet and converse with other beer geeks! Inside it's a "new school hipster" divebar feel with a few separate rooms to make it feel smaller, centered around a nice sized bar. They even have a chandelier made of used beer bottles. A must visit for beer lovers in Cologne.
Weissbräu zu Köln, Am Weidenbach 24/Pantaleonswall.
Montag-Freitag 15.00- 0.00 Uhr:Samstag 12.00- 1.00 Uhr: Sonntag + Feiertag 11.00- 23.00 Uhr
All 3 of us voted this as the best Brauhaus in Köln (could this be because it had the dark stuff). Here the Kölsch was clear and refreshing, we then tried the Weiss bier which was a touch bitter but very good. Finally we had the Schwarz bier served in stone stiens; this was based on a Czech dark larger, voted the best bier in Köln unanimously. The brewing kit can be seen as you enter and the conditioning tanks are in the basement, if you intend to eat here booking is essential in the evening. There is also a cool little Biergarten.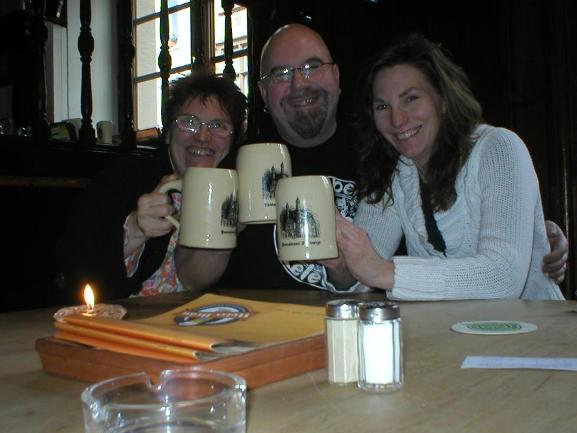 Braustelle, Christianstr. 2.
Open Daily 18:00 - 01:00
This is a tram ride out of the city and is about 50 yards from the tram stop. This is supposedly the smallest Brauhaus in Cologne. Braustelle is a brewpub in a bustling neighborhood several miles from downtown Cologne. The door is on the corner of the building, and the modest bar, several steps inside, runs diagonally across the room and seats perhaps 12. The rest of the space is taken up by about 15 variously-sized tables. The brewing equipment is in the back of one side and mostly in the basement. All the biers were unfiltered, so technically the Kölsch is not truly a Kölsch. We also had the Weiss bier again this was bitter, then the Ehrenfelder Alt (old ale) a darkish bitter ale. And the seasonal special the Frühlings Erwachen a spicy spring bier with hints of ginger.
Birreria Duexer Botschaft, Am Weidenbach 24
Open: Daily 15.00 - 00.00
A mix of brewery and pizzeria with a few cozy rooms and an inviting roof terrace for the warmer days. In addition to their own beer five draught, there is also a bottle menu with exceptional beers, (but beware some of them are way passed the BBD!). The menu is predominantly Italian, so pizzas and pasta, but there is also steak, schnitzel and more to order. The prices are reasonable and the staff are typically German. Worth a visit especially for beer drinkers.
Brauhaus was Heller, Roonstr. 33.
Modern brewery serving organic home-brewed beer with German food served in the attic and conservatory bars. A very nice interior, a little bit more modern than other brewhouses but still traditional. There are 4-5 beers on tap and some bottles. The Kölsch 4.5% was mellow and golden, we also tried the Weiss bier 4.5% again a bitter version of the style. I also tried the Eurobok 6.5% a strong amber bok bier a good night cap. Food is good but not spectacular. Barkeepers are amazing, they. The legend itself speaks for the atmosphere. Cover your glass with the beermat to tell them that you've had enough, otherwise they will just walk and "refill" your glass, this applies for most Kölsch bars.

Brauhaus Päffgen, Friesenstrasse 64 - 66, Cologne.
Open: Daily 10:00-24:00

Located ten minutes' walk from the Dom in a much more quiet area of Köln. This brewpub is very charming and welcoming, with a great Biergarten. The waiters / Köbes are very nice and freindly. A typical Kolsch bar, loads of wooden tables, small wooden seats. One of the better Kolsch available.

Gaststätte Lommerzheim, Siegesstrasse 18
Open: Mo-Sa: 17 bis 24 Uhr - Sonntags ab 12 Uhr
Located close to Deutzer Freheit a Ubahn station. Outside it not very inviting, it's got a run-down no-nonsense Brauhaus tradition, Kölner classic? (It needs a bit of TLC) Inside it's a nice old fashioned place quite small and cosy, also there is a nice yard at the side with tables and seats for when the weather is good. Blue-collar atmosphere, with an eclectic range of clientele, brilliant service by the friendly staff. The food is the main draw here, with the chunky, crispy, juicy Kotelett and mandingo Bratwurst worth the trip alone, the singular Päffgen served from the cask is always in excellant condition. When in Cologne, definitely worth a visit.
Brauhaus Pütz, Engelbertstr. 67.
Open: Mo-Sa 12-1:00, So 16.30 - 1:00
About a 10 minute walk from Brauhaus from Paffgen. The bar is just set back one street from the Hohenzollernring and it is towards the top end of Engelbertstrasse. As you enter there is a seating area to your left though you have to continue walking along a short corridor enter the beer serving area, a square room with three round high tables and stools, with another two further eating and seating areas. If you want to avoid Malzmühle in the Altstadt (old town) go here. Mühlen Kölsch is served out of wooden kegs and you won't find lots of tourists here. Food is decent for a Brauhaus and prices are reasonable.
Bei d´r Tant, Caecilienstrasse 28.
Open: Daily: 11h - 24h
Nice bar that is situated near the tramline between Neumarkt and Heumarkt but much closer to the former. The bar is centrally placed and horseshoe shaped with Kolsch dispensed like many other places from a firkin or pin placed on the bar. It is quite an old establishment with lots of old wood. Service is good, beer good, a nice little stop off.
Gaffel Am Dom, Bahnhofsvorplatz 1.
"Gaffel am Dom" is a brewhouse and pub all in one and located in the "Deichmannhaus" on the northern side of the Cologne cathedral. This is another great bar but looking a little more modern inside than some and it really? If you enter from the cathedral side you can see the bar/serving area as soon as you enter. This place appears to be one huge room mostly set out for those eating, but there is a downstairs section with some merchandise and some history on the beer and brewery. The service was good and ambience fine but like Fruh Am Dom the location of this (a touristy area) does seem less friendly and more functional type of atmosphere.
Gildenhaus, Grosse Bundengasse 10.
Open: Sun - Thu 11am - 3am; Fri - Sat 11am - 5am
A Small traditional Kolsch bar / restaurant serving great bier and good food. Inside pine scrubbed tables and dark wood walls.
Delirium Café Köln, Salzgasse 2-4
Open: Daily 17.00 - late!
Cleaner and hipper than the Brussels version, likely because it is much newer and not open as many hours. A decent place overall with a nice selection of 30 beers on tap and bottle, however nothing really exciting. Also it's located in the wrong area of town, this is one of the more "party" areas and due to this there are just too many people looking to get drunk here! Service is good, helpful and knowledgeable. A nice break from the kolsch?
Paulaner and Löwenbräu also have outlet's near the Rhine worth a visit if you are down there visiting the chocolate museum?
Paulaner im Roten Ochsen, Thurnmarkt 7.
Open: Daily 11:30-01:00

Decent pub if you want a change form all the Kolsch bars? Inside it's tradition German decor, though all polished and new looking. They offer a few choices from Paulaner, but nothing especially rare. Very coperate.
Löwenbräu Köln, Frankenwerft 21.

Nicely located at the Rhine-boulevard with a neat patio outside. Inside looks like an old brown cafe. It also has a hotel upstairs. Typical German food.Beers available were Gaffel kolsch and some of the Lowenbrau range. Service was quite friendly for a touristy area, but not always paying attention.
Bierlager, Bonner Str.38
Open: Mon-Thu 16.00-20.00 Fri 12.00-22.00 Sat 11.00-22.00
A rather small, neatly arranged and clean beer store located close to Chlodwigplatz. A good selection od beers with a focus on German craft beer including quite a few locals and not only the standards, plus some rather hard to find Americans and other international stuff. Decent prices, friendly and knowledgeable staff.
Trink & Spare, Barbarastrasse 3
Open: Mon-Fri 09:00-19:00
A great little bottle shop. They have a good selection of non-Kölsch beers as well as the Köln favorites. There other German beer selection is really good with beer from all over the country including many seasonals.
Pulle & Stulle, Steinbergerstr. 5
Open: Tue-Fri 14-19, Sat 10-15
A cool little craft beer store located in the Nippes area. They have a smaller range than BierLager But they carry some unusual stuff that is hard to find. Well worth popping in if you are in the area.
All in all Köln was an excellent bier vacation I can't wait to go back there.
Prost and Good supping the Otto dude.