The Saarland is a small federal state of Germany, located in the west of the country and forming part of the German border with France and Luxemburg. Its name is very literal - the state is formed by the territory of the Saar river basin, although not all of it, as the river starts in France and flows into the larger Moselle river in Rhineland-Palatinate. Saarland has been heavily industrialized since the 18th century, thanks to its formerly rich coal deposits, and is now often written off as remote postindustrial periphery. In reality, the compact state holds natural wonders to behold and quite a bit of interesting heritage, and its location at the European crossroads makes it a worthwhile stop on your trip. Check out Visit Saarland for lots of great things to do and places to go.
Saarland has approximatly 20 brewpubs/breweries as of April 2020
Karlsberg Brewery, Karlsbergstraße 62, 66424 Homburg.
Established 1878 in the town of Homburg, Saarland (then part of Bavaria), the brewery was named after the nearby hill and castle. Karlsberg's ownership has been handed down through generations. The current owner, Richard Weber, is the great-grandson of the brewery's founder.The regional brewery which is excellent, and does free tours (take note English Brewers). At the end of the tour you get a free finger buffet and you could try each of the 6 beers (.3lt) and also the bottled beers. Heineken have since bought out 45% of the shares and we were taking to the owner at the recent Bock festival in 2008 and when he retires if could become part on the multi national as the family are no longer interested!
See also the Internet Site for the city of Homburg in German for a history of the town.
The Homburger Brauhaus, Talstrasse 38d, Homburg.
Open from 9:00 to 01:00 every day except Sunday when they open at 17:00.
The 'little-un's' sister Bernadette who does a brilliant job as our guide and chauffeur for our trips over to Germany (what a top sister in-law/friend). Established in 1990, the brauhaus is centrally located on the top floor of the Saar-Pfalz shopping centre. The brewpub serves Wirtsbräu Hell, Dunkel and Weizen all year round with some seasonal beers including a spring Märzen and Bock from the end of November. Served in 0.3 litre glasses, but you can also have it in a mass (litre glass), which I had filled with the excellent Dunkel. The Dunkel is correct for the style, although not exceptional, and is dark and cloudy with a big head and a slightly malty aroma and taste. The Hell is cloudy with a big head, hoppy aroma and is quite bitter. The Bock has a more chocolate malt aroma with a sweeter start but a bitter aftertaste and is less harmonic than the other beers. The food is reasonably priced and there is often live music on Friday evenings.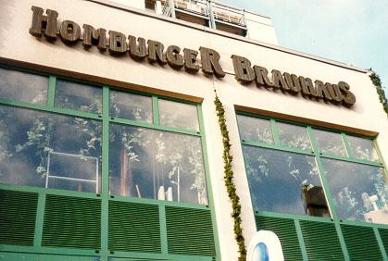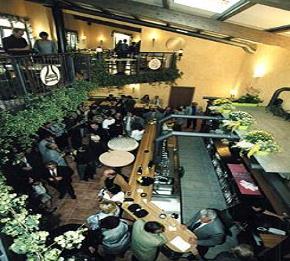 Schmelzer Brauhaus, Am Erzweg 12, Schmelz.

Open every day from 11:00 - 01:00.
Located above the town of Schmelz, and to the east in a spartan new industrial area, one can find the Schmelzer Brauhaus. The brewpubs own website is under construction but may be available by the time you read this. Run by the families Dörr and Quinten the pub serves Helles and Dunkles beers as well as truly enormous portions of food. The Helles, also known as Erzbräu is a clear amber beer brewed with apparently quite soft water, has a fruity aroma and is very lightly hopped, slightly sweet and refreshing. The Dunkles has a very mild fruit aroma and a sweetish malty smooth taste. The beer is served in 0.3 and 0.5 lts. Both beers are quite pleasant and worth a try if you are in the area, especially if you have a large appetite. This pub is Popular with bikers. We all had a traditional Saarland dish for our evening meal and, in my case, washed down with a few glasses of dunkles (I am drawn to the dark side).
Saarfürst Merziger Brauhaus, Saarwiesenring 6, Merzig.

Hours: Daily from 11.00
This Brauhaus has really excellent service. This is not always the case in Germany! There is even a playroom for children, which is put to good use. Merzig Brauhaus established in 1864. The original Saarfürst brewery was taken over by Karlsberg in 1981 and eventually closed in 1987. Karlsberg have now re-opened the site as the Saarfürst Merziger Brauhaus. Open every day from 11:00, this is Karlsbergs attempt to cash in on the hausbrauerei market with a flashy and trendy replica. Interesting considering that Karlsberg was solely responsible for the demise of most of Saarlands older breweries. Lots of cash was evidently invested here. Nevertheless the beers are very good. The beers tasted include a pale amber Maibock which has a flowery nose and tastes fruity, light and slightly sweet. The beer is a little foamy on the palate has a dryish aftertaste and is generally pleasant and well rounded. An 11% Stammwürze 4.8% ABV. Dunkles was also available which has a mild coffee aroma with a slightly malty but thin taste. Quite pleasant also but a very ordinary standard dunkles. But the best one was the Weizen beir which was a classic Bavarian wheat beer, probably the best one all three of us have tasted on our travels?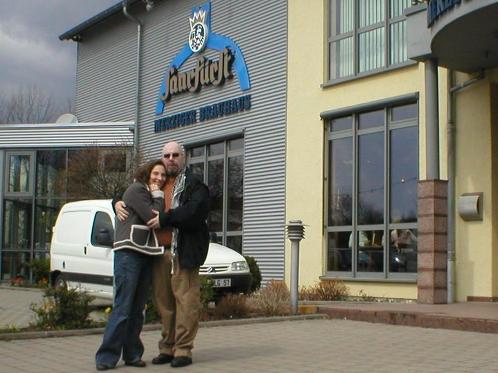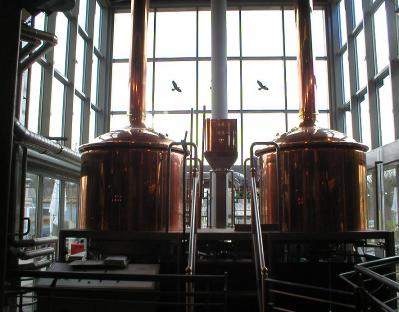 Mettlach situated on a curve of the river Saar and is home to what is claimed to be the western most brewery in Germany. The town is also home to the porcelain manufacturer Villeroy and Boch which is located in the towns 250 year old Benedictine abbey from where the brewery gets its name.
Mettlacher Abteibräu is at Bahnhof Strasse 32, Mettlach.
Open from 11:00 every day except Monday.
Founded in 1997 this modern building comprises of two floors and a very smart shiny brewery . They produce a beer named Abtei Bräu which is copper coloured and although unfiltered is relatively clear and resembles very much a Munich style Märzen in taste. A 5.8% Alc Bock is also produced in November which is apparently made from organically grown ingredients and has a darker copper colour as well as being slightly sweeter than the Abtei beer. The Bock is more of a Maibock style and strength is noticeably lacking where 5.8% Alc is at the lower limit for this type of beer. They also organise a Bock beer festival at the beginning of November.
Also worth visiting while in Mettlach is the Schloss Ziegelberg where its ceramic museum has a nice display of ancient Beer Steins.
If you travel 15 to 20 minutes Northwards from Merzig following the East side of the river, you will arrive in Besseringen.
Ponter Hausbrauerei, Brückenstr 36, 66663 Merzig-Besseringen,
(OUT OF BUSINESS)
This tiny brewpub, and is claimed to be the smallest in Saarland and is only open from Tuesday to Friday from 16:00 and Saturday from 15:00. On Sunday the pub is open from 09:45 to 13:00 and then again from 17:00. Two 12% Stammwürze 5% ABV. beers are on tap here, a Helles and a Dunkles called Schwarzer Abt both served in attractive glasses. The Helles has a hoppy aroma with citric notes and has a taste reminiscent of an English bitter. The Dunkles has a chocolate malt nose. Was very quite when we were in lots of old brewery memorabilia around.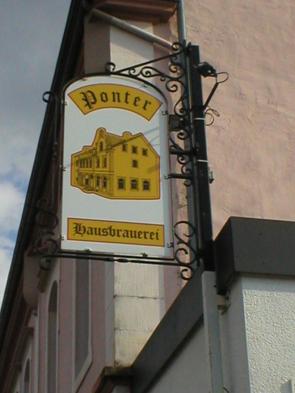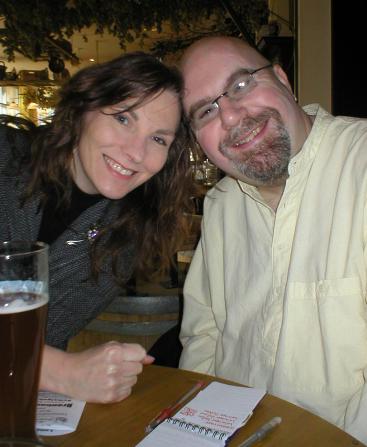 Onward on upwards as they say and as it was a nice day we set off for a bit of a "ramble" in the sunshine around a lake, and as luke happened ther was a brew pub there!
Hochwälder Braugasthaus, Zum Stausee 190, 66679 Losheim
Open from 11:00 every day
The brewery is in a very nice setting overlooking the lake and comprises of a very modern open plan pub with interesting bottle chandeliers as well as a very large beer garden. The large brewery itself is under the main building and contains spotlessly clean enclosed stainless steel fermentation vessels. So after work ing up a thirst we sampled all the beers on offer, Stammwürze 4.5% ABV. Helles which is a light drinking fruity beer with a good Hallertau hop aroma and is particularly thirst quenching. Next up was the Dunkles called Donatus which is quite lively, more malty and foams in the mouth. This beer has very good consistency and is also pleasant and thirst quenching. 5Then a nice 4.5% abv Weizen, which has a pleasant pear drop nose with a trace of coffee. Darker than the average Weizen this beer is fresh, fruity and lightly hopped with a slightly dry tail end. All the beers are served in original shaped glasses and a good menu is on hand to satisfy most hunger requirements, in particular the Flammkuchen are recommended. They seem to do t-shirts and other souvenirs ? But we have been back a few time now and they are always awaiting stock? Still a nice display though!!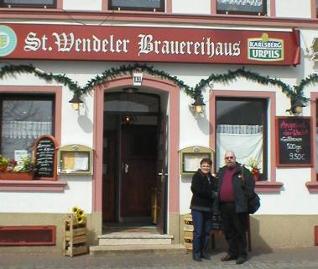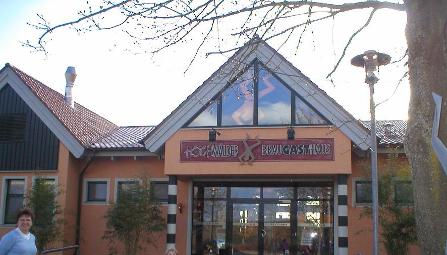 St. Wendeler Brauereihaus, Balduinstrasse 43, St. Wendel
A cute litte "once upon a time" brewpub is found in the village of St.Wendel, just off the main Street, they do a passable Helles and a Dunckel the building is over 200 years old, and the brewery is nice and compact, but is it used ? Visit and make your own mind up. I have hear that the Beers now brewed at Karlsberg?
The Grosswald Brewery, Grosswaldstraffe 130.
The second largest brewery in Saarland is located in Eiweiler and is still family run. They brew 8 regular beer and a couple of seasonal ones. There is no brewery tap but the beers are freely availably in the area.
The ones that slipped passed us!
Korpricher Landbrau, Banhnofstaffe 40 Nablbach-Korprich.
Hours: 17:00 bis 24:00 Sun 12-24 Closed Wed in Winter.
Nice small brewpub. Good, standard beers and regional food. Really not much more to say about this but worth a stop if in the area. Nice local feel about the place.
Stumm's Brauhaus im Neunkircher Wasserturm, Saarbruecker Strasse 16, Neunkirchen.
Hours: Mon-Sat from 11:30, sun from 16:00
A very strange place indeed, just below the most strange water tower (wasserturm - it looks like something out of Mad Max) in the world inside it's a mix of German style and American dining. Inside, there are machine parts everywhere, including 4 taps made out of old valves. The beers are tasty enough, the food is good, and the service is cheery and efficient. Worth a look.
Brauhaus Am Burgplatz, Am Burgplatz 18, Puettlingen.
Hours: Mon-sat 18-23, sun 7:30-14
A Brewpub in a strip mall, but this place has apparently not brewed anything for a good time according to the bar staff? Clean and cosy hotel restaurant. Good parking space as Lidl and Rewe more or less are in the same building.
Rittenhofen Dorfbräu, Am Hermesbach, Rittenhofen-Puettlingen.
Opened in 2008, the Dorfbräu a small brewing plant, which produces the Dorfbräu. Beers, in a museum setting.
Püttlingen Brauhaus, Am Burgplatz 18, 66346 Püttlingen.
Walsheimer Sudhaus, Zum Sudhaus 2, Gersheim.
Fruchtgetränke Gersheim, Industriegebiet 19, Gersheim. They may only brew Cider?
"Hau' weg das Zeug!"
FROM THE LITTLE'UN, OTTO, & BERNIE