Frankfurt am Main, the dynamic and international financial and trade fair city with the most imposing skyline in Germany. This is the image that many visitors associate with the Main metropolis. But the city in the heart of Germany and Europe can offer many other facets and contrasting variety. Near to the skyscrapers you can find cosy Ebbelwei pubs and at the heart of the bustling city centre you can find historical sights again and again. Frankfurt is not just proud of its most famous son, Johann Wolfgang von Goethe. The Kaiserdom (Cathedral) and the Paulskirche, the cradle of German democracy, are also to be found here. Interesting destinations for excursions in and around Frankfurt, turn your stay into a great experience and sup a few tasty biers along the way.
Frankfurt's restaurants have a lot more to offer than just the Frankfurt 'national' meals of 'Handkäs' with music' and 'Grüne Soße'. For the restaurant scene is just as lively and multicultural as the town itself. Visitors can try culinary specialities from many countries. There is sufficient choice for night owls too: there are restaurants, bars, clubs and discotheques in all parts of the city.
For shoppers, Frankfurt is a real 'el dorado' with its many shopping streets and centres. In the heart of Frankfurt's city centre lies a shopping street with one of the highest turnovers in Europe. On the Zeil, the shops offer practically everything you could ever wish for. The nickname, 'Fressgass,' for the pedestrian zone between Opernplatz and Börsenstraße is justified. Here there is a large selection of restaurants and various fine food shops.
Those who set out on a discovery tour of Frankfurt can easily reach many of the sites on foot or by bus and train. Many attractions are not very far from one another in the city centre, and with public transport, you can quickly reach further sights such as the Palm Garden and the Zoo. A city tour with the nostalgic tram, the 'Ebbelwei Express' is particularly popular. Also culture lovers will find an impressive selection of renowned museums on both banks of the Main.
So we have set the scene now time to go out and find some of the best places to sample beer in the city. The city has three brewpubs and one large regional brewery Binding/Henninger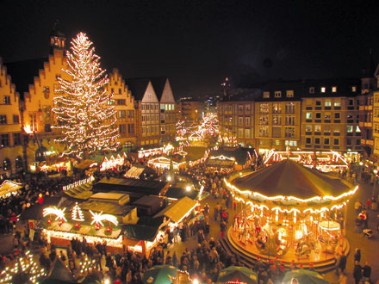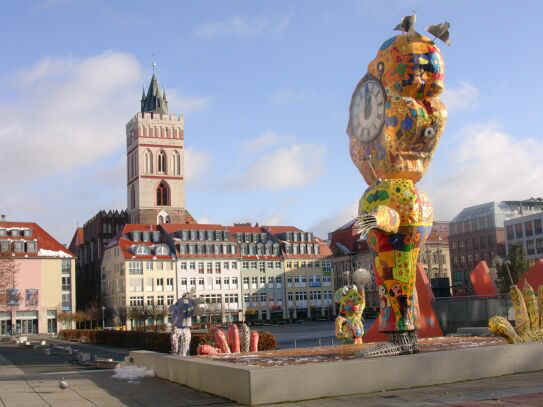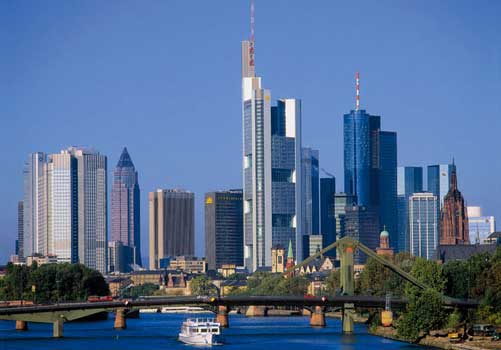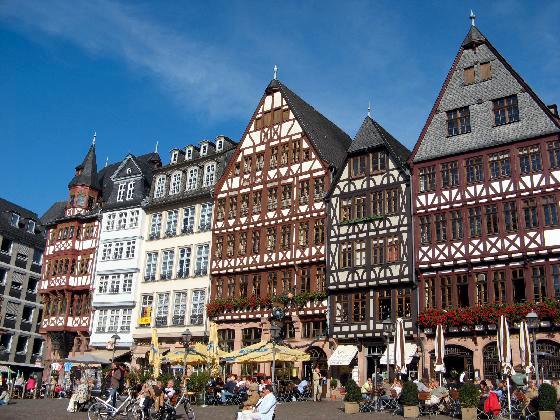 Alt-Oberurseler Brauhaus; Ackergasse 13, 61440, Oberursel
Transport; U3 Portstrasse, S Oberursel (Taunus)
Another out of the Frankfurt place, but actually on the UBahn system, this rustic brewpub is located in Oberursel old town. In the main rooms you can see, smell, hear and taste the beer being made in the brew kettles, which are in operation during opening hours. There is seating for around 190 people, plus a vaulted beer cellar accommodating a further 110 at long tables and in intimate niches. Ruther rooms can be hired for weddings and private functions and in summer the large beer garden is open. Breakfast, including a large "Bayer-Fruhstuck' is served every day along with good regional food, including homemade charcuteries. The beer fan can choose from three home brews: all year round there are pils and vetter 33, the latter supposedly the world's strongest beer. The third beer will be one of the 16 different seasonal specialities. There is also a distillery and guests can watch the schnapps being made.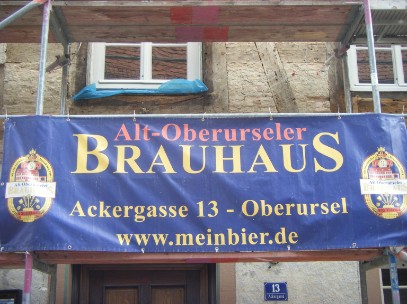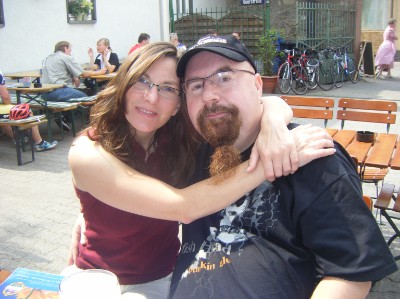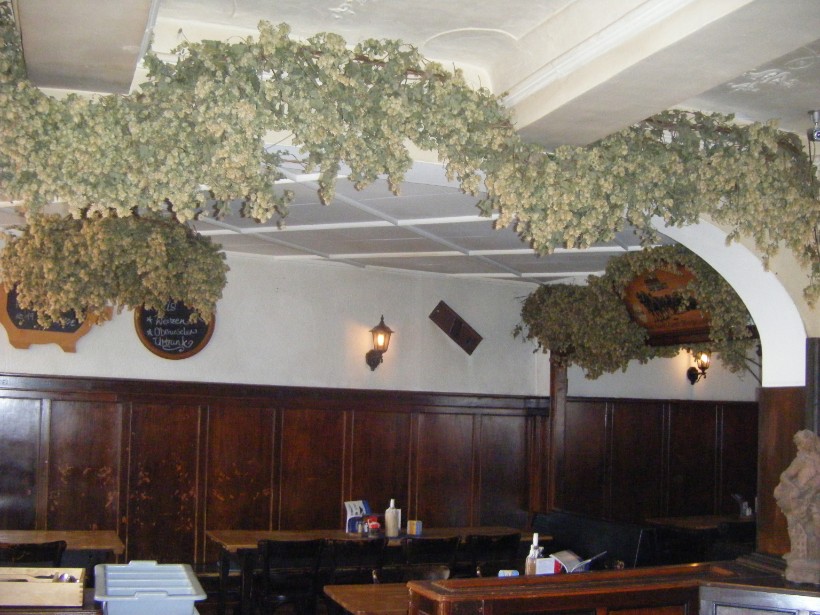 Bier - Hannes Brauerei zur Mainkur; Hanauer Landstr. 568,60386 Frankfurt.
Opening hours: Mon-Sat 16:00-24:00, Sunday closed; Transport: The best way to get there is by public transport on tram 11, getting off at Mainkur Bahnhof stop. The Bier-Hannes is in front of you on the right hand side
Bier-Hannes is a nice and traditional brew-pub, on the eastern outskirts of Frankfurt.Truly German beer stube atmosphere, locals having their afternoon/evening dinner and beers. Friendly staff (not speaking much of English). The menu is traditional German home cooking with large portions. There are 4 beers to select from. Small selection, but really great beers. Worth every penny to pay a visit. The interior consists of three interconnected rooms, all done out in a traditional style. It also has a large beer garden where they arrange events like seasonal beer openings. One of the very few decent beer places in Frankfurt so for that reason alone worth taking the long tram trip.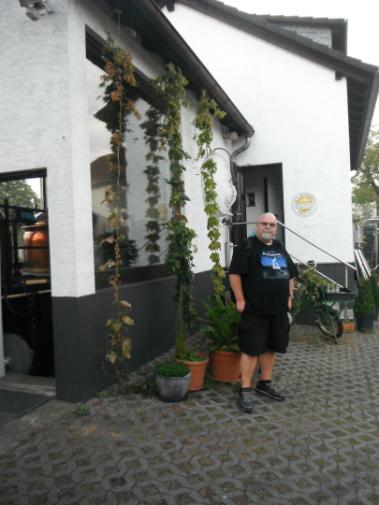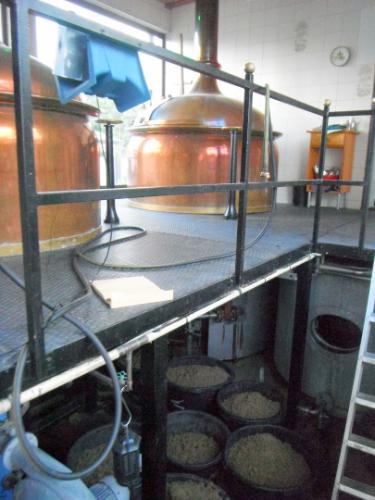 Gaststätte Doctor Flotte; Gräfstr. 87,60487 Frankfurt am Main.
Opening hours: Mon - Sun 06:00-02:00
Just NW of the centre, near Bockenheimer Warter U-bahn station (U6 or U7). A wonderful traditional pub in a turreted "Gründerzeit" building. Lovely rustic and comfortable interior: a single plain bar with wooden floor and high timber dado; battened ceiling; it was recently renovated by the new owners in traditional style, but without the chintz – there's lots of wood, old photographs and bric-a-brac. Local food plus schnitzel and steaks are on the menu. Beers come from a number of breweries in both draught and bottled varieties. The serving counter is in two parts: a main square servery, then a horsehoe-shaped extension, around which apfelwein-drinking locals sit on stools. Behind the servery is a congested corrider leading to the toilets and a hazardously-located dartboard. Highly recommended as a pub.
Drosselbart; Eschersheimer Landstrasse 607,60433 Frankfurt am Main.

Opening hours: Summer:
Mon - Fri 12:00 - 14:30 and 16:30 - 23:00, Sat 16:30 - 23:00,Sun 12:00 - 23:00
Winter:Mon - Sat 18:00 - 23:00, Sun 12:00 - 14:30 and 18:00 - 23:00
Public transport:U-Bahn U1, U2, U3 station Weißer Stein S-Bahn station Eschersheim
A large traditional pub with a restaurant serving good hearty meals. A beer garden that has been around since 1900.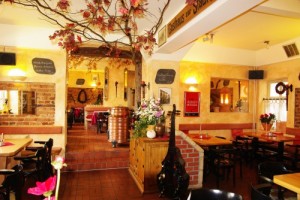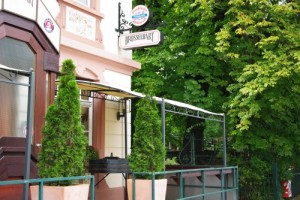 Klosterhof; Weißfrauenstraße 3,60311 Frankfurt.
Opening hours: Mon - Fri 11:30 - 01:00,Sat-Sun & public holidays 17:00 - 01:00
Public transport: U-Bahn Willy-Brandt-Platz
A large pub and beer garden on the site of an old monastery. It has two house beers specially brewed for it.
Zu den Zwölf Apostel; Rosenberger Strasse 1,60313 Frankfurt/Main.
Opening times Daily 11.30 till 1.00am; Public transport: U - S - Bahn to Konstablerwache.
This is Frankfurt's first house brewery. The twelve Apostles is a pub on three floors, with room for about 180. On the ground floor is a cosy pub with dark wood panelling and warm colours. The bar is decorated with beer jugs and Bembels, the typical grey stoneware apple wine jugs. On the first floor is a rustic beer cellar, separated into distinct areas by fine stone arches, with a long bar framed by brick walls. In summer you can drink your beer on the terrace. The brewery makes a light and a dark pils, both hoppy and naturally cloudy. The extensive menu features local and international dishes, mainly from Croatia, with good value lunch-time set meals during the week.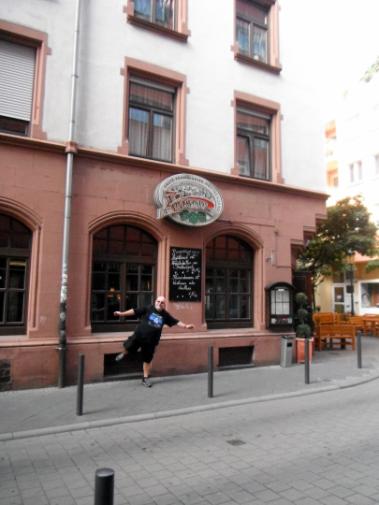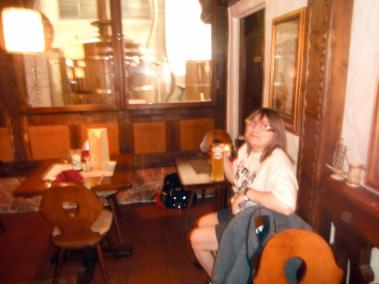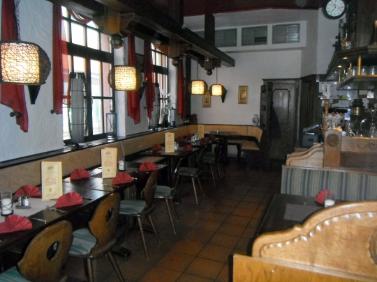 Ginnheimer Wirtshaus; Am Ginnheimer Wäldchen 8,60431 Frankfurt.
Opening hours:
Mon - Thur 12:00 - 24:00,Fri - Sat 12:00 - 01:00, Sun & public holidays: 11:30 - 24:00
A former brewpub which was famous for its Kirschbier (cherry beer). GINNHEIMER WIRTSHAUS is the new name for the WÄLDCHES-BRÄU pub; Now a popular restaurant located in northwest Frankfurt, not far from the Niddapark station of the U1 U-bahn line. [Detailed directions: ride the U1 from central Frankfurt to Niddapark. Descend the stairs to the south, the dir. the train was going. At the base, you are on Am Ginnheimer Wäldchen, and above you is Rosa-Luxemburg Str. overpass. You want to turn to the left, east, towards Am Ginnheimer Wäldchen 8, as marked on the street sign. The pub is a 3-5 min. walk along a quiet, wooded street.]
There is no brewing equipment at the pubnow. It does however have two "own-brand" beers brewed under contract: HELLES KELLERBIER (NATURTRÜB) and DUNKLES URBRÄU. The website indicates that they are brewed by a small brewery in Bavaria. Has a large bier garden ideal for passing an hour or two away on a hazy summers day with a stein or two! The food is good, and the food prices were very reasonable (see their web site for a menu). This place is worth the effort to find.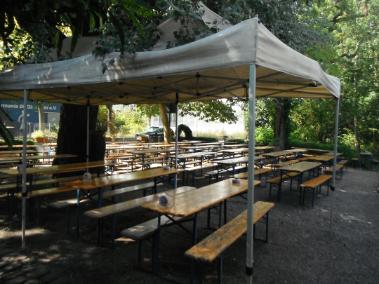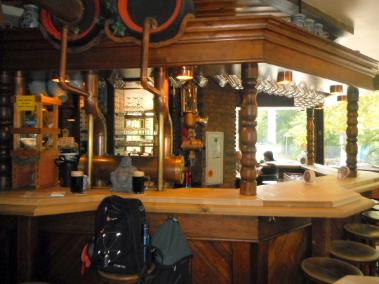 Paulaner am Dom; Domplatz 6,60311 Frankfurt. Public transport: U-Bahn Römer.
Seems like you can find Paulaner everywhere in Germany now a days. But, having said that, you can always count on Paulaner when you´re in a strange german town and in urget need of Weiss bier and a wurst with mustard.
Their Frankfurt outlet is a spacious, multi-roomed affair in gleaming pine. As the name suggests, it´s bang opposite the cathedral. This shouldn´t be too much of a challenge to your navigational skills. Despite the presence of some shiny copper vessels, this is not a brewpub. They, like the wooden barrels are for decorative purposes only.
Frankfurter Haus; Darmstädter Landstrasse 741,63263 Neu-Isenburg.
Opening hours: Mon - Sun 12:00 - 01:00
Located between Frankfurt and Darmstadt, but it's possible to reach by tram.
A pub and beer garden in a large half-timbered building dating from 1702. As well as beer, it also sells the local speciality Apfelwein, a sort of still cider.
Zum Gemalten Haus; Schweizer Strasse 67,60594 Frankfurt am Main.
Opening hours: Tue - Sun 10:00 - 24:00, Monday closed.
Traditional apfelwein pub in Sachsenhausen. "Don't let the entrance put you off which resembles a Transport Cafe with glass sliding doors opening into a drinking corridor furnished with basic plastic tables and chairs. This makes it look unpromising but offers a refuge for smokers to partake of food and drink. Continue through to the bar which is smoke free and mural heavy! This feels and probably is very traditional with heavy wooden tables and the walls are lined with murals of Frankfurt folk enjoying the local Apfelwein. The Apfelwein was easy to drink (guess it's not very strong!) and the food both snacks and meals can only be described as 'hearty'. The staff were friendly and efficient."
Adolf Wagner; Schweizer Strasse 71,60594 Frankfurt am Main.
Opening hours: Mon - Sun 11:00 - 24:00
Traditional apfelwein pub in Sachsenhausen. It has long tables and benches, lots of wood and huge murals on the walls.Quite touristy. Large Bier garden and a winter garden for the colder days. Also good hearty food to eat in or take away with a few bottles of beer. Also a souvenir shop.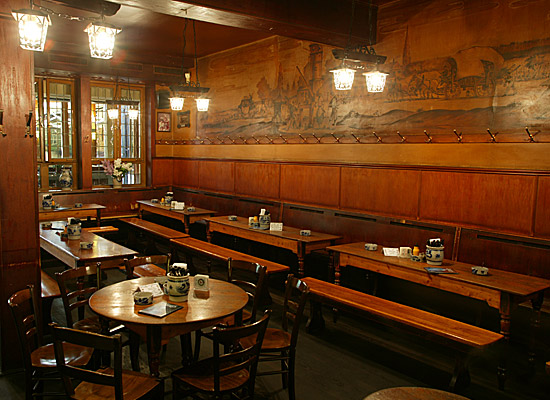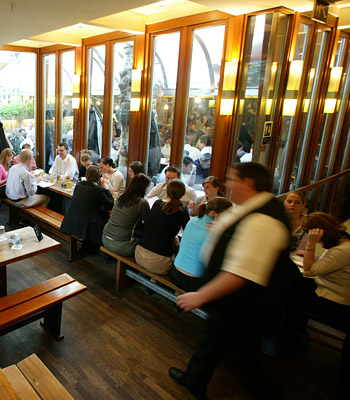 Graf Zeppelin (Bad Homburger Brauhaus) Zeppelinstrasse 10, 61352, Bad Homburg
Opening times; Mon-Fri 11 -12 Sat 11am - 1pm Sun 11 - 11 Transport S-bahn S5 Bad Homburg
Not strictly Frankfurt, but not that far out and easy to reach on S Bahn. This brewpub and inn, farm and riding stables all from part of the historic Kronenhof, which originally supplied the nearby Homburg palace. The pub has room for about 200, with separate function rooms for 20 to 200, as well as a beer garden for 300 in summer. Home cooked regional specialities are served and the beer is brewed using barley grown on the Kronenhof farm with some success. In August 2004 Kronenhof beer was the first beer to be awarded the seal of quality "Geprufte Qualitat – Hessen (Assured quality – Hessen), certifying the entire production process from the filed to the glass. They even generate their own electricity here from home grown rapeseed oil. The kronenhof also runs year round beer seminars.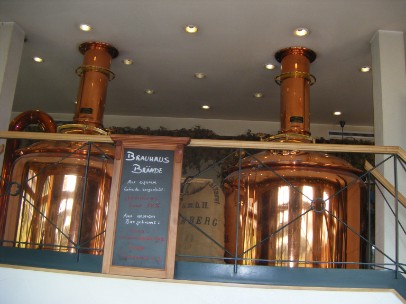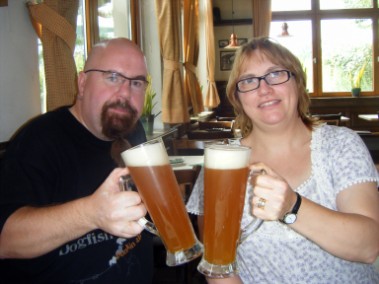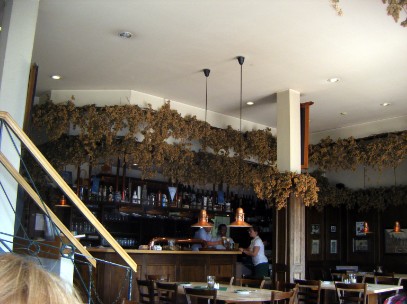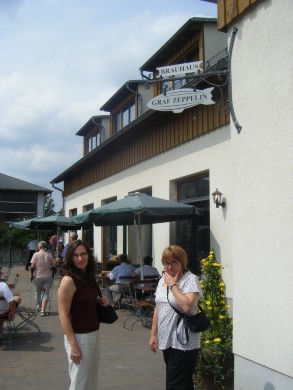 Fichte Kränzi - Wallstr. 5 (Sachsenhausen)
Fichte Kränzi is a nice gastube (restaurant) in Sachsenhausen, across the river from Frankfurt. It is an easy walk from Römer across the footbridge (at least in nicer weather). The restaurant is in one large, L shaped room with shared, picnic table seating. There is also a small bar with about 4 bar stools. As with most places in Sachsenhausen, they serve traditional Apfelwein ("Apple wine" -- hard cider), and they serve it in the traditional manner from a large ceramic urn which fills blue-and-white ceramic pitchers which in turn fill the glasses. You might want to sample the Apfelwein, but of course we are more interested in the beer. They serve two beers: Karlsberg Ur-Pils, and Konrad Krug Bräu Dunkles Lager Landbier. The Krug-Bräu dunkel lager (from the Bamberg region) was delicious! (always have this beer on-tap?). Worth a visit for this beer alone. Give this place a try if you are in Frankfurt and want to experience Sachsenhausen.
Sachsenhause Warte; Darmstadter Landstrasse 279, 60598 Frankfurt-Sachsenhausen
Opening times Daily 11am till 1am Bus 30 & 36 DB Frankfurt Sud
Two-room pub, the tap for the Binding brewery a few metres up the road, with the historic walls of the Sachsenhauser Warte, dating from 1767. Sensitively renovated to preserve the original character and incorporate some of the old stone walls. Apart from the typical Apfelwein; local and international wines, there are of course Binding beers, with the Sachsenhauser Warte served unfiltered in a krug. Regional and international food is available and in summer you can sit in the attractive courtyard (seating for about 250). The beer garden is open with live music each year.