FOLLOW THE LINKS TO FIND OUT ABOUT OUR ADVENTURES IN POLAND;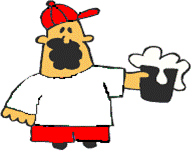 Otto's rambles with cover the best places to drink beer in Krakow, and possibly a few other cities!!
A little bit of history to set the back ground: The Republic of Poland is located in Central Europe. It is bordered by Germany to the west; the Czech Republic and Slovakia to the south; Lithuania, Belarus and Ukraine to the east; Russia and the Baltic Sea to the north. The population, over 38.5 million strong, occupies an area of 312,000 square kilometres. Poland's landscape is very diversified.
The Carpathian and the Sudety Mountains stretch to the South and lowlands and uplands occupy the central part of the country. The northern part of Poland, comprising Pomeranian and Masurian Lakelands, is gently undulating, relatively well forested and covered by hundreds of lakes; still further to the North are the sandy beaches of the Baltic Sea coast. Poland's national emblem is a white eagle with a golden crown on a red background.
The national flag is white and red. The people of Poland use the Polish language. Its capital and the largest city is Warsaw, which has a population of over 1,700,000 and is located upon the longest Polish river, the Vistula. The major Polish cities include Cracow, Gdańsk, Katowice, Łódź, Poznań, Szczecin, and Wrocław. Poland is divided administratively into voivodships (16), counties and communes.
Poland is really at the for front of "craft" beer at the moment since 2013 onward there are more and more breweries opening and they all seem to be embracing the full spectrum of beer styles from light session beers to IPA, and Imperial Porters.