Bydgoszcz Beer Guide: But first a bit of info on the city (updated March 2022). Bydgoszcz is the capital of Kujawsko- Pomorskie Voivodeship and the eighth biggest city in Poland. It occupies part of the historical region of Kuyavia and is picturesquely located on the rivers Brda, Vistula, and the Bydgoszcz Canal. As a co-capital administrator with Toruń, Bydgoszcz governs the Kuyavian-Pomeranian province, part of the agglomerated metropolitan area of the Bydgoszcz-Toruń region. Bydgoszcz's dynamic industries, cultures, education, and architecture have earned the city the nickname of Little Berlin.
How to Get to Bydgoszcz:
Plane
Most people arrive at the Bydgoszcz Ignacy Jan Paderewski Airport (BZG). Direct flights to and from Bydgoszcz connect to Düsseldorf, Frankfurt, Birmingham, London, Girona, and Dublin.
Train
Bydgoszcz Główna is Bydgoszcz's main train station and serves as a hub for trains and buses that connect to both Polish cities and Berlin, Germany.
Car
From Poznań and Gdańsk take the DK 5 main road into Poland. The DK 10 and DK 80 connect Toruń, Warsaw, and Łódź to Bydgoszcz. Take the DK 25 from Koszalin and Kalisz.
Bus
PKS and Polski Bus have direct transportation to all the large cities in Poland, Germany, UK, Czech Republic, and other countries.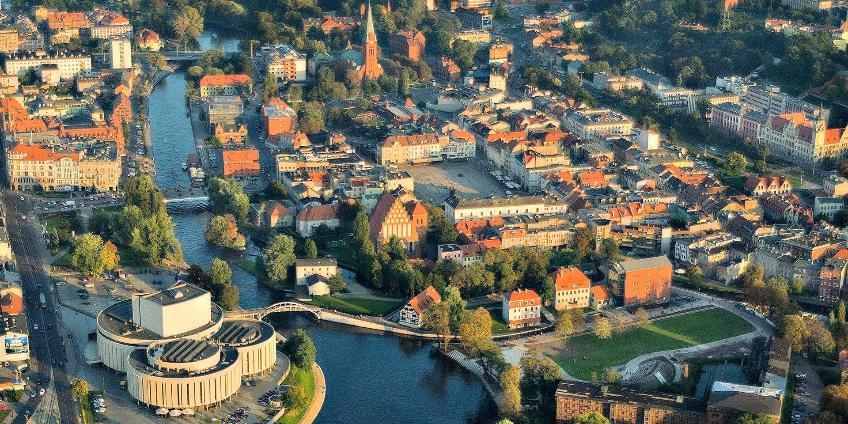 Kujawski Browar Regionalny Osowa Góra, Ołowiana 1
Open:Monday-Friday 08:00-16:00 Saturday-Sunday Closed
Browar Osowa Góra is a craft brewery located in Bydgoszcz. So far, they have brewed 14 different beers. The driving force behind their activity is brewing a good beer that will permanently exist in the minds of beer lovers and will attract new people to the world of craft beers. In the future, they plan to expand production while maintaining stable and high quality. Contact the brewery for tour availability?
Kraftodajnia, Plac Koscieleckich 5 i 1/2 (Długa 63)
Open: Mon-Thu 16-23, Fri-Sat 16-2, Sun 16-22
A cool place, opposite a nice old church and a car-park. A long bar with pine seats and chairs, with an eclectic selection of wall art etc a great relaxing beer garden. Plus a food wagon that serves up tasty nosh. There are also lots of great board games that, as part of the meeting friends (old & new) and the tasting of various beers, are made available for free, there's no loud music, and it doesn't attract clientele who want to get smashed on cheap beer! This is the best place for craft beer in Bydgoszcz, the team behind the bar has a lot of knowledge about beer they serve from an ever rotating selection of Polish craft beers.
Warzelnia Piwa, ul. Poznańska 8
Open: Mon-Fri 2pm to late - Sat-Sun 12pm to late
Warzelnia Piwa is a restaurants with their own micro brewery on-site? It is obligatory to spend the evening here as it is one (the better one) of only two brew-puds in the area. The brewery produces a variety of beer styles, including ale, bock, pilsner and weizen and seasonal's, all also available in bottle. Despite its history only dating back to 2011, the place also plays host to many popular events throughout the year, including Indian and Italian cuisine. A very interesting and cozy place on two levels with the copper brew kit displayed to the full behind a glass screen. A nice enclosed biergarten that is great for the summer evenings, there are beautiful view's of the Młynówka River and the Młyńska Island. The biggest and constant disadvantage is extremely slow and nonchalant service and unfortunately, it seams to be unheated in autumn?.
Bierhalle Bydgoszcz, Jagiellońska 41
Open: Mon-Fri 12:00-23:00 Sat-Sun 10:00-23:00
One of the Bierhalle chain which does brew on site, this one does actually brew on site in a "glass" copper! ...weird. There are quite a few locations Poland. It's a must to do but nothing special.It's in the "German" style, with waitreses in traditional Bavarian dress. Inside its a large resurant with the brewing kit at one end and mezzanine seating around the sides. The 1 litre stein option at 20 Polish Zlotych (about £5) is worth it You could also settle for a 0.4 litre size for 8 Zlotych (roughly £1.70). Bierhalle aims for a younger crowd, especially on the evening. All in all, the beer here isn't bad, but it doesn't match a chain such as Rock Bottom in the USA.
Prolog9, Pod Blankami 13/Długa 18
Open: Daily 13:00-00:00
A hard to find scruffy-looking cellar bar in the centre of town. With 12 taps dispensing rare and unusual Polish craft beers, plus a great selection of bottled beers, helpful and friendly bartenders, a really nice bier-garden plus a real vibe of pushing the boundaries in a city which isn't really very beery at all. Prolog9 is metal and craft beer perfection. Hands down the best multi-tap in Bydgoszcz.
Bistro i Apartamenty Katarynka, Niedźwiedzia 3
Open; Mon-Sat 9-23, Sun 11-22
Located on the Old Market Square. Katarynka is a place full of atmospheric, cozy atmosphere, filled with artistic design, wall paintings, colorful fabrics and unusual character. Their restaurant has a unique menu, in which there are traditional dishes in interesting modern arrangements. Amazing food definitely! Fair selection of craft bottled beers. Great place, clean and beautiful. You feel very comfortable and relaxed. Food is delicious! Not expensive. Customer service is very good. There is also an Ice Cream Parlor.
Pub PRL, Stary Rynek 5
Open: Sun-Thurs 11:00-01:00; Fri-Sat 11:00-03:00
A cool bar just of the main square. Eight taps with a great choice of craft ales. This is a cosy place with and eclectic mix of old and new furniture that provide a period atmosphere, a great to sit outside in the summer with a full view of the town centre and as meeting place for locals and visitors together. Only down side is the service can be good to indifferent?
STReFA, Długa 11
Open: Mon-Closed - Tues-Thurs 12pm=9pm Fri-Sun 12pm-11pm
A quite large modern cafe/bar with refectory style seating, and a good selection of bottled craft beers. A very calm atmosphere, great for meet ups.
Karramba, Stefana Batorego 1
Open: Mon 2pm-11pm Tues -Sun 12pm - 12am
The place is well decorated and has a great vibe. One large room with booth seating along one wall and one long table in the centre that seats mulitiple guests. They have 6 taps serving a varied selection of Polish craft beers. A really nice place to eat. The Pizza's are a treat, really something different than the ordinary. The deserts are delicious. Great staff who are nice and helpful and very fast. Overall great place to eat in Bydgoszcz
TORO Tapas, Teofila Magdzińskiego 8
Open: Mon- Closed Tues-Sun - 5pm to late?
Great atmosphere and a friendly staff. Two craft beers to go with the food or just pop in for a swift one
Piwna Chata, Konopnickiej 25b
Open: Tue-Sat 12-21 Mon-Sun Closed
A bottle shop that is probably the best in the city, with a great selection of Polish craft beers, their are a multitude of breweries represented. A must do visit.
ASW Trafika, Jeremiego Przybory 1g, Fordon
Open; Mon-Sat 6am-8pm Closed Sun
A bottle shop with quite a wide selection of domestic craft beers. The service is fine, although it does not consist of beergeeks. Prices slightly above average. They run a loyalty program. Worth a stop by.
I hope you found my guide to the brewpubs and bars in Bydgoszcz useful?
Now you just need to get yourself out there and start the beer adventure for yourself!
Otto mówi na zdrowie do piwa 🍻🥨🍻