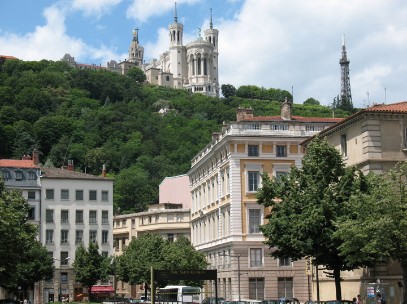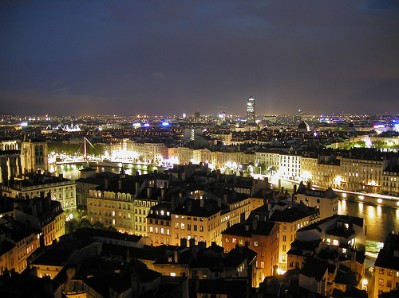 Lyon, also written Lyons in English, is the third largest city in France and centre of the second largest metropolitan area in the country. It is the capital of the Rhone-Alpes region and the Rhône département. It is known as a gastronomic and historical city with a vibrant cultural scene. It is also the birthplace of cinema.
Events
The Festival of Lights (Fête des Lumières) is by far the most important event of the year. It lasts four days around the 8th of December. It was initially a traditional religious celebration: on December 8th, 1852, the people of Lyon spontaneously illuminated their windows with candles to celebrate the inauguration of the golden statue of the Virgin Mary (the Virgin had been the saint patron of Lyon since she allegedly saved the city from the plague in 1643). The same ritual was then repeated every year.
In the last decade or so, the celebration turned into an international event, with light shows by professional artists from all over the world. Those range from tiny installations in remote neighbourhoods to massive sound-and-light shows, the largest one traditionally taking place on Place des Terreaux. The traditional celebration lives on, though: during the weeks preceding December 8th, the traditional candles and glasses are sold by shops all over town. This festival attracts around 4 million visitors every year; it now compares, in terms of attendance, to the Oktoberfest in Munich for example. Needless to say, accommodation for this period should be booked months in advance. You will also need good shoes (to avoid the crowd in the metro) and very warm clothes (it can be very cold at this time of year).
The Nuits de Fourvière festival From June to early August, the Roman theatres host various shows such as concerts (popular music, jazz, classical), dancing, theatre and cinema. International artists who usually fill up much larger venues are often seduced by the special atmosphere of the theatres.
Nuits sonores an increasingly popular festival dedicated to electronic music, every year in May.
The Biennals Lyon alternatively hosts a dancing (even years) and a contemporary art (odd years) biennals from September to December/January. The dancing biennal is traditionally opened by a street parade in which inhabitants of the Greater Lyon take part through neighbourhood associations. If you are in town at this moment, do not miss this colourful and funny event.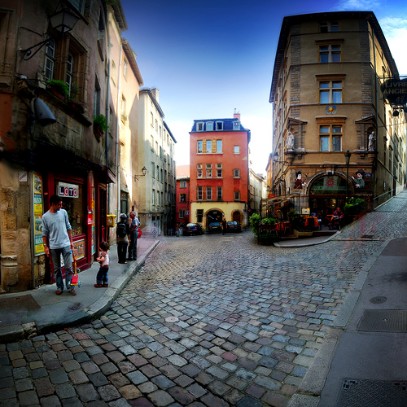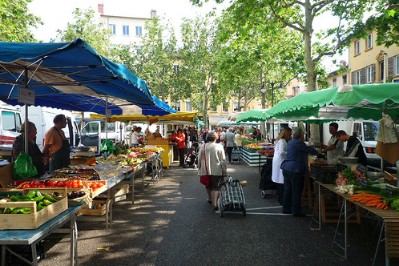 .....and so we get to the Bier, Lyon has 4/5 brew pubs (2015) and a couple of decent bars plus a decent bier shop, so lets start off with the brew pubs;
Ninkasi Ale House, 267, rue Marcel Mérieux Lyon.
An odd place. A huge complex with everything from café to night club. Metal bar, scene next to the windows to the brewery. The inside is huge in two stories, but also has outside seating and a beer garden. I'd expected the beers to mediocre and boring when I walked into the gigantic building, but boy, was I wrong? They make a lot of different styles, even beers as far out as Berliner Weisse is made, and the service is friendly and multilingual. Highly recommended! The best brewery in Lyon, some beers are quite excellent the price of a 6 beer sampler was only 7 EUR. Nice to end the evening there: dance music and dance floor.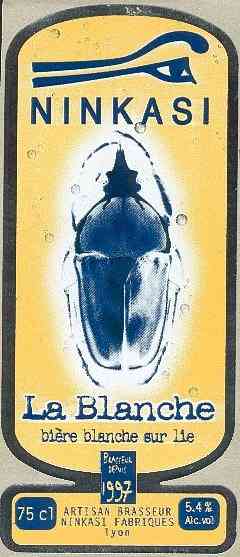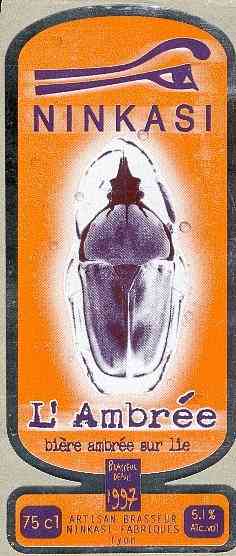 Ninkasi Opéra, 27 Rue Arbre Sec
Beautiful little brewpub that has a beer and music theme, besides the fact that they have their own beers available, nothing special about this chain. Well equipped, well decorated the staff are courteous, but not informed of available beers/correct selection. Relatively cheap for the area.
Ninkasi Ferrandière, 22 rue Ferrandière.
Hours: Mon - Sat 10:00 - 01:00
Another Ninkasi location, where you get the whole line-up including the seasonal beers and the special editions of the Fruiteé - always ask what fruit it is. It is located close to a lot of good shopping in Lyon, so take a pit stop from shopping here. It is dark with a stone floor with the bar and furniture kept in dark wood. The service is swift and friendly. Prices are good as the other Ninkasi locations.
Brasserie Georges 1836, 30, cours de Verdun Perrache Lyon
A real French Brassiere atmosphere, if you want to drink beer in a massive, ornate, Art Deco hall with white tablecloths, then this is the place for you. The beer is nothing really all that special, the brune was easily the best beer, the food is expensive but very good. Usually about 4 of there own beers on tap. Worth the visit, especially for the incredible interior. Plus, nice bathrooms!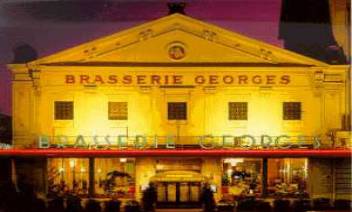 Saint-Priest (Lyon)Boulevard A. Boulloche, C.C. La Porte des Alpes
Hours: 11.30-14.30 and 19.00-22.00
The beers are really just above average; the place is not easy to reach,take Tram 2 to Portes des Alpes stop. Carry on walking the same way the tram was going, past the tram shed, and turn left to walk alongside the shed. When you reach the far end the brewpub is over to your left across the road. No more than ten minutes walk maximum; Seems to be part of a chain of Brewpubs across France and Canada.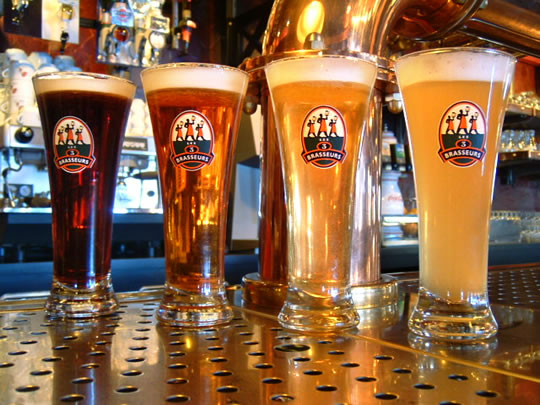 The Bars;
Le Palais de la Bière 1, rue Terme Lyon.
A small place and very busy, with lots of different beers on offer, including many French microbrews. . The interior is mainly kept in wood and the small front room is dominated by a long bar besides a lot of small wooden tables. They only open after 6pm, which is a drawback when on a short visit to Lyon. The service was helpful, but only in French. Worth a visit.
Les Berthom Lyon V, 2, place Ennemond Fousseret Lyon.
A great place to drink a beer. Several Belgian beers on offer (most of them on draught) it's definitely the best place in the city to find a good selection of beers from Belgium and other countries. There is a small outdoor cafe area and the inside features numerous tables set in a rustic atmosphere.. Not too crowded during week except happy hour. Friendly staff French speaking only. This is a great place to stop if you're looking for a good glass of beer or two in the city of Lyon.
Les Fleurs du Malt, 56, cours Gambetta Lyon.
Not a bar but a Beer Store. A very small beer shop and the middle of the small shop is filled with crates, which leaves almost no space to move around the shop!. But it is conveniently situated right next to a Metro exit from Saxe-Gambetta station. The service is helpful if that is what you need and quite good at English. New beers arrive regularly, so return visits can be recommended, mainly French microbrews, but also a few international beers. Prices are reasonable.
Dikkenek Café, 3 rue d Austerlitz Croix-Rousse.
Hours: Mon-Sat 9:30 am - 1 am Sun 9:30 am - 12 am
As a bar, this place is pretty great. The beers are mostly corporate Belgian ales, and they don't seem to rotate very much. French beers are not really represented. There appear to be three rotating taps, but even those beers were not too exciting. The beers on tap were well priced, service is very quick and efficient. Absolutely worth a visit if you are in town.
Beer Stores
Les Fleurs du Malt, 56, cours Gambetta.
An amazing little shop in Lyon. Many different styles, from local French micro beers to hard to find American micro's. Friendly staff and great metal music on speakers. The only bad thing its the prices. most micro are very expensive.... A nice place for a European beer geek tasting groupie!
la chope de lug, 9 rue du boeuf.
Small bottle shop with an awesome selection of French craft beers. Friendly service with extremely reasonable prices. To my mind, this place is a mandatory visit for anyone who is visiting Lyon. This place has tons of beers that is not in any of the fancy bottle shops in Paris, and it certainly has beers that are under-represented in Lyon.
So for now À votre santé Otto