Hi Otto back again bringing you the low down on the craft beer of Paris. So lets start with the brewpuds first;
Brasserie de la Goutte d'Or, 28 rue de la Goutte d Or, Paris.
Hours: Thursday & Friday 17.00-19.00
The first craft brewery in Paris opened in fall 2012, free tour and tastings with bottles available for sale. This ia a cool brewery setup located about 15 minutes walk from Gare du Nord. It's a rugged area around here and the brewery is right next door to the police station! The beers at Goutte d'Or are still early in development, but solid. The use many ingredients such as chile, spices etc. The Bar across the street carries their beer as well. It is easy to get to from the centre of Paris centre so certainly worth stopping by.
O'Neil, 20, rue des Canettes, Paris.
Hours: Everyday 12:00-02:00
Interesting place, brewpub meets bistro atmosphere. Just south-west of town, an easy 10 minute walk. They have two nice copper kettles in the front that have been continuously brewing and serving their own beers longer than anyone else in Paris, with four to choose from. A ampler tray is offered for 10 euros for 4 samples. It's a bit like an American Brewpub inside really the food is good, especially the flammekuches (German Pizza) The beers are decent, but for Paris, they're superior. Friendly service.
Le Triangle, 13 rue Jacques Louvel Tessier, Paris
Hours: Tue-Sat 12pm-2pm / 7pm-11pm
Opened in October 2014 with good food and 8 craft beers on tap and plans to start brewing their own beer on site soon?
Le Frog & Rosbif, Rue St.Denis, Paris.
Hours: Everyday 12:00-02:00
This is one of a chain of English brew pubs. They brew in the basement and the brewery can be seen through large windows. The pub is very welcoming and friendly and does excellent good value food. They have 4 hand pumps on the bar and 3 fonts all for their own biers. Its a good spot for getting away from crazy people on Rue Saint Denis.
We sampled the 'Dark de Triomphe' a 5% stout @ 6Euro a pint it is quite expensive but then you are in the centre of Paris. We also had Froegaarden is a light and zingy wheat beer, just like you'd get in a Brussels café in the height of summer. And Parisiytic at 5.2% A truly fantastic beer. Strong, malty and hoppy, this beer is a great example of a strong bitter. To finish with we had Frog Natural Blonde at 4.2% is all of that and more... the house lager is brewed with German Hallertau hops and then matured for more than a month in our cellars. Ask for a tasting board and you get all 6 in one sip portions for free!
Here are the other 5 Le Frog in Paris (they also have 3 in other parts of France).
The Frog XVI, 110 bis, avenue Kléber, Paris
The Frog & British Library, 114, avenue de France, Paris
The Frog at Bercy Village, 25, cour St. Emilion, Paris
The Frog & Princess, 9, rue Princesse, Paris
The Princess is more of a bar and not kid friendly like the other Frog locations and the only one no longer brewing on site, with the beer coming from their brewery in St-Denis
TheFrog Revolution, 9 rue de la Bastille, Paris.
The sixth Frog Pub in Paris opened October 2014 with Inseine and Maison Blanche as favorites and the recent introduction of the Frog Superhero beers like KAPOW IPA and WHAM American Pale Ale as a sign of good things to come, plus truly fantastic BBQ and great burgers and they're very kid-friendly.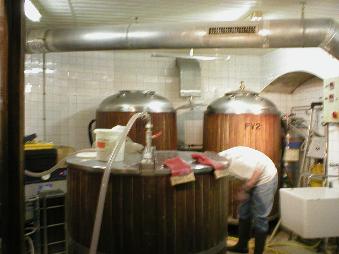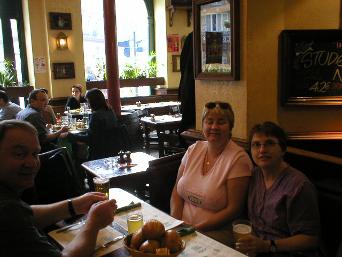 Now the bars, restaurants and shops;
La Fine Mousse,6 avenue Jean Aicard, Paris.
Hours: Daily 1700-0200.
Great place for beer enthusiasts, the leading light of the French craft beer movement since opening in September 2012, with more than 150 craft beers including 20 on tap, always at least half from France. There is a the very long counter where you can stand and chat with customers and the staff. No terrace but possibility to drink in the street. Cool staff and despite the overall geekiness the place maintains a nice and welcoming atmosphere. A must do stop, probably the best beer bar in Paris?
Les Trois 8, 11, rue Victor Letalle, Paris.
Open Tuesday-Saturday 5pm-2am, Sunday 3pm-12am.
Le Trois 8 is where it's at. Reopened in September 2013 with a focus on craft beer and natural wines, 80+ French and international craft beers including 8 on tap. Combining Parisian flair with craft beer results in a winning combo. This small bar oozes foody character. Great staff and excellent tap selection of French brews. The cheese and charcuterie plate is ridiculously good and good value too. The staff here rock and are extremely friendly, chatty and like minded folk. Superb bar that should be right up the top of the list of beery places to visit in Paris. Closest Metro: Menilmontant (2)
Express de Lyon, 1, rue de Lyon, Paris.
Open daily 8am-12:30am.
A comfy old-school bar across the street from Gare de Lyon. Service is good and clean. The price is very good for Paris andwith 16 taps, including a few delicious French and international craft beers and some Belgian options, the bottle selection, it's not so varied but you will find a good selection from US, UK and The Netherlands. I will really recommend this place. Closest Metro: Gare de Lyon (1,14,A,D)
Le Supercoin, 3, rue Baudelique, Paris.
Hours: 11:00hr-02:00hr
This place is near to the subway and also near to A la Bière comme à la bière. A great little bar opened in early 2012. The owner is very passionate about French craft beer, with 40+ great choices, including 3 on tap. Its a really nice bar, clean and cosy, with a good atmosphere inside. The staff are really friendly and nice, they will advise you and recommend you beers. Plus they have 'happy hours' between 17:00 and 20:00, with discount on the beer. One of the best beer places in Paris, a must to visit if you are looking for French craft beer. Closest Metro: Jules Joffrin (12), Simplon (4), Marcadet-Poissonniers (4,12)
Brewberry Bar, 11 rue du pot de fer, Paris.
Open Tuesday-Saturday 2pm-11pm, Sunday 12pm-11pm.
A g reat place in the lively neighbourhood of rue Mouffetard. Across the street from a bottle shop of the same name, that has a great selection of 200+ international craft and Belgian beers. Back to the bar, this is a little hidden gem of a place! With a great beer selection served from 24 beers taps, including Tool, Nogne, De Molen., Cantillon... There are several tables inside and out and a decent light food menu, the staff are nice and the neighbourhood is friendly. Closest Metro: Place Monge (7)
Glass, 7 rue Frochot, Paris.
Hours: 7pm-2am
A little cocktail bar, big cocktail list, small amount of beer, but the beer they do have is pretty good. Prices are not bad for Paris. The staff are really knowledgeable too, always a plus. Also, they're open 7 days a week, which is rare for a Paris bar! I would definitely suggest going.
Troll Café (bar), 27 rue de Cotte 12e, Paris.
Open Monday-Saturday 5pm-2am.
A nice little bar with over 100 beers with a few on tap, mostly Belgian with little or no craft beer. Worth a stop for a beer and to get out of the clammer of the city. Closest Metro: Ledru-Rollin (8)
Breizh Café, 109, rue Vieille du Temple, Paris.
Hours: Closed Monday and Tuesday
A great little restaurant, with a good bottle list that also includes French cider. The food is great! I think they have the best galettes and crêpes in Paris. The place is fairly small and can get very busy. I'd recommend making reservations.
Le Pot de Terre, 22 rue du Pot de Fer, Paris.
Hours: Monday 12:00–2:30 pm, 7:00–11:00 pm Tuesday 12:00–2:30 pm, 7:00–11:00 pm Wednesday 12:00–2:30 pm, 7:00–11:00 pm Thursday 12:00–2:30 pm, 7:00–11:00 pm Friday 12:00–2:30 pm, 7:00–11:
A brilliant French restaurant in the Latin quarter. Founded in 1539, this is where D'Artagnan and the 3 musketeers actually drunk! The food is excellent and good value, the service and ambiance is great. Beer selection is good too. Highly recommended.
La Cave à Bulles, 45, rue Quincampoix, Paris.
Hours: Tue-Sat,10:00hr-14:00hr and 16:00hr-20:00hr
Possibly the best beer shop in Paris bar none? This place rocks! A nice clean interior and a vast selection of French craft beer, along with the usual European suspects, from Brewdog to Cantillon, with all the hot names from Italy, Denmark, the Netherlands with a bunch of American beers. Clearly a for-beergeeks-by-beergeeks establishment. Staff are knowledgeable and helpful and eager to help you find your way around the shelves. A must stop if in Paris.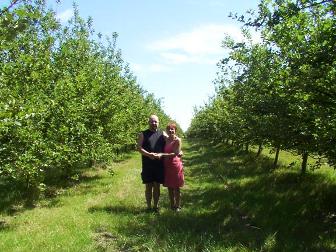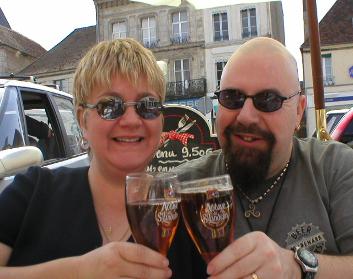 I hope the above has been of use to you on you beer vacation in Paris? If you find something has changed or something new that needs adding please feel free to update me.
A vote santé Otto