For those of you who have been to Prague a few times and are thinking of another visit and want a little Pivo adventure there are a few brew pubs within an hours travel form the city centre. Why not get your planning head on and go for a bier ramble?

Na Lochkově, Ke Slivenci 36, Praha - Lochkov
Open: Daily 11-22
Officially still Prague but in fact a small village within the city limits, incidentally with an old and long time closed industrial maltery now converted into loft appartments. The brewpub has modern interior and usually three of the changing house beers selections are available also to take home in bottles. One of Prague´s more hidden brewing places well worth a visit.
Pivovar Prokopák, Do Klukovic 305, Praha 5 - Hlubočepy
Open Wed - Fri 16.00 - 22.00 Sat -Sun 11.00 - 22.00 Mon -Tues Closed
Pivovar Prokopák, the newest brewpub in Prague (opened February 8th 2020.) is located in the hamlet of Klukovice in the old (1909) Hostinec U Kosů building, a minute's walk from the Prokopské a Dalejské údolí nature reserve, a popular destination for Prague weekenders, to escape into nature while still being in the town proper.
There is one, fairly, classically decorated big room with a patio outside. The staff are friendly and polite. They have five beers on tap plus beers are available to go in 0.75l bottles too - unsure of the prices. Food look's fine enough and the prices okay, but haven't partaken. We'll see how it develops if it keeps the beer quality on this level, it will be a success.
How to get here: tram 4, 5, 12, 20 or bus 120, 130, 170 to Poliklinika Barrandov station. Two choices then, either a 15 minute walk down the Do Klukovic street up to... Klukovice - surprise surprise. Alternatively, try to sync your trip with the 230 bus at Poliklinika Barrandov, which will take you to Klukovice and save you the walk - though that's much more useful on the way back, to avoid a climb.
An excellent day out is to the small village of Chyne; Located about 13 km (30 mins)south west of the city,

Pivovarsky Dvur Chyne litrally meaning Brewery courtyard. Get the nunber 347 bus from Zlicín metro station to stop Pivovarský dvur Chýne. Depart Zlicín at approx. 15 minutes past the hour, and approx 10 to the hour going back, about once an hour each way. Or you could cycle as it is on one of the main cycle routes.
The whole building was converted from ruined, messy, dirty, socialist-style former agricultural buildings. While we were there they were fatterning pigs up for a local festival a week later. There is the main brew pub/restaurant and also now a new small bar that also sells 3 of the main beers and at about a 1/3 of the cost of the main bar We had 4 different beers one of which was an excellent dunkles beer. For the real atmosphere I recommend the small bar that the cyclists use, also it is a lot cheaper for the same beer than in the restaurant and food is good robust fair. They only have menus in Czech and German so brush up on your Czech. Here is a good phrase to have handy "Dobre Dan, dva velky cerne pivo, prosim". Which is "Hello, two large dark beers, please" you cant go far wrong with that one. (cheers Gazza).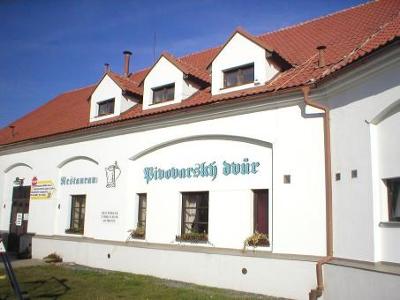 Muflon brewery, Vídenská 405, Praha 4 - Kunratice
Open - Check the website for tours.
Brewery with great beers, but without restaurant.
From Prague take metro from Staroměstská Underground A Depo Hostivař 3 min (2 stops) · Platform M1 - Muzeum C Underground Háje 8 min (5 stops) · Platform M4 · Budějovická Bus 332 Jílové u Prahy,Náměstí 13 min (4 stops) · Platform D
Počernický Pivovar - Panský Dvůr Dolní Počernice, Národních hrdinů 3, Praha 14
Open: Mon-Thu 15-24, Fri 15-1, Sat 11-1. Sun 11-23
Far, far in the "hic sunt leones" Eastern suburbs of Prague, but dead easy to get to anyway. Take the S1 train to Dolní Počernice, and take a walk, maybe even a small detour through the lovely park, to the brewery. Or, if you're particularly lazy, take the same train to Kyje, then the 224 bus to dump you right in front of the brewery (Škola Dolní Počernice station). A huge complex, which the brewery is but one part of. The inside of the brewpub area is in wood mostly, a pretty spacious hall, with a big TV in one corner. Service - some professional, some just cold, only Czech spoken for some at least. Huh, so... far from the center, but still easily reachable and in nice surroundings, combine a visit here with a walk through the park, make it a little trip all in all, as on its own, it's not among the best price/quality ratio brewpubs in town in my subjective opinion.
Next off is the town of Beroun
Berounsky Medved, located at Tysova 135, the trains run regularly form the city so no need to book and take approximate 30mins through some nice country side. As you come out of the train station at Beroun turn left along past the station, passed some concert garages, then walk under the road bridge on to an un-made road into an industrial estate! This is a real gem of a place set in a working scrap yard! With actual weapons of mass destruction at the side of the bar. What can I say? Again this is a popular stop for cyclists that stop by of a drink and then buy take out pep bottles of the beer. There is a small patio were you can watch the cars being crushed. Inside it is such a welcomed surprise, a large room with massive wooden beams and long trestle tables with benches. White washed walls with murals painted on a fest for the eyes. The bar in the corner and there were serving a normal golden beer4%abv and a dark that was 5% and was full of chocolate and coffee notes, and was very quaff-able one of the best beers I have had in the Czech Republic. A walk into town is quite nice as it is a quite unspoiled village.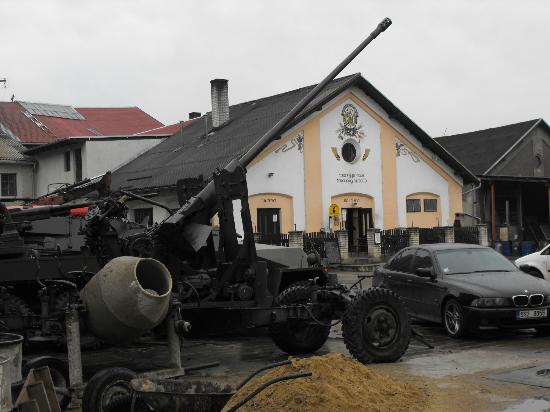 On wards and upwards as they say on next up the village of Pruhonice and the brew pub,
U Bezousku, Kvetnove namesti 5, the bus form the city stops just out side and leave Prague's Opatov metro station approx every 15 mins. This is worth the trip for the village is also home to a quite stunning castle with vast gardens and a lake that you can wander around for a small fee of £2. The brew pub is all dark wood paneling and the brew kettles are set in the main dining room. We were there around lunch time and were the only ones in the place so not really any atmosphere but the beer was passable they had three to choose form a crisp golden beer at 4.3% a dark amber one at 5% and our favorite the Bizon at 6.5%
Na Lochkove, Ke Slivenci 36, 15400 Praha 5, Czech Republic
Open; 11am–10pm

A brewpub in a village that's in Prague really only officially, but hey, it's in Prague as much as *insert random famous thing from Stáre Mesto. Take bus no. 120 from the Na Knížecí station for some 25-30 minutes to Lochkov, then backtrack a little to the brewpub. The copper is visible from the outside, somewhat, it doesn't seem to be that big a plant really. There is a friendly atmosphere in general. Friendly locals, pop music, modern interior. Friendly, professional service, 4 beers on tap, didn't eat, food seemed okay priced. In general, a cool little brewpub woth seaking out.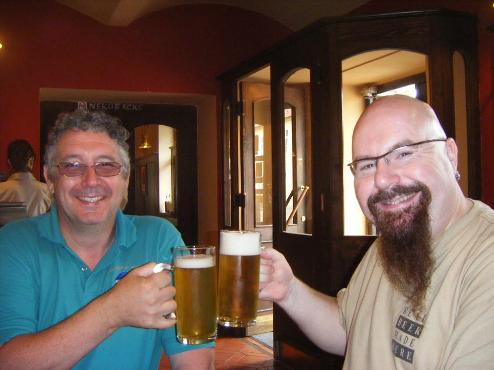 Pivovar Antoš,Vinařického 14 / 10, 274 01, Slaný. This is quite a trek out of Prague approx 85 mins on the bus but well worth the trip. Buses depart from Dejvicka daily, and there are trains which run from Masarykovo nádraží. (cost is approx £5 return) Hours: Mon-Thu 11: - 23:, Fri-sat 11-24 Sun 11-22 A splendid multi roomed brewpub and restaurant in a newly refurbished old house on the southern edge of the sleepy town of Slaný("salty"); Approx 5 mins walk from the bus station. They serve a broad selection of their own excellent beers (plus occasional seasonal) are offered and great rustic food all at great prices. The brew kit is opposite the main bar and was in operation on our visit. Staff are nice and friendly. Well worth the trip out of the city.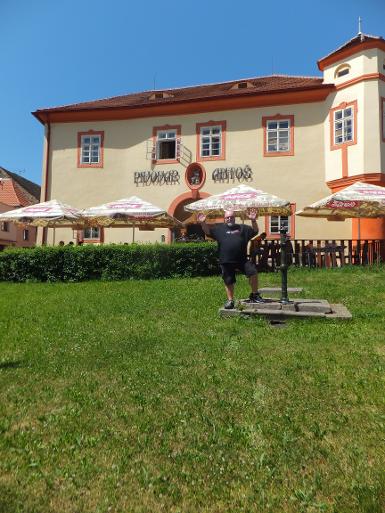 Pivovarská Uhříněves, K Sokolovně 38, Praha 10 – Uhříněves
Open: Mon - Sat: 11:00 - 24:00, Sun: 11:00 - 23:00
Located in the southern outskirts of Prague, it will take you a 20 minutes train ride from Hlavní Nádraží ( Central Station) to Uhřineves ( train to Benešov!). The pub offers both an ambiance of a modern brewpub and a Czech farm-house. The service is quite friendly, the beers are pretty good? If you visit please email me details at ottosrambles@googlemail.com
Únětický Pivovar, Rýznerova 19/5 Únětice. 11am to 10 pm most days - Brewery tours by appointment. Located in the small village of Únětice, just on the north-western edge of Prague, all you have to do is get on bus 355 or 359 (but the 359 takes longer) which runs from Dejvická. This bus ride lasts 22 minutes. Get off at the stop Únětice,Na Parcelách and cross the street. Walk down the little path that goes down the hill through a small shady park, and Únětický Pivovar will be on your left. In a sleepy little suburb of Praha. The original brewery ceased brewing in 1948. The new brewery is in the old premises, the brewery tap is on the old malting floor, a very simple, down-to-earth room with some old murals on the columns, very simply furnished, in the brewery-yard at the front are wooden tables and benches, popular with hikers and cyclists. Very good beers, and great low cost meals at lunch time, be early as it gets packed from noon for a couple of hours. It is absolutely worth a visit!