There is much to see in Vienna: From Gothic St. Stephen's Cathedral to the Imperial Palace to the Art Nouveau splendour of the Secession, from the magnificent baroque palace Schönbrunn to the Museum of Fine Arts to modern architecture at the Museums Quarter. Record-breaking: In Vienna, there are over 27 castles and more than 150 palaces.
Learn about the many faces of the city. Discover her secrets. During a guided walk or with your own personal guide, or by yourself during sightseeing trips by bus, boat, streetcar, bicycle or during torchlight tours through Vienna's underworld ...
Public transport in Vienna is superb with the largest tram system in the world in addition to a private tram line (valid with the period tickets), an underground system, buses and plenty of S-trains to get you to within a whisker of anywhere in the city. The city's transport company is called Wiener Linien and offers some amazing value tickets, particularly the 72-hour 72-Stundenticket, which is only €13.60 (24-hours is €5.70). Buy it – and any other ticket you could want – at the excellent self-service machines found at train stations which speak perfect English, are easy to use and even take cards.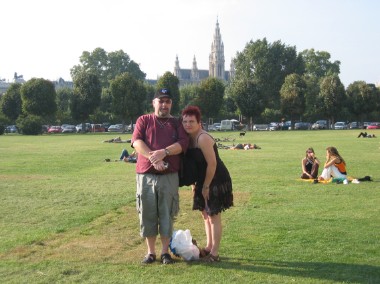 As you know we love a market and Vienna is no let down with the markets and in the surrounding neighbourhoods, everyday life has its habitual Viennese rhythm: colourful and creative as well as leisurely. The stalls, eateries and bars are a natural shopping paradise, meeting place and sightseeing destination.Vienna's Easter Markets; Traditional Easter crafts and artistically decorated eggs, culinary delights and a musical program all await you in April at Vienna's Easter markets. There is all kinds of entertainment for the young and young at heart. One of the best is the Easter market at Schönbrunn Palace is considered to be among the most romantic Easter markets. With the Baroque palace in the background about 45 exhibitors offer not only all kinds of culinary delights but also beautiful Easter decorations and crafts from all over Austria. Children can have fun at the marzipan Easter Bunny workshop, tying palm leaves, hunting for Easter eggs and at the children's museum, while the grown-ups will enjoy listening to "Jazz at the Easter Market."
A must do is the The Vienna Naschmarkt, Vienna's largest and best known market offers a mixture of Viennese and international specialities. Naschmarkt is the undisputed jewel in the crown of Vienna's 26 permanent markets. Set between Karlsplatz and Kettenbrückengasse, the Naschmarkt is the mainspring one of the city's most interesting districts. Culinary specialities are always fresh and in bountiful supply here, no matter whether they are typically Viennese or exotic. The adjacent Saturday flea market is the stuff of legend for bargain hunters.
Flea market (6.30am-4pm) every Saturday. Mon-Fri 6am-7.30pm, Sat 6am-6pm
Food stands: Mon-Sat 6am-11pm
6., Wienzeile Transport; U1, U2, U4: Karlsplatz.
Another must do market is the Karmelitermarkt, Also just a few minutes from the Old Town, near Schwedenplatz, is Karmelitermarkt. The district around this old-style local market had been rather off the map, but with growing numbers of bars, studios and galleries springing up it has seen a renaissance in recent years.
Mon-Fri 6am-7.30pm, Sat 6am-6pm Food stands: Mon-Sat 6am-10pm
2., Krummbaumgasse / Leopoldsgasse / Haidgasse
Tram 2: Karmeliterplatz, Bus 5A: Tandelmarktgasse, U2: Taborstraße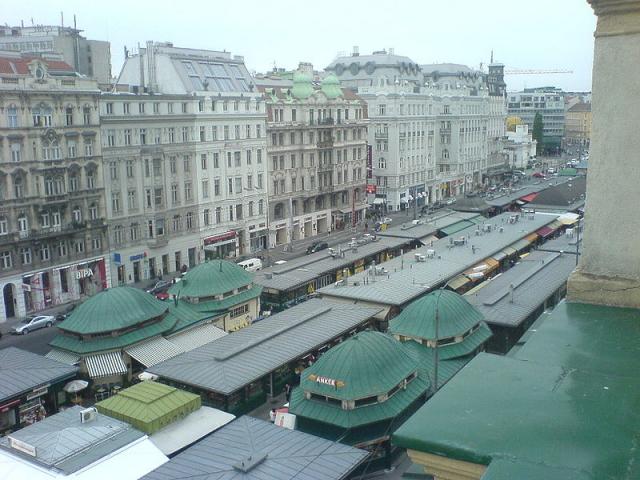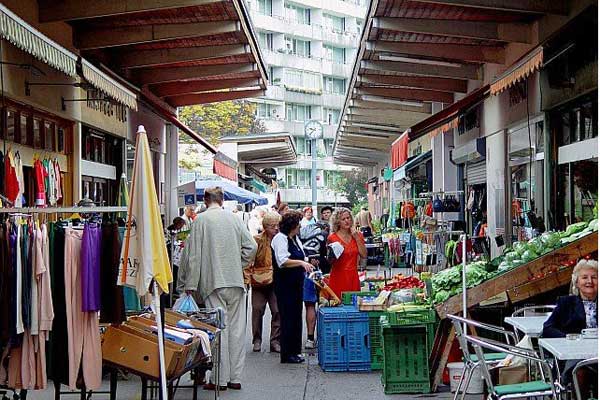 So after a long day in the markets why not a beer? Vienna's cafes and bars have become the stuff of legend, with their writers, eccentrics and Shakespearean feuds over stolen cake recipes. But going out is not only confined to sweet salvation. Far from it. Vienna has a vibrant nightlife - the city has spawned some of the hippest sounds on the European club scene of the last decade. So prepare for some surprises! Meanwhile, for more sedentary adventures - and Vienna is the king of laidback - beer is always infinitely more appealing when served in the glorious stein format, as compared to the dull pint glasses of the UK. There's a pretty good variety of beer on sale in Vienna. Mostly Austrian, with the odd Czech lager or Bavarian wheat beer. So with seventeen (19) brewpubs/ breweries (July 2015) lets set off on the rough guide to supping in Vienna.
Our first port of call was one of the best brew pubs we had encountered for quite a while!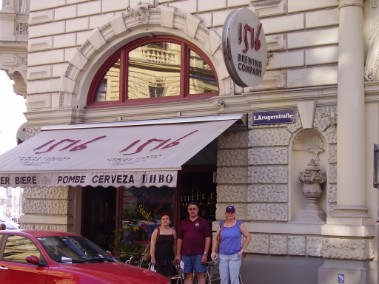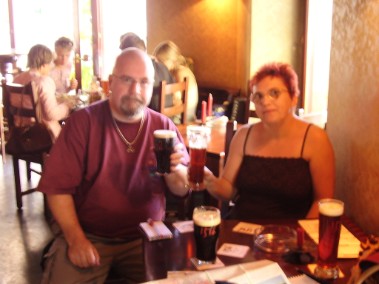 1516 Brewing Company, Krugerstraße 18, Wien.
Open 11:00-02:00 daily.
The pub is in the centre and easy to reach from the Schwarzenburgplatz tram stop, head down Schwarzenbergstraße and the pub is on the corner of Krugerstraße to your left.
Brews 2 regular plus up to 6 seasonal beers a month, all tasty, different to the norm in Vienna and very "new world" in style; good food, too. The best beers in Vienna if you are a "hop head" When we were there they had brewed in collaboration with Victory Brewing PA, USA. This alone was worth the trip. The seasonal beers include an IPA, an Imperial Stout and a smoked Märzen. We sampled quite a few but we were not in town that long to sit and savour;
Stadtbrauerei Schwarzenberg, Schellinggaße 14.
Open; Mon- Fri 10:00-24:00, Sat 17:00-24:00, Sun closed
A very modern brewpub just around the corner from 1516 which brews fairly good Helles, Dunkel, Weiss and a seasonal. Not the most interesting place, mainly geared up for tourists, but it's so close to 1516 you need to go and scoop the beers; so time now to move on and the next brewpub was not found wanting at all;
Siebensternbräu,( 7 Stars), Siebensterngaße 19, Wien.
Tram 49 passes outside (stop Stiftgaße). Open 10:00-12:00 every day.
This brewpub is large with a good name locally for it's food and drink. The "Seven stars" brewpub serves excellent beers, On our visit they had a Chilli beer that was too hot! (Defeated Me! and the bar man and brew-dude just laughed!) Also a good selection of regular and special brews, also the food is excellent and served until late.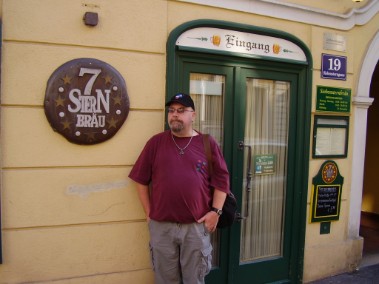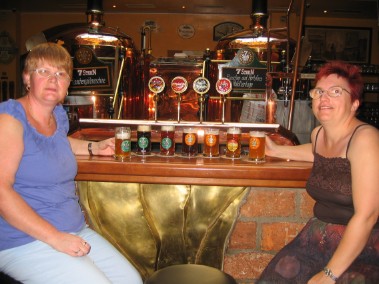 Ottakringer, Ottakringerstrasse 91.

Hours: Tours: Mon-Thu 9-14 - reserve by telephone!
Vienna's biggest brewery. Their shop is round the corner where you can get on tap most of their stuff (plus some bottles from various Austrian micros) not so bad. But the big brewery is still no match for a brewpub. The brewery looks very nice from the outside and they have some nice beer halls. The Märzen is very light, not good. Their better beers are the Rote Zwickel, the Goldfassel Pils and the Bock beer.

Brauwerk Wien, Ottakringer Platz 1.
Hours: Monday, Wednesday and Friday 16:00 - 20:00
A modern brewpub in the grounds of the Ottakringer brewery, located in a former silo for molasses. Very efficient in terms of space, nice to sit there on a sunny day. Unfortunately they don't serve food but most of the beers are of excellent quality, far from the macro swill at the main brewery. They also offer guided tasting sessions and food pairings from time to time.
Bauernbrau, Gumpendorferstraße 134.
Near the Westbahnhof, take tram 6 or 18 to Gumpendorferstraße. This is the brewery tap for the Gratzerbräu micro in southern Austria. Quite a modern bar with two rooms and a small outside terrace.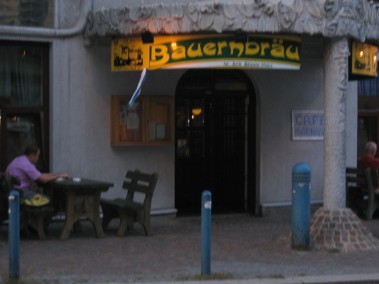 Then there was, wait for it? Wait for it!
Otto; Altmannsdorfer Straße 101, 1120 Wien.
Opening hours: Mon - Thur 11:00 - 24:00, Fri - Sat 11:00 - 01:00, Sun 11:00 - 24:00
A traditional Austrian pub that combines old and new. So with five beers from the Ottakringer brewery and a large beer garden this is a good place to have a meal and chill out for a while.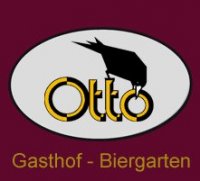 Brigittabräu, Dresdnerstraße 38-44, Wien. Open all day from 10:00.
Transport; trams N, 31 or 33 to Hochstadtplatz.
This brewpub, opened in 2003, isn't the most interesting building but Beers are adequate without being thrilling and are Helles, Dunkle and a special.
Fischer Bräu, Billrothstraße 17, Wien. Open 16:00-01:00.
Transport; Tram 38 goes right past the door of this nice old brewpub (stop Hardtgaße).
Vienna's oldest brewpub, founded in 1985. This brewpub gets very busy, partly as it was voted "best Austrian brewpub" a couple of years back. It brews one standard beer and monthly seasonal beers include a Pale Ale, Bock and Schwarzbier.Well worth the trip.
Highlander, Sobieskiplatz 9, Wien. Open 16:00 – 12:00
Transport; Tram 37 or 38 to Canisiugaße, walk up Canisiugaße and Sobieskigaße is the next left, the pub is on the corner of Sobieskiplatz.
A brewpub producing a mixture of top- and bottom-fermented beers. With a very visible small brewery in the corner. Brews five beers including a stout, ale, Weiß and pils plus the occasional special. The stout is expensive but the best beer they do by a long way, and that is not just me being biased towards the dark side!
Kadlez Gasthausbrauerei, Florisdorfer Hauptstraße 9, Wien.
Open Mon-Fri & Sun 11:00 onwards Winter from 16:00 onwards,
Sat 16:00 onwards. Transport; Take tram 31 to Mattaus-Jiszdastrasse
Opened in 2004 and already this brewpub has a good name for it's beers within the Austrian beer scene having won awards recently. A lot more of a restaurant feel than normal for an Austrian brewpub with the emphasise on Italian cuisine, pasta, Pizza etc.. they also hold a music and beer festival, check out there web site for details.
Medl-Bräu, Linzerstraße 275, Wien. Open 16:00-24:00, closed Sunday.
Transport; tram 49 from Westbahnhof all the way to Waldhausenstraße or tram 52 to Grusohaplatz.
A Brewpub selling unfiltered beers this remote brewpub does three beers plus a seasonal. Along with the good wholesome food they serve not a bad place to chill out.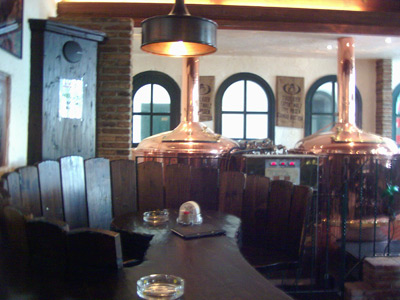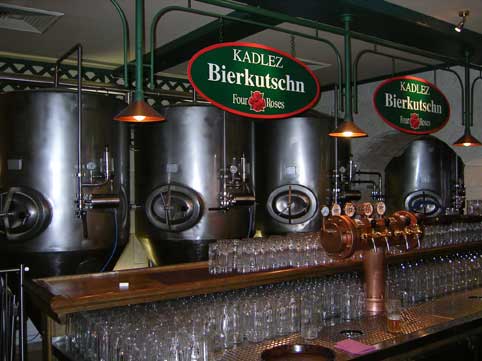 Salm Bräu, Rennweg 8, Wien. Open 11:00-24:00.
Transport; Ttram 71 to Unteres Belvedere and the entrance is actually on the outbound platform.
A brewpub owned by a manufacturer of brewing equipment. This sprawling place is famous for its food. The building was originally the brewery of the next door monastery, now it's the showpiece for Salm's brew-plant manufacturing business. Beer is OK but nothing special, but still a tick is a tick!
Schwarzer Rabe; (Black Raven), Ottakringerstraße 180, Wien.
Open 16:00-23:00. Transport; Tram J to Redtenbachergaße.
A small, smoky locals bar with the tiny brew-plant in the side room. The house brewed beers are rarely available!
Wieden Bräu, Waaggaße 5, Wien. Open Mon-Fri 1130-01:00 and Sat 16:00-01:00.
Transport; Tram 62 or 65 from Oper to Paulanergaße,
Very good beers at this large brew pub the three regular beers plus a seasonal or two; are some of the best beer in the city and highly recommended and the food is great too with typically hearty portions.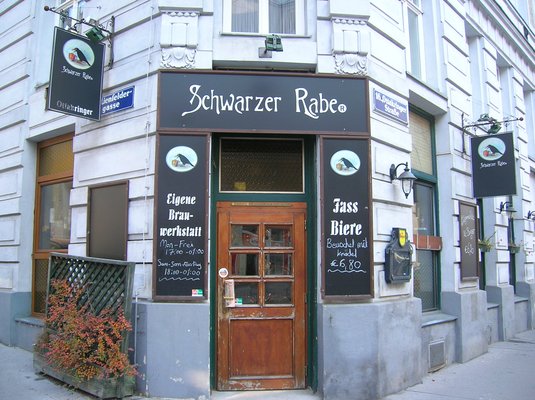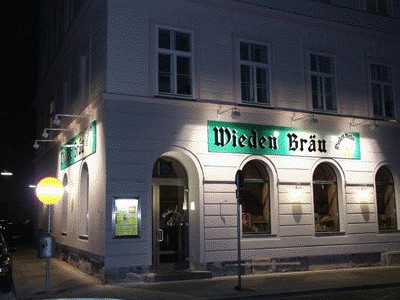 Xaver Brauerei, Hasnerstraße 14/6-7.

Hours: Friday: 14:00 - 17:00 Saturday: 10:00 - 13:00
Two guys, who bought the brewhouse from the Bierzauberer, started brewing on the 16th January 2014. A very small place, which opens only Friday and Saturday - no tap room, but you can buy bottles and taste them on site. Currently they have brewed 6 beers a Stout, Pale Ale, IPA, Pils, Weiss and a Wite Beer. As they just have started brewing, clearly still some way to go.
Overall recommended, because you get their beers fresher and cheaper than anywhere else and you can have a short chat with amicable guys, who are open to tell you everything you want to know about their beers.
Roter Hiasl, Biberhaufenweg 228.

Hours: 9:00 to 23:00
The food in Roter Hiasl is traditional Austrian fare, it is served fast and with a smile. The place has a large beer garden and is in a great location close to the Donau. What makes this place one to visit is the beer. It brews its own and if you are a "weiss beer lover" this is for you.
Beaver Brewing Company, Liechtensteinstrasse 69
(Opening September 2015) All reviews will be welcomed, please email me if you visit.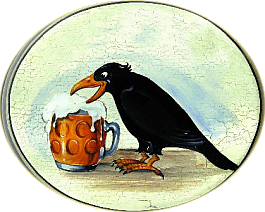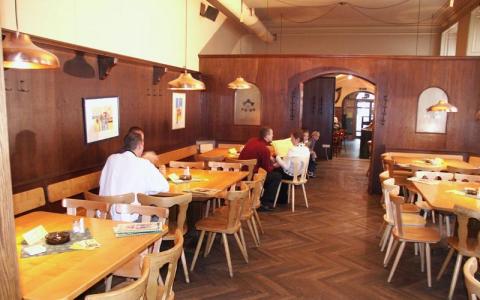 Schwarzer Adler, Schönbrunnerstrasse 40.
Hours: 11-24
In 2013 they installed a small micro brewery and are brewing Hackl Braeu on site. A very nice patio inside of the building, food is quite good. There are five beers available. Dunkel, Marzen, Helles and Weizen through the year and a bock during Christmas or Easter. The inside is full of nice wooden booths and tables. It's nice for some beer ticks but that's about it. The brewery is on sight and they opened up another restaurant nearby that serves the same beers.
Lichtenthaler Bräu, Lichtensteinstrasse 108.
Hours: Mo. – Sat.: 16:00 - 00:30
An excellent brewpub. The service is very good and if you meet the brewer he is very willing to tell you all about his beer. There are two rooms, non-smoking and smoking. The interior is minimalistic but nice, with a brew kettle, beer pictures and beer books to read. The food is down-to-earth, but tasty, the staff are really friendly and prices are fair! They usually have a handful of beers from tap and some from bottle, really tasty and far beyond average for Austrian means, always offering some (D)IPAs and/or Belgian style ales. Overall highly recommended!
So there you have it obviously there will be more hidden gems out there waiting to be found and if you venture off the beaten track and find them, them please let me know and I will gladly add them here for other beer tourist to try and enjoy.
So for now Zum Wohl Otto.