Vancouver, is a bustling west coast seaport in British Columbia, it is among Canada's densest, most ethnically diverse cities. A popular filming location, it's surrounded by mountains, and also has thriving art, theatre and music scenes. Vancouver Art Gallery is known for its works by regional artists, while the Museum of Anthropology houses preeminent First Nations collections. Don't tell the rest of the country but Vancouver is Canada's dine-out capital. Abandon your diet and dive right into North America's best Asian cuisine, from chatty Chinese restaurants to Vietnamese banh mi sandwich joints, or unleash your appetite on a rich smorgasbord of fresh-caught local seafood. Downtown is just the start of Vancouver. Walk or hop public transit and within minutes you'll be hanging with the locals in one of the city's diverse and distinctive mini-districts. Whether discovering the independent boutiques of Main St or the coffee shops of Commercial Dr, the redbrick bars of Gastown or the heritage-house beach fronts of Kitsilano, you'll find this city ideal for easy-access urban exploration. Check out the link for loads of fun stuff to do: Vancouver also has a thriving craft beer scene with 32 brew-pubs as of April 2022.
Storm Brewing LTD. 310 Commercial Dr
Open: Tues - Fri 14.00 - 18.00 Sat - Sun 12.00 - 20.00
Storm is Vancouver's longest running craft brewery but is also adventurous and creative. They offer tours, tastings and growler fill-ups in a warehouse with edgy decor! A great place! Don't let the funky aesthetics scare you away [highlighted by rubber rats, rats mural and other props]. The art is badass, and the beer are even better. If it's sunny, the outdoor area will let the sun shine on you will you enjoy some tasty beer and grab some artful cans to go. Their beer selection is insane! 18 beers on tap $7 to sample 7 beers. *Important to note that their license prevents the sale of pints, so the customer is limited to sample sizes. BUT, don't let that discourage you. It's an awesome experience. An absolutely must for anyone who likes beer.This is what a real brewpub should look like, small, cluttered, wet, with piles of unique beers to try. 😆🍺🐀🍺😀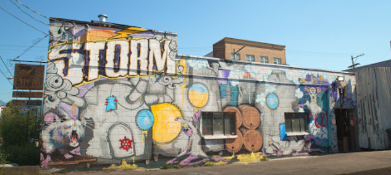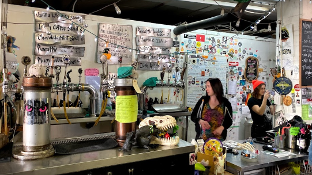 Main Street Brewing Co. 261 E 7th Ave
Open: Daily 12.00 - 23.00
It's a pretty nice place to try Cask beer! They have 8 regular taps plus 4 hand pulled from cask available. I think by now it is fair to call Main Street Brewing one of Vancouver's classic breweries. What an amazing job they did to restore a historic old brewery building! It is absolutely astonishing. The tasting room here has one unique atmosphere [the vibe is typical bohemian]. Inside is high ceilings, long wooden tables with seating for a good 50-60 people and visible fermentation tanks from the room with the taps, you can see more of the brewery from the growler fill if you wish. Located in east Van a hop skip and a jump away from 33 Acres, and Brassneck. Otto say: A laid back atmosphere and friendly staff coupled with great beers makes for a fun evening out.🤩
Brassneck Brewery, 2148 Main St
Open: Mon - Fri 14.00 - 23.00 Sat - Sun 12.00 - 23.00
A nice craft brewery on Main Street, featuring a chill, rustic warehouse tasting room with a variety of beers that rotate on tap, plus a shop for growler fills. Inside seats at the long double sided bar, high top tables. Reclaimed wood on the walls and the overall feel is cool. Servers are friendly. Selection of sausages, pepperettes and pretzels. A must stop in Vancouver.
33 Acres Brewing Company,- 33A, 15 W 8th Ave
Open:Mon - Sat 11.00 - 23.00 Sun 11.00 - 18.00
House-brewed craft beer and cafe fare offered in a cool, minimalist brewer-pub with rustic accents. It's more like a Hipster coffee shop meets nightclub place, including a DJ. 10+ taps in a range of styles and more in the Experiment Room. It's certainly an interesting switch up from your traditional brewpub local. The beers in the experimental room are better and the vibe is very chic? Bright lights and odd seating compared to the main bar next door, were you pretty much one big room with a bar, some tables and chairs. You see the bar when walking in, tap list on the wall. Very light room, big windows and white walls. Fast, good, friendly service. WiFi available with a password from the staff. Some snacks available, also a food truck with limited options parked outside. *A couple blocks off main close walk from Brassneck.
33 Brewing Experiment - 33B, 25 W. 8th Ave.
Open: Mon - Thurs 16.00 - 21.00 Fri - Sun 14.00 - 23.00
Located right beside 33A, and with a similar vibe. Good brews, cool room. Great experience showcasing one-off / experimental beers. Gets quite busy at times but don't let it stop you from trying the beers they have. Also can pick up a 6 pack if you don't feel like staying there. Prices are super reasonable and staff and enthusiastic and friendly. Food menu is limited but can always go next door for the full menu or the food truck just outside.
Parallel 49 Brewing Company, 1950 Triumph St
Open: Daily 11.00 - 00.00
The vibe inside this brewery / tasting room is great, good music and a fun atmosphere with a food truck inside. It felt very safe as there are plexiglass dividers between each table (Covid😷). Getting there through the hell that is East Hastings was well worth it. A nice outdoor patio. Inside, at least 40 taps, serving a slew of different beers, plus cocktails and seltzers, clearly something for everyone? Worth a visit, definitely, and hopefully the beers will improve as the brewers gain experience working as pros?🤞🏼
R&B Brewing Co. - Ale & Pizza House, 1-54 E 4th Ave
Open: Sat - Sun 10.00 - 23.00 Mon - Fri 12.00 23.00?
This brewery venue pours a selection of its own beers, special brewings and offers a range of pizzas. The new R&B facility is a big improvement over the old. The growler station is brighter. While it's not a lounge and you can't sit there drinking, it's a much nicer facility, and the service is friendly. The pizza restaurant has become one of the go-to stops when beer crawling the area (there are 8 breweries in that area don't hit them all at once!) Cheapest flights in town and brewery only releases along with casks. Friendly service mixed with the eclectic atmosphere.
Superflux Beer Company, 505 Clark Dr
Open: Daily 12.00 - 21.00 or later?
A cool place that makes the most of a small patio and indoor seating in an industrial setting. Decor is kinda chic, but with the brewery in the background. Beers are available in 7 oz pours. These guys are aiming high at that ultra trendy niche. Super friendly waitstaff. To many Hazy beers for my taste!
Strange Fellows Brewing, 1345 Clark Dr
Open: Daily 12.00 - 21.00 or later?
A big dark brewery with good vibes, a nice big tasting room with a small space for some artwork, the head sculptures are interesting; random music selection, high top tables, limited snacks (yummy meat sticks), and decently priced samples. Their beers are consistently high quality and the bottled stuff is even better though quite expensive. The staff are always welcoming and willing to share the knowledge and Fun!! Supportive of the local community and those who live and exist in it. True pillars of beer and humanity.
Stanley Park Brewing Restaurant & Brewpub, 8901 Stanley Park Dr
Open: Daily 11.00 - 21.00
Nestled right in the heart of Stanley Park, this is very coolly located, overlooking tennis courts and wide open park space. Interior is in keeping, with a very woody design it's vibe is rustic with a cool patio. Lots of taps, with 10 year-rounds and 6 rotating. An overall awesome experience at the Stanley Park Brewing Company! The flights are really good, and the selection of beer is immense! They are serving global eats such as burgers, sandwiches and bowls, plus good beer. Service is very friendly and helpful.
Container Brewing, 1216 Franklin St
Open: Sat - Sun 12.00 - 23.00 Mon - Fri 14.00 22.00
An industrial-chic brewpub with a 2-level tasting room and lounge serving house brews and casual eats. Excellent beer! And isn't that what it's all about? Unlike a lot of local brewers serving nothing but the same-old lame IPAs and kid-friendly, light-flavoured fruit beers, this place has a full range of truly well thought-out beers. The Staff were Uber-friendly and helpful, oh and there's a food truck for tasty treats and a cool seating area outside. If you want a treat try this place out. Definitely worth a visit. Cheers!😎
Luppolo Brewing Co. 1123 Venables St
Open; Tues - Sun 12.00 - 22.00
A nicely set up new place in craft beer-saturated East Van. Ample-sized tasting area with a decent amount of seating, warm wooden decor with plenty of space. You can order a flight of 4 friendly server's with around 7-8 taps? Italian inspired menu, pizza and antipasti. It's close to all the other million breweries in Yeast Van, so easy to fit into a crawl.
Steamworks Brewpub,375 Water St
Open: Daily 11.30 - 00.00
A cheery microbrewery located right by Waterfront station in Vancouver, serving its house beers with diverse pub grub including steaks, pizza and chili. It has decent parking and a huge restaurant that is often busy. Make sure to make a reservation in line to make sure you get in. It gets pretty packed. The bathrooms can be hard to find on the bottom level but it's worth the adventure. They have about 8 beers on tap which includes 4 regulars, some seasonal's, and some specials. There is a small outside dining section which is great in the summer. A must check out if you like history and craft beer!
East Van Brewing Company, 1675 Venables St
Open: Daily 12.00 - 23.00
A rather new a big brewpub just off Commercial. Quite a large space, basement underground style, warm, with nice music, not too loud. Clean, but bit of a grungy feel to it? At the root of every successful business there is a passionate and dedicated owner with a vision to offer a quality product and services to their community and City. Andy has clearly demonstrated his commitment to be just that person. His love, passion and magnetic personality is awesome. How can anyone resist his amazing brew's made with love and natural ingredients. The food and beer is great, and the staff are lovely too. Plus the atmosphere is very cozy. I recommend ordering the porter and the lobster grilled cheese!
Powell Brewery, 1357 Powell St
Open: Mon -Thurs 14.00 - 21.00 Fri - Sun 12.00 - 22.00
A boutique brewery with a relaxed tasting room pouring a selection of house made ales and pilsners. It is safe to say that Powell Brewery is a well-known player on Vancouver's craft beer scene. The tasting room is pretty small; however, it has that nice cozy feel to it.
Brewhall, 97 E 2nd Ave
Open: Daily12.00 - 00.00
A large big open beer hall style brewpub serving house craft beer, cocktails and whiskey, with board games and some arcade machines along the wall make the seating a little more interesting plus local art. You can either find a seat at the bar and get direct service there, or there's counter service where you can order beer and food and take it to a table. As far as beer, they have 7 house beer on tap, many of which are collaborations with other local brewers; and there's another dozen or so guest taps. Flights available. House beers are decent, some not so good, some above average. Solid food menu, with lots of vegetarian/vegan options (including some nice looking build-your-own bowls). Definitely worth a stop when in the Olympic Village / Mt. Pleasant brewery district.
Off The Rail Brewing, 1351 Adanac St
Open: Daily 12.00 - 20.00 or later?
An East Van destination for beer lovers. Tasting room is bright and open, but it's not wheelchair accessible. Always an interesting mix of different flavours and brews on tap. Never disappointing if you like hop-forward IPA's. Good snacks, too. A quality stop on your East Side brewery tour.
Hastings Mill Brewing Co. 403 East Hastings Street
Open: Daily 11.00 - 00.00 ?
This place is old school Vancouver, it has been around since 1913, skip the trendy hipster beer bars, this place has those old vinyl chairs and arcade games and weird people from the street drifting in and out. A maze like dive, the further back you go the nicer it is. Far back corner and you can see potential. Service at the bar is quick and friendly. Their own beers are good, again more of an old school approach to craft brewing rather than over hopped hazy nightmares you find everywhere else. Live music on some nights too. If you loathe pretentiousness this is a good stop.
Strathcona Beer Company, 895 E Hastings St
Open: Daily 12.00 - 22.00 or later?
A nicely set up place with a modern feel is a pretty bad area. When you walk in, they offer growler fills to the left, and glasses or samplers of beer straight head, with a good amount of bar seating and some communal tables to the right. Service is good and beers are decent plus the Pizza🍕 is yummy. Beer is available in flights. Fiberglass windows separate the tables these days. Sits kind of at the edge of the brewery pub crawl in the area.
Andina Brewing Company, 1507 Powell St
Open: Tues - Thurs 14.00 - 21.00 Fri - Sun 12.00 -00.00
The beer is excellent, the interior is nice and spacious which is great for larger groups. A cheery, industrial space serving tastings and growlers with an Andean/Colombian vibe going on, with arepas, ceviche, some Mexican, all looking delish! Beers where all 2$ for tasters? The servers are very friendly.
Callister Brewing Co. 1338 Franklin St
Open; Daily 14.00 - 21.00?
Cool brewery and tap with lots of art work. Very 20th century industrial feel. Located just a block east of Container. No frills, with a few seats inside and a few tables on a makeshift patio. The interior looks quite abstract which has a nice feel. It's quite homely too. Their drinks are really good. They also have barrels that kind of look like they are topped with beer which adds a nice touch to the interior appearance. You can tour the brewing equipment en route to the bathroom at the back. Can get crowded at times but an enjoyable stop for some beer tasting.
Yaletown Brewing Company, 1111 Mainland St
Open; Daily 12.00 - 22.00 or later?
A bustling brewery hangout offering house-brewed beers and a weekly small-batch tasting plus unique pub grub. Great ambiance! A cool wood and leather interior. The bar side of the brewery is pretty cool. You can see the brewery from there. Funky and cosy seating and a fireplace, plus patio seating available as well. They have lots of TV screens showing sports, more of a sports bar that has a brewery! They have about a dozen or so of their own on tap. A solid menu, full of good comfort food, decent service, not overbearing. Don't forget happy hour were 16oz pints are only $5!
Slow Hand Beer Company, 1830 Powell St
Open:
This is now the third brewery that has occupied this facility. More nicely set up than Doan's had it, with laminated wood tables and a much more comfortable feel in general. 7 beers on tap, with flights of 3 x 175mL available. There's heavy competition in the area but I wish them well. If you're coming to this area only briefly I wouldn't recommend this as a first stop.
Red Truck Beer Company, 295 E 1st Ave
Open: Daily: 11.00 - 21.00
A large expensive faculty that is open and airy. Truck stop diner? Not quite but nice. Service is self serve so no geeking out or attention. The interior contains long communal tables with stool seating. Menu is uninspired, generic truck stop food - lots of burgers, hot dogs, etc., barely anything vegetarian. There's a small growler/swag shop when you enter. Cool sinks in the rest rooms made out of old tyres / wheels Okay spot, typical brewpub really.
Dogwood Brewing, 8284 Sherbrooke St
Open: Daily: 12.00 - 20.00 ?
A small, laid-back brewery crafting organic beers, with tastings, growlers and made-to-order pizza. Organic beer that is fun and tastes great! A female owner / brew master, Celtic, inspired by the Crannog model, organic. Larger patio that is dog friendly. Lots of room inside as well for small and larger groups. Clean, great atmosphere for all ages. Pretty far from the touristy areas, but a determined beer hunter takes the Skytrain to Marine, then a Marine bus (101) eastbound towards 22nd Street Station and gets off before the Knight St bridge. Seek it out You really won't be disappointed.
Electric Bicycle Brewing, 20 E 4th Ave
Open: Mon - Thurs 14.00 - 23.00 Fri - Sun 11.00 - 00.00?
A cool little brewery with a funky vibe. The only thing better than the beer here are the phenomenal staff. All the beer's are packed with multidimensional flavors and totally enjoyable. Absolutely worth going out of your way to stop here! Definitely a Vancouver gem!
Faculty Brewing Co. 1830 Ontario St
Open: Mon - Thurs 14.00 - 23.00 Fri - Sun 11.00 - 00.00?
A very small local brewery. It's attached to a Kombucha brewery so they have those on the menu too. They have 8 different taps of beer and flights. Their growlers are very cute and affordable. It's minimalistic, but a good comfortable/casual space with a lot of natural light. The design is a bit odd, as it holds fewer people than you'd think for the size of space, and there aren't many places to sit. Located right off the busy W. 2nd Ave. and blocks from Steel Toad, Big Rock, R & B and 33 Acres, this is a convenient stop on a pub crawl, but not a highlight.
Bomber Brewing, 1488 Adanac S
Open: Fri - Sat 12.00 - 21.00 Sun - Thurs 13.00 - 20.00
A cosy tasting room that can get crowded at peak times and weekends. The people here are nice and their beer is pretty decent. A good selection of beers that varies through the seasons. Choosing a flight of different brews that you may not have tried before is definitely something to consider. If you are on the run, there's a big cooler section where you can grab some travellers. Food truck outside. Friendly service. Bomber should def be a stop on your East Side brewery tour.
Granville Island Brewing, 1441 Cartwright St
Open: Daily: 11.00 - 21.00
A beautiful restaurant/brewery in a great space in the middle of the trendy and fun Granville Island. The building and space itself is quite nice, large with numerous different eating and drinking areas. A fun place to hit with a bunch of friends for drinks and food. The service is good and atmosphere pleasant. Beers are what you'd expect (with few, if any, brewery special beers).
Granville Island Brewery - Dockside Restaurant, 1253 Johnston St
Open: Daily: 07.30 - 22.00
An eatery with a brewery with a waterfront patio offering Pacific NW fare in a dining room with a view. A very swank restaurant on Granville Island with some spectacular views of False Creek. Beers are very average at best and it is definitely not a place focusing on the craft. However it is some ticks and they do a flight that is reasonable. Worth a stop if visiting the area, but just for the ticks and view.
Artisan SakeMaker Brewery, 1339 Railspur Alley
Open: Daily 11.30 - 18.30
A small working brewery/winery with a patio and a small bar. The service is great, very passionate and willing to take the time to explain everything. Sake made from locally grown rice. Thought that was cool enough to try this place. It's a nice little spot to try some sake samplers and finger food after walking around Granville Island on a hot day. They serve traditional Japanese bar snacks. It is a bit pricey but the the tasting flight is worth it. I would recommend if you are in the area. I'm not experienced with sake so have no clue if the sake is good or bad?
Vancouver Urban Winery - (Settlement Brewing), 55 Dunlevy Ave
Open: Daily 11.00 - 22.30
Basically a big historic building, housing a brewery, a winery and a restaurant. To be honest, I am not the wine person, but this place makes me enjoy all types of wines. The vibe is super good especially for some special day. If you don't know about wine like me, try the wine flight. A big sparkling Über trendy beer and wine bar filled with hipsters. This place might be a little too yuppy-class for your average beer rater but it's an okay stop.
Work in Progress
Check Back Soon?
I hope you found my guide to the brewpubs and bars in Vancouver useful?
Now you just need to get yourself out there and start the beer adventure for yourself!