So here we are in Seattle and we will start straight off with the brew pubs
(as of May 2022 there are 70+) with a few bars thrown in, but first a "Brief History" of the city.
Brief History of Seattle
Seattle lies on a narrow strip of land between the salt waters of Puget Sound and the fresh waters of Lake Washington. Beyond the waters lie two rugged mountain ranges, the Olympics to the west and the Cascades to the east. It is a city built on hills and around water, in a mild marine climate that encourages prolific vegetation and abundant natural resources.
White settlers came to the Seattle area in 1851, establishing a townsite they first called New York, and then, adding a word from the Chinook jargon meaning "by-and-by," New York-Alki. They soon moved a short distance across Elliott Bay to what is now the historic Pioneer Square district, where a protected deep-water harbor was available. This village was soon named Seattle, honoring a Duwamish Indian leader named Sealth who had befriended the settlers.
The new town's principal economic support was Henry Yesler's lumber mill at the foot of Mill Street (now Yesler Way), built in 1853. Much of the mill's production went to the booming city of San Francisco, but the mill also supplied the fledgling towns throughout the Puget Sound region. A brief Indian "war" in the winter of 1856 interrupted the town's development, but when the Territorial legislature incorporated Seattle in 1869, there were more than 2,000 residents.
The 1870s were fairly quiet, despite the discovery of coal near Lake Washington, and the consequent growth of another extractive industry whose product also found its way to San Francisco. In the early 1870s the Northern Pacific Railway Company announced that its transcontinental railroad western terminus would be at Tacoma, some forty miles south of Seattle. Despite local leaders' disappointment, Seattle managed to force a connection with Northern Pacific shortly after its completion in 1883, and the town's population soared in the late 1880s. Lumber and coal were the primary industries, but the growth of fishing, wholesale trade, shipbuilding, and shipping also contributed to the town's economic expansion and population growth. One estimate is that in the first half of 1889, Seattle was gaining 1,000 new residents per month; in March alone, there were 500 buildings under construction, most of them built of wood. The explosive growth was slowed but not stopped by a devastating fire on June 6, 1889, which leveled the buildings on 116 acres in the heart of the city's business district. No one died in the fire, but the property damage ran into millions of dollars.
Enthusiasm for Seattle was little dampened by the fire. In fact, it provided the opportunity for extensive municipal improvements, including widened and regraded streets, a professional fire department, reconstructed wharves, and municipal water works. New construction in the burned district was required to be of brick or steel, and it was by choice on a grander and more imposing scale.
The 1890s were not so prosperous, despite the arrival of another transcontinental railroad, the Great Northern, in 1893. A nationwide business depression did not spare Seattle, but the 1897 discovery of gold along and near the Klondike River in Canada's Yukon Territory and in Alaska once again made Seattle an instant boom town. The city exploited its nearness to the Klondike and its already established shipping lines to become the premier outfitting point for prospectors. The link became so strong that Alaska was long considered to be the personal property of Seattle and Seattleites.
During the early 1900s, Seattle, now having discovered the rewards of advertising, continued to experience strong growth. Two more transcontinental railroads, the Union Pacific and Milwaukee Road systems, reached Seattle and reinforced the city's position as a trade and shipping center, particularly with Asia and the North Pacific.
The city's population became increasingly diversified. Scandinavians came to work in fishing and lumbering, blacks to work as railroad porters and waiters, and Japanese to operate truck gardens and hotels. There were significant communities of Italians, Chinese, Jews, and Filipinos. The International District, home to several Asian ethnic groups, was largely developed during this period.
With its population now approaching 240,000, Seattle announced its achievements by sponsoring an international fair in 1909. The Alaska-Yukon-Pacific Exposition celebrated the economic and cultural links Seattle had forged along what is now known as the North Pacific Rim. The forty-two story L.C. Smith building was completed in 1914. For more than four decades it was the tallest building in the American west and a symbol of Seattle's booster spirit and metropolitan aspirations.
World War I transformed the city's shipbuilding industry, which turned out 20 percent of the nation's wartime ship tonnage. The war also brought Seattle national attention when, early in 1919, workers struck the shipyards to maintain their high wartime wages. This event soon led to the Seattle general strike of February 6-10, the longest such strike in American history. The strike lacked a cogent objective, but its success fueled postwar American fears about radicals and socialists. Along with the city's early ventures into municipal transit service and public electrical power, the general strike helped establish Seattle's reputation as a hotbed of political radicalism.
Seattle also had a reputation for a boom-and-bust economy, and the twenties brought depressed conditions in shipbuilding and the lumber trade. The Depression of the 1930s hit Seattle particularly hard, and a "Hooverville" of shacks and lean-tos housing nearly 1,000 unemployed men grew up at an abandoned shipbuilding yard south of Pioneer Square. World War II sparked an economic rebound as shipyards flourished again. The Boeing Company, a modestly successful airplane manufacturer founded in 1916, increased its workforce more than 1,200 percent and its sales from $10 million to $600 million annually during the war years. The war's end, however, brought an economic slump to the area that persisted until the middle 1950s.
When Boeing successfully introduced the 707 commercial jet airliner in the late 1950s, it heralded another burst of municipal optimism. In 1962 Seattle sponsored a full-fledged world's fair, the futuristic Century 21 Exposition. The fair left the city a permanent legacy in the Seattle Center and its complex of performance, sports, and entertainment halls, as well as the Pacific Science Center, the Monorail, and the Space Needle.
Since Century 21, the city population has remained fairly stable around the half-million mark, while suburban areas have grown explosively. The Boeing Company suffered a slump in the early 1970s that severely depressed the local economy. The region's economy has subsequently been steadied and diversified. Weyerhaeuser and Boeing have been a part of that development, along with such high-technology firms as Microsoft. The political strength of Washington Senators Warren G. Magnuson and Henry Jackson in the postwar decades greatly contributed to growth at such research institutions as the University of Washington, and in defense related activities. Seattle has also enjoyed an expanded air and sea trade with Asia, Alaska, and the North Pacific.
Seattle has always exhibited a spirit of optimism, enterprise, and self-promotion. At one time this was institutionalized as "the Seattle Spirit," a movement that enabled the city literally to move mountains by washing down high hills to improve building sites, to connect Lake Washington and Puget Sound with locks and a canal, and to build the world's largest man-made island at the mouth of the Duwamish River. More recently, this spirit can be credited with accomplishments like the Forward Thrust program of the 1970s, which built the Kingdome arena and numerous parks throughout the city, including Freeway Park that spans the I-5 freeway with waterfalls and hanging gardens.
Seattle is proud of its arts and cultural institutions, the many live theaters, and the downtown art museum. It is proud of its parks, of its professional and collegiate sports, of Pioneer Square and the Pike Place Market, and, above all, of the beauty of its surroundings. Seattle is also a city of parades, not always respectful of its own brief heritage, not as radical as its legend would have it; a city of homes that has many who are homeless, a city that wants great growth but demands that somehow the setting remain untouched.
So we head for the Space Tower and go to the top so that we can get our bearings etc.. Then onto the mono rail which took us to down town and we had a little wander around the shopping center were the rail stopped, and then went in search of the our first brewpub;
Pike Place Market and Pike Brew Pub, 1415 First Avenue.
Wow, what a place. It's part of the market place and you can enter from 1st avenue, through a corridor and part of the brew kit is visible, brewing was in progress. You then descend stairs to below street level into the pub/restaurant. The walls are adorned with brewing, beer, pub memorabilia and there is also a dedicated museum room with paraphernalia about brewing etc that spans over 9000 years, even the restrooms are covered in photos and postcards.
The brew kit continues in a central location in the bar, and we sat next to the brewing kettle and the bucket ladder which elevates the grain to the mash ton on the upper level, access to this is via an iron spiral staircase. We took a sampler tray of the Pike beers, which were all really good. The brewery was first opened in 1989 at the La Salle Hotel, and one of the Pike beers is named after the Madame that ran it, "Naughty Nellie".
We had lunch, a 10" pizza, The Carnivore, which we shared, very tasty and then we chose a couple of beers as pints. Whilst we were quietly supping our beers, one of the staff came over and invited us on a brewery tour, turns out Otto had been chatting to one of the main guys, who had complimented him on his "Cascade Brewery" T-shirt and had mentioned the tour. We skipped the talk on malts etc and joined the tour to take in the lower floor where the important stuff takes place. Quite a set up, with plans to add further fermenters and conditioning tanks. They had also purchased a micro kit which would brew 20 gallon batches, allowing them to experiment, a really neat kit.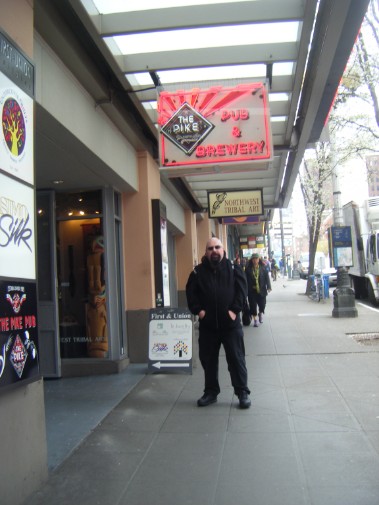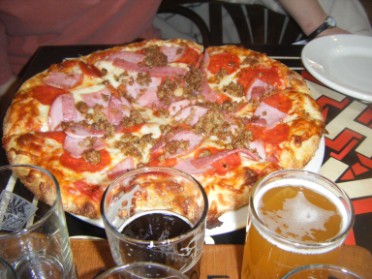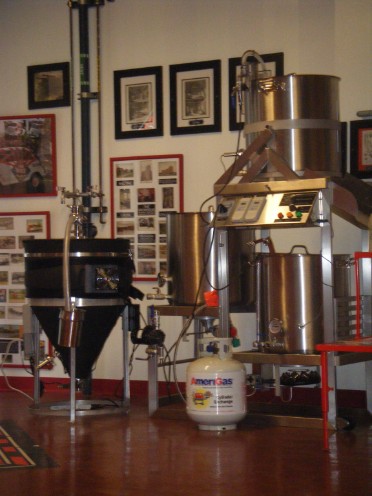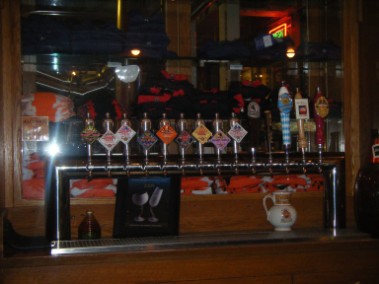 Tap House Grill; 1506 6th Avenue.
We actually walked passed the place as it is just a door in a block of shops. As you enter there is a sign go down the steps to the bar or take the elevator. We headed down the step and on the second curving flight we saw the bar wall with all the beer taps "awesome" 160 beers of which 35 regally change. The bar has one main area divided with a large glass screen booth seating one side and table and chair seating the bar side, there are also 3 smaller rooms for a more intimate dining experience? Also a pool room and a small separate room with a pool table and small bar, maybe for private parties. There is one draw back though? As you sit down at the bar a massive "Nail Gun" comes out of the ceiling and puts a 6'inch one right through the centre of your hat! But we enjoyed it having a tray of 4 gill glasses of porters and then 3 pints each + a plate of crispy calamari (I have now tried it 3 times and still do not like it! Well I gave it a good try again!)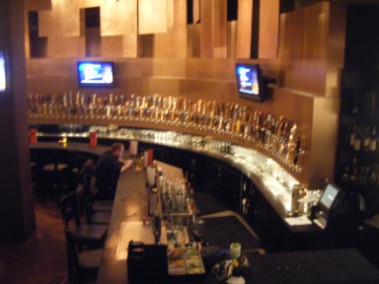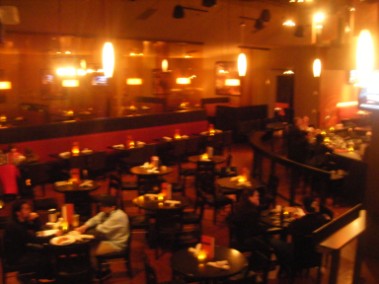 The Elysian Brew pub, 542 First Avenue South, Seattle
Situated in a large old building taking over the whole ground floor, from the back window you are only just a cock stride from the "football" stadium. A large central bar with booth seating around the walls and table and chairs in the center. The brew kit is to the right as you come in with booth seating to the side. They had 17 of their own beers on and 2 on cask/hand pump. We tried then all The most outstanding were the Bete Blanche and Trip VIII, brewed with the guys from New Belgian brewing. Also they did a Jasmine IPA and a beer with 4 different types of pepper added to the boil ! (Margaret was partial to both these especially the Jasmine). We were still at Elysian when happy hour commenced and took advantage by ordering some food. Otto had Thai fish cakes and Baby BBQ Ribs. Margaret opted for the Mussels with a spicy tomato sauce and chorizo , which were most definitely the best value. The food was really good. There were only two tv's one at either end of the elliptical central bar, and only visible if you sat at the bar on one site and in the curved seating are at the other.
Elysian Capitol Hill, 1221 E Pike St.
Fun, lively location in Capitol Hill neighborhood, with a trendy upscale feel, large windows, dark lighting and college aged crowds Nice selection of beers brewed on site, and always a great selection of guest beers (usually a few Belgians such as St. Bernardus 12, La Chouffe, etc.). Staff are great, food is good, and a nice place to hang and enjoy some great beer. Free wireless access...
Elysian Tangletown, 2106 N 55th St.
Nice looking location on a corner, open and bright, with multiple roll up windows/doors (letting tons of light in) that lead out to the street in this quaint tiny shopping district. It has a kind of modern feel and look to the place in some respects. The bar surface looks like sheet metal. They have some sixteen beers listed on tap all but three are there's. There are also two beer engines for select cask dispensing. The food is tasty and has some unique flair.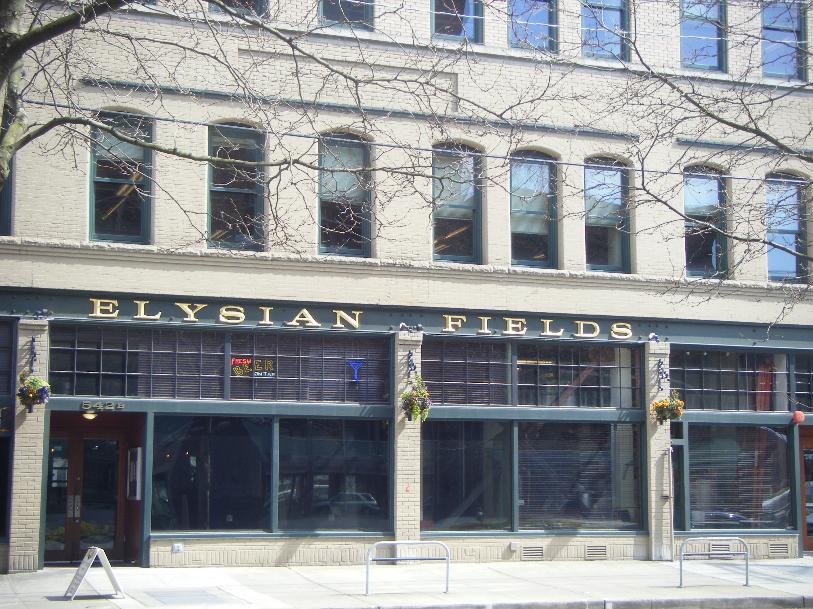 47th St Tavern, 7401 Greenwood Ave N,
A great place one long room, with a UK / London theme old pub sign's abounded and pictures of the London under ground + a photoe of the Queen pulling a pint of Fullers Ale, which they always have on tap. Along with 12 other taps, I opted for Fish Tale Brewery's Cascadian Dark ale around 8% and Margaret had Maritime Pale nice and quaffable at 5% plus a couple of other one's, We left just as the Happy Hour (3 hour) was starting.
"Prost" 7311 Greenwood Ave N.
Another bar on our list, so it was a shame not to do it, so off we set on the long 30 second walk!!! Prost is a German bar serving 12 German beers all in the correct glass ware. A small long bar with pine tables and benches, serving German far, wurst and pretzels etc.... We opted for one of our favorite German beers Kostritzer Dark Lager.
Two Beers, 4700 Ohio Ave.
South,brewery needed some planing as they only have a tasting room that is only open Thursday and Friday from 3-7pm so we get the bus out of town and get off in the middle of a massive industrial estate Trafford Park has nothing on this one) and headed for the brewery which was not as easy as we thought as the road we had to cross is a 6 lane road with limited crossing points.We had to cross 3 or 4 times as the road we wanted took some finding and then was on both sides and off set with other roads in-between!So we finally get there and the sun is out they have tables out side and 4-5 inside along the brew kit the brewery was working as well, They had six beers on the best of which was the Evolution IPA and Sodo Brown ale, with special mention to the Panorama Wheat that is infused with lemon, orange peel and ginger mmmm very refreshing. The place soon filled up! People we coming in having a pint and filling "growlers" ( a four pint demijohn) that breweries / bars do over here for take outs and no wonder at $8 a re-fill. We eventually sat at the bar and got chatting about beer (2 more free pints and a key chain excellent).
Big Time Brewery and Alehouse, 4133 University Way NE.
This place has been in existence since 1988 and is located in the University District. When we arrived it was "grumpy" hour with a dollar of pints and $3 dollar snacks available. 11 beers were on tap, three of which were on the dark side, a stout, a porter and a belgian.
The place itself is clean, but well worn/used. with plenty of seating at the front and a further dinning area through the bar at the back. The kitchen forms one corner of the main room and you order your food at the counter. Pizzas and sandwiches mainly make up the menu, and not to expensive at that. We shared an All Meat 12" which was really filling.
There are shelves all round the top of the room, with beer bottles and lots of old beer signs as decor. The back of the bar was a traditional "saloon" type set up, wooden, large and ornate, with mirrors and nooks, crannies, shelves and cupboards for all the glass and other paraphernalia needed behind a bar. Anyway, we had 4 pints and a sampler of 4 other beers.
McMenamins Brew Pub The Queen Anne, 200 Roy St.
As we had had such a good time in there Oregon outlets. So we go in and the place is packed and in there same distinctive style, by the time we order food the place is empty? (was the happy hour crowd that must of stayed?) So I as you know love fish and chips and tend to rate pubs how they do it, if on offer? Now don't get me wrong we love McMenamins pub's and beers, so I suppose, everone is alowed a bad day! 🙄

NOTE: I had it at Fanno Creek at lunch for $8 and was excellent and in the Rock Bottom Brew Pub for $14 and was great and a massive portion. So when the menu says for sharing large plate we decided to opt of that - mistake - it came on 2 plates and 1 very small piece of fish and soggy over cooked greasy fries. Then to make matters worse the second pints we had ordered had massive heads on them (usually they are right to the top) Then we had to ask for the bill and still had to wait over 10 mins ! So the tip was decreasing by the minuet. We were spoiled in Oregon.
Mcmenamins Six Arms, 300 E. Pike St, Seattle, Washington
A bar and eatery in a wedge-shaped building full of chandeliers, serves pub grub and housemade microbrews.
Fremont Brewing Company, 3409 Woodland Park Avenue North.
Hours: Their Urban Beer Garden is open 11am – 9pm everyday.
A large space in a part of town that seems a bit too cool for its own good? A bright, open area with a lot of seating, as well as a large outdoor patio. A fairly solid tap list with varied styles, with very good pricing, with a generous flight of any five beers for nine bucks.
Reuben's Brews, 5010 14th Ave NW.
Hours: Mon-Thu 3-9pm, Fri-Sun 12-9pm
One of the standout brewhouses in Ballard, modern building and equipment showcases some fantastic beers. Perfect small brewpub feeling, a little industrial. Small tables can make it hard to fit the full tasting tray, and it can get busy. They have a food truck. Beer is pretty solid, and definitely worth a stop if you haven't tried them.😎
Reuben's Brews - The Canning Line, 800 Nw 46th St, Seattle, Washington
This is Reuben's new taproom location. Not too far from the original Reuben's location, has public parking available. The new location is spacious it feels a lot like the tasting room, but simpler, with smaller tap list.
Elliott Bay Brewery and Pub, 4720 California Ave SW.
Don't be derailed by the cheesy exterior as this is a great little brewpu, smaller and darker than the Burien Location. A fairly large list of beers on tap for a brewpub and they even offer taps for beers that they don't brew. The menu and pricing is about average for a brewpub and this West Seattle location has some items on the menu which they don't have in Burien.
Elliott Bay Public House & Brewery, 12537 Lake City Way Ne, Seattle, Washington
A family-owned brewpub with a menu of small plates, burgers and seafood plus seasonal and specialty beers.
Georgetown Brewing Company, 5840 Airport Way S. Unit #201.
Open: Mon- Fri 10am to 6pm, Sat 10am-4pm, Closed Sundays
This is great for what it is. Simply put, a brewery that happens to also sell beer and a few items of miscellaneous value to the public. The inside is very neat and modern. The people behind the counter are extremely nice. Tasters are FREE, so go here and try as much as you can, again, for free. The growler fills are cheap, I believe they were $6 for the regular line-up, and $8 for their ultra-special stuff. 😊
Gastropod (Epic Ales Brewery), 3201 1st Ave S, Ste 104.
Open; Tue - Sat: 4pm - 10pm
The pub feels like you are chilling out in a friends cozy dining room. Lovely, inviting aromas from the open kitchen as you walk in. Friendly staff are quick to happily greet on entrance. Inside its a smallish place with ten bar seats and maybe seating for 20-30. They have 6 house beers and another 6 guest taps. Food is eclectic, delicious and reasonably priced; beer samples were cheap and on the epic side very adventurous although ranged from bad to good. It's only a 20 minute bus ride from downtown and I would say is worth the trip depending on what they have on tap?🤩
Jolly Roger Taproom (Maritime Pacific), 1111 Northwest Ballard Way.
A solid little brewpub located in a slightly industrial block near the Ballard/Fremont border. A large open warehouse like restaurant with maritime motives on the walls. The place is also home to Maritime Pacific Brewing, so that's what you'll get on draught. The food is adequately hearty to absorb all the beer.👊🏽
Holy Mountain Brewing Company, 1421 Elliott Ave W, Seattle, Washington
Very cool place. Big industrial potential slaughterhouse vibe. Gigantically high ceilings. Great service.
Cloudburst Brewing, 2116 Western Avenue, Seattle, Washington
A pint-size taproom in a high-concept brewery dispensing craft suds to beer connoisseurs.
Optimism Brewing Company, 1158 Broadway, Seattle, Washington
Industrial-chic spot serving house beers supplemented by eats from notable food trucks.
Machine House Brewery - Georgetown, 5840 Airport Way S, Seattle, Washington
A little tucked away in an old brick industrial building. Inside has a lot of character, very authentic, old industrial.

Machine House Brewery - Central District, 1315 E Jefferson St, Seattle, Washington
A brewery producing small-batch, English-style cask ales, with a cheery on-site tasting room.
Hales Ales Brewery And Pub, 4301 Leary Way Nw, Seattle, Washington
A brewpub serving a variety of housemade beers in a spacious, informal setting.
Old Stove Brewery, 1901 Western Ave,, Seattle, Washington
Located in Pike Place Market. A lively, kid-friendly taproom and brewery offering 16 taps of craft beers brewed on site. Wow! This place seems to have it all. Great views of the bay, great beers, and awesome food! 👍🏻

Standard Brewing, 2504 S Jackson St, Ste C, Seattle, Washington
This tasting room of a local microbrewery offers on site pints and tasters plus growlers to go.
Seapine Brewing Company, 2959 Utah Ave. South, Seattle, Washington
Amazing brewery! Locally owned. Friendly bartenders, super fresh and delicious beers. An excellent selection of well crafted beers albeit a small number of taps compared to other breweries. No TVs make it an old time feel in an old sawmill but still very professionally designed. Kid friendly too.🙃

Outlander Brewery & Pub, 225 N 36th St, Seattle, Washington
Craft microbrewery offering small-batch beers & savory pies in a cozy cottage with classy decor.
Hellbent Brewing Company, 13035 Lake City Way Ne, Seattle, Washington
A beautiful new location in North Seattle. Very comfortable setting with couches, TV's everywhere with NFL ticket, nice wood paneling, all the fun stuff. About a dozen taps of their own stuff, as well as several guest tap beers and ciders. Food trucks frequent, and is very much a dog friendly place. Good beer, good conversation, good football, good music.
Redhook Brewlab, 714 E Pike St, Seattle, Washington
An Industrial-style watering hole featuring 16 taps of rotating craft brews and refined bar eats.
Flying Lion Brewing, 5041 Rainier Avenue S., Seattle, Washington
Amazing beers, friendly service. The interior is small but very inviting - they've made great use of the space. Nice outdoor patio space.
Stoup Brewing, 1108 Nw 52nd St, Seattle, Washington
A bustling taproom with whimsical wall murals & garage doors that open to an outdoor beer garden.
Urban Family Tasting Room, 1103 NW 52nd St. Seattle, Washington
Basically a garage in the middle of nowhere. But very local and dog friendly with good customer service.👍🏻
Perihelion Brewery, 2800 16th Ave S, Seattle, Washington
A great spot with great beer! Indoor and outdoor seating with fire pits outdoors. Dogs allowed outside. Food is also great. Right by the Beacon Hill light rail station too.

Flying Bike Cooperative Brewery, 8570 Greenwood Ave N, Seattle, Washington
Great beer and atmosphere. Comfortable and homey, just like the Greenwood neighborhood. Plus they support causes that matter! An awsome co-op brewery.
Counterbalance Brewing Company, 503b S. Michigan Street, Seattle, Washington
Nice outdoor space to have one of Counterbalance's great beers. Dog friendly, and friendly people. It's important to support our local breweries!
Jellyfish Brewing Company, 917 South Nebraska Street, Seattle, Washington
A great new place in the Georgetown neighbourhood. Warehouse-style place but very clean and comfortable. With 13 house beers on tap. The beer quality is quite frankly impressive, with lots of standouts. Service is also extremely friendly, hospitable and informative. Definitely one of the better places in Seattle.😜
Lucky Envelope Brewing, 907 Nw 50th St, Seattle, Washington
This is such a great brewery. They have an awesome outdoor seating area that's all covered. Their beers are creative and delicious.
NW Peaks - Hillman City, 5718 Rainier Ave S, Seattle, Washington
Located just south of Columbia City, the taproom offers incredible views of Mt. Rainier from the patio. Great beer in cool neighborhood. Relaxed, dog friendly, and a great combination of interesting and classic beers. Staff are super friendly.

Lowercase Brewing Taproom, 6235 Airport Way S, Seattle, Washington
A nice setup with some indoor seating and on a nice day they open up their beer garden out front that has loads of seating. Really lovely cosy little place in the same facilities as Burdick Brewing. Lots of table games. Friendly service and some spectacular German-style beers.😃
Fair Isle Brewing, 936 Nw 49th St, Seattle, Washington
Rustic chic 21+ brewery, plus guest chef nights. It might only be a couple blocks away from the Ballard mainstays but it might as well be a 1000 mile away culturally. A modern elegant and adult taproom serving excellent saisons, barrel-aged, and Belgian farmhouse styles.

Bad Jimmy's Brewing Company, 4358b Leary Way Nw, Seattle, Washington
A dog-friendly tasting room, pouring bold-flavored brews in a former warehouse with a BYO (bring your own) food policy.👍🏻
Figurehead Brewing, 4001 21st Ave W Unit B, Seattle, Washington
Seattle's 60th brewery opened in 2016. A cool taproom with a nice modern nautical theme. Also features a self guided tour through the brewery if you are looking for the restroom! Lots of events tied to beer training and lots of materials about, which is cool. Very friendly staff. Dog and kid friendly taproom.
Ravenna Brewing Company, 5408 26th Ave Ne, Seattle, Washington
A bustling brewery located in a quaint little neighbourhood in the university district. A small beer garden and patio and a very nice, but tight seating area that above the production brewery. Also access to food trucks. Very drinkable beers.
Peddler Brewing Company, 1514 Nw Leary Way, Seattle, Washington
A warehouse spot with a beer garden, kids' area and bike rack, featuring small-batch house beers.
Ghostfish Brewing Company, 2942 1st Ave S, Seattle, Washington
A very nice new brew house and taproom in the SODO neighborhood of Seattle. Of course, the tagline is that this is an all-gluten free brewery (and the food menu follows suit). Small batch and gluten free beer made with millet, buckwheat and brown rice.👍🏻
Lantern Brewing Company, 938 N 95th St, Seattle, Washington
A craft brewery in North Seattle, focused on Belgian and French-style beers. Limited indoor and outdoor seating as well as beer to-go.
Rooftop Brewing Company, 1220 W Nickerson Street, Seattle, Washington
A microbrewery and tasting room with a large outdoor space and changing roster of food trucks. It's a great place to share drinks with friends and to play some fun games. Beer is better on the "roof" a chill atmosphere with an outdoor TV and plenty of seating. 🤩
Dirty Couch Brewing, 2715 W Fort St, Seattle, Washington
A great new spot just around the corner from Urban Family, with a focus on sours. 12 beers on taps. A fantastic quiet and sunny location, a super summertime spot. Expected industrial park ambience, but no, it's chill, friendly and with decent beer.🍻
Obec Brewing, 1144 Nw 52nd Street, Seattle, Washington
A pleasant, homey tasting room with lots of seating. Located directly adjacent to Stoup. They have 10 beers on tap, $2 tasters for each of them, which is cool. Great Czech style beers served in really cool glassware. Lots of outdoor space, super dog-friendly. Safe COVID protocols. 😷 Very friendly service.

Tin Dog Brewing, 309 S Cloverdale St #a2, Seattle, Washington
A cosy, locally owned, little gem on the west end of South Park in an industrial strip mall, there can't be room for more than 20 people here? Award winning Saisons. Very unique beer menu! A quiet place perfect for a first date, read a book, or to play dominoes. Dog friendly. The friendly owners Lisa and Eric are always welcoming. Nice in summer as you can sit outside at the picnic tables and get some sun. Bottles to go. Maybe a tad expensive?

Triple R Brewing, (Alley Tavern) 916 Ne 64th Street, Seattle, Washington
A cool little taproom, with an industrial but comfortable feel. A few TV's around. Upstairs balcony seating area complete with dart boards, shuffleboard, and foosball. 12 to 16 or so taps, with a wide variety of styles, though only usually two taps brewed by Triple R. Friendly service. There's a lot of local breweries that you can taste at this establishment. If you're looking for a low key time hanging out with the locals, roll through the alley. 👊🏽

Outer Planet Craft Brewing, 1812 12th Avenue, Suite 100, Seattle, Washington
A cool little place with friendly service. Inside lots of windows, and some light and unobtrusive furniture inside, they have lots of games and large tables. On sunny days it's almost like sitting outside. The bar's in the back, with a small brewhouse behind that. It's good if in the area doing a brewpub crawl.
West Seattle Brewing Company (Mothership), 4415 Fauntleroy Way Sw, Seattle, Washington
It's a cool space for sure. Located right on the busy hillclimb side of Fauntleroy. The main door is a big neo-rustic heavy wooden slab, with light showing between the planks. Next to that are three huge all-glass roll-up garage doors, which flood the place with light all the time, and air when they're open. The bar comes out almost to the doors. Lots of tall tables and tall stools throughout. They have the wall roughed in to separate the brewhouse from the taphouse. They offer a ton of house beers, along with a few guests. Well worth seaking out. Otto's top tip; Happy Hour 3pm - 6pm 👍🏻
West Seattle Brewing Company (Tap Shack Alki), 2600 Marine Ave Sw, Seattle, Washington
Microbrewery offshoot offering house beers on tap, pizza and a patio with views of the Puget Sound.

Burke Gilman Brewing Company, 3626 Ne 45th St, Seattle, Washington
An intimate, comfortable tasting room in the U District, with a long bar. Extensive taplist, over 20 on tap, including some guest ciders. Flights of 5 or 11 available, or single tasters for $2-3.
Snapshot Brewing, 8005 Greenwood Ave N, Seattle, Washington
A cool neighbourhood brewery that shares space with a canvas store. They have 6 taps of beer and a couple ciders. Heated covered tables and seating in the parking stalls in front. Seems a perfect business model for the pandemic.😷
Future Primitive Brewing, 9832 14th Ave Sw, Seattle, Washington
An absolutely great place for a couple of beer. A chill atmosphere and friendly. The NPFO is very good like classic Germany lager. They have great outdoor seating area, covered and ventilated with some heaters. They are kid and dog friendly. They frequently have food available from their built in food "truck", especially on the weekends, but you can also bring in food from the neighbourhood.

The Good Society Brewery & Public House, 2701 California Ave Sw, Seattle, Washington
A corner brick building, with a cool mural on the side. Some covered street side seating. You can see the shiny steel brew kit inside. They were voted best New Small brewpub 2020, A community vibe to the place and with every pint sold, they donate a portion to a local cause. They brew great European style beers, and their larger style beers rock, you could say they are Kölsch-tastic! 🍻🥨🍻
Sovereign Brewing, 851 Rainier Ave S, Seattle, Washington
This place is rad. You will love their simple dark theme and chill environment. The aged beer are very unique and enjoyable. It's right on the way out of town if you're able to stop by.
Seattle-lite Brewing, 8520 14th Ave S, Seattle, Washington
If you are looking for a quiet escape away from the hustle and bustle of downtown Seattle, this is it! A lot of local brewery tap rooms go for a kind of industrial feel, but Seattle-Lite's is smaller and cosier. The outside area has two large tables, a couple two-seaters, and a few scattered Adirondack chairs. The inside area includes a great booth that would be a fine place to hang out with friends on a rainy Seattle afternoon. An excellent neighborhood beer stop to whet your whistle with both the in house beers as well as a decent selection of other Seattle brews. Also very cool t shirts and stickers. 👊🏽

Best Of Hands Barrelhouse, 7500 35th Ave Sw, Seattle, Washington
Best of Hands is a local West Seattle brewery on 35th. Inside it has a few tables also so does outside, including a tented area. They have about 15 beers on tap, plus growler fills. Really unique beer flavors, super high quality and innovative beers. Different than a lot of the traditional beers. The pours are decent and the prices are good, so its a nice combo. Definitely a good spot to go and have a beer when you're in the mood as the staff are also nice and friendly.
Here is a piece provided by our friends Georgia (sadley now deceased) and Jane,
about a brewery on the wind swept outer reaches of Seattle;
Valhöll Brewing 20186 Front Street Ne Suite B, Poulsbo, Washington, 98370.
Always on the lookout for good beer, I have found a gem on the side of a hill in the small little burb of Poulsbo. I walked up to the tap room and was immediately greeted by energetic, friendly staff who made me feel as if I were meeting friends for a beer rather than sitting with strangers tasting a new brew. The beer I was looking for was the renowned Stouty Stouterson-the most heavenly, complete to the finish, stout that I have had the pleasure to savour. In addition to the stout, a copper colour beautiful rye, a Belgian IPA, an abbey ale, and my friends favourite, the Belgian wit. All the beer is full flavoured, and if you fancy yourself a connoisseur of beer-full of subtle hints, take the time to savour the brew from start to finish-from the initial aroma to the cooling sensation of the perfect beer gliding down and warming you from inside out with faultlessness. They also have a divine root beer so beautifully balanced that sometimes I can't decide what I enjoy more, the stout or the root beer! Local light fare is available superbly suited to the beer drinker of the Pacific Northwest-smoked salmon with a smoked cheese to complete the snack. Shelled peanuts are also available for those traditionalist who desire a more rustic snack with their brew. The staff are more than excited about their endeavour, taking the time to discuss their beer with you, listen to your critique and just simply visit with you about whatever topic you may choose. Its like the old TV show "Cheers", they want to know your name, remember it and want you to come back and drink a beer with them again.
I'll end this by simply saying it is worth whatever length of drive you may have. Take the time to discover this up and coming brewery-taste a unique beer and meet some of the friendliest guys around!
I completely agree with Georgia on that, we tried their beers at the cask festival and they we awesome.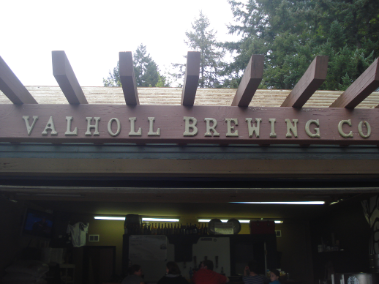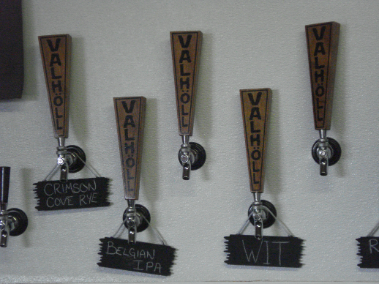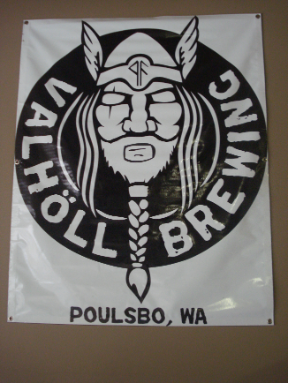 Seattle / Washington have a Beer Lovers Club "Wabl" that is all about craft beer and they organize a few festivals every year, and were lucky enough to go to the Cask Ale festival. We did not have tickets and it was sold out! So we went early to queue as we were right at the front of the queue it was not a problem getting in (thank Ninkasi) So we paid our $40 got our 4 oz sample glass and 20 doubloons to exchange for water turned into "fun"
So we enter our first USA beer festival (after just missing one by 2-3 day's on the last of our 6 visits!) and what a festival to get to "cask" ales even thought 25% of then had not settled at all because the were high alcohol this did not matter we got chatting to a well nice couple, Jane & Georgia who we sat with and chatted about beer. So that made it even more fun, they also donated us some of their doubloons, (I tell you what 20 samples in 4 hours seems like an easy do! BUT NO it takes some doing!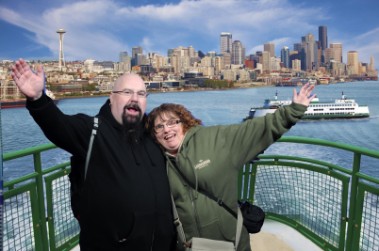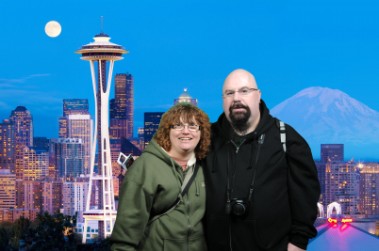 R.I.P.
Pillager's Pub, 8551 Greenwood Ave N. (sadly now closed!)
So we got there and were in the last 2 hours of Happy Hour time! So get the IPA and Weiss beer in to discover that at 4.30 to 5.30 - 6 of the house beers were only $1 a pint (70p) OMG did we not batter them at this not to be missed price, so as we were sat at the bar, we got talking to the locals and had the "crack" We had pints of all ten beers, was rude not to also why do a taster tray (always expensive) when pints are so cheep. Then we gave the bar dude/manager my card and rapped with him, next we know he came over with a Free t-shirt! of the Bar Pillagers Pub (the brewery shirts were on back order- bugger as looked top the one we clocked a guy sporting) and also gave us 4 x 6oz samples of the 4 special beers on offer, all in all an awesome beer experience with Hop the Plank IPA; Black Bonny Porter, and Blackbeards dark larger some of the more memorable of the night? (what we remember that is!)
Naked City Brew Pub, 8564 Greenwood Ave N. (sadly now closed!)
And it was packed! (Pillagers Bar aka 3 Skulls tap was not!) We sat at the bar and asked for a sample tray, only to find out they did not do then! But the bar dude gave us a 2oz sample of all 6 beer on offer, (they also had 6 guest taps) I ordered a guest Porter from Fish Tale brewery and as we were sat ther in our brewery shirts the owner/brew dude, came over and introduced himself we got talking you do about beer, and other things like more beer (don't forget we were both slightly inebriated at this point) but no worries we told him of out beer tour and our web site, next thing we know 2 more free t-shirts and a brewer tour that I don't really remember a lot about. Margaret did not do the tour she chatted to the brew dudes wife. So then we sampled a beer from Two Beers brewery then decided enough was enough, time for bed said Otto I mean it was 8:30pm!!
Big Al Brewing, 9832 14th Ave SW. (sadly now closed!)
A small brewery tasting room with big bar seating 12 or so, with room for more to hang and also space upstairs to watch a game or have an event. They serve great tasty brews, growler fills and glasses are available. You must stop here if you're in the area.
Urban Family Public House, 5329 Ballard Ave NW
Gastropod (Epic Ales Brewery), 3201 1st Ave S, Ste 104
Northwest Peaks Brewery (taproom closed), 4912 17th Ave NW Ste B
Hilliard's Beer, 1550 NW 49th St
Emerald City Beer Company, 3100 Airport Way S
Rock Bottom - Seattle, 1333 Fifth Avenue
Odin Brewing Company - Seattle, 9130 15th Pl S, Ste F
Spinnaker Bay Brewing, 5718 Rainier Ave. S
Pyramid brewery 1201 First Avenue South. (sadly now closed!)

Right opposite the Mariners Baseball ground. This is set in a massive building and we found out that most of it used to house the brewery but that they are now under the North American Brewery Co. Who when the bought MacTarnahans out 10 years ago sold the brewery and mover production to Portland (but the MacTarnahans brand is second to Pyramid?) Now 5 years ago they installed a new smaller brew kit but they only started brewing in house on it a few weeks ago and we were lucky enough to get a sample of the new imperial red brewed on the new kit. Sorted. Any was it was happy hour again $3 pint so we downed a quick 6 pints then entered the quiz which was good fun. We came next to last, no good on American history or sport. We did come second in one round though.
Populuxe Brewing Company, 826 B Nw 49th Street, Seattle, Washington
Schooner Exact Brewery, 3901 1st Avenue South, Seattle, Washington
Mollusk Dexter Brewhouse, 803 Dexter Ave N, Seattle, Washington
Ram Restaurant And Brewery - Northgate, 401 Ne Northgate Way, Seattle, Washington
Ram Restaurant And Brewery - University Village, 4730 University Village Pl Ne, Seattle,
Bluebird Microcreamery & Brewery, 7400 Greenwood Avenue North, Seattle, Washington
It's an ice cream parlor with a dinky little brew system in the back. Root beer and specialty soda, three house beers (rotating) and a guest tap, ice cream, floats, samplers. The ambiance is typical for an ice cream shop with beer taps I suppose.? 🍦
Bluebird Microcreamery & Brewery - Capitol Hill, 1205 East Pike Street, Seattle, Washington
Floating Bridge Brewing, 722 Ne 45th St, Seattle, Washington
Belltown Brewing, 200 Bell St, Seattle, Washington
Gordon Biersch - Seattle, 600 Pine Street (4th Floor Of Pacific Place), Seattle, Washington