Rhode Island is packed with 400 miles of coastline and 20 percent of the country's historic landmarks. Newport is the sailing capital of the world, home to the famed Gilded Age mansions. Providence's celebrated restaurants, award-winning theatre, and vibrant arts scene is enhanced by an elaborate river-walk. Block Island's natural beauty beckons you to unwind. Whether you choose South County's pristine beaches, East Bay's magnificent coastal bikeway, footsteps through history in Blackstone Valley, or shopping in Warwick, you'll experience authentic Rhode Island. Rhode Island now has 28 brewpubs/breweries as of June 2020. So let's start off with Rhode Island's first Micro Brewery;
Newport Craft Brewing and Distilling, 293 J.T. Connell Rd. Newport.
Formally Coastal Extreme Brewing Company/ Newport Storm
Open: Mon 14.00 - 20.00, Tues-Weds Closed, Thurs - Sun 12.00 - 20.00
They have both the beer and rum available for tasting for the first time ever. The cost for a tour and beer tasting is $7 and the cost for a tour and rum tasting is $9. The cost of the tasting includes a souvenir crystal tasting glass. The beer selection will be a combination of their year-round beers, seasonal and limited release selections. They will be featuring two rums not available anywhere but here in addition to the Thomas Tew Rum that is available in Rhode Island stores. The tour deck will be open whenever the visitor's center is open so you can get a great look at the facility even when there isn't a scheduled tour. You get to walk around the newly installed visitors gantry so you can look down on all the brew dudes working away to turn water into fun for you all. (Note we visited the old location about 8 years ago for the "Free Tours every Friday @ 6pm!) The tours are fun as is the "extreme" drinking experience. They organize lots of events and charity fund raisers through the year. A radical set of dude's.
Anyway here is what they brew starting with their flagship beer, Hurricane Amber Ale, It's a mild amber ale with sweet malty flavour balanced by ample but delicate hopping. It's the perfect beer to enjoy all evening with good friends or even good enemies. In the fall (autumn) of 2000, they introduced their "Storm of the Season" program. Each season was mated with a particular beer that would be available for only that period of time. That fall they introduced Regenschauer Oktoberest. It was followed with Blizzard Porter in the winter (now a permanent brew each winter), Thunderhead Irish Red (now the Spring Ale) in the spring, and Maelstrom IPA in the summer. Each of theses styles and recipes were chosen to be well suited for the time of the year they came out. Moreover, the focus was on drinkability which has made for some unique versions of these popular styles. Also once a year the brewers are given the opportunity to make something completely different from anything that has been made before. Ignoring all previous recipies, and brewing continuously for days results in been a unique high alcohol (11-12% abv), complex product that is like nothing else on the market. Named for the year it is brewed ('00, '01, '02, etc.) this beer is packaged in cobalt blue, 750ml, corked, wine-style bottles and aged a year until it is released. A little bit of yeast is left in the bottle to naturally carbonate it and help it condition over time. Each year sees a new recipe and only 3000 total bottles. While most of these bottles are released and quickly snatched up, some have been kept for aging up to 10 years as this is a product that grows better with age. The 2011 one was a collaboration brewed with a the other craft breweries in Rhode Island.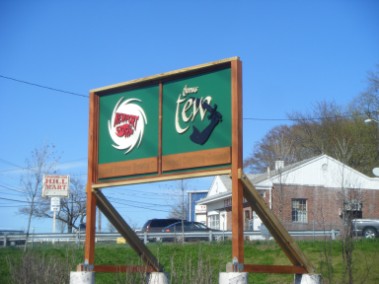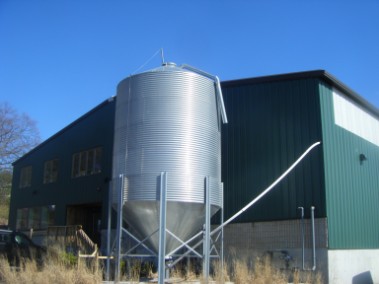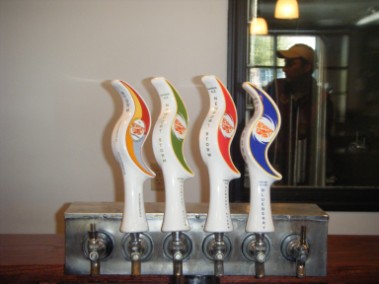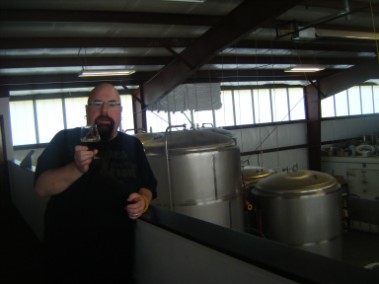 Pawtucket is a city in Providence County, Rhode Island. It is the fourth largest city in the state. Pawtucket borders Providence, Rhode Island and the state of Massachusetts. It is home to three of the states new breweries (June 2015)
Foolproof Brewing Company; 241 Grotto Ave, Pawtucket.
Open: Fri 5:00 - 7:00 PM; Sat 1:00 - 5:00 PM (booking advised)
This is a fairly slick production brewery. You can choose a tasting of which is three of their beers in little plastic cups, or a full "tour" with much larger samples both for $10 also you get a branded glass to take away. The tour is mostly just a story of beer led by part time employees, but the larger samples are worth it. If you participate in a brewery tasting or tour, you are allowed to take home up to 72 ounces of beer (this includes a six pack, 64 ounce growler*, or up to three 22 ounce bottles). Well worth a stop.
Smug Brewing, 100 Carver St, Pawtucket
Open: Thurs 16.00-21.00 Fri 16.00-22.00 Sat 12.00 22.00 Sun 12.00 - 17.00 Mon-Weds Closed
Really cool space, super urban minimalist (Our last time in this space, it was Bucket Brewery). Smug has definitely raised the bar for the tasting area. There's board games and cards for passing the time. The beer is definatly better it's really tasty. Perhaps it's all the competition in the area! Super friendly people, and excellent beer. Plus Pop up street food defiantly make this worth a visit.
Crooked Current Brewery; 560 Mineral Spring Avenue, Pawtucket.
Open for Tours, Sat: 1 to 5 pm
A micro brewery on an industrial park. Were you get to meet Rhode Island's only female Brewster, Nichole Pelletier! The staff are really friendly and love chatting about beer. Really big samples like half pint I think. Three beers usually pour and they they specialize in wheat offerings and you get a pint glass with tasting. Nice place.
Isle Brewers Guild, 461 Main Street, Pawtucket
Open: Closed Mon- Tues -Thurs 16.00 - 22.00 Fri -Sat 12.00 - 23.00 Sun 12.00 - 18.00
Amazing place, amazing beer, amazing people. A beautiful taproom where you can taste a wide variety of beers, many only available at The Guild from a bank of 11 tap. Flights are available. It's a larger brewery established to work with mid to large-size craft breweries from New England and across the country, who are looking to expand their capacity, sales and distribution. Lots of fomenters and a canning line plus a state of the art brewery, with a taproom, that has now morphed into a large beer barn, that's a great beer place with a cool atmosphere to hang out with friends. There is occasional live music and dinner nights, plus you can have a private event there. A big plus to the Rhode Island beer scene. Also a beer garden for summer drinking and chilling.
In Providence the state capital, not only can you visit, the Rhode Island State House that is located in the downtown area of the state capital of Providence, the State House is a neoclassical building that houses the Rhode Island General Assembly and the offices of the governor of Rhode Island as well as the lieutenant governor, secretary of state, and general treasurer. The building is on the National Register of Historic Places. The dome of the State House is the fourth-largest self-supporting marble dome in the world. But they also have a few brew pubs;
Any way lets start with the best one,
Trinity Brewhouse : 186 Fountain St., Providence.
Hours: Mon - Thu 11:30 AM - 1:00 AM; Fri 11:30 AM - 2:00 AM; Sat 12:00 PM - 2:00 AM; Sun 12:00 PM - 1:00 AM
They always have at least 6 different styles on tap at the Brew house. They brew twice a week and always have the freshest beer in the city. The beer menu rotates often to provide a wide variety of crisp, flavourful ales, beers, and stouts. Speaking of which my favourite without a bout is the RUSSIAN IMPERIAL STOUT A thick, dark, black, beer with rich maltiness, roasted and chocolate malt flavours, high hop bitterness, and a strong alcoholic taste. A hearty stout, this robust beer will age with grace, transforming through complex flavour variations. BRONZE MEDAL '96 WORLD BEER CUP at 8%ABV. Another of my favourites is the RHODE ISLAND IPA The first IPA available throughout Rhode Island since Ballantine IPA. The most bitter of the Pale Ale family, India Pale Ale has a malty flavour accented by fruity aromas, a dry bitter finish and bright copper colour, Winner, 1997 & 1998 Great Northeastern Beer Festival, Pale Ale. And at 7% ABV. Now a bit about the bar its self; Great atmosphere with Funky interiors. Kind of sports bar meets eccentric art and the basement is cavern-like. The food is usually really good and the service is really friendly staff seem to know about there brews, they also won best brew pub in New England in 2000. We usually site at the bar were you can see into the glass covered brewery, which you can tell has taken a lot of battering over the years? It's a fun place to hang out and have a few brews and get to know the locals; who are a mixed bunch of bohemians, rockers, punks and beer dudes plus a lunch some local suits. All in all a good crowd.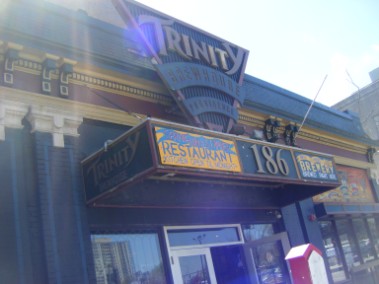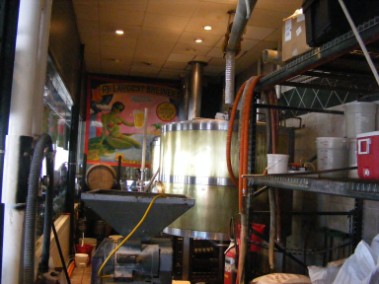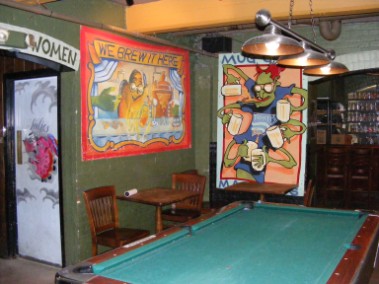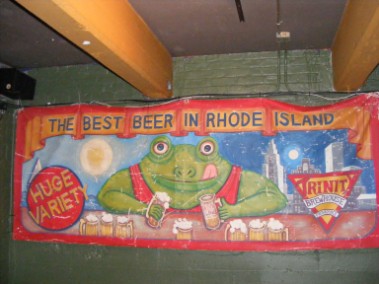 Providence Brewing Company, 1920 Mineral Spring Avenue Unit 11, Providence
Open: Wed- Fri 18.00 - 22.00 Sat 13.00 - 22.00 Sun 13.00 - 18.00 Mon-Tues Closed
Awesome speakeasy of a brewery! Its a wonderful place to relax and unwind after a rough day. Great beer and even better staff who are always happy to help you decide which of their offerings is best for you. A breath of fresh air for the North Providence area as well as Rhode Island brewing!
Union Station Brewery (part of the John Harvard's chain) 36 Exchange Terrace,Providence
Open: Sun - Thu 11:30 AM - 12:00 AM; Fri - Sat 11:30 AM - 2:00 AM
This place has great location being nestled in the centre of a little section in Providence, RI that has some higher end restaurants. Service was friendly, food was really tasty, but the beer selection was a little bit lacking. It was particularly quite when we went in, only a few other people in the joint. They had six beers on at the time and we had a sampler of them all and enjoyed all of them, I thought the Belgian Triple was particularly good, the Irish Stout and the Half Day IPA were also very tasty. We were in luck as they had a porter on cask that although a little warm was very quaffable with a black with a thick tan head. Roasty malt nose, light coffee. Bittersweet chocolate and coffee flavours, some vinous qualities. Pretty good.. It is one of a chain of 7-8 brewpubs that trade under the John Harvard's banner and it has defiantly improved since we last visited 8 years ago.. But saying that well worth a visit, as they do some really good specials and the Union Station Rusty Griswald that pours copper brown with a white head. Smells nicely hopped with pine and rosy elements present. With a taste is of pine and citrus atop a nice malty backbone. With a perfumed finish along with the cask porter makes the trip worthwhile.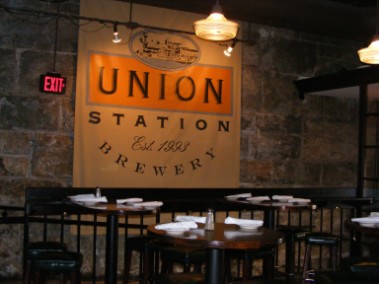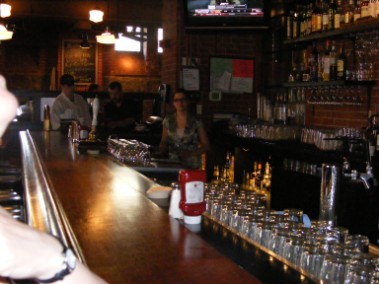 Long Live Beerworks, 425 W Fountain Street # 104. Providence
OPEN; Mon-Fri: 4 to 9 pm; Sat: 1 to 8 pm
Located a block away from North Bakery and a short walk from Luongo Square. This new Brewpub opend January 2016. Long Live Beerworks, is the state capital's first production brewery since the James Hanley Brewing Company closed in 1957. A great addition to the Providence scene. This is a small brewery and tasting room based on small batches and sampling. It's a small spot but it's nice and open so there is plenty of room. There are about 7 or 8 stools around the bar and a few along the back wall which has a long shelf to stand at with your samples. The space is well designed and their branding is great. They have Firkin Fridays, were they tap a cask of real ale. The staff are very friendly and knowledgeable about the beers and news in the RI craft beer scene. You can get growlers filled here and discounted refills. The only downfall because of RI's outdated state laws, you can not buy a pint, you have to go with a limited sample deal around $10.
Grey Sail Brewing Company, 63 Canal St, Westerly.
Open: Wednesday, Thursday and Friday from 4 to 7pm and Saturday and Sunday 1 to 5 pm all summer long.
This was definitely worth the short drive from Providence. The tasting room is in the front, and looks into the brewery which is one level down. Michelle and Dan were very friendly and knowledgeable, and serve from really tasty beers. Enough parking space. Pints are available but no off premise sales. Overall a very nice stop
84 Aleworks Brewing & Tavern, 15 Canal St, Westerly
Open: Mon-Thurs 16.00 - 21.00 Fri-Say 11.30 - 22.00 Sun 10.00 - 21.00
84 Ale Works is Westerly's premiere restaurant and brewery, located in bustling downtown, walking distance from Wilcox Park. Under the careful guidance of chef / owner Christopher Champagne, 84 Ale Works provides outstanding food and beer pouring from 24 taps 6/7 of which are the house brewes, and trend-setting atmosphere. 84's innovative cuisine includes Mediterranean inspired dishes as well as a superb selection of salads, steaks, and pastas. An experienced staff guides you through your beer selections and dining experience. Relax in the Lounge, while watching your favorite team or enjoying the sounds of local musicians. Start with one of our fresh craft beers, and accompany it with a delicious meal.
Coddingtons Brewing Co, 210 Coddington highway, Middletown, Newport.
Open: Sun - Thu 11:00 AM - 10:00 PM; Fri & Sat 11:00 AM - 11:00 PM
Newport Rhode Island's first brew pub Founded in 1995, Coddington Brewing Company is committed to creating and serving the best beer available – period. Hand-crafted on the premises, all their ales and lagers are 100% natural and delicious. It's the kind of taste and the kind of freshness that isn't available anywhere but a brewpub like this one the foods is good as well.
Here's a brief history of how Coddingtons got its name William Coddington founded Newport, RI in 1639. He migrated to Massachusetts from England in 1630, seeking religious freedom. Coddington, however, encountered more religious tension and was obliged to leave the state. With the help of Roger Williams, John Clarke and Anne Hutchinson, Coddington purchased Aquidneck Island, known as Newport, from the Narragansett Indians. Coddington later established the state's first legislature and named himself Governor of Rhode Island.
They do a rack of all there beers 7oz glasses we did a rack so as not to miss any beers then had a couple of pints of our fav's here is what we had; Golden Ale The lightest beer on tap with a light hop character and a crisp clean finish, making it a good choice for someone trying a micro brew for the first time. 4.3% ABV Blueberry Blonde This is a golden beer with a distinct blueberry aroma and a subtle fruity flavour. The low hop character and blueberry flavour make for a very refreshing brew. served with fresh blueberries in the glass 4.2% ABV India Pale Ale (I.P.A.) Better known as IPA, this amber coloured English style ale is highly hopped and bitter with a citrus aroma and flavour making it a great pairing with spicy food. This IPA gets it's hop flavour and aroma from Cascade hops and it's bitterness from Magnum hops. 5.0% ABV Irish Red Ale This amber ale is characterized by a subtle malt and hop aroma, a slight malt sweetness with a soft but noticeable fruitiness that bounds into a dry finish. 4.6% ABV Winter Warmer This deep mahogany ale is lightly hopped with a pronounced malty flavour. The addition of dried figs to the mashtun, kettle, and fermenter bestows a silky sweetness to the finish. 7.1% ABV Barley Wine This wine-strength ale has rich malt flavour coupled with cloying sweetness and balanced by crisp hop bitterness. High fermentation temperatures derive fruity estery notes. The elevated alcohol content delivers soothing warmth to the mouth feel. Pale bronze in colour. 9.2% ABV Chocolate Porter Chocolate Porter This beer is dark ruby to almost black in colour. Full bodied with a rich creamy chocolate flavour with a subtle hop finish. 5.7% ABV. Oatmeal Stout Dark and full bodied with a velvety smoothness. This stout has a rich dark malt flavour with a dry bitterness in the finish. Deep black in colour, and a rich creamy head. 3.8% ABV If you have read Otto & the littl'un's travels before I bet you can guess which one's we had a couple of pints of. Yes we follow "The Dark Side" Chocolate Porter and the Stout followed by winter warmer a nice way to finish off an excellent meal.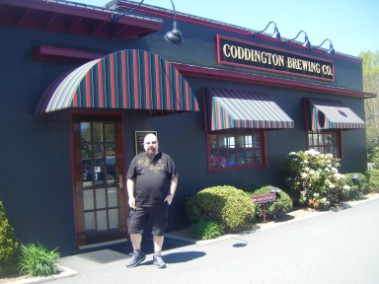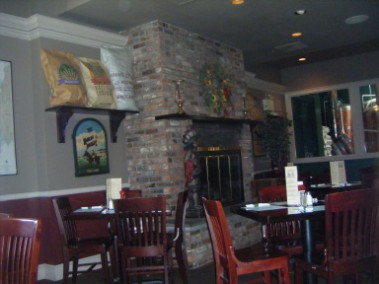 Ragged Island Brewing Company, 200 High Point Ave Unit B6, Portsmouth
Open: Wed & Thu: 4 to 8 pm; Fri: 3 to 9 pm; Sat: 1 to 9 pm; Sun: 1 to 6 pm
Cool warehouse atmosphere, located in an industrial park, friendly ownership and staff, delicious brews from 12 beers on tap's. Growlers and cans are available for purchase as well as the common brewery swag! It's always nice to help out the little guys. Good to combine with Buzzards Bay & Coddingtons (which has fantastic food) thatare only about 20 mins away.
Now for a brewpub which requires a bit of a ferry trip (approx 1 hour) over to Block Island and the;
Mohegan Café and Brewery, 213 Water Street Block Island.
Lets set the picture first. Block Island, nestled in the Atlantic 12 miles from coastal Rhode Island, and offers the vacationer what does not seem possible anymore - simple relaxation in a startling beautiful place. The Island is famous for its 17 miles of free public beaches, sparkling clear waters, dramatic bluffs, preserved open spaces. Block Island has long been a haven for residents and visitors who have found here a quality of life that recalls the pleasures of a life that is simpler, slower, and somehow, more carefree. (Note, in winter the ferry does not always sale) It's no wonder that the Nature Conservancy has designated Block Island "One of the 12 last great places in the Western Hemisphere." The best way to explore the island is to rent bikes as you get off the ferry for just a few $ who can ride completely around the island in just over an hour, we took around 3-4 stopping off in the coves and exploring. (We only came across 3 cars in the whole day!) Once we had got a thirst it was time to return the bikes (don't drink and drive) and slake our thirst at the Mohegan Café located at 213 Water Street. Just down from the ferry terminal. This place features a rotating tap selection and is an example of what a small brewpub is capable of becoming. The food which consists of a full menu and offers something for everyone is the best on the island. There is typically a rotating selection on their six house taps, but may be as low as two or one of their own beers depending on how late in the season you're there. Their chilli beer is the highlight of their selection! Which is very peppery with a nice pilsner malt backbone. But as always my personal favourite was the Mohegan Black Buck Porter. This is supposed to be a honey porter, but I was unable to detect any honey. Pours brown with a thin tan head. Smells of chocolate and cookies. Taste is watery with peppery splashes and coffee and chocolate on the finish. The place itself is on the small side like everything else on the island, but is pleasant with a bar area and a restaurant area. The staff are friendly and helpful. The waiter who served us was very knowledgeable when it came to the beer.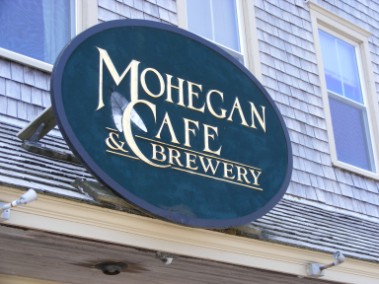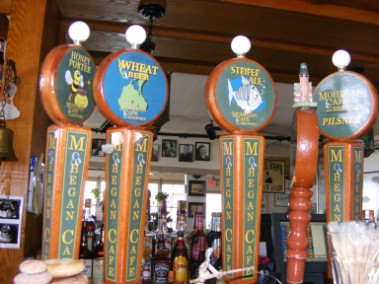 Whaler's Brewing Company, 1070 Kingstown Rd, South Kingston, Wakefield.
Open: Thur & Fri: 4 to 8 pm; Sat: 1 pm to 7 pm; Sun: 1 to 5 pm
This is a small production brewery in a large old mill, kind of a maze to find it? Its a nice casual place to grab some tasters and growler. There is a small bar with a pool table, a couch, and a tasting bar and lots of room for expansion, with an enjoyable old New England atmosphere that has a modern twist. Everyone was very helpful, excited, and pleasant. The brewer loves whales and is nice to chat to while the samples are flowing. Another worthy stop in this budding brew state.
LineSider Brewing Company, 1485 South County Trail Ste 201, East Greenwich
Open: Fri & Sat: 12 to 8 pm; Sun: 12 to 5 pm
Linesider has a great beer selection. They have chosen an easily accessible location with a lot of space to accommodate large groups.Inside it is minimalistic and industrial, there are two big TVs where you can catch a game as well. Many breweries in the area do not have this so it's definitely a plus! There are board games and card games out on tables and they invite local food trucks each day so that you can enjoy something to snack on while you try the different beer styles being offered.
Mews Tavern @ 456 Main Street, Wakefield RI
Our favourite watering hole in RI and a "must do bar before you die" where friendly atmosphere, awesome selection, and great food come together under one roof! 69 Draft beers on tap at all times + 200 single malt whiskeys This pub is a must for any one visiting southern RI. The pub has a shop and a large family room with a huge oak tree growing out of the middle they built the room around it ! Also a connecting area with privet booths that will sit 6 people then the main bar with is good on Saturdat afternoon when sport is on good friendly atmosphere. The food is really good with house specials of Pizza from a brick oven. Also here you can get a rack of beer this time in 10oz glasses we had 2 racks to then onto pints here is a sample of what we had Seadog Wild Blueberry Wheat: (Maine) A deep-golden, dry, crisp and refreshing brew with very subtle hints of BLUEBERRY. Magic Hat Humble Patience: (VT) Brewed with all imported English grains for a big malt flavour. Its dark garnet-red colour cascades into a rich, thick creamy head. Allagash White Ale: (ME) Brewed with a large portion of malted wheat, barley and an addition of oats. Spiced with coriander and Curacao orange peel which results in a full-flavoured, yet refreshing beer Otter Creek Stovepipe Porter:(VT) A full-bodied, full flavoured dark ale with a rich malty taste. Blue Fin Stout: This stout from the Shipyard Brewery has a smooth coffee-malt flavour and a rich creamy head that lasts until the last sip!***Magic Hat Ravell: (VT) A porter brewed with whole vanilla beans. A rare and delectable offering. The Mews is one of the few places to find this seasonal brew on tap. Sample it now! This brew will not be around long. Buzzards Bay Lager: (Mass) A traditional "export" style lager with a hint of toasty biscuit flavour from the Munich Malt. It has a well-balanced hop aroma and a moderately dry finish. Harpoon UFO Hefe-weizen:(Mass.) A unique wheat beer with a taste that is out of this world. Harpoon's unique brewing process puts this Un-Filtered Offering in a class of it's own. We have visited this pub a least 5 times I cant recommend a better pub for choice and service. Excellent Dude. Otto gives it 10/10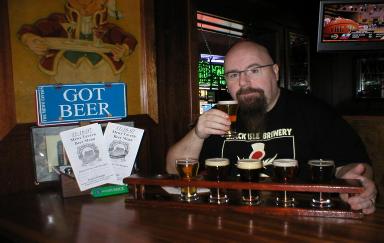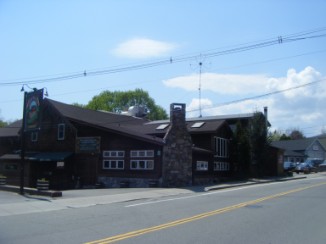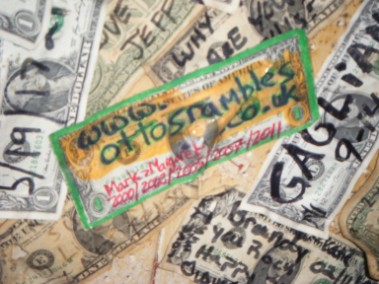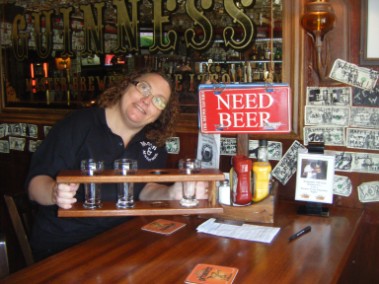 Sons of Liberty Beer & Spirits Co. 1425 Kingstown Rd, Wakefield
Open: Wednesdays/Thursdays 5:00-9:00pm Fridays 5:00-10:00pm Saturdays 1:00-10:00pm Sundays 1:00-5:00pm
Micro offering tasting $12 Whiskey or Beer Flights - (4) 1/2oz whiskey pours or (4) 5oz beer pours $8 - cocktails and 1.5oz whiskey pours $6-$10 - beers
$12 tours and tastings are given on Thursdays and Fridays (5:30, 6:30pm), as well as Saturdays and Sundays (1:30, 2:30, 3:30, and 4:30pm). Please be advised that the tasting room is 21+ after 5pm. No pets allowed;
Apponaug Brewing, 334 Knright Street, Warwick
Open: Mon - Closed, Tues - Thurs 16.00 - 22.00 Fri -Sat 12.00 - 23.00 Sun 12.00 - 21.00
Apponaug Brewing Company is located in the historic Pontiac Mill. More than just another brewpub, Apponaug Brewing is the vision of a Third Place, an essential refuge apart from the daily hustles of home and work. This is a community where you can meet up with good friends or make unexpected ones while experiencing the energy of a working brewery. Beer is the soul of Apponaug Brewing and creating great beer in the 10BBL (310 gallon) Brewhouse is what they are all about. Their Brewers proudly draw from the rich history of brewing to create fresh takes on classic styles and unique flavors -- all served direct from the tanks. They have a full kitchen and eats to complement our beer selections. Don't like beer (yet!), they have a selection of crafty spirits and wines.
Proclamation Ale Company, 298 Kilvert Street, Warwick
Open Wed- Thurs 15.00 - 20.00 Sat 12.00 - 22.00 Sun 12.00 18.00 Mon-Tues Closed
Very easy to get to right next to the airport. Plenty of parking. Inside a big industrial warehouse. They've done a nice job with the tap room. Selection is excellent, although the menu boards are a bit confusing. Cans and pours available, plus merch, the venue has street food vendors. This is a must-stop place if you are anywhere near Rhode Island!
Ravenous Brewing Company, 840 Cumberland Hill Rd, Woonsocket
Open: Sat 1:00 - 4:00 PM
This is a nano brewery on steroids - with one bourbon barrel. Operated by the local police chief (Dorian is a cop by day and brewer by weekend), this brewery is brewing up small batches and turning out great brews. The tasting room is small but cosy with psome games and the beers are very tasty, No food is available here, Another great RI stop. Seven bucks gets you a full tour plus very generous tastings of all their beers plus a glass to take home ($3 without the glass). This place is a welcome addition to the craft beer scene of Rhode Island.
Brutopia Brewery & Kitchen, 505 Atwood Ave, Cranston, Rhode Island
Open: Mon - Thu 4:00 PM - 1:00 AM; Fri 3:00 PM - 1:00 AM; Sat - Sun 11:30 AM - 1:00 AM
An open bar/restaurant with a big square central bar and lots of booths with the brewing equipment to the left. Beers available in flights, and are solid and pair well with the food. The BBQ is quite respectable for a state where I would not expect to have good BBQ, and the jambalaya could rival some Louisiana establishments! Master Brewer Sean Larkin, of Trinity/Revival/Gansett fame, has combined his extensive beer knowledge with his relentless passion, resulting in an indomitable line of beers with top-notch, recognizable quality from the Larkin brand. Another great addition to RI beer scene.
Revival Brewing Company, 505 Atwood Ave., 02920 Cranston
Open: Daily 12.00 - 22.00
Located in the basement of Brewpub Brutopia is a very bare bones tasting room. A section of a basement of the building is furnished like of your friends house with taps, couch's, pool table and so on. It's casual, bare bones and friendly all of which add to it's charm.
Buttonwoods Brewery, 530 Wellington Ave Ste 22, Cranston
Open: Thurs - 17.00 - 21.00 Fri 16.00 - 21.00 Sat 12.00 - 21.00 - Sun 12.00 - 18.00 Closed Mon-Wed
Big warehouse style taproom. Darts, bags, dogs, board games. Lots of natural light. Small rustic bar by the tanks. The owner is a great guy that makes you feel right at home. The staff are all super friendly and knowledgeable about the beer. They have done a nice job making the space feel comfortable and cozy. I also love the fact that they partner with so many local food trucks. Buttonwoods is an all around great time! Good selection of solid/interesting beers poured from 6 taps. Small pours, regular pours, half growlers, growlers. Highly Recomended!
Tilted Barn Brewery, 1 Hemsley Place, Exeter.
Open Saturdays from 1-4pm for tastings and growler fills.
Located in a historic barn, they are Rhode Island's first farm brewery. A visit to Tilted Barn Brewery allows you to tour the brewery, walk through the fields to see, touch, and smell the ingredients that go into your beer, and relax in a century-old barn while enjoying the fruits of their labour. Their small batch, hand-crafted ales are best enjoyed fresh and in season so be sure to make the trek early and often for a true farm-to-pint experience.
Shaidzon Beer Company, LLC, 141 Fairgrounds Rd. West Kingston
Open: Thursday 4–7pm Friday 4–8pm Saturday 1–7pm Sunday 1–5pm Mon-Wed Closed
Great spot with visits from food vendors. (This is the original Proclamation location) Beer selection is average to great...not all super IPA! The bartenders tend to be disintrested? Cans are the same price as flights so maybe better getting them. Over all its nothing to write home about!
Naragansett, 60 Ship Street, Providence.
Once a legendary brewery, founded in 1888 and was one of the best know in the country, you still see antique tray and signage in bars etc.. In 1914 it was one of the most modern breweries in the USA, with a state of the are bottling line. It was famous for its drinkability and the advertising slogan, "Hi, Neighbor, have a 'Gansett!," most famously uttered by Boston Red Sox announcer Curt Gowdy. Then in 1974 they were taken over and the inevitable happened as is always the case and it closed in 1981. In 2005, Rhode Islander Mark Hellendrung purchased the rights to Narragansett from Falstaff, and former brewmaster Bill Anderson was brought on board to revive the quality of the once-proud brand. Since then, Narrgansett has seen a revival in the New England area with the help of revitalized marketing and quality. Today, Narragansett beer is contract brewed by Geneese Brewing Company, and its other styles are brewed in New York, Connecticut and Rhode Island. That October, for the first time in a quarter century, Narragansett Beer was back in bottles and on bar taps.
But now it is being brewed by Sean Larkin of Trinity Brew House, I don't know if it is brewed on that kit or at the new brewery address but, he does have a big say on the brews and the design of the can's and bottles etc....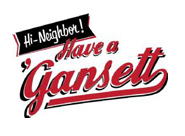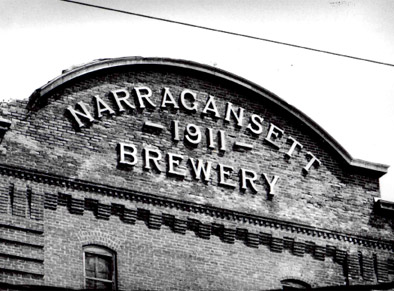 Community Bruin Company, 74 Nooseneck Hill Rd, West Greenwich
Community Bruin Company is smallest Nano-brewery in the smallest state in the US having a capacity of a one half barrel. The plan is to be small enough to experiment with some 5 gallon homebrew sized batches of beer to sample in the tasting room, as well as increase the volume to a more marketable sized half barrel of production so customers may purchase some beer to go.
Open, they are open to sell their craft beer for 3 hours on Fridays from 4 PM to 7 PM, and on Saturdays from 1-4 PM.
Beer On Earth, 425 W Fountain St Ste 104, Providence
Open - See Website
After taking home gold and bronze medals at the 2017 New England Regional Homebrew Competition in Manchester, NH, these guys knew that they were heading in the right direction. With a new-found confidence, they secured a location for the brewery, applied for licenses, and ordered a 3-barrel brew system with a handful of fermenters.
Now they have moved to a new location in Providence and are due to open the tap room in late May or June 2019 - Watch this Space!
Taproot Brewing Co / Newport Vineyards, 909 E Main Rd, Middletown
Open: Sunday: 11:00 a.m. – 5:00 p.m. Monday: 11:00 a.m. – 5:00 p.m. Tuesday – Thursday: 11:00 a.m. – 9:00 p.m.*Friday – Saturday: 11:00
Newport Vineyards was originally planted in 1977 on a hill overlooking Rhode Island Sound with the goal of producing fine wines and as a way of preserving beautiful agricultural land from rapid development. Aquidneck Island is blessed with one of the most desirable farming areas in the country, if not the world. This extraordinary micro-climate is created by a combination of the warm waters of the Gulf Stream to the south and the moderating effects of Narragansett Bay. These conditions provide a long, cool growing season ideal for developing complex flavors in wine. Since the original vineyard plantings in the 1970s, Newport Vineyards, under the ownership of John and Paul Nunes, has grown to 60 vineyard acres. They have recently added a Brewpub restaurant, but the flights are expensive and the beer is only average. But really its all about the wine.
R.I.P.
Bucket Brewery; 545 Pawtucket Ave, Pawtucket.
Open: Tastings: Friday 1:00-7:30 Saturday 11:00-5:00 - Tours: Saturday at 1:30, 2:30 and 3:30
Cool warehouse brewery that screams Pawtucket. Inside is clean and the staff are eager to help and speak about beer. The beer was very good, and their prices for sampling are very reasonable. The selection of beers is small but all of their brews are solid. This is a fun place to visit and a nice experience, a good stop on our RI beer tour.
Tastings are available upon demand and cost $5. Tours are conducted each hour on the hour. The cost per tour is $13 which includes a tasting and a Bucket Brewery pint glass for you to keep. Our tours can accommodate up to 16 people and are first come-first served.
On our first visit to Rhode Island in 200 we also visited Hops Brew Pub in RI The Hops, Bar & Brewery chain which owns 70 brew pubs making it the largest-selling brewpub group in the United States, according to figures compiled by the Institute for Brewing Studies, estimated selling over 37,500 barrels of beer a year. When we visited the one in Rhode Island we were not impressed more of the beer world fast food outlet; quantity dose not always means quality unless we hit it on a bad day but it was not busy at the time any way the food was average and out of the 6 brews only one was passable. Its closed in 2003, no surprise there then! But the company still goes on, there is always one bad apple in the bunch?