Mississauga is a large Canadian city neighbouring Toronto on Lake Ontario. On the lakefront, Port Credit has shops, a working lighthouse and a marina with a grounded freighter. Multi-use trails wind through the city's parks and woodlands. In the centre, Mississauga Celebration Square hosts multicultural festivals and has a skating rink in winter. It's also called Ontario's shopping capital, with everything from shopping centres and outlet malls to picturesque village-style shopping streets. Mississauga only has 4 Brewpubs as of June 2022, sadly after that it's a bit of a beer desert! So here are a few of the best beer places to visit;
Old Credit Brewing Co, 6 Queen St W
An old school vibe with friendly staff and incredible brews. The beer Itself is fantastic. Old Credit Brewing offers incredible beer made in a fire heated copper kettle which you can see from the window outside. It is aged at a low temp for two weeks while the brew master makes sure it is fully fermented, meaning minimal unfermentable sugar left over. I have been to my fair share of breweries and I can say for certain that this brewery is way above average in cleanliness and the customer service is solid. I would recommend to anyone looking for a family oriented special brew. I really respect how this brewery makes only 3 beers and does them well. They aren't chasing fads and dry hopping or making everything hazy or sour. Just good fresh, classic, beer. Cheers to that!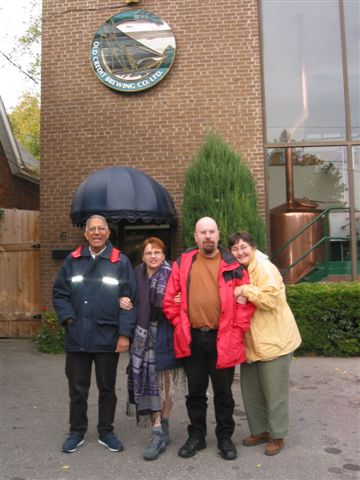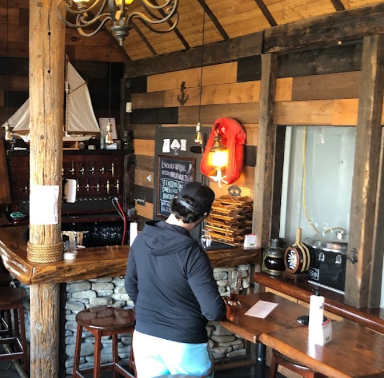 Stonehooker Brewing Company
Stonehooker Brewing Company, 866 Lakeshore Rd E
Located in a former light industrial space on Lakeshore, this place does its brewing activities in the back part of the building. They offer tasting flights for beer with some interesting options. The food menu is something you expect out of grandma's home cooking. Great selection of delicious beers. Service is friendly. If non-COVID times ever come back, it would be a great place to gather with friends and catch up. Especially in summer when they put picnic tables on the large front lawn and it becomes a big patio. If you're a determined cyclist, you could take the Lakefront Trail from downtown Toronto and then cool off with a tasty beer. Loved the decor, you really feel like you're in a boat!
Big Rig Kitchen & Brewery - Mississauga, 5860 Mavis Rd
Founded in 2012, Big Rig Brewery began on a modest 10 barrel system. Today, Big Rig is the largest craft brewery in the Nation's Capital! Doing it all for the love of beer has led to New Brewery of the Year in Ontario (2013) and multiple awards at the Canadian and Ontario Brewing Awards. Dedicated to pure craftsmanship and using only the best quality ingredients, Big Rig Brewery takes great pride in reinventing classic styles and crafting emerging ones. Escape the office and head to the taproom for lunch, served every Tuesday-Friday at the Taproom. And don't leave empty-handed—the beer fridge is always stocked with the freshest beer for you to grab on the way out. Brewery tours take place between 12-4pm on Saturdays. Only 15 spaces available per tour, advanced booking please. $5 for tour and tasting. Special group tours are available.
3 Brewers, 5860 Mavis Rd
The "chain" goes on! A bar/restaurant brew-pub chain that takes brewing seriously. Its rustic barn-wood décor that adorns its walls while sitting inside the massive Heartland Town Center. Located in the Toronto suburbs near Highway 401. Stop by for a sip anytime. If you're serious about your beer, sign up for their Create your own cask workshop. Their master brewers guide you through the brewery and educate you about the process. You choose your ingredients to create your personal best cask. When it's time to tap it, you can invite up to 30 friends to the microbrewery to taste your creation. It makes a perfect gift for the beer lover on your list.
The Crooked Cue, Port Credit, Mississauga, 75 Lakeshore Rd E
This is first and foremost a pool hall, with a bar/lounge area. and they do have a kitchen. A variable tap list of local craft beers and imports. It is one of the better spots to find good beer on tap in Mississauga.
Abbey Road Pub & Patio, 3200 Erin Mills Pkwy
A laid-back alehouse with outdoor garden seating, plus classic pub grub and live music on at weekends. Look, this is not a craft-aficionado's paradise, but it is a decent pub which serves one or two craft local beers and the atmosphere is nice and friendly.
Oliver Ale House, "Oliver's Gone Italian", 6155 Tomken Rd #1
Oliver's Ale House is located in an industrial mall area. This place is a hidden gem. It's a small, cafe/bar laid-back serving an Italian menu in a cosy atmosphere. Pastas, seafood, steaks, antipasto plates and a large list of craft beers. Oliver's extensive list of craft beers includes IPAs, strong ales, pale ales, lagers, imports, and unfiltered beers. Whether you're a die-hard brew dude or a beginner, this place has a craft beer for everyone.
The Wilcox Gastropub, 30 Eglinton Ave W
The Wilcox house is a hidden gem right in the heart of Mississauga. One of Mississauga's oldest heritage homes that features a multi-level dining and lounge area. The space is well lit, open-concept, and is decorated with wood accents and modern furnishings throughout. The drink menu provides a great variety of craft beers. Kudos to the interior decorator. You can glance at the live kitchen at mezzanine level through artificial tree trunks which gives an exotic vibe to the place.
LCBO, 3020 Elmcreek Rd
One of the best LCBO's, stores for beer lovers. It has all of the seasonal stuff and lots the hard to locate stuff like Denison's or so on. They carry all the stuff you can't get otherwise in this city. Great friendly and knowledgeable staff. Well organized & displaying some of the best Canadian and international liquor, the best place for craft beer in town.
Union Social Eatery, 6986 Financial Dr unit #6
A relaxed shopping-plaza bar and eatery with an eclectic menu and a wide selection of wine and draft beer. 10 taps on, plus about 19 in cans/bottles. Mostly local craft, but mostly focused on pale lagers, etc. A nice casual and cosy atmosphere. Very friendly staff. Quick service and good food.