Maastricht, Limberg, The Netherlands
Maastricht is situated on both sides of the Mass river (French: Meuse) in the south-eastern part of Holland known as Limburg, close to both the Belgian & German borders. Though Maastricht is quite a small city (its population is 122.000 of people and its square is about 60 square meters), it has the atmosphere of an international capital: there one can hear Dutch, French, and German along with the dialects of the natives. This town has rich culture, history, architecture and traditions.
It is reputedly the oldest city in Holland and is home to over 1500 monuments. There are lots of cobbled streets lined with shops and a couple of new shopping centres. There are also around 400 café-bars. Maybe these are some of the reasons why every year Maastricht is visited by more than 2.6 million of tourists.
Both the citizen of Maastricht and the Dutch describe Maastricht as a typical Burundian city, because it's very warm and shiny climate. But what makes it so attractive? Why thousands of tourists come there to do some shopping, to have a walk, to go out or just to sit in the open-air? Not only the Dutch, but also the Belgians and the Germans are fond of the unique atmosphere of the city. Maybe it's because of the Maas River, the ancient history and the historical centre with more than 1500 monuments? Or maybe the reason are the squares, 400 cafes, fabulous restaurants and boutiques? Or maybe (and it seems to be the right answer) it's due to the combination of all these factors?
Maastricht doesn't lack epithets: it's called the oldest city of the Netherlands, the city of monuments (Maastricht takes the second place after Amsterdam in the number of monuments), the city of the first episcope, the oldest industrious city, the city of shopping, the city of students and the cosiest city in the Netherlands. Life in Maastricht never stops. New shopping centres, modern hotels and posh restaurants, some of which have a number of stars – all this attracts those, who likes shopping or just wants to have a splendid time. Don't forget to visit Vrijthof Square and discover other sights of Maastricht. Try to feel this city as it is felt by the citizens of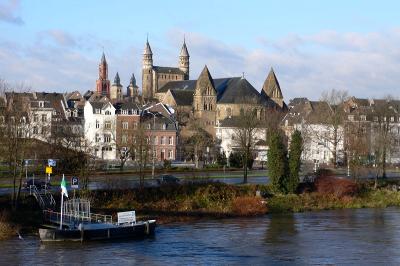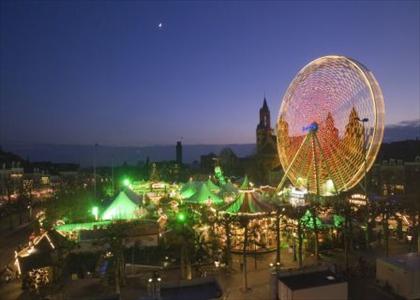 Cafe Frape, Het Bat 7
A very nice bar near the river located at the Maasboulevard. Well decorated with a nice ambiance with a bunch of friendly locals but strangers are also welcome. Wooden panels on the walls, some beer-related stuff. Small tap selection (4 taps) and 100+ bottles on the list. Service is friendly and efficient. The bottle selection is quite extensive, and it become even more extensive when you chat with the owner who likes to surprise people, so just tell him what kind of beer you want and he'll get something for you from their private cellar. Prices are good for the area. That's the kind of local bar that I really like. Not too touristic with an owner who is a beer enthusiast.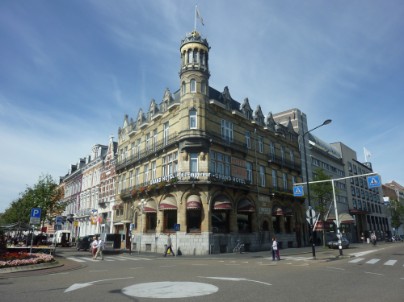 Grand Hotel de L'Empereur, Stationsstraat 2,
Mon-Fri 12:00 -15:00 & 18:00 - 22:00, Sat-Sun 18:00 - 22:00
An imposing building opposite Maastricht railway station. In the entrance hall there were photos of the Hotel through the ages. Inside its very posh. With standard beers, worth poping into for a chill?
Servaas Café, Cörversplein 10.
Well located not too far from the train station and just beside the river. Small, but cosy bar/restaurant. Well decorated. The owner is passionate, extremely friendly and generous and seems to know his beers (especially the Dutch ones) very well. Prices are good for the area great well prepared traditional food.
Overall a very nice bar, owned by an enthusiast "young" beer lover! I think it will become the best bar in Maastricht sooner than later. It just needs a more extensive selection of beers.
CafeFalstaff, Amorsplein 6,
Open: Sun - Thur 10am- 2am,Fri - Sat 10am - 3am
Located in a triangle just before the main square. The outside seating overflowed into the middle of the triangle around the central statue of St. Amor. Inside is quite plain with mainly wooden furniture. There is also a gallery upstairs looking over the triangle. A changing list of around 60 bottled beers, but nothing very unusual.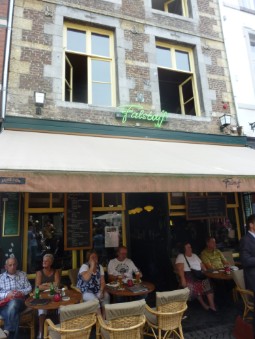 Hotel and Tapperij de Poshoorn, Stationstraat 47.
Hours: 11 - till late?
A nice place to visit after a day of shopping. there's always a nice ambiance.The people behind the bar are always nice. The bottle selection is not that great, but there are always some nice beers on tap. Prices are a bit high though.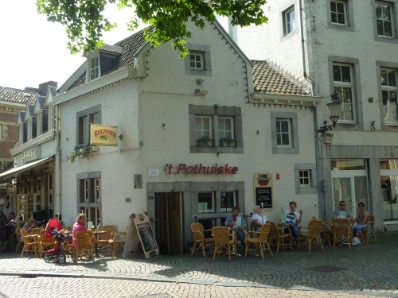 't Pothuiske, Het Bat 1,
Open: Sun - Wed 10:00 - 24:00, Thur - Sat 10:00 - 02:00
A longstanding beer cafe just off Servaas Bridge and the Maas. Great position and a worthy reputation but I would have expected by now it would have got the new Dutch beer thing by now? Service is quite efficient even when busy. There was a list of about 60 bottles, but all taps are pilsners of average quality!
Take One, Rechtstraat 28,
Open; Thur - Mon 16:00 - 02:00, Tue & Wed closed.
Draught beer isn't the reason that this brown café is an essential visit for the beer tourist, it's the huge range of bottled beers mainly from micro-breweries. There aren't any menus, you have to make you choice from the list behind the bar on the back wall. There are two glass fronted fridges, but even more bottles tucked away in fridges under the counter. From the outside it looks like a shop. Inside there is one table at the front, stools along the length of the bar and four more tables at the back. The bar and half way up the walls were covered in bottle tops the rest of the walls were covered in beer mats, posters & plaques. Even the toilets were poster lined. Peanuts are given out with the beer and it is encoraged to through the shells onto the floor! This place has been on the market for three years now (2014) but they cannot sell it because people come here for Piet and Mery, who run it.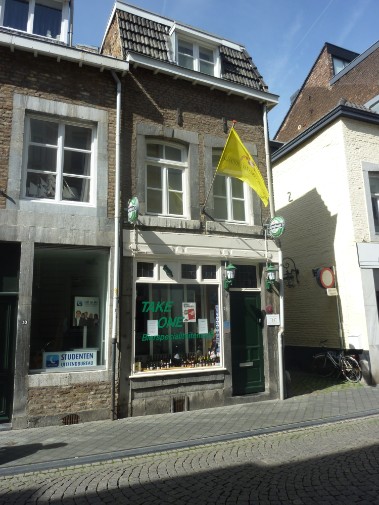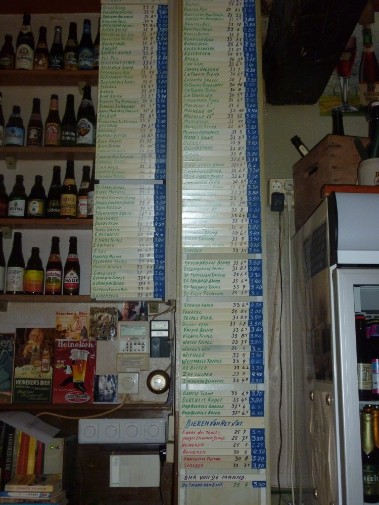 Specialiteiten Café Thembi, Dopplerdomein 20a.
A 15-minute walk down the East bank of the Maas or 500 metres on foot due west from Randwyck station, in a residential area used mainly by the university, conference centre and hospital. Good veggie food with well chosen beers from tap and a huge beer bible with beers from De Molen, Jopen, Emelisse, a lot of geuzes, American IPA's,... Not everything is in stock but they have always a good alternative. Friendly staff.
Brasserie Britannique Vrijthof 6

Located in the middle of a row of cafes along one side of Vrijthof square. There are lots of tables outside mainly undercover and heated. Were you can sit on the edge of the pavement and watch the festivities taking place in the middle of the square. Small bottle list. Nice to sit and people watch on a warm evening.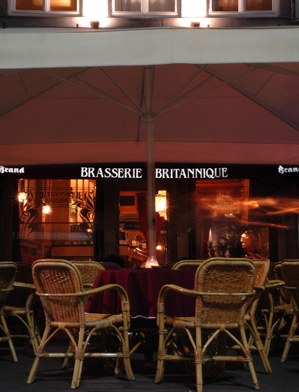 In den Ouden Vogelstruys, Vrijthof 15,
Open; Mon - Sun 09:30 - 02:00
Located on the corner of Platielstraat. There are lots of tables outside covered by large umbrellas. Inside there is plenty of dark wood. Some of the windows are stained glass. There was also a small bottled beer list , but nothing unusual.
Cafe Cloche, Vrijthof 12, 6211 LD Maastricht.
Open;Sun-Thur: 09:00 - 02:00, Fri-Sat 09:00 - 03:00
One side of Vrijthof, like the main square in many Dutch towns, is wall-to-wall pubs. Cloche is about in the middle of them. The dark brown theme is accentuated by dim lighting, but if you look closely there's some fine woodwork. The carved bar counter and back give it a passing resemblance to an English pub. The ceiling has an interesting collection of disco balls. The beer range a little better than average. Though on the plus side there is the seldom seen Oud Bruin on draught, one of The Netherlands few genuinely indigenous beer styles. The staff are friendly and attentive.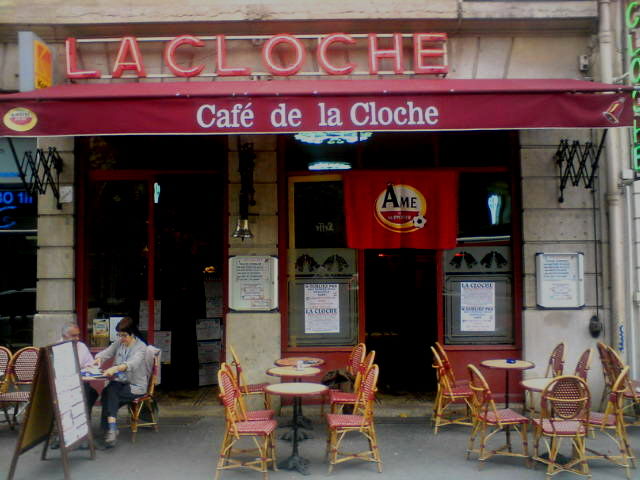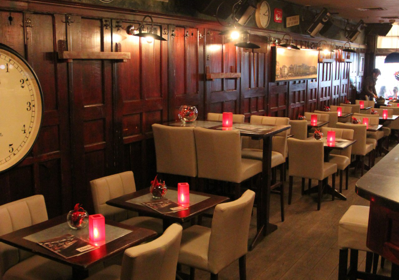 De Knijnspiep, Muntstraat 45
Open: Everyday from 10 till 23
A very nice brown café! Translated 'the rabbit hole'; in the centre of Maastricht, nice beer choice of 12 draught beers and over 100 bottles, a must visit place. A small but long café, nice owner; local atmosphere. Note they do stock Trappist Westvleteren 8 & 12 but there is a price to pay over 15 Euros a bottle!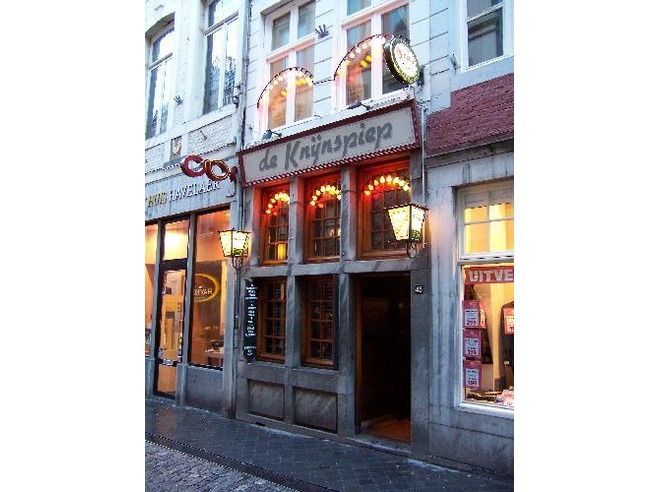 Cafe de Zwaan, Markt 68.
Hours: 9:00am - 12:00pm
Very nice place on the huge market square in the middle of the centre. Looks like a nice tourist trap from the outside but in fact it's much better than that. The food is simple but very well done and good prices. Very friendly staff. The beer selection is pretty standard Belgium/German stuff but... also a few beers on tap and bottle that you don't find that easy in a Dutch bar normally.