Lisbon is Portugal's hilly, coastal capital city. From imposing São Jorge Castle, the view encompasses the old city's pastel-colored buildings, Tagus Estuary and Ponte 25 de Abril suspension bridge. Nearby, the National Azulejo Museum displays 5 centuries of decorative ceramic tiles. Just outside Lisbon is a string of Atlantic beaches, from Cascais to Estoril.
So Lisbon has nine (9 as of May 2019) breweries and quite a few decent bars to keep your thirst quenched for a few days vacation. So as normal lets start with the breweries;
Dois Corvos Tap Room Rua Capitão Leitão 94
Open:Mon-Thu: 14:00 - 23:00, Fri & Sat: 14:00 - 01:00
Nice taproom (and brewery) on a side street in dodgy area of the town. Located in an old warehouse/factory this is one of the better breweries in the city. The interior has a "funky" decor with about 10 tables for seating and the bar is in front the brewery. Its a mix of local's and beergeek's. There are 12 beers on tap and some bottles, the staff speak English, card payments are accepted and flights served (flights are for their own beers only, so guest taps are proper size portions). You can combine visit here with Musa taproom (Same bus, same stop) Overall a cool vibe.
Duque Brewpub, Calçada do Duque 49-51
Open: Sun-Wed:15:00 - 00:00, Thu-Sat:15:00 -01:00
Located halfway up the Colcado do Duque flights of steps that start at the railway station and finish halfway to heaven! (so you are definatly in need of a good beer after the climb) It's a small cosy place with a handful of tables inside, maybe 6 outside and if the sun is shining the outside tables are the best place to sit and sink a few cold one's. Flights of their beers are available, although a tad pricey. There are around 9 different craft beers on tap, many of which are their own, and around 50 different bottled craft beers.
Cerveja Independente Musa, Rua do Açúcar 83
Open: 16:00 to late daily
This is probably the nicest and trendiest off all the brewpubs. With a great atmosphere, really friendly staff and great ambiance, music and architecture, it is divided in two parts, tap room and brewery. If you go upstair you can have a look of the brewery area. Service is OK. The food is decent and of course the 12 taps (+flights) make it well suited to while away lots of time tasting beer. The best way to get here is to take bus No. 728 from central. It brings you pretty much to the front door .
Quimera Brewpub, Rua Prior 6,
Open: Sun 17:00-0:00 Wed - Sat 17:00-01:00 - Closed Mon-Tue
Situated in Alcântara, in a tunnel/cave that is very cosy, plus there is a little seating area outside. The bar has 12 beers on tap, all Portugese micros including 2 house beers. Flight of 3 are served. (Cellphone reception is non-existent in this tunnel) this specialist craft beer pub usually and is definitely one of the best in town, as the owner is very passionate about beer. A good mix of locals and beergeeks make this a must do bar.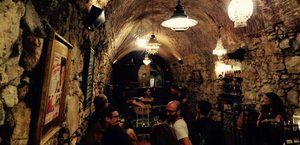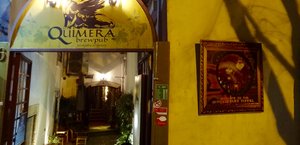 21 Brewpub Gallas, Rua Angelina Vidal 53A
Open: Daily 16:00 -23:00
A small and cosy little bar with half a dozen small pine tables and seating at the bar and in the window. There is a great selection of craft/local beers to Lisbon & Portugal plus flights so enough to keep a ticker happy. G. Gallas has won multiple awards for design, however the taste is easily the best aspect of the brew. Really nice staff and if visiting Lisbon I would highly recommend this place. Reasonable price and great service.
Cerveja Lince, Rua do Açucar 76, Armazém 8
Open:Mon-Fri 09:00 - 18:00
Only accessible by calling first to arrange a tour. The brew dude is also the owner and is very friendly and welcoming. It is a small brewery and they usually have 4 tap with their beers on for you to sample, also their beers are sold nearby.
Canil, R. dos Douradores 133
Open: Daily 11:00 - 02:00
A new (early 2019) and very different concept in Lisbon, located only a short walk from the Rossio Metro station, down one of the quieter roads in central Lisbon. With 32 taps and tons of bottles this is very aggressive for Lisbon (where the best bars have around 12 taps normally). Tasters, flights and half pours available which is of course great for ticking. There own beers are contract brewed at the moment and are not the greatest? Service is adequate. Go for the ticks, but be wary as some of the beers may be stale?
Sant'Ana LX Brewery, Rua Bernardim Ribeiro 53
Open: Only open Fri 14:00-22:00
To actually find this small garage brewery that is well off the beaten tracks is like the "Crystal Maze" itself! It is hidden on a tiny street and the only access is through a narrow passage, luckily it is sign posted, but still... The brew dude has a real passion for brewing and is old school and knows the scene very well. The beers show a high degree of dedication and promising quality.You can try the beers from 4 taps, and also bottles. We worth making the effort to find this place.
Taproom 8a Colina, Rua Damasceno Monteiro, n 8A
Open: Mon - Fri 16:00 - 23:00 Sat - Sun 12:00 - 23:00 (or later)
Located high up a hill with a nice view of the city. Get ready to break a sweat if you are walking. A busy little local, quite spartan more like a 1960'2 cafe with 3 window seats outside and a few basic tables and chiars inside, but hey its all about the 10 taps serving some of the best beers in town, cheap flights and fun food (Definitely go here for lunch!), this is a unique craft brewery with a cool vibe. Excellent beers, that cover a wide spectrum of beer styles! The staff are always available to give you a tip on what to drink. Well worth going back and back again.
............ and so to the craft beer bars of Lisbon;
Cerveteca Lisboa, Praça das Flores 62
Open: Sun-Thu 15:30-01:00 - Fri-Sat 15:30-02:00
This is a small beer bar located on a corner near a pocket sized park, slightly off the town centre in the 'cool' part of town? close to hip cocktail bars, restaurants and coffee shops (and possibly the first specialist beer bar in Lisbon). It's an unassuming beer bar not obvious from the outside, and easy to walk past. Expect a good tap list, with half foreign options, half Portuguese beers.A nice range of bottles both shelf and fridge, very well chosen, lots of Belgian, UK, US. plus flights of 5 are available, there are 6 taps and 2 cask beer engines! (quite a rarity) They serve beer nibbles, friendly staff make this a great place to chill out.
Outro Lado, Beco do Arco Escuro 1
Open: Tue-Thu: 16:00-01:00 - Fri-Sat: 16:00-02:00 - Closed on Sun - Mon
Quite central located in the heart of Lisbon on a bit hidden street Lisbon style? Quite a spacious big cave! The cave vibe is very cool, you enter through the huge warehouse style doors the bar is up to your right hand side.There are 15 taps or so and seemingly quite a few bottles with a big Portuguese selection. Previously known as "Lisbeer" this has place been taken over and re-fitted by a couple of friendly young Good service. Foreign beers included basic selections of breweries like Chimay, Flying Dog, De Molen,… Potentially exciting for Portuguese people I suppose but not for beergeeks but well worth seeking out.
Beer Station, Largo duque de Cadaval 17 Quiosque D
Open: Daily 12:00 - 00:00
Located underneath the Rossio main railway station as you follow the winding path / road at the rear down the hill back round to the small number of bars with outside seating. It's quite a small cosy bar, with seating for about 8-10 inside all though a good amount of seating outside. About 8-10 taps with mostly Portuguese beers It's a pleasant place to sit in the sunshine, (might be somewhat difficult if the weather is bad). Overall a must visit while in Lisbon.
Crafty Corner, Travessa de Corpo Santo n15
Open: Daily 4pm - 2am
A small comfortable friendly bar which was just one street from the waterfront near Pink Street. They have 12 taps of quality Portuguese craft beer, flights of 5 different beer's, which seemed to be popular are available. The food is very good. They also have a selection of bottles you can buy to take away. A great quiet spot when you want to chill out
Cervejaria Artesanal Adamastor, Rua Marechal Saldana 13
Open: Daily 12pm - 2am
A small dark bar with no patio but with air conditioning and a very welcoming German-Portuguese owner. The best way to get here was on the 28E Tram which stops just round the corner. It is friendly inside but the streets nearby are somewhat edgy with dodgy dealings going on. They have their own beers available plus some interesting guest Portuguese craft beers (Musa, Marafada, 8a Colina, Pato, Dois Corvos, etc). It's trying hard to be among the best in town and is worth the time and effort to get there.
Cervetoria, Avenida Rovisco Pais 6A
Open: Daily 4:30pm - 1am
Great craft beer place, close to a lot of public transports and, most important, Three taps with one local craft brewery and has a great variety of craft beers from all around the world. The place has a cozy feel to it and even tops it with great snacks and foods. Recommended for a chill time with friends, or with coworkers after working hours.
Delirium Café Lisboa, Calçada Nova de São Francisco 2A
Open: Mon-Thu 12-1, Fri-Sat 12-2, Sun 16-24
The entrance to this is up a flight of steps (Calcada) just a short walk from the huge Baixa Chiado Metro Station. Yes it is in tourist trap central, surrounded by restaurants but it does off something a little different for Lisbon. It is smallish for this chain but friendly welcoming. There are Portuguese beers on offer, and the Belgian beers were fairly generic, (about 18 taps). It was good to get a table by one of the balconies for a view along the shopping street below. It is what it is.
Libeerdade, Rua de Santa Marta 27A
Open: Mon: closed - Tue-Wed-Thu: 2pm to 8.30pm - Fri-Sat: 2pm to 9.30pm - Sun: 2pm to 8pm
Probabably the best beer shop in town, this is a little place just what every neighbourhood needs. Located just 2 minutes from Avenida Metro on Avenida Da Liberdade, this is a well positioned beer shop for central Lisbon. The owner is passionate and tireless about her shop and the beers. There is a excellent hand selection of 150+ bottles, from Portuguese craft breweries such as Musa, Barona, Oitava Colina, Bauer Lopes & Passarola as well as bottles from English, Belgium & Spanish breweries. Events, beer releases and finding the latest and greatest solo is no easy task, her shop is tiny, but she carries what she knows and she knows good beer. Four taps of stuff hard to find beers and a large selection of UK craft.
Zymology, Av. Dr. Francisco Sá Carneiro, 12, Pav 16, Bloco B
A craft beer shop owned by Rolim Carmo, who's also the head brewer at Mean Sardine. The shop is based in Mafra, which is around 45 minutes outside of Lisbon..
Lisbon Beer Tours (tour) – Offers several tours and workshops, including a workshop where you learn how to make your own craft beer.


I hope you found my guide to the brewpubs and bars in Lisbon useful?
Now you just need to get yourself out there and start the beer adventure for yourself!
Go grab a locally brewed pint (or 2) and support your local brewers!