Let's set off for a weekend in the Danube city! Enjoy a weekend in Linz! The city in Upper Austria invites you to make a stop on the banks of the Danube, despite its baroque architecture and historic old town, Linz is strikingly contemporary. The northern city hosts a cutting-edge cultural scene, exemplified by its futuristic electronic arts center and glass-fronted modern arts museum, both set on the banks of the Danube River. Other top things to do in Linz include exploring the city's historic shopping districts, including Landstrasse with its unique boutique shops and galleries, or simply pulling up a chair on a cozy cafe patio and watching the world go by. Leave your everyday routine behind and experience cultural pleasure by the river. Stay overnight in a Linz hotel and take advantage of the many benefits of the 3-day Linz-Card!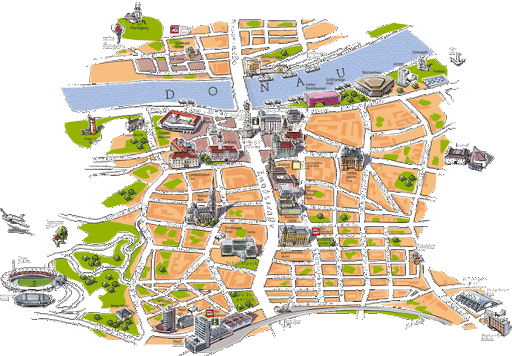 Die Marktbrauerei, Marktplatz 4b
Open: Tues - Thurs 10.30 - 14.00 & 16.00 - 20.00 Fri 10.30 - 17.00 Sat 09.30 - 13.00
Closed: Sun - Mon
A small brewpub a short walk from the center, at the south station market area, it looks like a fast food place! You cant miss it as its painted blue. There is also outside seating. The brewing equipment is prominent and a plus is they offer brewing course's. They have 5 taps and a fridge with bottles all brewed with love and 💓! by a young and knowledgeable couple who understand the beer craft. (Respect!) Good little place with friendly staff and good beer snacks, they also have early opening hours, always a plus in Austria.
Chelsea Pub, Domgasse 5
Open: Mon - Fri 18.00 - 02.00 Sat 15.15 - 03.00 Sun 14.15 -01.00
A classic Irish pub, centrally located in the heart of Linz Austria. It doesn't get much more Irish. The heart of the Irish owner is seen throughout, with an array of signage, pictures, coins, and sporting memorabilia complementing the wooden nooks and tables. Always nice selection of International and Austrian beers on tap and bottled plus a fridge full of good Austrian beers. Also there is a gamut of fine whiskies, at very reasonable Irish prices! Quench thy soul as well as thine thirst, with an authentically Irish welcome.
Pauls, Herrenstrasse 36
Open: Mon - Fri 11.00 - 01.00 Sat 14.00 - 01.00 Sun - closed
This place is right next to the giant old cathedral church. The juxtaposition between the modern eatery and NOE-Gothic church is what stood out most. A nice selection of internationals beers and some nice locals ones as well. For a visitor who knows Austrian beer it's not too exciting? Inside its very modern with lots of glass, long pine tables, and yellow plastic bar stools lots of locals frequent this place, always a plus IMO. The atmosphere is friendly, and alive. Classic rock music is piped through the speakers. A very professional vibe. The staff are smartly dressed and eager to help plus they are English speakers.
Stadtliebe (Speis + Schank), Landstrasse 31
Open: Mon - Sat 10.30 - 02.00 Sun - 10.00 - 14.00
A modern and poche place with great food, cool ambiance and design, plus friendly service. Very delicious and creative dishes! You can find traditional Austrian food with high quality at a good price. Quality and portion of food is very good considering its price! It is a popular place in Linz, thus at certain times you might need to do reservation. A couple of dozen beers on the menu, mostly stuff coming from standard distribution channels, but nice selection. Definitely worth a visit if you're already in the city.
Barok Belgie, Hofgasse 14
Open: Mon -Sat 19.00 - 03.00 or later! Sun closed
A nice Belgium bar in the heart of Linz, with wooden shutters on the window and doors, inside is quite light and airy with old gold framed pictures on the walls and hig tables and chairs (so not for every one) the atmosphere is also nice. Pretty standard stuff and nothing to get excited about beer wise. They serve waffles and different tarte flambées, also the classic Moules & Frites. A good place to go out for a drink with a friend, the bartender is a cool guy, extremely helpful and with second to none beer knowledge. Pretty good music with some classics played. Plus they have a non smoker section.
Granit Bierstube, Pfarrgasse 12
Open: Tues - Sat 17.00 - 01.00 Closed Sun - Mon
The granite was in the Steingasse for seven years, in the summer of 2012 it moved to its present location on the Pfarrgasse, inside the Old Town Hall. Inside there is a cozy "living room" atmosphere for lovers of cosy spaces, it holds approx 40 people and there are a lot of high tables and stools. Its not a place for "militant" non-smokers! It is well run and very friendly. Small snacks are offered along side a solid (if not adventurous) beer selection.
Klosterhof Linz, Landstraße 30
Open: Daily 09.00 - 00.00
A good Gasthaus that is popular with locals and tourists. The service is friendly. Its has real cool atmosphere, not the imitation kitsch of other places. They have lots of Stiegl beers to try here, including the famous Grapefruit Radler. The food is standard Austrian food, solidly prepared, but nothing too exciting either. Overall worth a quick visit, but not the first place to go to in Linz (but it's one of the very few places which is also open on Sundays).
Josef Linz, Landstraße 49
Open: Mon - Sat 10.00 - 02.00 Sun 08.00 - 13.00
Located in the busy Landstrasse in the very centre of the city, it is essentially a very spacious restaurant, which used to brew on site, but changed that some years ago. Now they have some beers that (apparently) get exclusively brewed for them by Brau Union? The two brews a Helles and a Dunkel, are nothing exciting. Funny toilets with TV screens. The keller outside is a nice escape from this hugely commercial neighborhood. Ok for the ticks! Note: The service, can be very slow. Not very expensive but some waiters seem to be keen on cheating you with the change!
Biertempel (Graben), Graben 15
Open: Daily 10.00 - 19.00 Closed Sun
Located at the end of a side lane to the busy Landstrasse, this very neat and tidy bottle store that offers a decent selection of domestic and foreign craft beers as well as some well known macros. Friendly and knowledgeable staff and reasonable prices. Definitely a place to visit if you are in Linz. What is really cool about this shop is the delivery service from the online shop, which is very useful if you have to work longer and you are in need for some drinkable beer. The delivery service is highly recommended and delivers well after midnight!