After years of lying in the shadow of Antwerp and Bruges, Ghent, with its quaint cobbled streets and winding canals, is finally starting to get the recognition that it deserves. The locals, while intensely proud of their city, are very modest and would never brag about its merits. One reason, perhaps, why it has taken so long for the rest of the world to discover this little gem. Its 900-plus listed buildings are testament to the fact that not only did it survive the World Wars pretty much intact, but also that it was a very wealthy city in medieval times, having been Europe's largest cloth producer and the Continent's largest city outside Paris. Until fairly recently this was understandable because Ghent's history as an industrial centre resulted in the city suffering from industrial pollution that covered its antique buildings in layers of grime. In the 1980's there began a big clean-up and restoration of these buildings. The scruffier parts of the city tidied up and the canals cleaned. Today that massive undertaking has been completed and the city has been given a fresh lease of life. The PATERSHOI was one of these run down districts that was an eyesore, but the refurbishment of these 17th Century houses has made it one of the trendiest parts of town.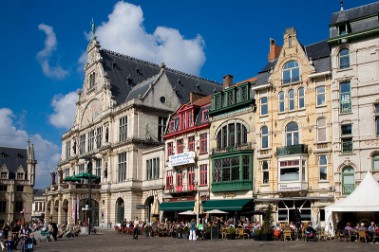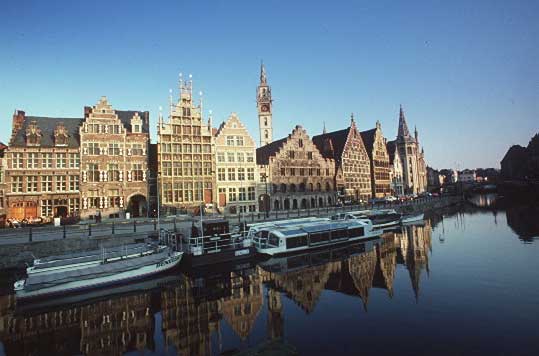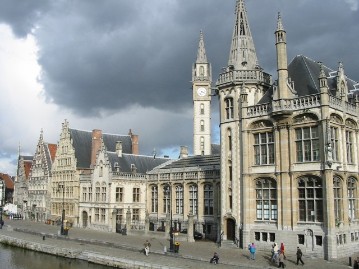 The city centre is very accessible and walk-able and has some excellent beer cafes. So let's start with five or six of the bars in that area before venturing further afield.
One of the best is;
De Hopduvel, (has now moved from 10, Rokerelstraat) The new address is Coupure links 625. Open; Tue - Sat: 10:00 - 12:30, 13:30 - 18:00 Sun: 10:00 - 12:00 Closed Mondays
In the 1980's it was owned and run by the eccentric Toon DENOOZE, who also commissioned beers to be made to his recipes. Belgians have a love of puns, Flemish for a noose is Stropken, so Tony used the pun on his surname and called his beer Sropken. The Hopduvel is a Tardis of a pub. The entrance looks like the front door of a suburban terraced house and you walk into a huge establishment of many rooms with a list of almost 125 beers kept and presented in immaculate condition.
Note: The above review is of the old address. Hopefully I will be-able to visit the new site soon and provide more upto date information. Until then please check their web page.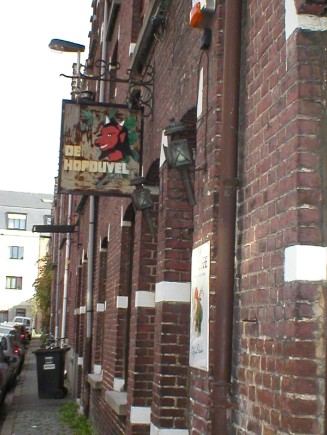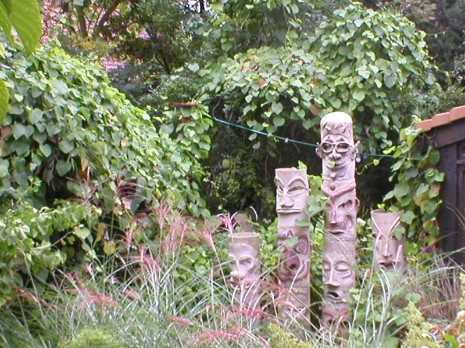 DE DULLE GREIT, 50, Vrijdagmart, Open; Sunday: 12.00 - 19.00, Monday from 16.30 - 01.00, Other days: 12.00 - 01.00 Named after the huge 16 ton canon which looks over the river Leie, it translates as Mad Margaret. Loud and busy at weekends, other times it is possible to have a quiet drink and contemplate their list of around 200 beers. Although known for its occasionally surly service, the bar is still well worth a visit and is famous in all the guidebooks for taking hostage of footwear as deposit for Kwak glasses. Also watch out for the deadly staircase to the toilets. Food is limited to ham and cheese sandwiches.
Het Waterhuis aan de Bierkant ; Groentenmarkt 9; Open; Daily: 11.00 - 02.00
Another pun, "The Waterhouse at the Beerside!" Friendly, helpful staff with an excellent choice on a well set out list of around 150 beers, 14 on draught with a special beer of the month featured, and if you want a snack, try the spicy sausages, mmmmm. It is situated on one of the finest terraces in Ghent with panoramic views of the river; the lovely spacious terrace facing the river can get busy in good weather and is shared with Eethuisje – the café next door. Upstairs overspill bar if necessary.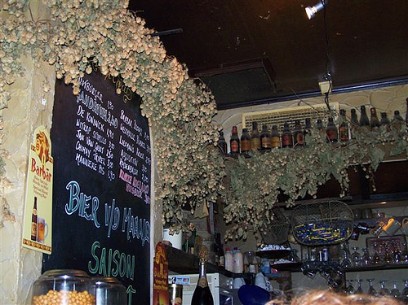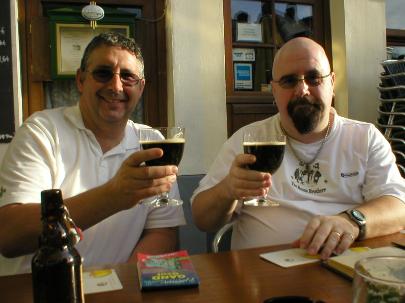 DE GENTENAAR Vlaanderenstraat, not a huge beer list, just a comfortable old pub, the oldest in Ghent and the last of its kind left in the centre.
GALGENHUISJE Groentenmarkt "The Little Gallows House", where the condemned prisoners went for their last drink. It has a list of about 60 beers. One of the claimants to being Ghent's oldest bar it dates back to the 17th Century and it probably could also win the competition to be the smallest. A bonus there is a superb restaurant in the basement set in the 13th century cellars.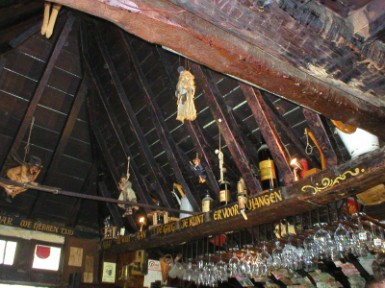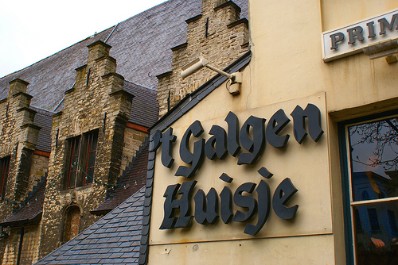 't Dreupelkot Groentenmarkt 12,
One of only 5 or 6 Genever bars in Belgium. Owned by Pol, who is to be found behind the bar. Although no beers are sold, the list of over 150 Genevers is excellent. They are listed under the various distillers (20+) with strength and flavour shown ranging from 20 degrees fruit based genevers (grapefruit, lemon, cherry…) up to a 50 degree Thor. A classic must visit bar. Be careful though, Genever is not for the weak!
On wards on upwards as they say? Here are a few more café bars to try out;
Den Trollekelder
Bij St. Jacobs 17; Open all days: 16.00 - 03.00
A split-level bar with a beer list of around 140 beers with a nice spread of Lambics. Seven draught beers including two house beers. The full list of Trappists beers. Classical music adds to the ambience.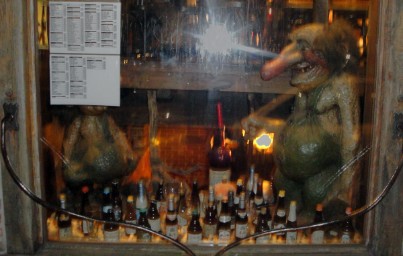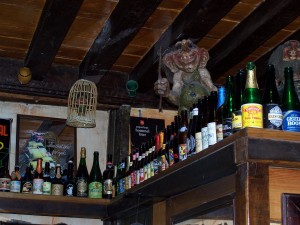 Aba Jour; Oudburg 20; Open; Sat - Sun: 15.00 till ? Other days: 11.00 till ?
An Art-Deco bar with cane chairs and a nice atmosphere. There is a small overspill bar down steps near the water's edge from where you can watch the barges and boats go by. Westmalle Dubbel, La Chouffe and one from Dupont on draught plus about 60 other beers including a good spread of Lambics and Trappists. Italian-based cuisine is served.
't Gouden Mandeke
Pensmarkt 9; Open; Saturday and Sunday from 15.00 till ? Other days 11.00 till ?
This 13th Century grain cellar at the end of the meat market has about 35 beers and a nice feel to the place.
't Vosken; Sint Baafsplein 19; Open 7/7
Foederbier from tap ! Well worth a visit to see what beers they have usually from the extended Palm portfolio. Next door you will find 'The Bridge' which serves good traditional Flemish food until 22.30 each day and has enough good beers to keep you happy.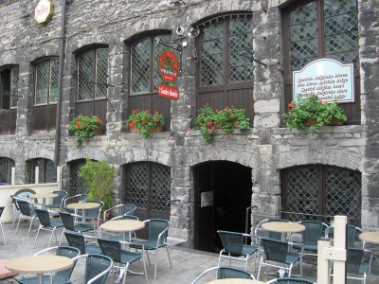 Herberg 't Velootje; Kalversteeg 2-4; Open; According the bartender's mood !
Number of beers: 55. A strange yet atmospheric bar with a perfusion of bicycles hung from the ceiling. This bar is seen as a great laugh for its idiosyncrasy and individuality by some and a sad rip-off tourist trap by others. Make your own mind up?
Oeverloze Eiland; Oudburg 19; Open from 14.00.
This bar oozes class, but has a great vibe. The beer menu is limited but good. A good place to sit and relax and sip a Trappists beer or two and watch the world go by.
Delirium Café ; Klein Turkije 2; (CLOSED 2010!)

This is the baby sister to its Bruxelloise sibling and was opened in November 2007. The beer menu is a mere 100 choices. First thing you notice is the beautiful medieval entrance. Yes, this is a cellar café. The tables are old wooden casks. Purple lightening on the wall. Medieval pillars to hold the ceiling. A long bar with those beautiful pink elephant taps. 14 taps available. This is very central so is easy to check out.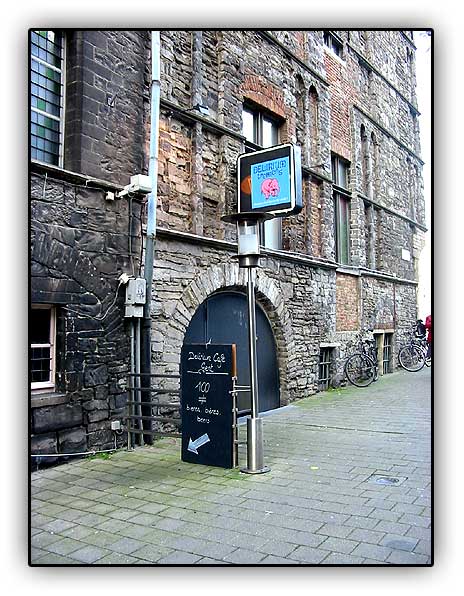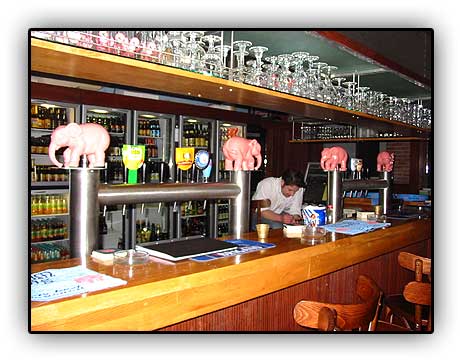 Het Verdronken Land; Steendam 57; Open from 17.00.
The exposed brickwork and stairs to a second floor set the scene. Beer menu runs around 50 but has some absolute gems. Good proper Tapas not just the usual 'Flemish Tapas' of Cheese and salami. It is a beautiful place to visit.
Belga Queen; Graslei 10; Open all days from 10.30 till ? Number of beers: 35
This imposing 13th century Grain warehouse has undergone a major transition in recent years to become one of Ghent's most fashionable restaurants. The Belgian cuisine is given a very national touch through the addition of beer to numerous dishes. High-quality products are chosen with care from local suppliers. The wines come from Belgian producers and the Ponti coffee is from a selection of 'pure Arabica' coffee beans from various continents and roasted locally. All these characteristics make the brasserie Belga Queen the ambassador of "Made in Belgium". A brasserie for a business dinner or for a meal with friends and family.
We could go on and on! But I always find that adventuring along the streets and alleys of a town are just as rewarding, especially if you find a hidden gem. Any way if you don't fancy that? Here is a list of the best of the rest;
Bierhuis Castel; Koningin Maria Hendrikaplein 9; Open; Open from Thursday till Tuesdays from 11.00 till 23.00, Closed on Wednesdays and Holidays. Number of beers: 160
Brasserie Deus; Vlaanderenstraat 128;
Open; Sundays: 18.00 till 24.00, Other days: 11.30 till 01.00; Number of beers: 160
Het Trappistenhuis; Brabantdam 164; Open;
Saturday from 17.00 - 02.00, Other days: 11.00 - 02.00, Closed on Sunday. Number of beers: 150
De Brouwzaele; Ter Platen 17-19; Open; Daily: 11.00 - 03.00. Number of beers: 105
Kaffee A Capella; Godshuizenlaan 33;
Open; Closed on Mondays, Tuesday till Thursday : 11.30 - 01.00, Friday and Saturday: 11.30 - 03.00, Sunday : 11.30 - 01.00, Yearly vacation: The two first weeks of September.
Number of beers: 61
Backdoor "Rock On" Café; Sint-Amandstraat 26;
Open Saturdays from 21.00. Other days from 20.00 till ? Number of beers: 136
Babbel & Knabbel Kaffee "De Planck"; Ter Platen, 9000 Gent;
Open in summer all days from 1pm; Winter time: Mon, Tue, Thu and Fri from 3.30 pm, Wed, Sat and Sun from 2 pm. Number of beers: 115
L'Enfant Terrible; Bij Sint-Jacobs 13;
Open; Closed on Tuesdays, Other days from 8.30 till ? Number of beers: 40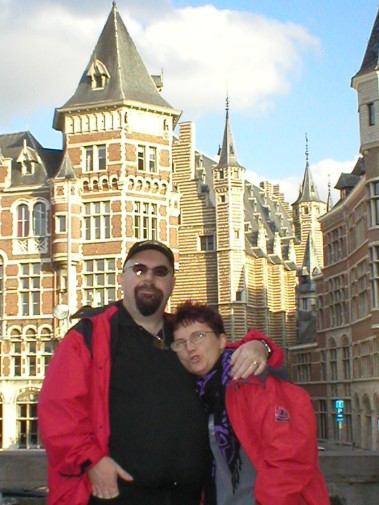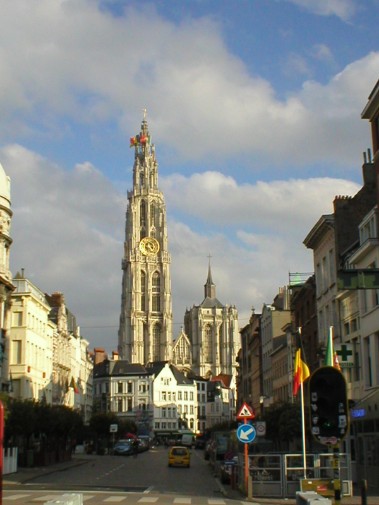 Otto says beat the crowds; get there before word gets around and it becomes another tourist trap. It is a beautiful place to spend a few days watching the world go by with a few beers.