Otto rough guide to the Venice of the North Bruge's (updated August 2022). Bruges's incredibly well-preserved medieval architecture makes it one of the most exciting tourist attractions in Europe. Besides architecture, sites to see include several museums. First is the Groeninge Museum, with six centuries of paintings from different styles, including works by Jan van Eyck, a Flemish Primitive painter. The Memling museum is also not to be missed, with the wooden Shrine of St. Ursula. Also, the only work of art by Michelangelo to leave Italy during his lifetime, can be seen in the Church of our Lady. The Chapel of the Holy Blood also displays an ampule reputed to contain the blood of Christ. Of course a visit to Bruges wouldn't be complete without a canal or carriage ride, sampling the chocolates and waffles, shopping for craft work including Bruges famous lace, visiting art galleries, climbing the belfry or trying several of the more than 350+ available Belgian beers.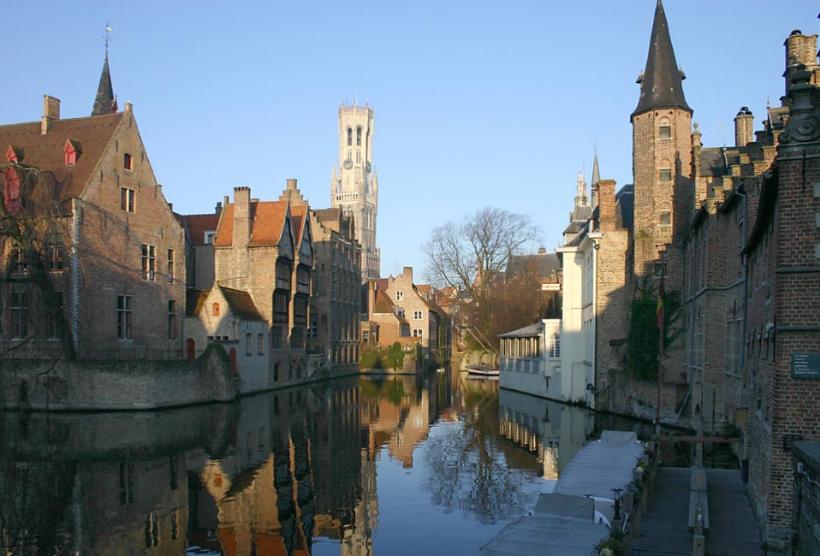 Bourgogne des Flandres Brewery,Kartuizerinnenstraat 6
Open Tue-Sun 10:00 AM-6:00 PM, closed others
A long-running beer-maker offering tours and tastings in an industrial-chic taproom with canal views. Located just a short walk on the main road south from the central square and beyond and on the opposite side of the road to "The Bottle Shop". There's tasters of the local brew available and a full explanation of the beer and its history from the very keen sale staff on hand who are not pushy when it comes to the final sell. If you are looking to buy then there's a few lambic and gueze styles here which may be of interest to seasoned seekers, and enough to please a more casual beer geek. The museum is nothing you definitely need to see, but very nicely done with copper brewing equipment, view of a foamy tank and small details like that. The bar is nothing unexpected, but since it is in the city center i would definitely recommend having a Bourgogne des Flandres at the bar.
Fort Lapin Brewery, Koolkerkse Steenweg 32
Open: Fri & Sat after 12:00 noon
Fort Lapin is only about 2km from the centre situated as it is at about 1 o' clock on a Brugge clockface. There is an ultra modern brew kit that the head brewer designed himself and can run automatically. The little tap room is off to the left side behind a wall of windows as you enter. The wallpaper looks great it is very much a throwback to the seventies. The room is a long narrow rectangular room with the bar at one end with a fridge with beers in bottle. All the beers are €2 a bottle regardless of whether you choose to drink in or take away.
Straffe Hendrik Brewery & Tavern, Walplein 26.
Open: Daily11am to 5pm
Home of the De Halve Maan Brewery. Set in a pretty square and backing onto the southern part of the canal that dissects the central ring of Brugge, this brewery is one of the main tourist attractions in the city, so expect to find people here. We did the tour which was quite good and you get to go up onto the roof top for excellent views of the city. They only serve their own beers which is quite ordinary for the region.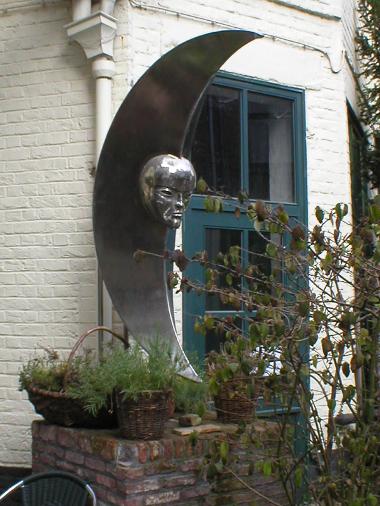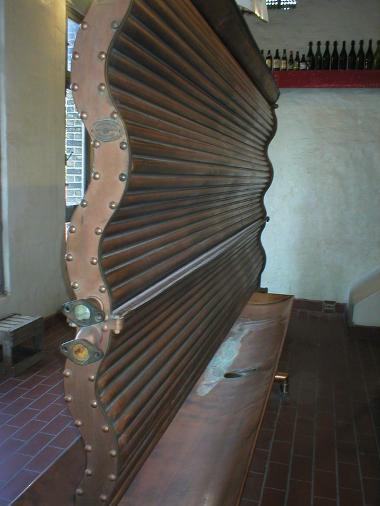 Café Vlissinghe, Blekersstraat 2
Probably the oldest bar in Brugge and possibly Belgium? A lovely ambiance, the inside of the pub itself is a maze of rooms all dressed traditionally and if you want to see what an ancient Flanders pub is like then you should come here. There is an old fashioned stove and ironing board in the center that is cool. All the decor and furniture is old and rustic and quite fascinating and it's incredible to think of the 500 years of history there. Located a bit of a trek out of town, but you have to visit? The beer range isn't extensive by any means but it is worth a visit for the building alone, to put a big tick on your list!
't Poatersgat, Vlamingstraat 82. Hours:
Open: Daily 17.00 to late!

Located in an atmospheric old cellar, next to a church, easily missed. Lots of wooden tables and there's some comfy sofas to enjoy to the left of the door after you have entered the bar. The service area is against the right wall to the rear of the room and includes six taps. The staff are very friendly and relaxed, and they know their beers well. The selection may be smaller than in other rated places in town but it features good stuff, especially in bottles. Nice Lambics and Sour Red/Browns. Great cosy place to have a beer.
You cannot go to Bruges without trying out a few of the best Belgium beers at;
't Brugs Beertje (Little Bear), Kemelstraat 5
Open: Closed Wed, 1600-0100 weekdays, 1600-0200 weekends
It's a great old-fashioned beer cafe with brown walls, beer posters and two dimly lit, smoky rooms and is usually packed within minuets of opening. There are hundreds of beers to choose from and they go very well with their "nibbling plate" of cheese, salami and pickles. The bar staff can help you pick a suitable brew. Friendly staff, but sadly now a tourist trap? There are over 200 bottled beers on the menu, plus five draught beers. This is one of the must visit beer bars in the world!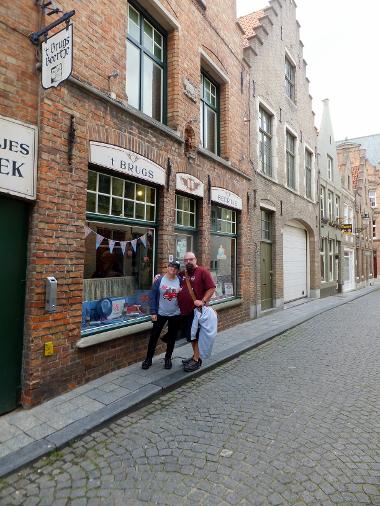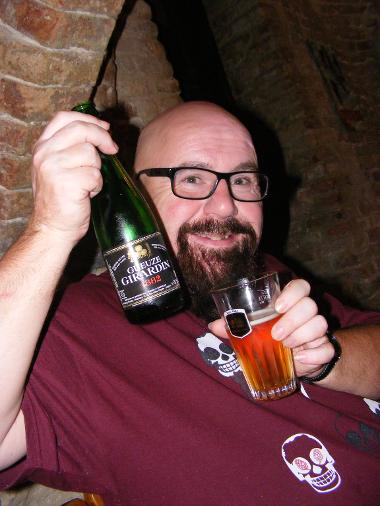 Volkscafé Sint-Jakobs, Sint-Jakobsstraat 60
Open: Mon, Tue,wed, sun: 10h -19:30h - fri, sat : 10h - 21:30h
Just a short walk out of the centre brings you to this newly 'revamped' bar with it's new name and frontman (Tom, the ex-barman at 't Brugs Beertje) it's a cracking single roomed beer cafe on a small square.This bar has a proper 'local' feel to it, it doesn't feel like a tourist bar! A classic 80's early 90's interior and music. Yes this is the guy that used to tend the bar in Brugs Beertje but he seems even more at ease in here. In England we would almost call this a micro pub, it has that feel despite the extensive beer range. Finger food like it was in the 80's/90's so cool!!! It's very cosy and visited by lots of locals. A true hidden gem! Beware of opening times, it's open during daytime, not at night. The bartenders are funny and friendly!a great atmosphere.
The Vintage, Westmeers 13
This is a bar come antique shop! A lively atmosphere and good selection of beers served by friendly and helpful staff. Vintage is a corner bar, exterior wise it has creamy painted brickwork, it's fairly plain looking but tidy. Inside has retained lots of original features by the look of things, the bar is on the left side as soon as you enter with what appears to be two small rooms. There is lots of beer memorabilia on the walls and a vesper scooter hung from the ceiling plus a few religious statuesThere is a large outside patio. If you are at all interested in vintage antiques this place is a must. Everyone there seem to be extremely friendly, a cool lively yet relaxed atmosphere, a good place to spend a few hours in the evening.
Bieratelier Brugge, Wijngaardstraat 13
You will love this place, a very small cafe that creates its unique atmosphere. Especially the giant beer flight of 12 glasses of beer! The place is dark and full of bras, bills, and coasters with messages that make it a lot of fun. You can stare at the walls for hours! A a nice atmosphere great beers and the decor is just priceless a great night out. Oh and good food as well.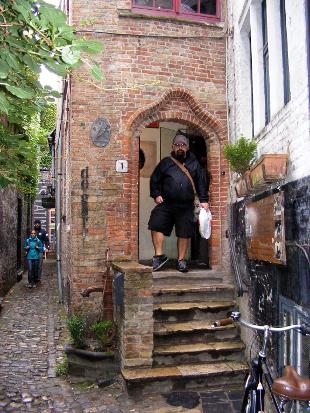 Staminee de Garre, De Garre 1. Open: Thurs -Tues 12pm-12am.
A tiny bar squeezed into an alley between Bruges's two main squares, Markt and Burg. Half a dozen tables downstairs and a few more in the equally cosy (non-smoking) upstairs bar - so don't be surprised if there's no room. The beer is excellent, including their own De Garre triple on tap. As usual you get a small bowl of delicious cheese as a snack. (one of the few that still carry on this tradition) The choice of beers is not as extensive as at the better-known Het Brugs Beertjes but is very good. Another must do bar.

Le Trappiste, Kuipersstraat 33.
Open: open at 5pm till late?
We found this fairly new (2013) bar as one of the owners had a bar in Altringham UK. A very cozy place, Set ihe most beautiful cellar I have seen. An extensive beer menu, also foreign stuff, which is good to attract some Belgian beer geeks. Very knowledgeable and friendly bar tender. There is also a loyalty system for tap beers with a card to stamp which when full entitles you to a free beer from the tap only. This place is sure to get better and better and it is nice to see some of the more established places in this small city get some serious competition.
't Monk, Vlamingstraat 37
A new-ish (2016) bar, on the small but busy square of Vlamingstraat, confusingly close to the Monks Hole a little further along. The building must be quite famous as quite a few tourist groups stopped outside and had parts of the building pointed out to them. There is a very large beer selection here with a fair scattering of imported beers plus some unusual Belgians as well.There is a modern interior, quite swish then upstairs a really cool pool room, very well laid out plus the best toilets of any bar in Bruges. All in all it's really worth a visit.
Comptoir des Arts, Vlamingstraat, 53.
Open: 18.30 - 03.00

A very nice cellar bar, nice and warm with candles burning. A great chilled out vibe with wonderful music with rock, jazz and blues and really good selection of beers on taps and bottles.The guys that run the bar are really cool and polite and provide table service. The beer choice was very good and has a few rarities at great prices. A great bar to just chill out in.
Café Rose Red (Beergarden), Cordoeanierstreet 18.

Open: Daily 11.00 - 00.00

Located in a meandering side lane close to the Markt, this place has a cool vibe, it looks like a well-furnished, decent large upper middle class apartment from about 150 years ago with lots of roes! The bar is rather small but cozy, and the staff staff were friendly, knowledgeable and efficient. The selection is decent, especially with regard to the bottled beer. Apart from just decent Belgian classics, you will find top notch treasures from the cellar. Excellent bar.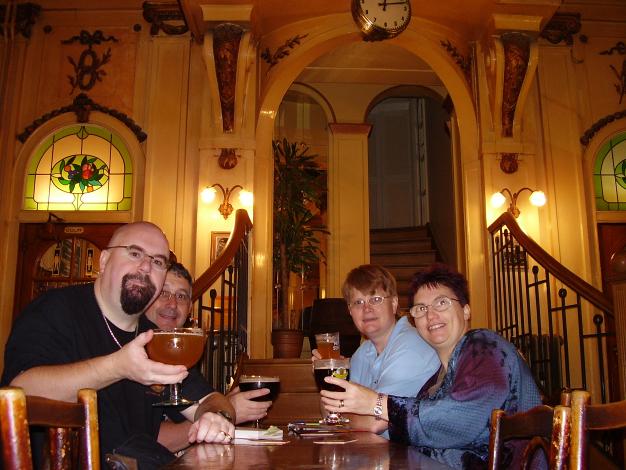 Grand Cafe Craenenburg, Grote Markt 16.
A bar and brasserie on the Grote Markt, with helpful waiters who are only too happy to make beer recommendations for you. We tried a number of trappist ales here. It's on the west side of the square, and the few metres between it and the "tourist-heavy" row of bars and restaurants on the north side, seems to keep it reasonably popular with locals. Inside the high-ceilinged single room resembles a French style 'Grand Cafe' in appearance. An ideal place for a good, convivial night out. They have a good selection of food including Flemish favorites. Their waiters are nice and have a great sense of humor!

De Kelk, Langestraat 69.
Open: from 7.00pm - ... <late, closed on Tuesdays.
A small cozy cafe/bar with wooden floors and fairly dimly lit, the walls are adorned with breweriana. A bit outside the center, close to Bierboom. Lots of lambics and Struise and other special beers. They have their own house brews as well. Service is friendly and attentive and the guy knew the beer menu.

Beers Yesterdays World, Wijngaardstraat 6
Open: Vary depending on season?
A lovely little bar within an antique shop. Good selection of bottled beers, some rare offerings if you look hard enough in the menu, chalkboard at the bar also adds seasonal offerings.
Bierbrasserie Cambrinus, Philipstockstraat 19.

Open: Weekdays 11am - 11pm; weekends 11am - ?
This really nice place near to the central place of Bruges it is a must see. This is a restaurant with a very French feel to it, hence the Brasserie in the title. There is a platform area full of seating to the right-hand side, and a long bar along its left. There's plenty of bar stools here so if you are not eating then it's more than convivial for a drink and there's a huge choice of bottled beer, all visible in seven eye level fridges behind the bar. There's 10 taps here too if you prefer something on draught. It is very touristy and I recommend you to come early or to reserve a table. The place is always crowded.
Den Dyver, Dijver 5.
Open: Tuesday - Saturday: 12:00 to 14:30 and 18:00 to 22:00

A white table resuturant focusing on beer pairings. The menu is limited and based on seasonal items and beer list is not as large as one mint expect but excellent. Inside the decor is old world Belgium mixed with modern accents... These guys are doing very modern fine dining with local ingredients. Service was good and friendly.
Bier Paleis, Katelijnestraat 25-27
Brugge has many beer shops and this one doesn't stick out as much as most, nor is it heavily advertised from the outside. The place now has a tasting area and huge terrace as well as a beer museum where all the stuff is for sale. Not cheap, but a great selection of beers to drink in store. It is part of a larger tourist store and can be easily missed if your head is down and it's raining, but once inside the beer shelves reveal some interesting beers and glasses. A lot of 0.25 cl bottles not stocked elsewhere within Brugge, so worth finding if you are intending on getting loads of different bottles while in the city. You are left alone to wander around They also have a rear room (away from the beer part) that has second hand glasses and beery stuff for sale (real, old signs and such like).
Bacchus Cornelius, Academiestraat 17
Open:Mon 10.00-18.00, Wed 10.00-18.00 Thurs - Sat 10.00-19.00
A few minutes walk north of the main square where the last vestiges of shops in the centre exist before giving way to homes and the odd pub. This beer shop, close to one of the central canals is of a decent size but is very full and cramped inside so it's not worth coming here with all you're shopping in hand as you might end up knocking things over. The beer selection is not extensive but fairly niche for the country with some good options different to the other bottle shops around here. There's gift packs and plenty of specialist Belgian glasses here to buy to go with your choice.
Arthie's Bistro, Wollestraat 10
Wow! What a super cool and funky interior; from a projected clock, giant black flower bowls and stylishly wacky lamps and wildly colourful paintings that create an ambience that's eccentric with an entertaining friendly welcome. The meals are hearty and great value.
't Brugs Bierinstituut, Ronsaardbekestraat 2
A beer school, were you can book tasting sessions that take you on a discovery of the delights of Belgian beers and the history behind them.
In De Reisduif, Langerei 30
A great local place. You'll find regulars in here enjoying a good selection of beer from cool knowledgeable staff. Quite a cosy little bar with typical beers from the city and from Belgium in general. They play rock music. It has few tables. Located next to a canal and the area is beautiful at night. A cool stop and try.
I hope you found my guide to the brewpubs and bars in Brugge useful?
Now you just need to get yourself out there and start the beer adventure for yourself! There are lots of other bars/cafe to be found in this lovely city
Go grab a locally brewed pint (or 2) and support your local brewers!
Remember beer is the drink of the people. Cheers Otto.