Where to start, when so much has been written before?
Brussels is the administrative capital of Flanders, Belgium and of Europe. It houses so many headquarters and institutions that if the beer supply was cut off, the world's safety could be under threat! I would recommend a little research and a good map before you set off around Brussels as it is a large city with three distinct areas: North, Central, & South. The train is good for getting quickly from one end of town to the other and there are 3 stations. But once in the centre, get a day pass (Carte d'un Jour) which allows you to use the Metro, bus and underground-over ground trams.

Any way, enough of that and on to the beer, starting with the two local breweries:-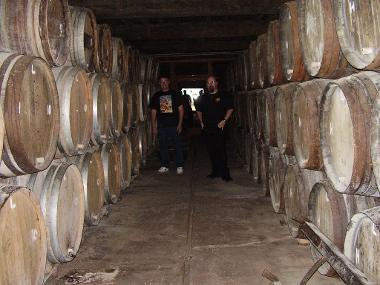 Cantillion, 56 rue Gheude. Hours: M-F 0900-1700; Sat 1000-1700; Closed Sun.
A traditional Lambic Brewery situated in the Anderlecht district, not far from the train station. There are guided tours or after the initial meet and greet you are allowed to wander around the brewery at leisure, from the open vats in the attic to the decades old fermenting barrels in the cellar. Then you get to taste these wonderfully different Cantillon beers which are intensely sour and complex with marvellous aromas and flavours.
Brasserie de la Senne, Gentsesteenweg 565.
Understated presence in west Brussels tucked down a narrow business driveway with little signage or promotion. A bare bones interior tap room with wooden tables and chairs. Four taps and more bottles to have on premises or for take away. The folks helping out in the taproom were courteous and polite. The location is not walkable from central Brussels, but this place is all about the beer.
Les Brasseurs Du Brouwers, Grand Place (CLOSED)
Central Brussels' first brewpub. Sadley now closed it was a great bar that usually had 3 beers on at any one time, we were lucky and they had 5 available. Not only do they serve their own beers but their food is good and served until 11p.m.
There are hundreds of bars of note to visit whist in Brussels, so I will only mention the ones that we thought were the best: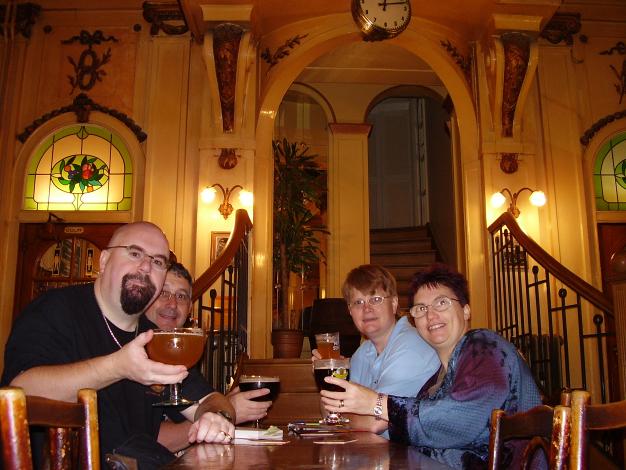 A La Mort Subite,(Sudden Death), Rue Montagne-aux-Herbes-Potagères 7.

Hours: Mon-Sat 10am-1am, Sun 12pm-1am
Mort Subite takes its name from a card game played there many years ago. It is one of the best examples still surviving of a fin de selecle or long bar. The Mort is a famous art deco pub with a great interior, where you are served by uniformed waiters. There is a range of 30 beers and the unfiltered lambic beers are a treat. A limited number of bar snacks are available, but the Kip-kap & tartines with a Gueuze are a must.

Chez Moeder Lambic Fontainas, Place Fontainas 8.
Hours: 11am to 1am. daily; (Fri and Sat to 2am)
Cozy place that has a lot of seating for not being a very big place. Extremely knowledgeable and helpful staff. The beer menu is epic! There are a lot of cask ales that I bet are not available in more than five bars in Brussels. The food was average Belgian pub fare. Prices are good for Brussels. If in Brussels this is a must visit world class bar.
Chez Moeder Lambic Saint-Gilles, 68 rue de Savoie.
Hours: Open from 16:00 until 03:00am
Sister bar to the above and another world class bar. Smaller and with less modern decor than Fontainas and located in the nice area of St Gilles, this one doesn't get the passing tourist trade, but is easily reachable with tram 3 or 4 to Albert station,and then a short 5 minutes walk. It has a far more relaxed local feel. The tap selection is very similar featuring local lambics and some interesting other brews. Friendly and helpful service, and a nice small outside area for when the weather's good.

Porte Noire, 67, Rue des Alexiens.

Hours: Opens 4 pm winter, 6 pm summer, closed Sun.
One of our favourite haunts, where we got to know the bar staff quite well. It is about 5 minutes walk up hill from the Mannekin Pis, which is a statue of a little boy urinating into a fountain. The Mannekin is a national treasure and a very popular tourist destination.
The Porte Noire is a brick-lined 16th century wine cellar, with candlelight, basic furniture and a "Lord of the Rings" feel. They have on offer 130 beers with the excellent Ellezelloise Van Ecke range including the must have 8.4% stout. Please note it only opens at around 6pm in the evening. The Porte offers a light snack menu and excellent rock music. It also has a seperate smoking room.

Délirium Hoppy Loft, 4a, Impasse de la fidelite.
Hours: from 6 PM to 4 AM , closed on Sundays?
On the top floor Delirium Village building. A Brown café kind of atmosphere, nicely decorated with old beer paraphernalia. Could be cozy, but its to crowded and noisy at weekends. Some good, some not so good beer on tap. A long bottle list as well. Service was good, we even got free samples. If you want a talk with the bartender, don't go on the weekend days they are pretty busy and the place is always crowdy. We always had a nice relaxing time here, although it did feel weird to drink imported beer in Belgium! A must visit place.
Le Poechenellekelder, Rue Du Chene 5. Hours: Closed on Mondays
Nice atmosphere in this must do bar. A very international crowd not surprisingly, being opposite to Manneken Pis its a tourist trap. Plenty of atmosphere inside the baroquely decorated parlours, cave, old fashioned interior, very eclectic, with lots of dolls and other things one might expect also an outside terrace. Friendly staff. Very decent selection of beer, althoug not aimed at the beer ticker but a solid selection of lambic beers and interesting Belgian brews. Nice place and the sandwiches with pottekeis and Brussels cheese were quite good. Recommended for a visit.

The Bier Circus, Rue De L'enseignement 57 Onderrichtsstraat.

Hours: Tue-Fri 11:00-01:00; Sat 18:00-01:00
Has a range of over 200 beers making it one the best café bar in the city! A must visit as they also have excellent food. It is a modern airy 3 room café, near the Cirque Royal concert hall. You could be here for hours just trying to sample all the small, regional Lambics they have to offer. It's a good idea to go with a group and share lots of different beers.

Nüetnigenough, Rue du Lombard 25. Hours: Mon-Fri 5pm - late; Sat-Sun noon - late
Located in the busy Lombardstraat, (around 5 mins walk from Moeder Lambic and near the Mannequin Pis) this restaurant is a living proof of the fact that size doesn't matter. It is tiny (less than 10 tables) but it is excellent, with regard to food and beer alike. The selection may be lower than in a number of other places in the city but it includes some superior lambics and many more great Belgian beers. The staff are very friendly and they are passionate about the beer and so happy to help. Fair prices. Booking recomended to avoid disapointment.
La Tana a Bruxelles, 10 Rue de L'Enseignement. Hours: 12-16 17:30-22.
A new great place in the center of Brussels with a difference? Here you can taste some really good Italian appetizers and pasta dishes. Everything is accompanied by a good selection of excellent Italian craft beers, together with some beers brewed in Brussels. Some dishes are prepared with beer and they taste extremely good. If you speak with the owner you'll discover an authentic beer lover that will give you dozens of hints and suggestions about the beers he's serving. If you are in Brussels and you would like to discover the world of Italian craft beers you should definitely come here.
L'Atelier, 77 Rue Elise. Hours :Sun-Mon-Tues-Wed: 16h-3h / game: 16h-4h / Fri: 16h-5h
This is an absolute gem of a place. It is not right in the center but it is worth the trek there. Located between the VUB and the ULB (the Dutch and French speaking universities of Brussels) there is an obvious college crowd. This place really heats up after 10pm. Can be a bit smokey and loud, but what great vibe it has. The beer list is proudly displayed as a huge billboard on the wall. Good taps and a great bottle selection! Unless you don't like people and are allergic to smoke, you have to make it out to this place.
La Porteuse d´Eau, 48 av. Jean Volders. Hours: 10-01
This place is just great, beautiful architecture in this bar/restaurant. The beer list only goes to about 60 or so, but there are some nice ones. Several I hadn't had. Get there in the late afternoon, and get a table on the sidewalk. See the real world go by. Go upstairs to the WC and see some fantistic art nouveau glass. The prices are very reasonable for a nice place in Brussels. Main plates, includes carbonnade or sausage and stoemp. Also several steak or seafood dishes. But even if you can't eat, definitely stop in for a beer and a look around.
Les Brigittines, Place de la Chapelle 5.
Hours: Mo-Fr 1200-1430 & 1900-2230, Sa 1900-2300, Sunday closed.
Nice restaurant, but do not go there as a beer geek. They make two of the dishes with lambic beer, but that's the only beerlink they have. When asked to recommend a beer for the food, they totally missed. People going there for wine seemed to have a good time and they seemed to know their wines. It was even decanted at the table. Nice place for a good quiet dinner
Delirium Café, Impasse de la Fidelite 4. Hours: Mon to Sunday til 04 am
This place is a little hard to find, but it's right down the allery from the Jaennekin Pis (the squatting female counterpart to the Mannekin Pis). Very large bar that gets packed to the rafters, especially at the weekends. Massive selection of beers the phone book sized list just gets bigger and bigger. They also have about 30 taps. Staff are helpful, though over run at times. A must visit even if it is only once?
We I hope this a been of some use to you if you are planing a beer-vacation?
For the complete low down on the Belgian beer scene why not but Tim Webb & Joe Stange's book Good Beer Guide Belgium, now in its 7th edition. Avilable from CAMRA books or at any good shop/online store.
Cheers to Beers Otto