Boulder Colorado - Cresting over the hill on highway 36 into Boulder, it's easy to see why this intriguing town has been dubbed "the city nestled between the mountains and reality." At 5,430 feet above sea level, acres of vast open space roll into Boulder's quaint cityscape tucked into the foothills of the Rocky Mountains.
Boulder was originally founded in 1858 at an outcropping of Red Rocks, in what is now known as Settler's Park, by gold seekers in 1858. This area, defined by its striking red sandstone fins, is today a popular hiking spot. And so goes much of Boulder's heritage. The Colorado Chautauqua came along in 1898, and this development also became a refuge for outdoor enthusiasts, setting the city on a course of parks and open space preservation that remains a core part of Boulder's culture.
Shopping in Boulder has never been more exciting! Visitors to Boulder will find an endless variety of shopping opportunities. From bookstores and galleries to shopping malls and boutiques, Boulder has something for everyone.
The city's harmonious, people-friendly atmosphere and beautiful natural environment make Boulder a delightful shopping destination. Shoppers can explore an endless variety of fascinating stores selling jewellery, glassware, home furnishings, clothing, specialty foods, and outdoor & sporting goods.
Go and visit the lively street activity in historic Downtown Boulder at the Pearl Street Mall, Boulder's award winning pedestrian district. Exceptional shopping can also be found at the Hill, a historic shopping district with over 90 businesses located adjacent to the University of Colorado, or visit Twenty Ninth Street, the new, state of the art open-air shopping and restaurant community. All that plus some great Brew Pubs, Bars and Breweries what more could a traveller ask for?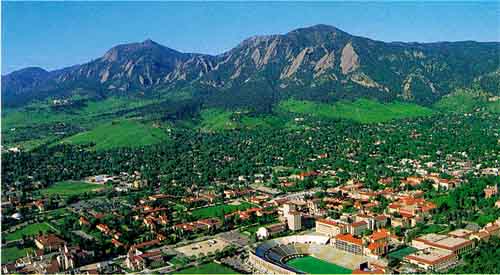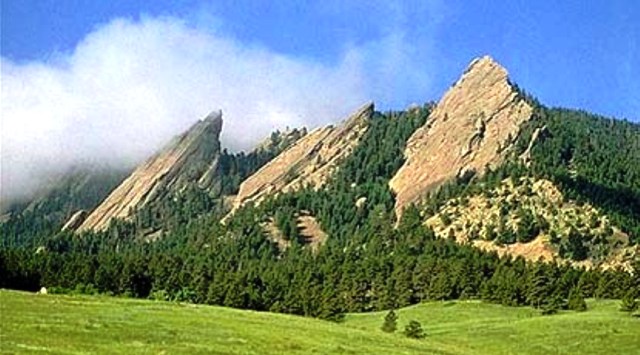 Avery Brewing Company - 5763 Arapahoe Avenue Unit E.
The Avery brewery and Taproom is buried behind some industrial-type buildings off Arapahoe Ave. There is a small parking lot out front. The tour includes an exclusive glass, and is pretty informative to boot. The bar/tap room has an L-shaped bar on the right side, with high table seating in the adjacent room. There is also a small semi-private room in the back that has a window into the brewing area. The available beers are listed on boards behind the bar. The tap list at Avery is pretty impressive, with 20 draughts plus two cask offerings. Several of the beers are only available in the tap room, such as Joe's Pilsner, Big Smoky, India Pale Lager, Hand of Buddha and an unfiltered dry-hopped IPA. In addition, many of Avery's flagship beers are available. Service is very good. The bartenders are all beer lovers. Well worth a visit.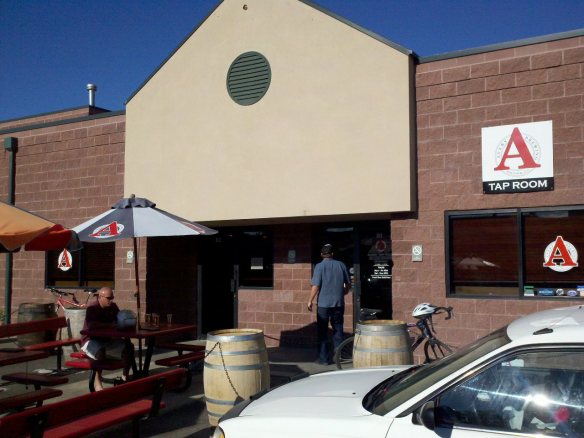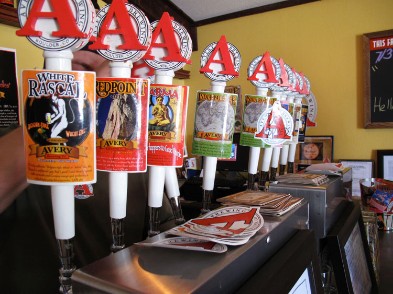 Mountain Sun Pub & Brewery - 1535 Pearl St.
Located in the Pearl Street Mall area of Boulder. The set-up is a bit different here, but it works. The front half of the place is casual restaurant seating. The bar (no stools) about halfway to the rear fronts the kitchen with the brewery all the way in the back. Funky artwork adorns the walls. The staff at Mtn. Sun are friendly, fast, and very efficient. The beer selection is pretty impressive. There are around 15 beers on tap, from lighter styles like Quinn's Golden Ale, Saint Amos Wit, a Saison, and a Blackberry Wheat to richer fare like couple IPAs, a Coffee Porter and Thunderhead Stout. All of the beers are average to above average, with a couple being standouts. Samplers are available in flights of 6. Overall this is a very good beer destination in Boulder.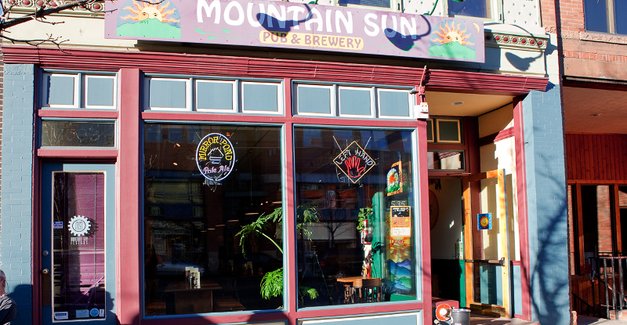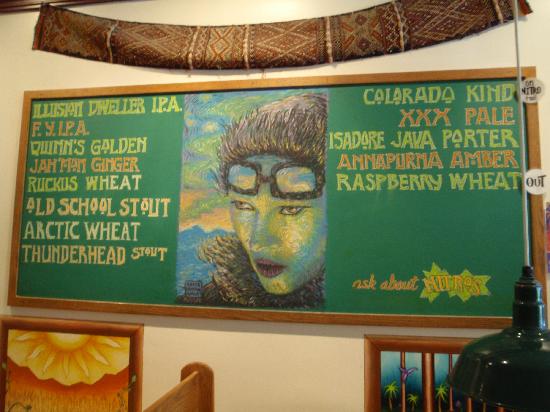 Walnut Brewery - 1123 Walnut Street.
Boulder's Original Brewpub and winner of multiple Great American Beer Festival awards including the 2008 Silver Medal & 2010 Gold Medal in the "English-Style Dark Mild Ale or Brown Ale" categories for "Old Elk Brown Ale" brewed by Brew master, Rodney Taylor. They do a 7 beer sampler that can be added onto if you don't want full pints? Located in the heart of downtown Boulder with great food, great service & great people! Walnut brewery is your typical big, high ceiling, boisterous brewpub, which not is not a bad thing. Big brick shell of a building, wide planks floorings, way vaulted ceiling, and steel girder erector set above supporting spinning fans & spots, and drop spinning top lamps over the bar. Old framed black & white prints mounted in the rear rooms here show this building when it used to be City Plumbing & Heating, back in the day, and supposedly, this was the very first Rock Bottom location? The food is actually pretty good here, definitely better than most brewpubs. Value is ok, it's not too pricey. Overall not a bad destination, you won't be blown away but you'll be satisfied.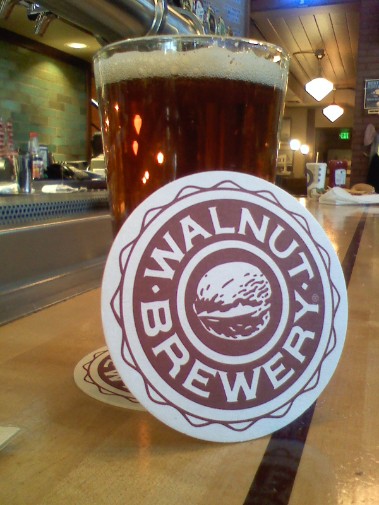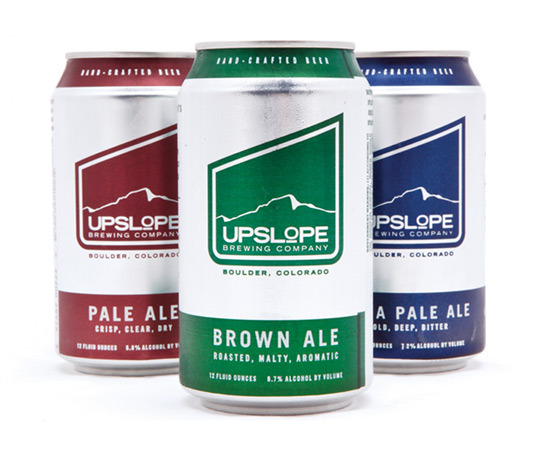 1501 Lee Hill Road, Unit 20.
Upslope Brewing Company, a new microbrewery located in a warehouse block in the expanding North Boulder area, taps into Colorado's active lifestyle by offering superior quality hand-crafted ales in cans for the on-the-go beer enthusiast. It's a tap room. So it's about the beer. A small taproom, clean and sanitized, plain interior, lots of merchandise on display, giving you another peek into how this brewery is trying to succeed. Two beers (pale and IPA) usually on tap at the tasting room (which is open limited hours (4-6 on Thursdays and Fridays, 3-5 on Saturdays). Worth a visit if you are a confirmed beer geek.
2880 Wilderness Place, Boulder
Located in a little industrial park conveniently 2 blocks off my long drive to the southern part of Denver. Boulder Beer Company is Colorado's first microbrewery, the fruits of which have been enjoyed since 1979. Stop by to enjoy a beer, a meal, or a taster tray with up to 12 samples of the award-winning brews. There's a nice pub style atmosphere, with a large patio outside. The popular Brewery Tours, which start at 2pm on weekdays, are a fun, informative, and hands-on way to enhance your visit to the brewery. On the tour you will visit the inside of the brew house, smell the hops, taste the barley, and walk amongst the towering fermenters that produce the popular ales that make up Colorado's favorite families of beers.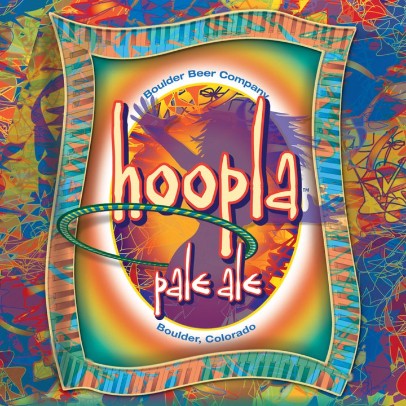 Twisted Pine Brewing Company - 3201 Walnut Street.
Established in 1995, Twisted Pine Brewing Company produces only 100% natural, unpasteurized pure malt ales, batch brewed and hand-crafted. They maintain a strong local presence and produce full flavour distinctive ales that cover lots of styles. Over the years Twisted Pine has earned a number of medals for beers, including 7 Colorado State Fair Medals, 6 Great American Beer Festival Medals and 2 World Beer Cup Medals.
The tap room is just off Hwy 36 in Boulder and easy enough to find as it is really close to Avery if you find yourself in north Boulder. A small tasting room with a pine interior, creating a cool cabin type setting. Foosball table in the corner along with a handful of tables and a small bar, with additional seating outside. Usually 10 beers on tap; including a whiskey aged Red and their award winning espresso stout. Be sure to try the Northstar Imperial Porter it is awesome. Overall a cool place and definitely worth the stop for a pint or three.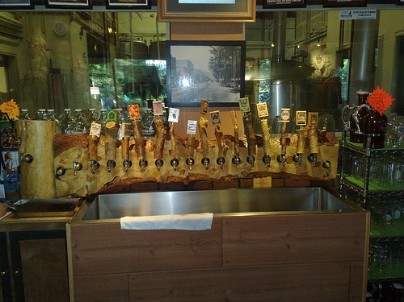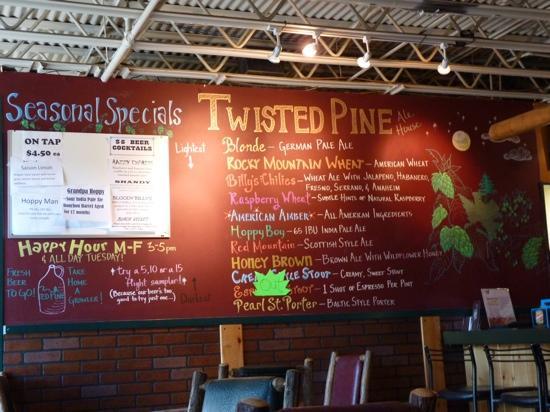 1125 Pearl Street, Boulder.
Spot in the middle of the Pearl Street Mall, this place competes with three other brewpubs in a half mile square radius and countless others in Boulder...and it holds its own fairly well saying its part of a chain. The host/hostess station is located in the main seating area in the front of the restaurant. The back section contains several booths with a few of the bar, which is set up really great. A well lit and long wooden bar with numerous barstools. Behind the bar are stainless steel conical's that hold the beer served from the taps. The brewing room is located behind a glassed in area, such that the brew-master can be seen plying his trade. There are some pretty good beers here and food. It's worth dropping by here while on Pearl Street or on a Boulder Brewery tour.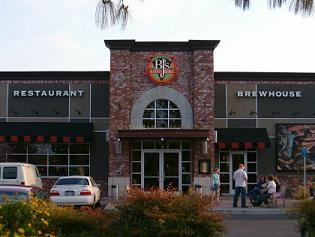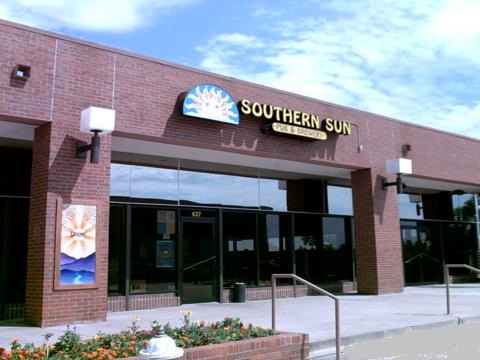 627 S. Broadway St. Boulder
Bigger and more spread ou then the more northern "Sun" location. Beautiful views through the large windows. The place is loaded with hippy type type murals, paintings, artwork, and posters, loved the feel of the place. Add plenty of quality brews, the same crunchy menu of tasty food choices as the other location, friendly staff/service. A large outside eating drinking area, a long wood bar on the inside wall seats about 20, with 16 house beers on tap, the rest of the place is light and airy with about 2 dozen booths and tables. Another must visit spot if in the Boulder area.
Los Oasis Latin Grill & Cerveceria, 2027 13th St.
Boulder's newest Mexican inspired restaurant & brewery! Flavours from the Oaxacan Region & Yucatan are authentically recreated by Chef William Lewis and his talented crew. In addition to their fine culinary program, they also bring you the finest in hand crafted beers, margaritas & mojitos! Their beer is brewed onsite by Brew master Mike Kasian. Five main beers from a light ale to a nice dark stout, note happy hour is 4:00pm - 6:30pm & 9:00pm – Close daily with all the house beers at $3 a pint and some great food deals as well.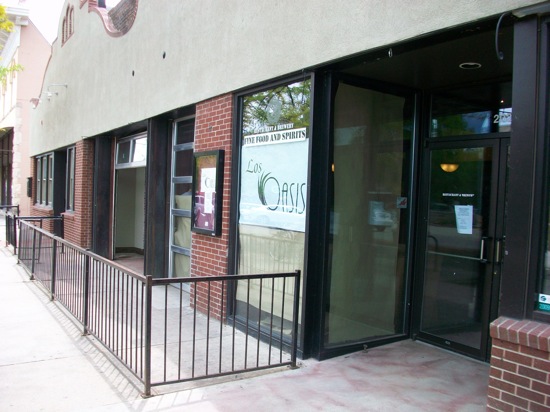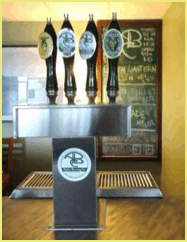 Asher Brewing Company, 4699 Nautilus Ct S.
A Very small brewery located in the northeast of Boulder in a residential-industrial mixed use are. This place can be very difficult to find, especially at night. They brew all organic beers and have 3 or 4 beers available on tap in the tasting room. Open 3pm to 9pm most days, with tours at 4pm on weekends. Beers are Greenade Organic Double I.P.A., Green Monstah Organic Strong Ale, Green Bullet Organic I.P.A., Tree Hugger Organic Amber and Green Lantern Organic Kolsch, always worth a visit to sit and chill in the atmospheric tap room.

Also worth seaking out for a decent brew or two are the following;
Redstone Meadery, 4700 Pearl St, Unit 2-A.
Boulder's Redstone Meadery, is one of the country's largest mead producers. A small place a little out of town in Boulder, but definitely worth a visit if you have any interest in meads. The tour is very informative after the tour you get to sample quite a few of their meads, for free and you can also buy bottles to take out of which there are 12 in total.
The Kitchen , (next door 1039 Pearl St & upstairs1035 Pearl St), Boulder.
Offers hot and cold small plates + draft beer from Colorado (no bottles). excellent quality affordable dishes and an encouraging draft list.
West End Tavern - 926 Pearl St, Boulder.
Amazing burgers. Awesome wingers. Nice local beer options.
Old Chicago – Boulder, 1102 Pearl St.
Typical Old Chicago with about 25 beers on tap and another 100 in bottles.
Great Pizza plus probably the widest selection of brew in town 50+ taps

If you have any more recomendations please let me know, cheers Otto.