Well here it is Otto's low down on the best bars, cafe, and brew pubs to get you lips around a craft beer in Boston. Boston, MA, (also known as "Beantown") is a very convenient city with the vast majority of its historic sites well within walking distance of each other. The city was first incorporated in 1822 and has a reputation of being one of the most interesting and historic cities in the US.
There are a great many museums and tours available to get your fill of historic Boston, check out the Beantown Trolley, which makes 20 stops, and you can hop on and hop off, giving you the opportunity to spend more time and get an up-close look at the sights of most interest to you.
So let's start with the Brewery tasting rooms and the Brew Pubs of this very amazing city;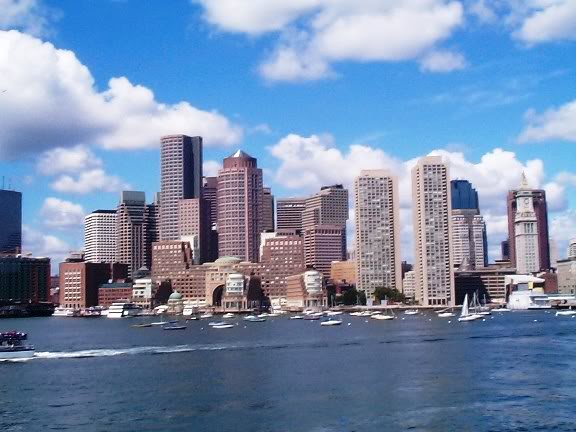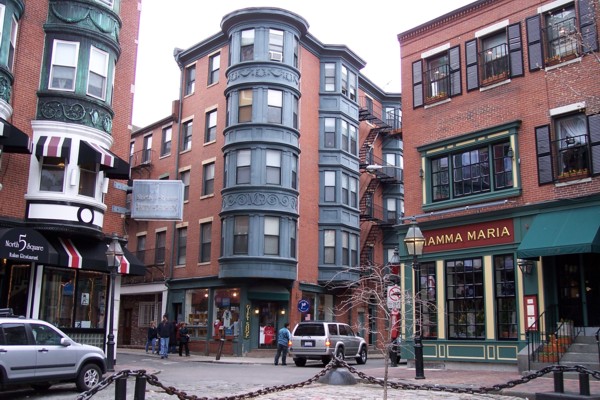 Boston Beer Company (Samuel Adams) - 30 Germania Street, Jamaica Plain, Boston
This was our first brewery tour ever in the USA way back in 2000! (And its free) After which we visited Doyle's Tavern (see below) If you really love good beer, go to the trouble of taking the one hour Sam Adams brewery tour. Boston Beer Company contract brews most of its products, but this small brewery serves as an interested experimental facility where new products are brewed and evaluated. The tour will allow you see the lovely oak barrels where the high-gravity Utopias beer is stored, and you will be invited to taste some experimental beers in the tasting room. The Boston Beer Company and its founder, Jim Koch, have done so much for craft beer in the USA. Their devotion to quality brewing methods and ingredients really shows during the brewery tour.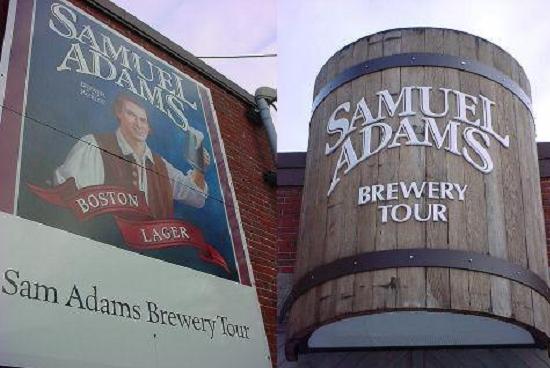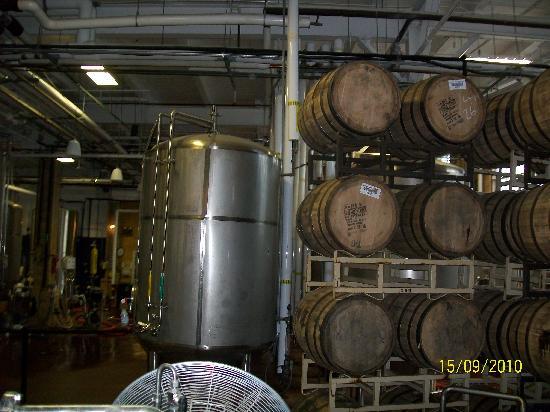 Harpoon Brewery - 306 Northern Ave., Boston
It's worth a visit if you like Harpoon. Basically, it's just a one room bar with a view of the brewery floor. Tours are now only available on Saturday and Sunday. Other days (except Monday when it is closed) there is a free tasting at 4pm plus an extra one at 2pm on Fridays. (And its free) The tour guy's are friendly and politely informative about their beer. 11 taps of very good fresh beer with at least a couple you can't ordinarily find. Some interesting and perhaps a bit overpriced merchandise items but hey, the samples are free! for no nonsense people who want to talk to some good folks and enjoy some good beer you don't want to miss this place.
Note, They have a Tap Room Bar at Logan Airport in Terminal A, with about 10 beers on tap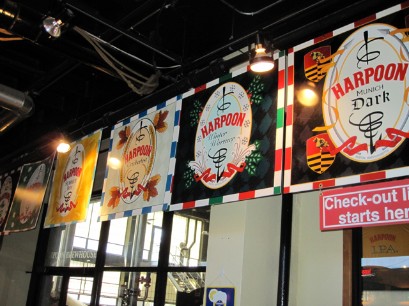 Rock Bottom Boston– 115 Stuart Street, Boston
Located in the Theatre District a few blocks off The Common. Typical Rock Bottom. Clean and corporate. I think their beers tend to be average to good, although that is dependant on the brew master and how much freedom- interest he/she has? The menu is fairly standard from franchise to franchise. They have eight house beers with 2 cask offerings. Rock Bottom brew pubs are always worth a visit as you never know what you will find on draught?
Endurance Brewing Company - 72 Joy Street, Boston
Endurance Brewing Company was founded by 4 guys back in 2004. The flagship ale is Artic Pale Ale, a crisp, golden Pale Ale named in honour of the Legendary 1914 Endurance Expedition to Antarctica. It is a medium bodied offering with cascade hops, subtle malt palate and a hint of citrus. Note, I do not know if they do tours or not?
Beer Works - Canal Street - 112 Canal Street.
Boston Beer Works may be a great sports bar, but above all, it's a real brewery plus a restaurant with food to complement the beer. In fact, it's the oldest and largest brewery and restaurant in the Boston area, started in 1990 by two brothers, Steve and Joe Slesar.
You'll see the beer-dispensing tanks right in plain view behind the bar, and detect a slightly malty aroma in the air. Best of all, you'll get to taste the specialty brews and decide which one of this Boston microbrewery's creations is your favourite. Boston Beer Works brews about 50 different beers, ales, and lagers each year, with perhaps 12-15 on tap at any one time. Names like "Beantown Nut Brown Ale," "Boston Common," and "Bulfinch Bitter" keep the local connections front and centre. My personal favourite is the Muddy River Porter at 5.5% very quaffable.
Note this place can get packed if there is a Bruins or Celtics game on.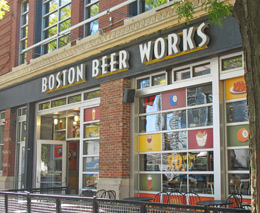 Beer Works - Fenway - 61 Brookline Avenue.
The vibe reminded me just a bit of the Capitol Hill location of Elysian in Seattle, with its big, open, industrial space. I was happy that there were actually relatively few TVs and the brew house was featured prominently. Pretty similar to the Canal Street branch I guess. Although some of the beers are the same - beware of the same beer with different names depending on which location it's at - quite a few will be different so it is worth visiting both. Note that there are invariably beers available at all the Brew Works locations that are not listed on the website. Beware it is packed when there's a Red Sox game on. The place is definitely worth a stop.I was working at a sausage stand in the Summer of 2014 directly across the street from the Beerworks location and the place was always packed. I spent quite a bit of time on my breaks in here, enjoying their fine and ever-changing selection of brews during the baseball season, served by friendly, young, and knowledgeable local staff who always provide good service (which can be an issue at many restaurants in the area during games). Usually, the place is relatively empty on non-game days or during the "offseason" from October-March, but a visit during a Red Sox game is a must-do. The "Patriot" Pilsner is definitely a standout from this brewpub corporation and got 3rd in the 2013 GIBC awards. Other must-haves include the incredibly balanced and substantial Imperial Pilsner, and cask collections. Regular offerings like "Pineapple Saison" and others are always available, although I found that balance seems to be somewhat of an issue with these less popular releases. There are definitely some gems in here however, and the price point can't be beat. Other popular offerings like the Haymarket Hefeweizen, Back Bay Blonde, Dunkelweizens, and the ever popular Blueberry and Watermelon summer ales.
Note Beer Works have a "bar" at Logan Airport in Terminal C, It's like an oasis in the desert. Every airport should have one.
*Tickets for Fenway games are far cheaper towards the 2nd or 3rd inning, and staying at Boston Beer Works for the first inning or so is definitely recommended, as lines to get into the ballpark regularly fill the entire street. Also, a 22oz Hefeweizen or the like at Beer Works is about the same as a 12 oz plastic cup of urine inside the ballpark, so fill up before going inside. Also: don't worry about buying good seats, or seats together at Fenway. Several amazing seats will be vacant for all weekday games, and most weekend games, so just go into the park and wait until the 3rd inning to grab some amazing seats.
Big thank you to Benjamin Allen for the updated "gen"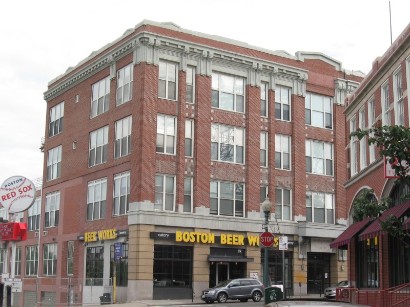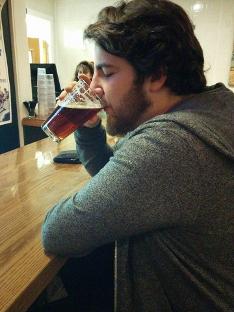 Also worth seaking out for a decent brew or two are the following;
Picco Restaurant - 513 Tremont St, Boston.
Their 13 draft lines are used exclusively for American craft brews; no macros or foreign. They tend to be IPA heavy. Their food is expensive for a place that serves mostly pizza, but the quality is evident. Overall a good experience.
Eastern Standard Kitchen & Drinks - 528 Commonwealth Ave., Boston
An upscale restaurant with a very decent bar. It's kind of fancy, but also with a common-man accessibility. Oddly, they only have 4 beers on tap. The rest of the selection is in bottles. What they have on tap is always good, and the bottle selection is wide-ranging. Eastern Standard is certainly worth trying, even if you only stop by the bar for a beer.

The Lower Depths - 476 Commonwealth Avenue, Boston
16 taps. Mostly American drafts. Lots of bottles. Good Service. Small patio. $1 hot dogs - Awesome!!!
Penguin Pizza - 735 Huntington Avenue, Boston
Penguin Pizza a must do stop for lunch. The tap list is quality over quantity, but there extensive bottle list really rounds out the selection.
DOYLE'S - 3484 Washington St., Jamaica Plain
Doyle's has as much history and personality as any pub in Boston. Established in 1882, Doyle's has been visited by JFK (Sr. and Jr.) and a multitude of other notable Boston natives. The antique phone booths found throughout the pub are remarkable, and you could spend hours just looking at the old wall photos and newspaper clippings. You'll be able to partake of old-style pub meals here along with about 30 draft beers (Harpoon, Sam Adams, Smuttynose, etc.) and some notable bottles like Chimay. Ask for a sample of a draft beer before you order a pint, as sometimes a beer can go a bit stale here! Doyle's only accepts cash money. The pub is only a 20 minute walk or a five minute drive from the Samuel Adams brewery in Jamaica Plain.
Great bottled beer list of 60+ and about 8 local taps, worth a look in if you are a true beer geek.
Bukowski Tavern – 50 Dalton Street.
Great selection of beers in a small tucked away almost literally "hole in the wall" bar.
This place is definitely a South End gem. They have draft lines that change with the season and a small, but good bottled beer selection. The food is awesome too and you can get steak frites for $20! I really like the cosy atmosphere. It's a nice little refuge for those looking to escape the hustle and bustle of the city.
The Origina - l 84 Beacon Street & The Replica - Faneuil Hall Marketplace, Quincy Market.
No visit to Boston would be complete without going to Cheers (where everyone knows your name) Yes I know its a tourist trap and you are going to be over charged and they only serve a couple of the more bland craft brew, but hey what the heck!
The Bull & Finch (The Original) is a neat restaurant but the only part that was on the actual Cheers show was the outside and the stairs. The inside doesn't even look like the show. It was a good restaurant but overpriced. In Quincy Market there is a replica of the Cheers set and it's an actual restaurant and bar.
Note that Logan International Airport has two other Bars of note besides the other two mentioned above, (all airports should be live this). Cisco Brew Pub, Terminal B; 5 Cisco brews on draft . Food menu is what you expect from any other airport spot. & Sam Adams Boston Brewhouse Terminal C, 5 beers on draught and great views
If you have any more recomendations please let me know, cheers Otto