So let's start with a bit of history and scene setting about this great beer town.Antwerpen is renowned as being the diamond capital ofthe world. It is the second largest city and municipality in Belgium as well as the capital of the province of Flanders. This cosmopolitan, down to earth city is full of fascinating architecture and historical institutions, complemented by a lively nightlife.
The city has always held an important place in the Benelux economic union. It is located on the banks of the river Scheldt and is bordered by the countries of The Netherlands, Germany, Luxembourg and France. Next to being the second largest city it is also the second largest port in Europe behind Rotterdam, Netherlands, and is one of the 10 largest ports in the world.
The people of Antwerp have always been known for their happy go lucky way of life. This could be because of their easy-going lifestyles and their liking of good food. Among all the European countries, Antwerpens are known to be the happiest people on earth. For this very reason many tourists are attracted to Antwerp, so that their trip turns out to be relaxing and enjoyable.
The metropolitan is known as the largest trader of diamonds with 70% of trading done in Antwerp. For centuries it has been known as the "diamond capital of the world". Diamond cutting, polishing and trading is the crux of the city's economy.
The trademark cobbled roads, historical heritage, excellent bars and restaurants, diamonds, and chic shopping centres are enough for any tourist to be drawn to Antwerp. Antwerp is a city of many facets like that of being a shopaholic's heaven and a girl's best friend for its diamonds. Beer lovers can have their own 'heady' time by trying all the typical Belgian flavours. There are now five breweries in the city (updated July 2022)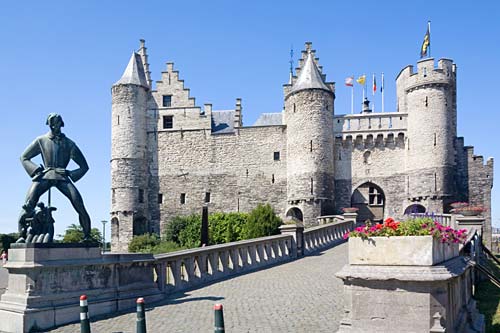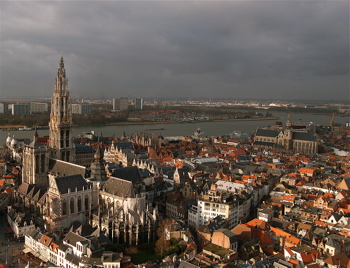 So lets start off to one of the worlds must visit beer bars;
Kulminator, Vleminckveld 32,

Open: Mon 20.00 till ? Tues -Fri 12.00-00.30, Sat 17.00 till ? Closed Sun
Located on a stretch of street, that seems out of place, it's tucked away into the heart of Antwerp and from the outside it looks just like another old European pub. The inside has an old and rustic feel while out back is a small outdoor seating area flushed out by low hanging tree branches and about ten cats running around all over the place. The tome (beer menu) is mind bendingly huge with enough vintages to drown in. I also recommend taking a look in the back cellar window and kindly asking if anything you see is available to be had? Its quiet during the days, which is the best time to visit for a serious session.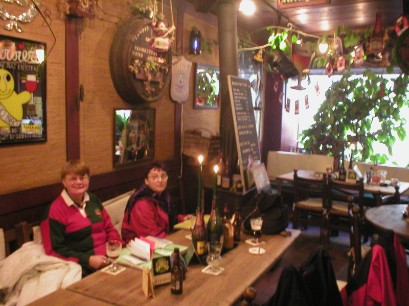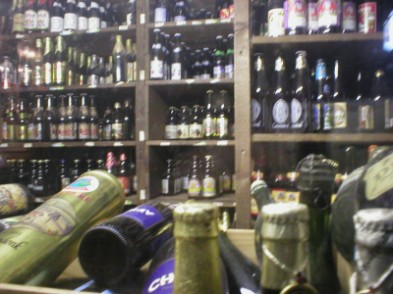 Beerlovers Bar, Rotterdamstraat 105
Open: Wed - Mon 16.00 - 23.00
An incredible selection of Belgian beers and very friendly and knowledgeable staff, that will always explain and advise you about the beers. A bright and modern minimalistic interior. The twelve taps are constantly changing and there's an impressive selection in the fridges too, with an extraordinary amount of gueuze, lambic & sour ales. Not all beers are budget but the prices are very fair; this is not a tourist trap. Outdoor seating is also really nice. Chill and relaxed vibe! The owner is very friendly as well.
Billie's Bier Kafétaria, Kammenstraat 12
Open: Wed - Mon 16.00 - 01.00
For beer lovers, finding a small, cozy intimate spot, that has good beers, is almost a pilgrimage. Billie's is a place to mark on your to go list. Located in a busy area, the inside is quaint and inviting. Enjoy the wide number of offerings on tap and in bottles from local and international brewers. The decor is centered around Billie a cute pooch, and all of his iterations. They even have a little food menu, that goes perfectly with their beverages.
Bier Central, De Keyserlei 25.
Open: Daily 10:00 - 02:00
Someone has spent a lot of money in setting this place up and it looks fantastic, really well done, a true olde worlde feel to it. Lots of beery bits, advertising boards and mirrors etc.... Upstairs their is a disco bar is all '60's retro' in design, with a smaller tap and bottle selection. So the thing here is if you want a quite drink go in the afternoon as it gets very busy and noisy in the evening. Beer wise adecent selection with some true gems, but a bit of a tourist trap so the beers tend to be way over price.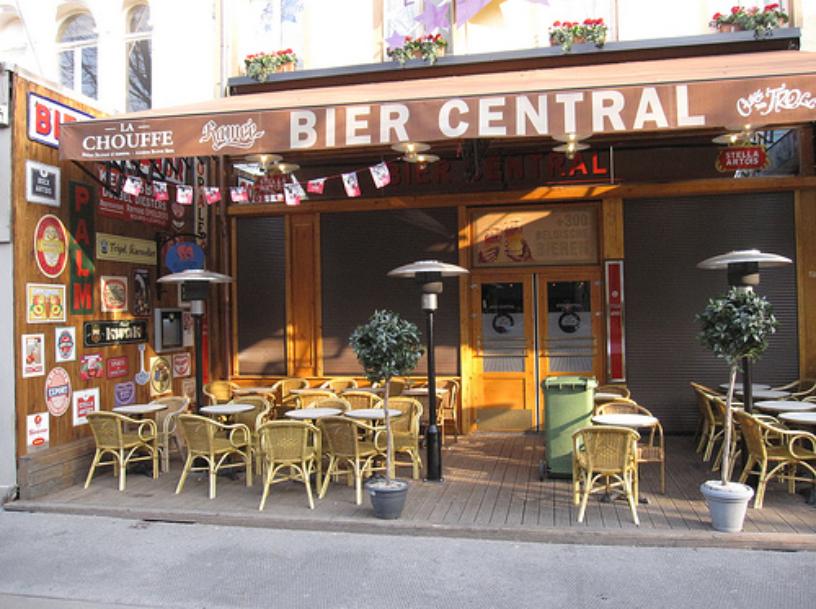 Dr. Beer, Adriaan Brouwerstraat 31 GLV
Open: Wed - Sun 16.00 - 00.00

A new and hip craft beer place in the Eilandje quarter in the north of Antwerp, successfully made cosy. A rotating beer menu, not hundreds of beers, but enough craft beers to keep your innner geek happy! Dr. Beer is correct! He really knows about all his beers. He makes a diagnosis first to know what you prefer. Then he gives perfect recommendations of very special and delicious beers you've never heard of before. Perfect after a visit of the MAS platform at night! A cool place, really cool music, and really friendly folk. Otto says; Try the goat cheese cake it's amazing.

Afspanning 't Waagstuk, Stadswaag 20.
Open Fri: 10.00 - 04.00, Sat: 14.00 - 04.00 Sun: 14.00 - 02.00 Other days: 10.00 - 02.00
This place is not easy to find. It is quite a few turns from the central square in Antwerp, and sort of down a dead-end. It is in a little square, but appeared to be the only place in the square open on the Saturday afternoon? 't Waagstuk is located in a quaint and historic multi-roomed building -formerly a carriage house/inn dating from the mid-16th century. One enters the restaurant through a tiled open courtyard with a few tables; the bar area is to the immediate right of the main door, bypassing a couple small dining rooms. Yellowing plaster walls covered tastefully with artwork prints and some beer-related advertising, a red-orange tile floor with a number of wooden tables and chairs, and a rustic wood-beamed ceiling with hundreds of suspended ceramic mugs exude a comfortable, homey ambience. Our server was excellent. He was an older gentleman, who spoke excellent English and had an encyclopaedic knowledge of beer. He did a great job making recommendations for us. In terms of beer-geek experiences in Antwerp, this is tops especially the Beer Cuisine; The chef and bartender are really cool and can always recommend fantastic meals and beer pairings.
Paters Vaetje, Blauwmoezelstraat 1
OpenSun to Thu :11.00-03.00, Fri & Sat : 11.00 -05.00
Paters is in a very nice position just behind Der Kathedral. On the map it appears to be on a street, but in reality the outdoor seating is just a hop, skip and a jump from the Cathedral walls. The inside of the place is very small but there is an upstairs area which beckons from above the bar.
Run by an all female staff that has little idea of what they have available. Obviously the idea is more to cater to the needs of tourists than beer afficionados. The beer list appeared to only have 5 drafts, but was long with regard to the offerings. Paters does not take Credit Cards, but who cares; make sure you hit a cash machine before going there. Also a must is the WC, as in most Belgian bars be sure to leave your humility at home as you stand at the urinal and the world walks by!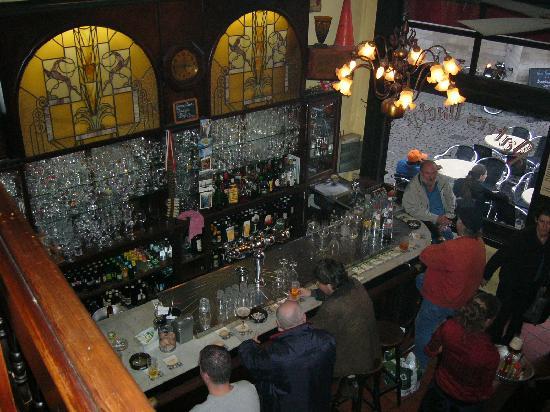 Café Pardaf - craft beer & traditionals, Suikerrui 2
Open: Wed - Sun 14.30 - 00.00
Another of the new generation of beer pubs gracing the city of Antwerp, located at the Schelde quay on the corner with Suikerrui, which many will remember for the Gollem craft beer pub which was located there years ago, until it ceased its activities. A very good selection of beers, both on tap and bottled. The bartenders are very friendly and have a good knowledge of beers and their selection. It has a really old school Belgian local "Oud Bruin" bar feel to it. The interior looks like it dates decades back even though it has no aged look and this place has only been open few years. Highly recommend dropping by here for a few beers if you enjoy tasting different beers.
't Antwaerps Bierhuiske, Hoogstraat 14
Open every day from:11.00 - 02.00
Bierhuiske is a rather small place located in the neighbourhood of Grote Markt and the Kathedraal. It is a long, narrow place, with the bar on the left as you enter. There are lots of mirrors, making the place look larger than it is. There are small tables near the door and along the right wall behind the bar stools and some tables in the rear. There was lots of breweriana on the walls. A long mirror on the wall opposite the bar, and glass behind the bar. It has got a wide range of interesting Belgian bottle beers that you can pick directly from the fridges at the rear end of the bar. There is also have a take-away service. Great friendly staff.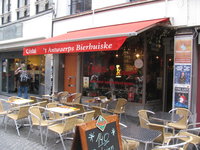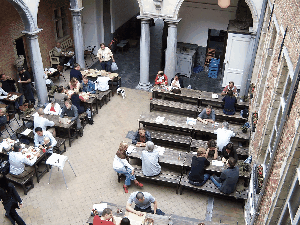 de Groote Witte Arend, Reyndersstraat 18
Open from Sunday till Thursday from 10.30 till 24.00 then Friday till Saturday open from 10.30 till 02.00
Located near the Grote Markt, quite near Kulminator, in a courtyard, with a chapel inside the building (something like convent). In summer, there are about 15 massive wooden tables out in the yard. Inside, it's over two floors, it looks like a medieval church or train waiting room from the beginning of 20th century. Cosy and quiet atmosphere, excellent to relax from some places with loud music, here you can hear just classical music. A very good beer selection, with a few rare beers, and also a beer of the month in big bottles.
Billie's Bier Kafétaria, Kammenstraat 12
Open: Mon - Wed-Fri 16.00 - 23.00 Sat - Sun 14.00 -23.00 Closed - Tues

For beer lovers, finding a small, cosy intimate spot, that has good beers, is almost a pilgrimage. Located A 4-min walk from the Cathedral of Our Lady. Billie's is a place to mark on your to go list. Located in a busy area, the inside is quaint and inviting. Enjoy the wide number of offerings on tap, bottle, local and international. The decor is centered around Billie a cute pooch, and all of his iterations. They even have a little food menu, that goes perfectly with their beverages.

Oud Arsenaal, Maria Pijpelincxstraat 4.
Open; Sat - Sun: 07.30 - 19.30, Other days: from 09.00
This is, of course, a must-visit café in Antwerpen. A wonderful cafe with an original inter-war interior. Despite its fame, still caters mainly for locals. This bar has a really great vibe, and sitting there feeels like one of the 'proper' Belgian pub experiences. No beer list but bottles are displayed behind the bar and the latest offerings are written on blackboards. There is usually something interesting available, often unusual Lambics It is an one roomed, old fashioned and super relaxed café with enough beers on tap and bottle to choose from. The house beer on tap is called Arsenaaltje which is an amber bitter. Polite service. A must stop in my opinion. Otto says; Go for the atmosphere, stay for the beer!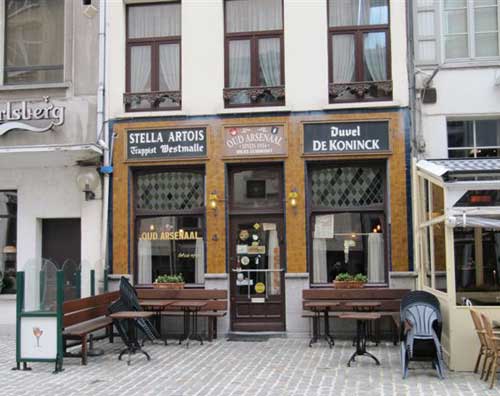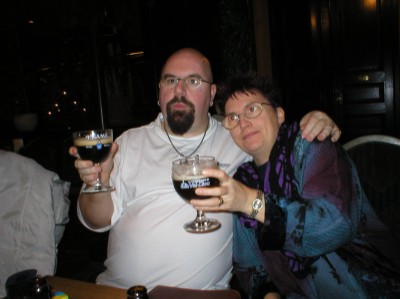 bar Deco, Torfbrug 2
Open: Daily 09.00 - 02.00
A superb local bar, very typical Flemish bar. A cosy interior, very friendly staff and relatively cheap drinks, especially considering the location. A great find if you're looking for great pub! Cheers guys 👍🏻

Quinten Matsijs, Moriaanstraat 17.
Open; Tues - Sat 12.00 till ? Sun 12.00 - 20.00. Closed Mon.
A classic bar in Antwerp, with a replica of a Pannepot. This is an uber-brown café. Quite cosy on a chilly, wet day with a old fireplace. Tucked away in a small alley but close enough to the cathedral to be an easy walk. Very nice decor, well conserved, considering this establishment was created in the XVIth century. The food menu is full of local specialties, at a decent price. A good stop for a Bolleke for sure, and an important part of Antwerp's culture. It even has a Wikipedia entry: Quinten Matsijs, the oldest cafe in Holland and Belgium, lies in the heart of Antwerp. In earlier times, it was known as Cafe T'Gulick. Built in the 16th century, it was for centuries the gathering place for citizens from the principality of Gulick.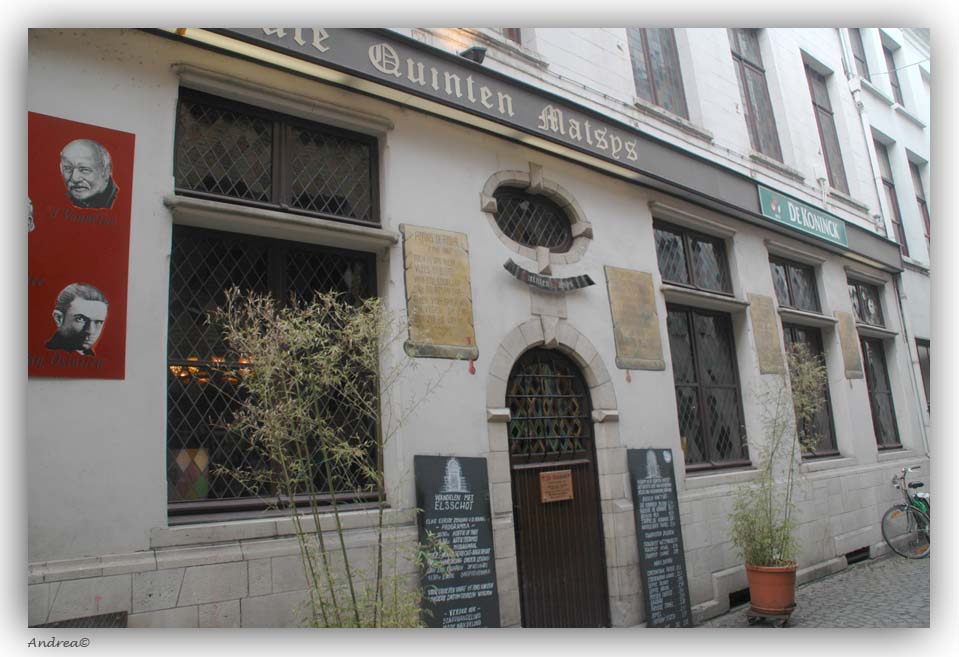 Brouwerij Brochus, Constitutiestraat 28
Open: Phone first
A truly one-of-a-kind beer experience not to be missed! Every aspect of the brewery "1-minute tour" is unmatched, from the taste of the one-off beers to the friendliness and deep knowledge of Nick and Roel the brewers/owners of the smallest Brewery in the world? Thought your town had a local, small craftbrewer? These guys brew 25 liter batches of commercially available beer, every beer being a one off.

Antwerpse Brouw Compagnie, Brouwerij & Taproom, Indiestraat 21
Open: Fri -S un 12.00 - 23.00

An industrial look taproom practically ín the brewery, roomy but cosy. Located walking distance from the more hip neighbourhood Eilandje. This place lies in a notably different neighbourhood and looks to be in what could be a repurposed harbour building / warehouse. It is quite a bit out of the centre. Great beers, especially the IPA and the Nonkel Pater (dark strong beer) are well worth tasting. Also tasty snacks available. Great for groups.

Huisbrouwerij 't Pakhuis, Vlaamse Kaai 76
Open: Daily 11.00 - 23.00

Antwerpens only brewpub is located within walking distance from the city centre .A large converted warehouse type building and modern hall-like brew house, kettles at the front, fermenting vessels to the rear, all clearly visible from where ever you sit. With nothing else than three of their own beers on offer Beers were fine without being exceptional. The food is very tasty. Nothing fancy, but honest good pub food at reasonable prices. Nice to drop by in the afternoon and install yourself at one of the tables with your newspaper or paperback. Very friendly waiting staff! They offer a guided tour of the brewery, including a tasting session of the 3 home brews ; duration approximately 45 minutes. Visitors have the option to order a selection of appetizers during/after the tour (meatballs with 't Pakhuis mustard, salami, 't Pakhuis cheese and olives) or can decide to combine a visit with a meal (lunch, dinner, à la carte/set menu, buffet,...) Well worth it.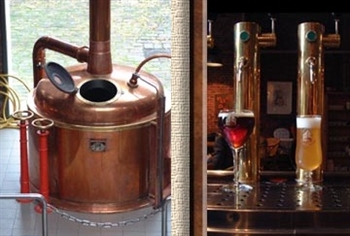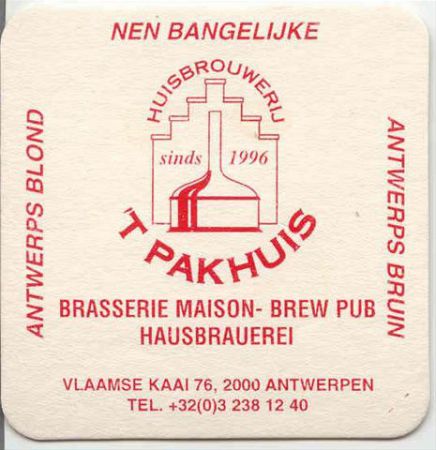 De Koninck - Antwerp City Brewery, Mechelsesteenweg 291
Open: Tues - Sun 11.00 - 19.00
If you want to know about the process of making beer you have to visit this place. It's an interactive and you will defiantly appreciate the experience. The massive investment from Duvel Moortgat which saved this iconic brewery is obvious. Note the fantastic wall art on the exterior of the brewery with each of the core beers being represented by a mural, the Wild Jo pigeons are particularly impressive. Probably an essential visit when in Antwerp.
Inglorious Brew Stars Bvba, Seraphin de Grootestraat 33
Open: Phone first?

It all started in 2012 when Erwin and Benny Van Aerschot, two twin brothers turned 30 and founded Inglorious Brew Stars BVBA. In 2014, after they won the prize of Best Homebrew of Belgium and The Netherlands at the Brouwland Beer Competition, with their Inglorious Quad (IQ) beer. Then in 2015 Cum Laude was launched, the blonde house beer of the University of Antwerp. In the same year IQ won the Gold Medal in the Brussels Beer Challenge, a global contest with over 1000 participating beers!

Het Elfde Gebod, Torfbrug 10
Open every day from 12.00 till ?
Het Elfde Gebod means "The Eleventh Commandment" The interior is large and airy, with brick walls and a red tile floor. The bar is made of brick as well, with no seating at the bar. There were 12 tables for seating, including one very large table, in the front room with more seating upstairs.
The walls and ceiling are adorned with statues of Saints and other church figures, playing on the proximity to the Cathedral next door, giving the place a religious and perhaps somewhat somber feel.

The prices are pretty high, a bit too high frankly. The beer list is not bad but not that big, there is nothing really amazing on it, pretty common craft beers overall. The food list looked a bit more impressive than the beer list, lot of people were eating. Seemed more like a restaurant with a pretty good choice of beers rather than a craft beer bar. If you are visiting Antwerp, may want to stop here to eat and have a beer and then move on.
Café Highlander, 2 Pieter Van Hobokenstraat.
The Café Highlander is actually an Anglo-Scottish Bar, opened in 1998 and close to the City Centre, this very beautiful corner brick building is really a conglomerate of 3 buildings, parts of which date from the 17th Century. The outside is always well presented, smart and festooned with well-cared for window boxes. De Koninck is the best of the bunch of the 6, or so, draft beers.
A small but slightly adventurous range of about 30 bottled plus English and Scottish Bottled Ales are also available, including several offerings from the excellent Broughton Brewery. The beer range, whilst only limited set amongst the high standards of Antwerp, is still unique with its Anglo-Scots flavours and well worth the effort.

A nice place to sit back, relax and drink some great beers in fantastic surroundings amidst friendly company. The Whisky range is much better than the beer, and can top 100 at times, and they regularly holds Whisky Tasting Nights in the downstairs portion of the Bar. Food is limited to Snacks, Burgers, Pasta and Salads. But these are good value for money and if you are Hungry, they will fill a hole.

Elfde Gebod, Torfbrug 10
Open: Daily 12.00 - 23.00
Have you ever tried to drink apple pie with light taste of beer? You can try it here! A lot of different tastes of beer. If you don't know which one to try, the waitress can help. Just say what you like or want to taste in your beer. A very nice place, but realy weird, that just has to be seen. Note the creepy paintings (plane shooting penis!) and the atmospheric statues, a dark inn but still super friendly. Good food "Apostles fish stew" is amazing! Very friendly staff. Definitely a must do IMO.
Café Mombasa, Moorkensplein 37
Open: Tues - Sun 15.00 - 01.00
A trendy and hip cool café. Cyclist oriented too based on the decorations. A bit off the beaten track loca, it is technically in Borgerhout, next to its former town hall, rather than Antwerpen. Breathing an atmosphere from a bygone age. Not only the panelling, furniture, but also the veneration of sports and cycling in particular. Also a spacious outside terrace. The staff are friendly and relaxed. The music is classic throwback tunes and dancing is encouraged. The people that go there are friendly and willing to chat. There are six taps, two of which are changing. There are a good 100 bottles, and there's always promotion of something peculiar. Note: No-table-service and Cash only but an 24 hour ATM 4 minutes walk away. Beers were really nice as well as the people there.
Café Den Uilenspiegel, Suikerrui 27
Open: Thurs - Mon 12.00 - 20.00
Located right next to the city hall & De Grote Markt this is definitely a place that you might stumble at. A standard looking terrace hides a surprisingly small bar with an upscale nicely done bar with modern and pricier furniture. Although the place is focussed on being a "café", it looks like it was edging a bit towards a combo of dining and fine beer, with 5 taps and a couple of bottle fridges. Quite a comfortable little bar with friendly service but not really a beer geek place.
Den Hopsack, Grote Pieter Potstraat 24
Open: Daily till late?
A performance café located in a 15th century building with plenty of beers, that is community run bar. With a great atmosphere, Live music and friendly folk and philisophy debates. One of the very few authentic places in the heart of Antwerp. This is an association that offer of cultural activities.
So thats my take on Antwerp, I hope it will be of some use to you if you visit one day, and don't forget there are plenty more bars of intrest you just need to get out there and find them.

Let me know if you find any hidden gems? 'A VOTRE SANTE' Otto
Go grab a locally brewed pint (or 2) and support your local brewers!