Otto and the littl'un set off in search of the beers of Amsterdam.
Ah, Amsterdam, the very word conjures up images of canals, soft drugs, women posing in windows. Marijuana is everywhere in Amsterdam, from the ever present whiff when you walk past one of the many "smoking" cafes. It's a city where if you want a coffee, you don't go to a coffee shop! You don't leave Amsterdam without either loving it or hating it? Despite Amsterdam's deserved reputation, amongst young people, of being a city of drugs and sex, it has a more interesting side to those of us who like our addictive substances taken from a glass – its beer cafes.
One confusing matter in Holland is the name. The correct name for the country is the Netherlands; factually Holland is the name for the regions around Amsterdam. Holland is in fact a county like Lancashire. Amsterdam is named after the river Amstel which flows into the Ij estuary through the amazing network of canals that permeate the city centre. The network of waterways and the tall gabled townhouses that string themselves along them are one of the delights of this city that offers far more than soft drugs and hard porn. Some of the canal side gables are quite beautiful and lean at alarming angles! The best way to see Amsterdam is to walk, or hire a bike. Also you need to do the obligatory canal cruise. You are never more than 20 minutes from the city centre.
The Netherlands has over 100+ breweries (23 in Amsterdam alone as of Feb 2022) with over 1000 different beers and nearly 250 seasonal brews and with all these to go at you might think it is easy to find a Dutch beer, especially with Amsterdam having over 1200 pubs. Think again, most of the bar's are in the Belgium style or just sell Heineken or Amstel.
So we have tried to make it easy for you to find the best places to imbibe good beer while in the city, starting with the brewpubs. Then a few of our favourite bars and a few beer shops.
Gebrouwen door Vrouwen BAR!, Jan Pieter Heijestraat 119D-h
Open: Wed - Sun 15.00 - 20.00
Brewed by Women is the newest brewpub in Amsterdam (since Mar'19), founded by two We are sisters from Amsterdam and since 2013 they have been brewing their own beer. It's like an old brown café, extra seating outside and in the back. The vibe is young hipsters and locals. They serve up their regular beers and changing own seasonal beers or guest beers on the 12 taps. Plus also the possibility of decent food, sustainable and with beer-food pairing. Very friendly service and very good prices for an Amsterdam bar. A nice cosy little bar. Their mission: brew great beers. But perhaps most importantly: have a lot of fun making and drinking them! I recommend a visit.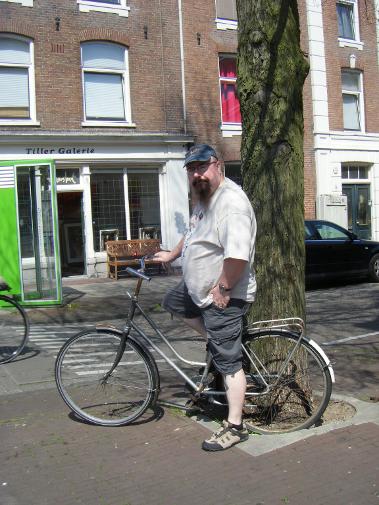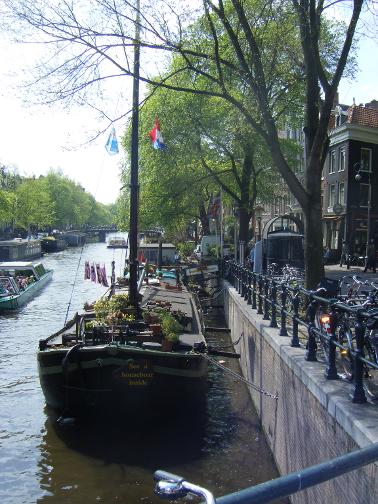 Butcher's Tears, Karperweg 45.
Way out of the beaten tracks, it's located on some far out industrial area (tram number 16 to Haarlemmermeestation and a few hundred metres walk from there to the end of Karperweg) but well worth the effort. Actually, its quite stylish, white tiles on the walls and whitewashed brick walls and benches both inside and out. There is a bar with a few fridges behind it at one end. The stock is written on the tiles behind the bar. Selection is pretty decent, lots of their own stuff obviously, but also some interesting guest taps and bottles. They serve peanuts with the beers and they also have cheese, wine and soda. The name of the brewery comes from the Swedish brewer's nickname, which is "Butcher" (for reasons unknown) and "tears" are the little globules of sugar left over after brewing. We worth a visit.
TEARS, (Butcher's Tears Tap), Jan van Galenatraat 10
Open: Thurs - Sat 15.00 - 19.00 Sun 13.00 - 17.00
A minimalist interior, with the maximalist experience. A really cool place in an understated way.
Oedipus - Brewery & Taproom, Gedempt Hamerkanaal 85
Opening Hours: Thu: 17:00-22:00. Fri & Sat: 14:00-23:00. Sun: 14:00-22:00
Take the free ferry to Ijplein and its an easy walk in a residential area that will lead you to Oedipus. Warehouse, hipster location with greats beers! Not cold inside, actually quite cosy. Lots of benches and couches. Staff are super friendly and talkative, which is nice for the beer traveller. One my favorite kind of tasting rooms, just stuck on to the main facility. Food truck usually there with tasty food. Great place.
Walhalla Brouwerij & Proeflokaal, Spijkerkade 10
Open: Thurs - Sat 14.00 - 23.00 Sun 14.00 - 20.00
Located in Amsterdam Noord, a short 10 minute walk from the ferry (be sure to get the right one), close to Oedipus, which makes it convenient for a combined visit. I'm a big fan of this brewery since it emerged in the Dutch brewing scene and it was nice to hear that their crowd-funded campaign to open a bar was successful. It looks like a converted auto garage, inside it has a very high ceiling, industrial feel with images of the Norse Gods lining the walls of the tasting room, which adjoins the brewery facility. There is plenty of space with a large table in the centre, a small bar in the back and great outdoor seating. A fine range of tapped beers are available, and a flight of 4 comes in an imaginative W-shaped holder. A full array of canned brews are also offered. A range of bar snacks are available, mostly cheese or sausage, with toasties prepared to order for those with a while to spend here. The staff are friendly, enthusiastic and fully conversant in English. A pleasant atmosphere well worth a visit.
De Proefzaak, Hullenbergweg 6
Open:Tue-Wed 11:30-22:00 Thu-Sat 11:30-0:00 Sun-Mon closed
Located between corporate buildings and the not so nice Bijlmer neighbourhood flats. It's an oasis in a concrete jungle. Outside has plenty of sturdy picnic tables, welcoming fire in an old oil drum. Place is made of corrugated sheets, looks like a hangar for a small airplane. Inside is spaceous, to the right is their small brewery, a bit to the left in the back the kitchen and bar with 5 or 6 taps with their own beers. Friendly service. Beers also available in small glasses for €2.60. Nice place in a not so nice part of Amsterdam.
Het Ij Proeflokaal at Funenkade 7.
Upwards and onwards as they say? The wonderfully simple brewery tap of the Brouwerij 't IJ, in a picturesque windmill on a canal side, is most definitely worth the trip out of the city centre. The slightly inconvenient location helps prevent it being overrun with tourists and, no doubt, keep the prices down.
It's very basic inside, with an incredible collection of beer bottles plus a couple of old signs from the buildings previous life (as a public baths) forming about the only decoration. Through a set of double doors you can see through into the brewery itself, but as this is a small brewery with a tasting room attached rather than a pub brewery, the equipment is purely functional rather than having a dual decorative purpose.
There's a small garden area outside. Be warned, however, that the number of seats is quite small, so if you want to soak up some sun with your alcohol, get there very early. At the weekend it can get very full very soon after opening time, with a fairly diverse crowd. Oh, yes, it's also amazingly cheap.
Note the opening hours are Daily 14:00-20:00.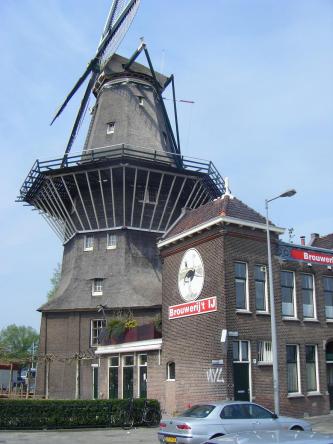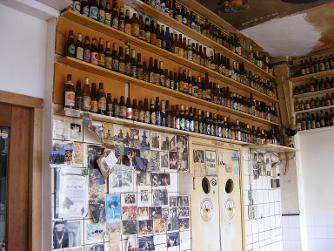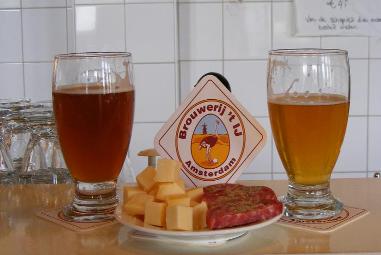 Poesiat & Kater, Polderweg 648
Open: Mon-Fri 11:00-01:00 Sat-Sun 10:00-01:00
New brewpub (2017) in a bit of a residential area, it's a bit out of the way, so best is to combine this with a visit to 't IJ, IMO. Located in a fully renovated monumental building (old church). High ceilings, spartan and modern interior, brewery in the back. Small bar, behind that the kitchen. The place also has an upstairs seating area. Big plus is also the large patio in front of the building. Not really a great view unless you like railways though. Beer is decent and prices are some of the cheapest I have seen. Wifi is available.
Lion's Head Restaurant & Brewery, Van Woustraat 34
Open: Tues - SUn 17.00 - 01.00
A spacious restaurant / bar, looks very clean, modern and warm at the same time. Plenty of tables and chairs, focus is on dining but just drinking a few pints is fine as well. Most tables were reserved, so book in advance, I'd suggest. The staff (all English speaking) are very friendly, eager to explain the beers and food and to keep you happy. The food is of high quality. They have 15 taps, with some guest taps as well. Beers were German style, and they make a fairly decent attempt I must say? Go and make your own mind up dont take my word for it!
De Prael Proeflokaal, Oudezijds Armsteeg 26.
A great little brewpub tucked away down the side streets of Amsterdam. Its a great beer and fun place to hang out in. The place is usually pretty loud and energetic. The decor is fun, and the tap handle WC's in the bathrooms are a great touch. The food is average pub grub, but it's at least nice to eat while drinking (most of the best beer places in Amsterdam don't serve food). Its cash only. The Proeflokaal also has a social reintegration purpose for employees, a second reason to go enjoy a beer there! All in all I would recommend this place, the location is also much to it's advantage, an easy stop for someone pub-crawling the center of Amsterdam.
De Prael Houthavens. Nieuwe Hemweg 2
Open: Mon-Fri 08:00-22:00 Sat-Sun 11:00-22:00
De Prael's second brewpub is located on an industrial site near an urban development area. Outside there is a small patio in front with a few tables, small fire burning as well. Upon entering you walk up to the bar. Left and right have ample seating options. A cool, cozy, relaxed vibe. Lots of young families here. Small food menu available. Six beers on draft, all Prael beers, few bottles available as well. Nice place.
Brouwerij de Prael, Oudezijds Voorburgwal 30-A
Open: Daily 12.00 - 22.00
Located super close to the central station and tucked away in one of Amsterdam's many tiny pedestrian walkways, on the edge of the Red Light district. This is a deceptively large place. They have 11 beers on tap, with 0.25l pours available, or flights of 4 x 0.15l which is served with peanuts. An everyday pub with normal pub fare served in laid-back bar with a cool vibe. Friendly no frills service. Not a top spot by any means in Amsterdam.
Brouwerij De Prael Den Haag, Esperantoplein 20
Their newest bar near The Hague. A pub for good company or a good conversation.
Brouwerij Troost - de Pijp, Cornelis Troostplein 21.
Open: Mon-Thu 16:00-01:00, Fri 16:00-03:00, Sat 14:00-03:00, Sun 14:00-00:00
A brand new brewpub (2014): A short ways away from center, but still pretty much in the thick of things in Amsterdam (Oude Pijp is a great neighborhood for chilling, having a beer, etc.) A large building with the worst furniture ever! Giving it a bit of a classroom feel to it? The ambiance is kind of nice, it's a well lit place by day, with lots of windows. They have a bunch of styles are available 7/8 from weizen to double IPA, all decent quality and you can see the working brewkit and frementing vesels. There are meals available which is also nice for an Amsterdam beer place. Service is a bit nonchalant (which seams normal for a lot of the bars in Amsterdam) and they only take cards! no cash (which is pretty progressive, drinking on credit) Prices are a bit high though, even with the large glasses. An excellent place to hangout. But the No cash is odd, as is the choice of chairs.
Brouwerij Troost - Westergas, Pazzanistraat 27
Open: Mon-Thu 16:00-01:00 Fri 16:00-03:00 Sat 12:00-03:00 Sun 12:00-0:00
Medium-sized, rustic-minimalistic but cozy brewpub,next to the park and a bit of a walk from the center. Feels like a mix of a German bierhaus and modern hipstery place. Flight offered with regular line-up, small glasses for others when asked for. Over a dozen taps, most of which are reserved for their own beers while two are for guest biers. Prices are quite high for self-brewed beer, same goes for the food (which I haven't tried though). But you get used to it in Amsterdam. Staff are friendly and attentive. No cash BTW!
Krux Brouwwerf, Cruquiusweg 83D
Open: Sat 10.00 - 18.00
The place is really remote, you need to walk about 1km from the closest tram stop. But there's a lot of housing development going on in the neighbourhood,so transport may get better? (A smart move to open up brewery and shop here). A classic building with a modern interior with a mix of old, recycled and new furniture, a square bar in the center, some worn furniture in the corners. The brewkit is behinf glass and is all new and shiny. There is also a reasonably sized patio in front and to the side of the building that has canvas sails for shade. Mostly their own beers on tap, a few guests. Own beer range from good to meh! Flights of 5 tasters available. Good friendly service snakes also available.
De Bekeerde Suster at Kloveniersburgwal 6-8.
We did stumble across a brewpub on the outskirts of the red light district the: Formerly the brewpub Maximiliaan, De Bekeerde Suster is now owned and run by De Beiaard Groep, who have another cafe in Amsterdam on the Spui. (If you want to catch them in the act, they usually brew on Wednesday or Thursday.) They do reasonable food here and on our visit they had 3 of their own beers on. We visited in the afternoon and it was quite peaceful. We also visited the sister pub which is the De Beiaard at Marie Heinekenplein 5-8. Here they had four of their own beers on and a good range of Belgium beers, and a large sun terrace at the front, which proved to hot for Otto!
De Bierfabriek, Nes 67
Open: Mon-Thu 15-01:00 Fri 15-02:00 Sat 13:00-02:00 Sun 13-01
Just down from Dam Square, De Bierfabriek is in a 1913 building which has been stripped out inside so it has a very functional feel with lots of concrete in evidence. The steel brew kit is in the window and there's a copper kit inside at the back. In addition to a tea light, every table has a clutch of peanuts and, in mediterranean style, it seems to be de rigeur to chuck the shells on the floor. The tables at the front also have their own personal taps so you can serve yourself, a gimmick, for sure. The kitchen is in the middle. It has an open barbeque, apparently fuelled by real coal of the type that used to be used in people's hearths at home. It was sparking away cooking dozens of small chickens on long double skewers. The beer-marinated chickens are their speciality. They brew three beers on the premises and this may be the best use for them as they weren't anything to write home about. However, the service was friendly and enthusiastic.
Pension Homeland, Kattenburgerstraat 5, Gebouw 006
It's strange having to effectively walk into the grounds of a naval base in order to get to a hotel / brewery, located close to the Scheepvaartmuseum. Not a taproom per sé, but it's the place attached to the brewery where they sell Homeland beer, hence the addition here (and as such). It's basically a hostel/pension with a restaurant and a brewery attached. Very retro look, but it doesn't seem to be done on purpose, so it's just outdated I guess. Lots of linoleum and 60's-70's stuff/tables/stools etc. Not really worth going out of your way for IMO, but I guess as a (beer)tourist(geek) you could use this as your base camp.
Brouwerij De 7 Deugden, Osdorperweg 578 achter
Open: Mon-Thu 09:00-17:00 Fri 14:00-17:00 Sat 16:00-18:00 Calling in advance is adviced
Great micro brewery. The taste and variety of the beers is really good. Also, the owner of the brewery is really friendly. He grabs a beer and chats with you, tells the story of the place and even does a small brewery tour for you.
De Molenzolder in the Heineken Brewery, Stadhouderskade 78
Open: Daily for tours and shop. Closed: Monday?
A tourist site for sure (Of course it's not a craft beer destination). There are many places advertising the "Heinekien Experience". For 18 or 20 Euros (depending on where you purchase tickets), you get a tour of the old brewery giving the history of Heineken, three beers, and a glass. Oh, the brewery doesn't really brew anymore. Not worth the price of admission IMO.
Zest Craft Beer & Food, Bilderdijkstraat 188
Open: Sun - Thurs 15.00 - 23.00 Fri - Sat 17.00 - 01.00
Located at Bilderdijkstraat 188, right near the corner of Kinkerstraat, a popular shopping street, in Amsterdam's 'Upper West' zone. A short walk from the Ten Cate street market and the cinemas at De Hallen. Trams 3, 7 and 17 all stop at our corner. Zest is a cosy little Balkan restaurant/brewpub with an ever changing menu including traditional Bulgarian specialties. The vibe is relaxed and cool, and often spontaneously musical. Bicycle repairmen, lawyers, guitar players, dressmakers, teachers, journalists and hiphop artists all feel at home here! They have 6 taps with there own brews, and a good bottle range. The brewkit can is very small and can be viewed in the rear. Well worth a visit.
Stroop (PROOST & STROOP) (Friekens Brouwerij), Meteorenweg 272
Open: Daily from 11.00 -- Brewery Fri from 16.00 Sat - SUn from 15.00
Friekens is more or less attached to STROOP, a pancake restaurant/bar. It is a beer garden with an outdoor bar (4 taps) and a bunch of picnic tables, with a view of an urban gardening project. STROOP has about 10 bottled beers available, which can also be ordered and drunk in the beer garden, and vice versa on STROOP's terrace, to enjoy with one of their sandwiches or pancakes. It's nice on a sunny day, but nothing to go out of your way for in winter?
Two Chefs Brewing, Moezelhavenweg 6
Open Mon - Fri 09.00 - 18.00
If you're looking for local craft beers in and around Amsterdam, the variety and taste of Two Chefs Brewing beer is unmatched. They've proven themselves over and over again, Great beer! WARNING: this brewery does not have a taproom, so don't be an idiot and go there expecting one! They do have a restaurant, see below:-
Two Chefs Bar, Hugo de Grootplein 7-15
Open: Daily 10.00 - 01.00
This place is fresh AF! Everything attacks your senses! Amazing dishes combined with their own great two chefs beers and an authentic devil-may-care attitude makes for an awesome place to visit. It is not for your snobby aunt, but definitely for your funky uncle!
t'Arendsnest, Herengracht 90
A great bar alongside one of the canals. The best for Dutch beers in Amsterdam with approx 30 taps of Dutch beer and a large bottled range. This bar tries to get at least 1 beer from every Dutch brewery. You can also get a "proeferj" which is a sample tray of 5 beers with water and cracker's. One nice feature here is that they sell 15cl pours as well as larger ones, so ticker friendly. With a canalside view, up a gentle staircase, Arendsnest is narrow and moderate in length, decorated in wood and probably seating 30/35 people at a max. I imagine you'd seat another 20 or so on the canalside terrace. The service is friendly but a little too relaxed at times causing a lengthy wait (by UK standards) to get some beer.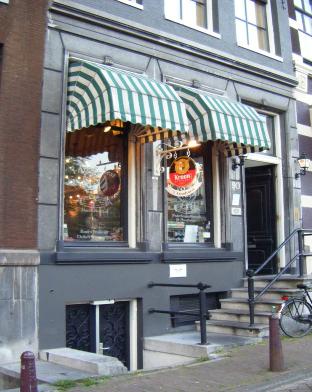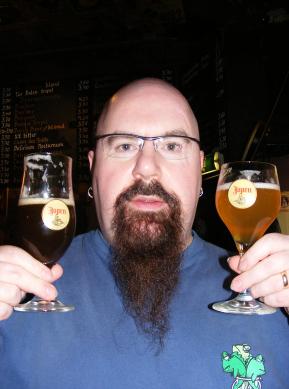 Bierproeflokaal In De Wildeman, at Kolksteeg 3.
Our favourite bar. Over 200 beer's available, 18 of which are on draught. This pub has a Non-smoking room! (As of 2009 the smoking ban has been introduced in the Netherlands). A superb bustling bar! Several times a year they hold special beer weeks. For example, in May when the usual range is replaced by meibock beers, or a British-themed week when several cask-conditioned beers are served.
Whilst we were there they had 2 from the USA's Great Divide brewing Co. The bottled beer selection is much less Belgian dominated than the majority of Dutch beer bars. Available are about 40 Dutch beers, 20 German and 10 British. Amongst the Belgian beers are representatives from all the Trappist breweries, including Achel and Westvleteren, though obviously supplies of the latter cannot always be guaranteed. This is an essential visit.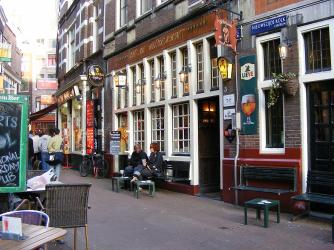 BeerTemple, Nieuwezijds Voorburgwal 250.
Kind of a fake place/bar. The owner calls it "American Beer Bar" with 35 taps with an array of impressive brews but not all from the USA? The place itself was dark, wooden and fairly atmospheric, split over 2 levels also sidewalk seating for warmer days.You won't be blown away by the Beer Temple but it's a solid venue well worth a visit none the less. Just round the corner from Bierkoning and a 7/8 minute walk to Arendsnest or De wildeman.
Craft & Draft - the bar, Overtoom 417
Open: Mon-thu 16-24, fri 16-02, sat 14-02, sun 14-24
Definitely worth the visit. A lot of variety on taps, a lot of Scandinavian, Brittish and Dutch beers, including some rare ones. You can order tasters, you can also take everything from the tap away in growlers and they have a small beer shop as well. Last but not least, the service is great: very knowledgable, passionate and entertaining. Only possible downside could be the size of the place: it can get cramped on a Friday or Saturday night.
Lagunitas TapKabinet, Eerste van der Helststraat 62A,
In 2019, in the heart of the Pijp area you'll find the Lagunitas TapKabinet. Here you can enjoy tasty bites, good vibes, fresh beer and live music (lots of it!). The first Lagunitas Brewing Co. Taproom outside of the U.S.A. has crash landed in Amsterdam.
Gollem, Raamsteeg 4.
A good introduction to the Amsterdam Brown café bar(so called as the walls and everything else are stained brown through years of collective nicotine abuse). This place has been a specialist beer café for the last 20 or so years.
It's a bit gloomy inside, but that can't be helped, given its situation, far from direct sunlight. At the front is a counter surrounded by barstools and up a few steps at the back is a small seating area with a pair of tables.
The decoration is appropriately beery, with various bits of memorabilia strewn around the walls. Gollem was the first specialist beer bar in Amsterdam, way back in the 70's when flares were hip! It offers a pretty extensive range of bottled beers, mostly Belgian and Dutch, but with a smattering of German, Czech and British. In addition to the 9 guest draught beers, there are always several 'guest' bottled beers.
Gollem de Pijp - Gollem II, Daniel Stalpertstraat 74,
Open: Mon-Fri 16.00-01.00 Weekends 14.00-02.00
The second Gollem café bar. Here they offer beer cuisine in addition to all those bottles, it's a stone's throw from the former Heineken brewery. Compared to the Gollem in the city centre, this one's positively spacious. The pale-coloured walls contribute to the effect of roominess. The beer list is exclusively Belgian, the La Trappe, Ij beers and Pilsner Urquell excluded.
Gollem's Proeflokaal, Overtoom 160-162
Open; Mon-Thu 1300-0100, Fri & Sat 1200-0300,Sun1200-0100
Gollem's third installment. A cosy wooden interior. Beer list primarily revolves around Belgian classics and Dutch craft, completed with easy-to-get German classics and American craft, but overall, nota ticker's paradise. Service was a bit inexperienced and neither very friendly or very knowleadgable. If you're in this neighborhood, take Craft & Draft, which is cosier, much more exciting in terms of beer and much friendlier and more accessible in service.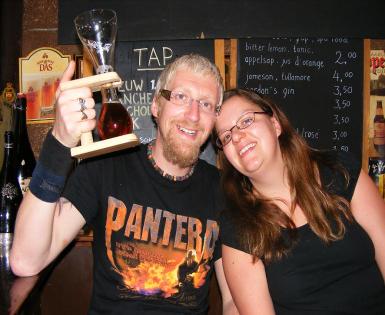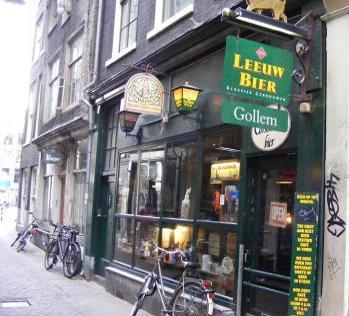 Now a couple of the better beer shops in Amsterdam, sadly one of our old favourites is now closed.
De Bierkoning, Paleisstraat 125.
A small store close to the Dam. Great shop with a wide range of beers from different countries. Many American breweries, lots of Dutch breweries (Molen, 't IJ etc) as well. Shelves with Rogue, Mikkeler, Brewdog, Anchor... Also a small stock of hard to find beers. The shop is split into three levels. Beers are sorted by country and easy to find. Service is very good and they are very helpful and fond of giving advice. Must visit for tourists who don't want to visit the usual tourist crap in the city.
Sterk Avondverkoop, De Clercqstraat 1-9.
This shop is situated on a corner and is quite a good size. Huge selection, a lot of local breweries, many from Amsterdam. Also a decent selection of foreign breweries, from UK, Belgium, Scandinavia and the US. Friendly staff, that was very helpful. Foreign beers are a bit expensive, but local beers are quite affordable. They take a variety of cards but note if you spend under €50 there is a small charge. OK Bierkoning will still offer much more and is more centrally located but this is much cheaper and much easier to browse in and around.
The Beer Tree, Jan Pieter Heijestraat 148.
New shop (2014), with a broad selection of beers from mostly well-known breweries, some unknown gems. Interior is Spartan but nice, but couldn't find any structure in the way the beers were displayed. Soon to be the first place in NL with growler fills? Prices are decent, service friendly. Certainly has potential once they've established themselves.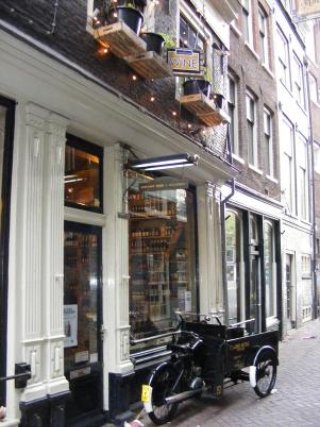 Hoppy Days, Koggestraat 1A.
Located right in the city centre, at the back of the popular BitterZoet. An Italian beer bar that consists of two area's: a lunchroom like area at the front and in the back a more loungy bar. It all feels a bit like a canteen or a students dorm (but then tidied up).But saying that is nice and warm and cosy. Some interesting Italian beers on tap. The staff here are incredibly passionate and it shows. They are regularly updating their tap selection with fine Italian beers in perfect form every time. The care given to selecting and serving beers in this bar matches the gold standard. We worth a visit and the food is good as well.
Foeders, Ceintuurbaan 257H
Open; Mon-Thur 14:00-01:00 / Fri 14:00-03:00 / Sat-Sun 12:00-03:00
Excellent pub dedicated to good beer drinking. All together there are 36 taps, many of them from interesting Dutch micros. A rather small one-roomed place with the bar to the left of the entrance and then a drinking room with wooden benches.Traditional, almost old fashion pub interiors, with a retro touch to it. Pub food options, are cheese and meat plate's that are just the right partner for beer.
Café Brecht, Weteringschans 157.
Located on the side of a busy roundabout, which is weird, but inside opens up a very nice scenery. A small bar and a bit bigger seating, or more lounging area. Old style furniture, seats and sofa's. Supposed to be Berlin/ Victorian style. All beers are German, most quite uncommon. Food isnt German strangely enough, they do serve pretzels and cake, but the sandwiches are Italian. Friendly but unknowledgeable staff. Great atmosphere as well. Well worth a visit for sure.
'cause BEER loves FOOD, Lange Leidsedwarsstraat 4
Open: Sun-Thu 16:00-0:00 Fri/Sat 16:00-2:00
The fourth pub under the wings of Peter van den Arend, after Arendsnest, BeerTemple and Craft & Draft, apparently located in the former Jopen tasting room, at the quiet end of an otherwise busy street teeming with eateries. A noteworthy attempt at food and beer pairing, an aspect of modern day beer culture which still seems a bit underexposed (certainly in comparison with the wine tradition). Tap and bottle list is comparable with what you'll find at Craft & Draft, with obviously a prominent presence of Morebeer's creations. Wooden interior, perhaps still a bit rough on the edges but nevertheless very agreeable, albeit small. Prices are steep, but the selection comprises interesting one-offs and exciting craft beers from different European countries. Bit understaffed it seems, as the place was rather crowded and the two young people operating it, but managed to do so with great friendliness and professionalism.
Helst (prev. The Wateringhole), Eerste van der Helststraat 72
Open: Daily 11:30-1:00
A small to medium-sized, quite modern but still cozy bar with 30 options from tap and additional bottles from the fridge. A very diverse selection, the range goes from a few local options over Spanish and Scandinavian brews to Czech and Belgian beers. The prices are as high as in comparable places in Amsterdam. The staff are very friendly a good addition to the Amsterdam beer scene!
Café Belgique at Gravenstraat 2.
Another must do pub before you die, with 8 draught beers and over 40+ bottles, this is one of the smallest beer bars I have been in. They have 4 wooden benches outside at the front and this literally doubles the seating! The carved wooden counter, glass shelves and gleaming brass taps lend a turn-of-the-century air which draws in many an idle passer-by. The decoration is appropriately beery, consisting mostly of the old enamel advertising signs which used to adorn the exterior of Belgian pubs. There's usually a new draught every two weeks or so and these have included such rarities as N'ice Chouffe, the outstanding winter beer from La Chouffe and La Trappe Quadrupel usually graces one of the beer taps.
Laurierboom at Laurierstraat 76.
A good pub for talking about "particle physics" playing chess and drinking "Chouffe" at a democratic price. Hidden away from the eyes of most tourists and probably most inhabitants too, the bulldozers have been transforming the streets of little houses into streets of crappy modern flats. Tucked away amongst some of the ugliest buildings in the city this is a traditional-looking corner pub in one of the few remaining old buildings. An apparently randomly chosen selection of arty prints brightens up the place a little and a more common touch is given by the billiard table and dartboard. There is also a small selection of board games. The beer range is OK.
De Spuyt, Korte Leidsedwarsstraat 86.
Nice and friendly beer café a couple of blocks away from the Leidsesplein. Fairly small with an interior in brown wood. Friendly and efficient service. 8 taps, mainly with Dutch and Belgian beers. Good bottle seelction, not massive, but well chosen. Mainly from Belgium, but some beers from other countries. Interesting selection of Dutch beers, with quite a good selection from Amsterdam brewers. Atmosphere was quite calm and friendly. Well worth a visit.
Tap Zuid, Maasstraat 70
Open: Daily 16.00-1.00// Weekend-3.00
Located in a residential area of the city, in a nice square. Great patio, lots of locals, probably not all coming specifically for the beers. No tourists, which is simply awesome compared to the horribly busy city centre in the evenings! Rather extensive tap and bottle selection, considering this is a locals bar, and not for the beer geeks. Lots of local beers, some smaller harder to get breweries, plus some larger Belgian and American stuff. Food looked pretty good, offering things like nachos and flammkuchen. Good vibe, friendly service. Would be my go to bar when I lived in the neighbourhood.
Café Brecht, Weteringschans 157
Open; Mon-Fri 12-01, Fri-Sat 12-03
A place specializing on German style beers, its very weird, a slice of cold war Berlin in the middle of Amsterdam. The main (beer) interest here are German beers which the owner sources directly from that country. Slowly getting more modern micro brewery beers, but the atmosphere of the place is the more important feature. Worth going to if in the area.
Dopey's Elixer, 2e van der Helststraat 52
Open: Mon-Thu 12:00-01:00 Fri 12:00-02:00 Sat 16:00-02:00 Sun 16:00-22:00
A cozy, little corner pub in the Nieuwe Pijp area. Old fashion British lookalike L-shaped room, dark lit with beige wooden interiors. A tap list of 21 supported by bottles. Their house beer is made by Pontus. Beers are served in 330ml measures. Polite service and friendly atmosphere. Tamla Motown music in the background. Food options. Outdoor seating. Well worth a visit.
Little Délirium Café Amsterdam, De Ruyterkade 42
Located on the IJ side of the central station. 20 taps including some nice surprises among the Delirium beers. Typical Amsterdam prices. Great for a train station bar.
Otto says drink beer now and avoid the Christmas rush.
Zum Wohl!