Otto and the littl'un set off in search of the beers of Amsterdam.
Ah, Amsterdam, the very word conjures up images of canals, soft drugs, women posing in windows. Marijuana is everywhere in Amsterdam, from the ever present whiff when you walk past one of the many "smoking" cafes. It's a city where if you want a coffee, you don't go to a coffee shop! You don't leave Amsterdam without either loving it or hating it? Despite Amsterdam's deserved reputation, amongst young people, of being a city of drugs and sex, it has a more interesting side to those of us who like our addictive substances taken from a glass – its beer cafes.
One confusing matter in Holland is the name. The correct name for the country is the Netherlands; factually Holland is the name for the regions around Amsterdam. Holland is in fact a county like Lancashire. Amsterdam is named after the river Amstel which flows into the Ij estuary through the amazing network of canals that permeate the city centre. The network of waterways and the tall gabled townhouses that string themselves along them are one of the delights of this city that offers far more than soft drugs and hard porn. Some of the canal side gables are quite beautiful and lean at alarming angles! The best way to see Amsterdam is to walk, or hire a bike. Also you need to do the obligatory canal cruise. You are never more than 20 minutes from the city centre.
The Netherlands has over 60 breweries (9 in Amsterdam alone as of 2015) with over 450 different beers and nearly 250 seasonal brews and with all these to go at you might think it is easy to find a Dutch beer, especially with Amsterdam having over 1200 pubs. Think again, most of the bar's are in the Belgium style or just sell Heineken or Amstel.
So we have tried to make it easy for you to find the best places to imbibe good beer while in the city, starting with the 6 brewpubs. Then a few of our favourite bars and a few beer shops.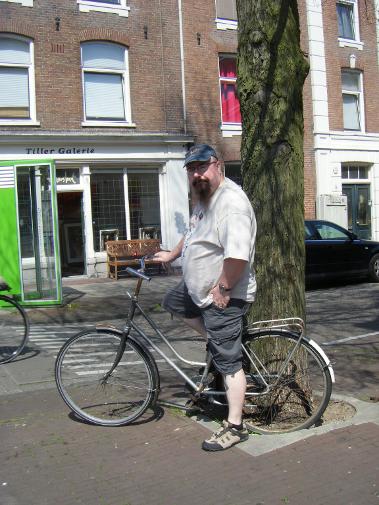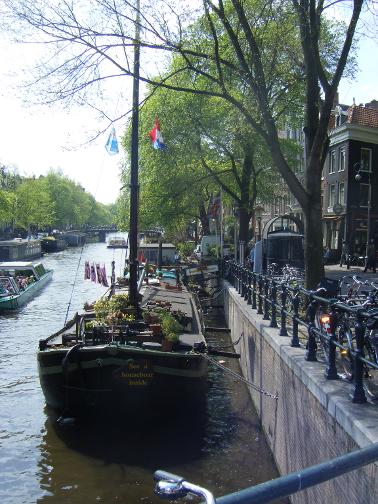 Butcher's Tears, Karperweg 45.
Way out of the beaten tracks, it's located on some far out industrial area (tram number 16 to Haarlemmermeestation and a few hundred metres walk from there to the end of Karperweg) but well worth the effort. Actually, its quite stylish, white tiles on the walls and whitewashed brick walls and benches both inside and out. There is a bar with a few fridges behind it at one end. The stock is written on the tiles behind the bar. Selection is pretty decent, lots of their own stuff obviously, but also some interesting guest taps and bottles. They serve peanuts with the beers and they also have cheese, wine and soda. The name of the brewery comes from the Swedish brewer's nickname, which is "Butcher" (for reasons unknown) and "tears" are the little globules of sugar left over after brewing. We worth a visit.
Het Ij Proeflokaal at Funenkade 7.
Upwards and onwards as they say? The wonderfully simple brewery tap of the Ij brewery, in a picturesque windmill on a canal side, is most definitely worth the trip out of the city centre. The slightly inconvenient location helps prevent it being overrun with tourists and, no doubt, keep the prices down.
It's very basic inside, with an incredible collection of beer bottles plus a couple of old signs from the buildings previous life (as a public baths) forming about the only decoration. Through a set of double doors you can see through into the brewery itself, but as this is a small brewery with a tasting room attached rather than a pub brewery, the equipment is purely functional rather than having a dual decorative purpose.
There's a small garden area outside. Be warned, however, that the number of seats is quite small, so if you want to soak up some sun with your alcohol, get there very early. At the weekend it can get very full very soon after opening time, with a fairly diverse crowd. Oh, yes, it's also amazingly cheap, with the strongest beers only costing €3.30? for 30cl. Note the opening hours are Wed - Sun 15:00-20:00 Mon - Tue closed.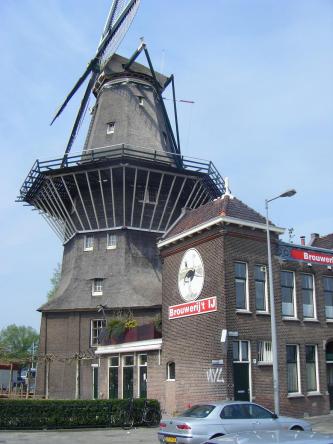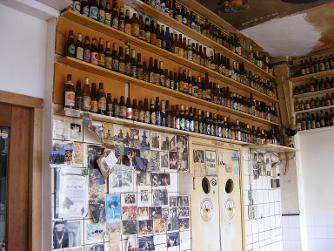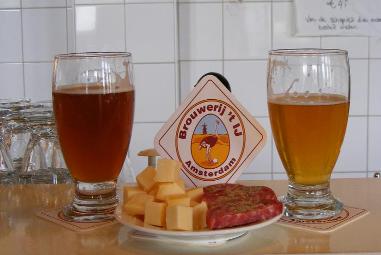 De Prael Proeflokaal, Oudezijds Armsteeg 26.
A great little brewpub tucked away down the side streets of Amsterdam. Its a great beer and fun place to hang out in. The place is usually pretty loud and energetic. The decor is fun, and the tap handle WC's in the bathrooms are a great touch. The food is average pub grub, but it's at least nice to eat while drinking (most of the best beer places in Amsterdam don't serve food). Its cash only. The Proeflokaal also has a social reintegration purpose for employees, a second reason to go enjoy a beer there! All in all I would recommend this place, the location is also much to it's advantage, an easy stop for someone pub-crawling the center of Amsterdam.
Brouwerij Troost, Cornelis Troostplein 21.
A brand new brewpub (2014): A short ways away from center, but still pretty much in the thick of things in Amsterdam (Oude Pijp is a great neighborhood for chilling, having a beer, etc.) A large building with the worst furniture ever! Giving it a bit of a classroom feel to it? The ambiance is kind of nice, it's a well lit place by day, with lots of windows. They have a bunch of styles are available 7/8 from weizen to double IPA, all decent quality and you can see the working brewkit and frementing vesels. There are meals available which is also nice for an Amsterdam beer place. Service is a bit nonchalant (which seams normal for a lot of the bars in Amsterdam) and they only take cards! no cash (which is pretty progressive, drinking on credit) Prices are a bit high though, even with the large glasses. An excellent place to hangout. But the No cash is odd, as is the choice of chairs.
De Bekeerde Suster, Kloveniersburgwal 6-8.
A very nice brewpub with classic dark wood interior with lots of bress etc. it has kind of has an old feeling to it. Its is quite cosy and there is a little canal side seating area were you can sit and enjoy good quality beers together with some cheese enjoying the atmosphere with all the busy bicyclers going passed. They usually have 3/4 of their own beers on tap plus a couple of others from Belgium. The food is very unpretentious, fairly well priced and quite tasty. As a beer place though it's not amazing - but as a stop for some food and to chill it's great.
De Bierfabriek, Rokin 75.
Just down from Dam Square, De Bierfabriek is in a 1913 building which has been stripped out inside so it has a very functional feel with lots of concrete in evidence. The steel brew kit is in the window and there's a copper kit inside at the back. In addition to a tea light, every table has a clutch of peanuts and, in mediterranean style, it seems to be de rigeur to chuck the shells on the floor. The tables at the front also have their own personal taps so you can serve yourself, a gimmick, for sure. The kitchen is in the middle. It has an open barbeque, apparently fuelled by real coal of the type that used to be used in people's hearths at home. It was sparking away cooking dozens of small chickens on long double skewers. The beer-marinated chickens are their speciality. They brew three beers on the premises and this may be the best use for them as they weren't anything to write home about. However, the service was friendly and enthusiastic.
t'Arendsnest, Herengracht 90
A great bar alongside one of the canals. The best for Dutch beers in Amsterdam with approx 30 taps of Dutch beer and a large bottled range. This bar tries to get at least 1 beer from every Dutch brewery. You can also get a "proeferj" which is a sample tray of 5 beers with water and cracker's. One nice feature here is that they sell 15cl pours as well as larger ones, so ticker friendly. With a canalside view, up a gentle staircase, Arendsnest is narrow and moderate in length, decorated in wood and probably seating 30/35 people at a max. I imagine you'd seat another 20 or so on the canalside terrace. The service is friendly but a little too relaxed at times causing a lengthy wait (by UK standards) to get some beer.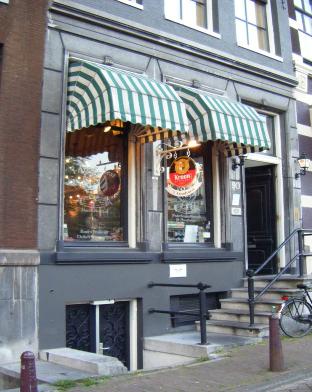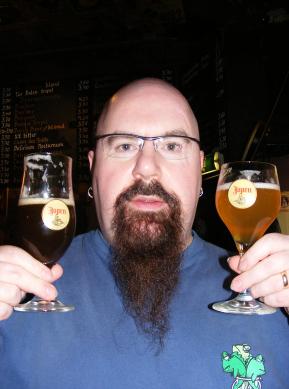 Bierproeflokaal In De Wildeman, at Kolksteeg 3.
Our favourite bar. Over 200 beer's available, 18 of which are on draught. This pub has a Non-smoking room! (As of 2009 the smoking ban has been introduced in the Netherlands). A superb bustling bar! Several times a year they hold special beer weeks. For example, in May when the usual range is replaced by meibock beers, or a British-themed week when several cask-conditioned beers are served.
Whilst we were there they had 2 from the USA's Great Divide brewing Co. The bottled beer selection is much less Belgian dominated than the majority of Dutch beer bars. Available are about 40 Dutch beers, 20 German and 10 British. Amongst the Belgian beers are representatives from all the Trappist breweries, including Achel and Westvleteren, though obviously supplies of the latter cannot always be guaranteed. This is an essential visit.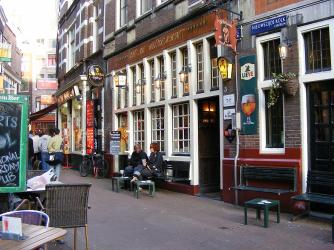 BeerTemple, Nieuwezijds Voorburgwal 250.
Kind of a fake place/bar. The owner calls it "American Beer Bar" with 35 taps with an array of impressive brews but not all from the USA? The place itself was dark, wooden and fairly atmospheric, split over 2 levels also sidewalk seating for warmer days.You won't be blown away by the Beer Temple but it's a solid venue well worth a visit none the less. Just round the corner from Bierkoning and a 7/8 minute walk to Arendsnest or De wildeman.
Gollem, Raamsteeg 4.
A good introduction to the Amsterdam Brown café bar(so called as the walls and everything else are stained brown through years of collective nicotine abuse). This place has been a specialist beer café for the last 20 or so years.
It's a bit gloomy inside, but that can't be helped, given its situation, far from direct sunlight. At the front is a counter surrounded by barstools and up a few steps at the back is a small seating area with a pair of tables.
The decoration is appropriately beery, with various bits of memorabilia strewn around the walls. Gollem was the first specialist beer bar in Amsterdam, way back in the 70's when flares were hip! It offers a pretty extensive range of bottled beers, mostly Belgian and Dutch, but with a smattering of German, Czech and British. In addition to the 9 guest draught beers, there are always several 'guest' bottled beers.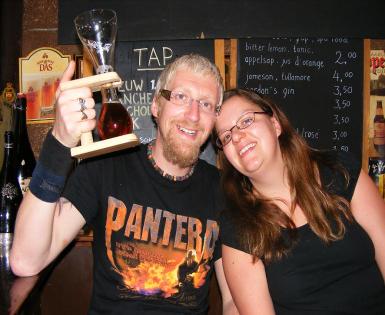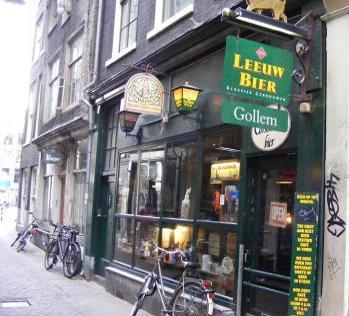 Now a couple of the better beer shops in Amsterdam, sadly one of our old favourites is now closed.
De Bierkoning, Paleisstraat 125.
A small store close to the Dam. Great shop with a wide range of beers from different countries. Many American breweries, lots of Dutch breweries (Molen, 't IJ etc) as well. Shelves with Rogue, Mikkeler, Brewdog, Anchor... Also a small stock of hard to find beers. The shop is split into three levels. Beers are sorted by country and easy to find. Service is very good and they are very helpful and fond of giving advice. Must visit for tourists who don't want to visit the usual tourist crap in the city.
Sterk Avondverkoop, De Clercqstraat 1-9.
This shop is situated on a corner and is quite a good size. Huge selection, a lot of local breweries, many from Amsterdam. Also a decent selection of foreign breweries, from UK, Belgium, Scandinavia and the US. Friendly staff, that was very helpful. Foreign beers are a bit expensive, but local beers are quite affordable. They take a variety of cards but note if you spend under €50 there is a small charge. OK Bierkoning will still offer much more and is more centrally located but this is much cheaper and much easier to browse in and around.
The Beer Tree, Jan Pieter Heijestraat 148.
New shop (2014), with a broad selection of beers from mostly well-known breweries, some unknown gems. Interior is Spartan but nice, but couldn't find any structure in the way the beers were displayed. Soon to be the first place in NL with growler fills? Prices are decent, service friendly. Certainly has potential once they've established themselves.

De Gekraakte Ketel (OUT OF BUSINESS 2013)
Directly opposite, just across the alleyway is a specialist beer shop which sells around 300 different bottled beers and is run by a very enthusiastic Scot. The emphasis was on beers from the Netherlands, Belgium and Germany.
The plan was to build a small brewery at the rear of the premises to brew, amongst other things, a house beer for Gollem.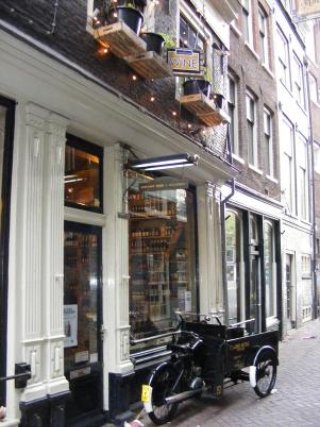 Right bar to a few more bar's to visit;
Hoppy Days, Koggestraat 1A.
Located right in the city centre, at the back of the popular BitterZoet. An Italian beer bar that consists of two area's: a lunchroom like area at the front and in the back a more loungy bar. It all feels a bit like a canteen or a students dorm (but then tidied up).But saying that is nice and warm and cosy. Some interesting Italian beers on tap. The staff here are incredibly passionate and it shows. They are regularly updating their tap selection with fine Italian beers in perfect form every time. The care given to selecting and serving beers in this bar matches the gold standard. We worth a visit and the food is good as well.
Café Brecht, Weteringschans 157.
Located on the side of a busy roundabout, which is weird, but inside opens up a very nice scenery. A small bar and a bit bigger seating, or more lounging area. Old style furniture, seats and sofa's. Supposed to be Berlin/ Victorian style. All beers are German, most quite uncommon. Food isnt German strangely enough, they do serve pretzels and cake, but the sandwiches are Italian. Friendly but unknowledgeable staff. Great atmosphere as well. Well worth a visit for sure.
Gollem Café en Bierkeuken , Daniel Stalpertstraat 74,
The second Gollem café bar. Here they offer beer cuisine in addition to all those bottles, it's a stone's throw from the former Heineken brewery. Compared to the Gollem in the city centre, this one's positively spacious. The pale-coloured walls contribute to the effect of roominess. The beer list is exclusively Belgian, the La Trappe, Ij beers and Pilsner Urquell excluded.
Café Belgique at Gravenstraat 2.
Another must do pub before you die, with 8 draught beers and over 40+ bottles, this is one of the smallest beer bars I have been in. They have 4 wooden benches outside at the front and this literally doubles the seating! The carved wooden counter, glass shelves and gleaming brass taps lend a turn-of-the-century air which draws in many an idle passer-by. The decoration is appropriately beery, consisting mostly of the old enamel advertising signs which used to adorn the exterior of Belgian pubs. There's usually a new draught every two weeks or so and these have included such rarities as N'ice Chouffe, the outstanding winter beer from La Chouffe and La Trappe Quadrupel usually graces one of the beer taps.
We did stumble across a brewpub on the outskirts of the red light district the:

De Bekeerde Suster at Kloveniersburgwal 6-8.
Formerly the brewpub Maximiliaan, De Bekeerde Suster is now owned and run by De Beiaard Groep, who have another cafe in Amsterdam on the Spui. (If you want to catch them in the act, they usually brew on Wednesday or Thursday.) They do reasonable food here and on our visit they had 3 of their own beers on. We visited in the afternoon and it was quite peaceful. We also visited the sister pub which is the De Beiaard at Marie Heinekenplein 5-8. Here they had 4 of their own beers on and a good range of Belgium beers, and a large sun terrace at the front, which proved to hot for Otto!
Laurierboom at Laurierstraat 76.
A good pub for talking about "particle physics" playing chess and drinking "Chouffe" at a democratic price. Hidden away from the eyes of most tourists and probably most inhabitants too, the bulldozers have been transforming the streets of little houses into streets of crappy modern flats. Tucked away amongst some of the ugliest buildings in the city this is a traditional-looking corner pub in one of the few remaining old buildings. An apparently randomly chosen selection of arty prints brightens up the place a little and a more common touch is given by the billiard table and dartboard. There is also a small selection of board games. The beer range is OK.
De Spuyt, Korte Leidsedwarsstraat 86.
Nice and friendly beer café a couple of blocks away from the Leidsesplein. Fairly small with an interior in brown wood. Friendly and efficient service. 8 taps, mainly with Dutch and Belgian beers. Good bottle seelction, not massive, but well chosen. Mainly from Belgium, but some beers from other countries. Interesting selection of Dutch beers, with quite a good selection from Amsterdam brewers. Atmosphere was quite calm and friendly. Well worth a visit.
Gollem's Proeflokaal, Overtoom 160-162.
As it is impossible to find even standing room at weekends, you had better try a weekday night. A Smoking bar! Kind of retro atmosphere, the bar is long and oddly shaped and the ambiance struck me as quite strange. The bartender is quite friendly though and the food is tasty. Not too much special going on beer wise,but they have some cool taps with a few seasonal Dutch beers and many Belgian classics at an affordable price. If you are in the neighbourhood not a bad place.
Otto says drink beer now and avoid the Christmas rush.
Zum Wohl!