Székesfehérvár is not a great beer destination but you can find a few gems? [updated May 2022] Located roughly 60 km southwest of Budapest, and is considered Hungary's first city, as this was the royal seat of King Szent István (also known as Saint Stephan). Though most of the medieval city was destroyed by the Turks, it was rebuilt to glory under Maria Theresa Habsburg. The city is between Lake Velence and Lake Balaton, making it an ideal stop-off between the two. [updated May 2022]
Tourinform Centre, Oskola u. 2-4
Getting there;
By train:
The train station is roughly 1 km south of the town center and can easily be walked. Alba Volán runs frequent bus connections to the town center. There are very frequent rail services from Budapest. First, there is an hourly commuter train service (labelled személy) to Székesfehérvár, stopping at almost every station and taking 80 minutes to arrive. Second, there is an hourly intercity rail service (labelled gyors and not InterCity) running to Szombathely and Nagykanizsa alternately, stopping only at Kelenföld on its way and taking 65 minutes to arrive. All trains depart from the Budapest-Déli station and to not serve the Nyugati and Keleti stations.
By bus:
Bus Station (Székesfehérvár autóbuszállomás), Piac tér 30 (south of Piac square and a short walk around the corner to the old town center). Prebooking cashdesk open: M-F 05:30-19:00 (first week of the month), Sa 07:00-14:00, in second half of the month only till 18:00 and 12:00. Direct connections from Budapest, Népliget bus station. The journey takes roughly 1hr 15min. Prices are exactly the same for the bus and for the train. The only advantage then to taking a bus instead of the train would be that the city bus station is located exactly in the downtown. Buses to Pápa (between 08:00 and cca. 19:00, hourly,about 2 hours).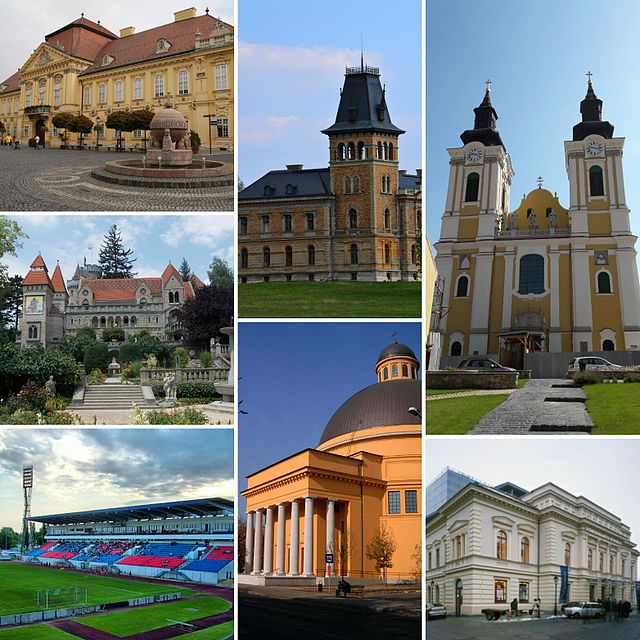 Beeráló - Craft Beer Pub, Megyeház utca 10
Open: Mon-Thu 16.00-22.00, Fri-Sat 14.00-02.00, Sun. 14.00-22.00
Opened Dec 2017: A basement bar with green tiles and white walls, two rooms and two TV-screens, located in the old part of Székesfehérvár. Sixteen (16) taps and all Hungarian, hurrah! plus 30+ foreign bottles. One of the first "modern" Hungarian craft beer place outside of Budapest? Fast, friendly service with a good knowledge of the beers, some basic food was available. Very popular in weekends among the younger crowd. Highly recommended and a must VISIT if in area.
Salvator, Ányos Pál 3
Open: Daily 11:30-23:00
A cool Paulaner resturant in a safe neighborhood, serving great dishes of tasty food. Visiting this place is best in the summer, you can sit in the bier-garden and drink some German beer and eat some delicious Bavarian food. One of the best restaurants in Székesfehérvár
Szent Gellert Hotel and Bar, Mátyás király köruút 1
Open: Daily 10:00-22:00
Set in the historic downtown area, this bright, modern hotel is a 5-minute walk from National Memorial Place and 5 km from Bory Castle. A bar/brasserie in connection with the Szent Gellert Hotel in the centre of Szekesfehervar. A fairly modern place with wi-fi which still is a big thing in Hungary. Selection is the three contract brewed house beers of Szekesfehervar; A pilsner - szent gellert, a porter - prepost, and a hefeweizen - szent imre. They also sell a big assortment of Monyo brewery in bottles. Also present some other, smaller Hungarian breweries. Bar staff has zero knowledge of the beers. The bar also sells café dishes, coffee and tea. Recommended for the pleasant, straightforward house beers.
67 Étterem & Bistro, Oskola Utca 4
Open : Mon-Sat 11:30-23:30 Sun Closed
A restaurant with a good well chosen range of craft beers. Really nice interior and the food is incredibly good! A cool vibe and a cozy ambience, imaginative cuisine, impeccable service.
Prága, Fő u. 1
Open: Mon-Thu: 11:00-0:00 Fri-Sat: 11:00-2:00 Sun: 13:00-23:00
A nice café in Szekesfehervar, with a traditional, brown interior, old fashioned quotes painted on the walls and a nice, laid back ambience. Although it is named after Prague, their Czech beer selection is poor with lots of Barnard beers, an unfiltered Pilsner, Tmavý, Lager and a Polotmavý. Bottled beers includes a full range of Erdinger beers and a few other mainstream German beers. A range of the sweet, artificial Belgian fruit Lambieks from Timmermans. Coffee, tea and pub grub avaliable. Prices are dirt cheap by Northern European standards and well below Budapest level. This place is no where outstanding, but far better what you can expect in the wine country Hungary outside of Budapest.
Sörcasino, Mátyás király krt. 23
Open: Sun-Thu 14-24, Fri-Sat 14-2
Located on the Main Street. Pleasant surroundings with a mix of local, national and international beers plus a cider on tap. Mostly the usual stuff. Inside its a dark, standard pub, for summer nights it is great to sit outside and enjoy watching people pass by. Price is reasonable for the location but service can be slow.