St. John's, city on Newfoundland island off Canada's Atlantic coast, is the capital of Newfoundland and Labrador province. Its harbour was settled by the British in the 1600s. Looking out over the city of St. John's, you may be reminded of a mini San Francisco (minus the cable cars). St. John's provides the ideal balance between nature and nightlife, from the East Coast Trail and its stunning scenery to the colourful entertainment district along George Street. Although it's the largest city in Newfoundland, the vibe is still very small-town. You'll feel welcome in the City of Legends! Downtown is known for its colourful row houses. Above the city is Signal Hill with walking trails and the site of the first transatlantic wireless communication, Cabot Tower, which commemorates John Cabot's discovery of Newfoundland. Essential St. John's places to see, ways to wander, and signature experiences Signal Hill, Cape Spear Lighthouse, Jellybean Row Houses, Quidi Vidi and The Basilica Cathedral of St.John the Baptist. As of June 2022 there are only five breweries so I'll add five of the best pubs as well;
Quidi Vidi Brewing Company, 35 Barrows Rd
A fantastic brewery, the beer and service are both top-notch! Quidi Vidi is in a beautiful area and the brewery has amazing views of the rocks and water. The staff and service are incredible. A decent sized space with a stage at one end. White walls and lots of windows with great views of Quidi Vidi and the water, with picnic tables outside. Also a small beer store for beer to go. There are 14 taps flights available. Some board games available on the shelf. A must visit while in town, but arguably as much for the experience as the beers!
Bannerman Brewing Co. 90 Duckworth St
A great brewery/cafe/Thai restaurant at the east end of Duckworth street. All the beers we tried were brewed to style faithfully and very well. You can tell they know what they're doing here. The food was amazing and paired very well with their beers, Inside there are long communal tables mostly and some seats at the bar. The big garage door open is lovely for a shaded indoor/ outdoor option, great patio when the weather permits too! They also have a food menu. Staff members are excellent!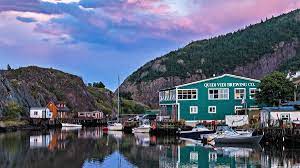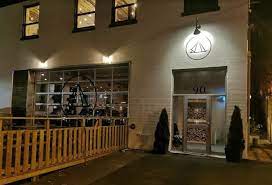 YellowBelly Brewery, 288 Water St
Located in a historic building with in-house craft beers, wood-fired pizzas and burgers, with brewery tours. An atmospheric upstairs bar and a darker "speakeasy" bar called the Underbelly, with an L-shaped bar and a bunch of restaurant tables The brewhouse and fermentation vessels are visible as you walk around both levels. The hospitality staff go above and beyond, extremely friendly and knowledgeable. Great house beers and food well worth a stop by to check them out.
Gahan House Harbourview, 135 Harbour Dr
A large modern brew-pub restaurant. They brew around 10 core beers and seasonal's. They do flights. Big food menu so lots to choose from. Give it a go.
Mill Street Brewpub / Bier Markt, 135 Harbour Drive
In a seafront block likely all owned by AB-InBev? The Biermarkt bar to the left as you walk in. Mill St is a huge bar with an upscale modern decor that works better in some areas than others. The upstairs windows have nice views out onto the harbour. They have a long beer list with rotating taps from each of the Atlantic provinces, and international options. Friendly servers. Nice spot to watch the harbour. Beyond the house beers the beer list will be impressive to novices but generally less so to the hardcore beer geek I expect? Worth a look.
The Merchant Tavern, John's, 291 Water St
A slick modern place across the street from Yellowbelly. A large central C-shaped bar, lots of wood and iron decorate the industrial space, bar tables, restaurant tables, more comfy bar stools overlooking one of two open kitchens. Six taps serving a good range of local micro brews and good food. Worth going well out of your way to try this place.
Mallard Cottage, 8 Barrows Rd
A cosy, rustic cottage turned restaurant offering a changing menu of locally sourced seasonal meals, plus a decent selection of local craft beer on tap. The restaurant is in the oldest remaining house in St. John's. Nearly everything on the menu is sourced locally. Like placing a modern restaurant in a 200 year old cottage, the style manages to combine classic, homey, contemporary, and fresh. It really is a special place and its significance helps define contemporary dining in Canada. Mallard deserves its spot among the best restaurants in the country. Located literally across from the Quidi Vidi Brewery. Great friendly attentive staff.
Inne of Olde, 52 A Quidi Vidi Village Rd
If you're looking for an authentic screeching experience in Newfoundland? This is the number one place! From the cosy atmosphere to the quirky decor, the staff are incredibly friendly and you'll find yourself staying (and meeting new friends) all night! Linda (the owner) is one of the warmest, most friendly and kind people you will ever meet. The bar is full of kitsch, including the fake IDs embedded in the bar top, a jumble of laminate tables, dusty hockey gear, black-and-white photos, framed newspaper clippings and faded NHL jerseys. A classic Newfoundland place, or so I am told? Pay this place a visit you will not be sorry.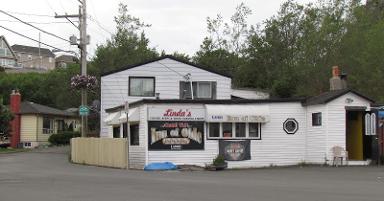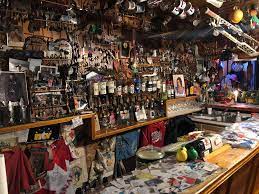 The Ship Pub, 265 Duckworth St
When human civilization finally falls, and future beings unearth our buildings and dwellings, their finest minds will ponder the existence of The Ship as a place where people met below ground to socialize and enjoy music. Until that day, it's yours to enjoy. Located just past the Supreme Court down a small alley, but well signed on Duckworth Street. An L-shaped bar, stage, small pool table, restaurant tables. Very friendly staff and clientele. Great staff, good beer, great craic!
Crow's Nest Officers' Club, 88 Water St
Truly a must if you are tickled by Canadian mariner history. An awesome pub. Very historical. Originally an officer's club founded in an old warehouse in 1942 to serve the Canadian sailors in the Second World War, it's now a private club that allows visitors to come in, drink, and have a look around. There is no sign on the outside, just a small historic plaque and starboard and port lights over the door. You enter that door and climb a narrow staircase to a small bar and a fireplace where sailors used to warm themselves after serving on open-deck ships during the war. As you would expect, it's filled with memorabilia from a spike hammered into the floorboards during the early days, to ship badges and deck paintings, to a periscope from a German submarine that surrendered to Canadian forces. That periscope is visible from outside the building, so it's another way of finding this gem. And, yes, it has craft beer, the entire range of Quidi Vidi beers. A must-visit while in St. John's.
I hope you found my guide to the brewpubs and bars in St. John's - Newfoundland useful?
Now you just need to get yourself out there and start the beer adventure for yourself!