Saarbrücken is the capital and largest city of the state of Saarland, Germany. Saarbrücken is Saarland's administrative, commercial and cultural centre and is next to the French border. Saarbrücken was created in 1909 by the merger of three towns, Saarbrücken, St. Johann, and Malstatt-Burbach. Check out Visit Saarbrücken for lots of great things to do and places to go.
Saarbrücken had four brewpubs as of April 2020
Saarbrücken is naturally sited on the river Saar by the French border, in the south-west corner of Saarland. Not particularly a motorist friendly city, it is best to find one of the central parkhouses and walk to the old city where a particularly fine brewpub awaits;
Gasthausbrauerei Stiefelbräu / Zum Stiefel, Am Stiefel 2.
Open: Mon to Sat 11.30-01.00 Sun 17.30-23.00
The 'Brauereigasthof Zum Stiefel' is located at the St Johanner Markt, and started life as a brewery run by Daniel Bruch back in 1702. Now in the 8th generation the Bruch family moved the brewery to a new location in 1856 and after renovation the old pub was re-opened as a brewpub in 1990. It is possible to try a range of beers at the 'Stiefel' from their own, and the main Bruch brew's The pub is like in many traditional German Brauhäuser, there is a great ambiance. Lots of small rooms and an outside terrace.
The beer range includes :-
Hell Stiefel 12% Stammwürze 4.5% Alc - a smooth refreshing Pils type
Dunkel Stiefel - again very smooth taste and a quickly emptied glass
Zwickelbock - very dark with dry aftertaste, between an Alt beer and a Bock
Zwickelbier - a Munich style Weissbier (Wheat), lightly carbonated and very refreshing
Landbier 1702 - from the main Bruch brewery, a dark beer with a slightly malty and metallic taste and less interesting compared to the other beers.
All of which we have tried a number of times and the Hell stiefel was the best Pilsner type beer we have both had for a long time. The service in here is excellent the staff speak very good English. They serve traditional Saarland meals, which are quite robust and filling, which naturally means that without table reservations it is very difficult to find a place to sit.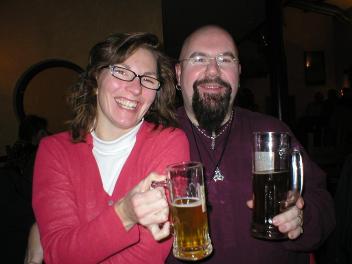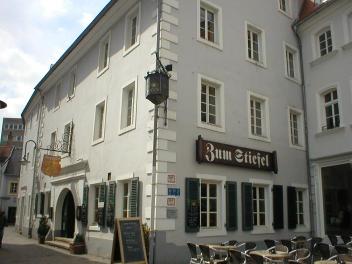 Brauerei G.A. Bruch, Scheidter Strasse 24-42.
Open: Shop Mon-Fri 08.00 -17.00, Sat 09-13.00
Located in the St. Johann district in Saarbrücken and founded in 1702. G.A. Bruch the oldest company in the city of Saarbrücken and at the same time the second oldest company in Saarland. This big regional brewery, is Saarlands #2 close behind Karlsberg. The Bruch family has owned the Bruch family for over 300 years and continues to be managed independently. The eighth generation of the brewery has been managed by Thomas Bruch since 1980 and is currently preparing for another generation change? Tours are available via their website, and there is normally a couple of free samples. If you are a brewery geek its worth a tour or just visit the shop for some good bier.
Flammings Flammbräu, Im Almet 63
Open: Tues - Sat 16.00 - 23.00 Sun 11.30 - 22.00 Closed: Mon
Flammkuchenhaus located about 5-10mins outside the city in a suburban gardening area, in the middle of nowhere. Beware as parking can be quite difficult? They have 5/6 tap beers of there own unfilted beers and flights are available. They also have 10+ more bottles in fridges. Inside its quite modern with pine tables and benches, the copper brew kit is centrally located, and also the steel conditioning tanks. Outside there is a small beer garden. The do All-You-Can-Eat Flammkuchen! (Starts from 6 p.m. - Sundays from 12 a.m.) which is around €20 Wednesday also including "all you can drink" Brauhof-SAAR beer €24 🍻 The beers are above average so its well worth seeking out. Note; They only accept cash! The staff are very friendly and helpful. Overall great food & great beer what more can you ask for?
Gasthausbrauerei Sudhaus, Sudstrasse 7, Dudweiler
Open: Tues - Sat 17.30 - 22.00 Sun 11.30 - 14.30 Closed: Mon
Located about 10kms outside of the city centre in the Dudweiler area of the city, but well worth a visit if you're around Saarbrücken.A clean and cosy brewpub and restaurant, the dining room is quite formal with white table cloths etc. But there is a more relaxed bar area were the small copper brew kit is located next to the kind of old school living room area. The beers are of top quality and worth the trip alone. There is also an enclosed courtyard that is really nice in the summer. The kitchen serves up simple but very good food. The staff are very friendly and courteous. It is also 🐶 dog friendly.
Nauwies - Café Bistro, Nauwieserstr 22
Open: Daily 09.00 - 01.00
A modern bar on a corner with some outdoor seating, located just north of the Cathedral. Draught beer is from Karlsberg. The food is traditional hearty local dishes and is excellent value for money.
Old Murphy's Irish Pub, Sankt Johanner Markt 11
Open: Daily 10.30 - 03.00
Don't get fooled? This is not another run of the mill Irish bar with Guinness, Kilkenny and a few lousy local macros. Located on the charming Sankkt Johannmarkt, this pub has a good selection of craft beers, both German and International, perhaps the best selection of beer in town! There is a rotating special beers board. They also prepare beer cocktails. The food is nice but pretty much in the British tradition, but kitchen is always open. It can get really busy especially when there is live music on. The staff are friendly and knowledgeable. The prices. I would definitely recommend a visit. Oh and they speak English, which is not particularly common in the city.
Stube 8, Cecilienstr 8
Open: Daily 19.00 - 03.00
This is a cafe-bar with a cool atmosphere is particularly cosy and relaxed, the staff are super friendly and courteous. The drink prices are okay. Just the right thing if you want to sit together comfortably in one of the antique chairs or couches. the lighting is cool using old bottles etc... There is a billiards table and some board games. This place advertises itself as having "craft beer", but it is a little generic in that sense. But hay Ho its worth nipping in to see whats on?
Saarbrücker Beer Society, Mainzer Str 5
Open: Tues - Fri 10.00 - 17.00 Sat 10.00 - 14.00 Closed: Sun - Mon
Located close to the old town. This is the probably the only reliable place to get decent craft beer in Saarbrücken. Run by a very nice couple, who really know about beers, they even do beer tasting events. It is quite a small shop, but has some decent options. Note it has limited opening hours.