Iqaluit is the capital city of the Canadian territory of Nunavut. It sits on vast Baffin Island in Frobisher Bay. Iqaluit (ee-kal-oo-eet), feels like a different country. All the signs are in Inuktitut and you'll hear it widely spoken in the street. This, scruffy, dusty, colorful Arctic town, with its spectacular natural setting around the bay and its moon-base buildings, houses a fascinating mixture of Inuit professionals, politicians and dropouts, Johnny-come-latelies from around Canada (and beyond). The island is known for its ice-capped mountains and tundra valleys. Near the city, Sylvia Grinnell Territorial Park is home to caribou and Arctic foxes. Qaummaarviit Territorial Park, on a tiny island near the city, contains archaeological remains of the ancient Thule people. It's surprisingly cosmopolitan, a good introduction to the region, and has good places to stay and eat, as well as some wilderness-lite to explore on the outskirts of town.
For more information visit the cities web-site;
Nunavut Brewing Company, 2025 Iqaluit Ln
Such a treat, this far north, to find a real brewery, creating some outstanding beers. You will particularly like the industrial setting: YES it is a real brewery, not a themed restaurant (they do not serve food but you can bring your own or order in). Well done Nunavut Brewing Co. Well done Iqaluit, one more reason to visit this unique city. Cheers! Probably some of the most drinkable microbrewery beer you will have! Most breweries go crazy to be unique but forget to make a good beer. This place nails it! A large circular bar with the copper brew kit behind it some cool barrel lighting and wooden furniture. A great atmosphere this place rocks.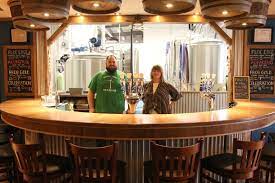 The Storehouse Bar & Grill, 505C Astro Hill
The Storehouse is a pretty awesome pub-style restaurant with food, drinks and events. It is located in the Frobisher Inn. Still the only mainstay to drink beer in Iqaluit. Cans of mostly macros are usually on offer but they do get craft beers here and there, and I'd also expect this to be the go-to spot for the upcoming locally brewed craft beer. The Storehouse is a fun, cool environment with vintage snowmobiles hanging from the ceiling and great burgers. Its the perfect place to meet with friend for grub and beer any night. Wednesday wing nights are a famous local institution (primarily because they're cheap that night). Everything is expensive. But up here there's no other choice.
Beer and Wine Store, 1070 Allanngua
Opening an account is mandatory even if you're from out of town, and there's a fee for that. Beer selection is standard macro with a few common craft beers thrown in. Prices are.... well, you'll pay whatever they charge you, really. This is an old-school approach to beer sales that will probably seem very out of place to our craft beer inundated sensibilities from the south but it's the only place in town to get any kind of beer outside of the few restaurants. Be prepared to Que as well as this place get really busy when it opens take ID.
Well thats more or less it beer wise, so here are a few other cool places to visit while up North!
Black Heart Café, 1405 Masak Ct
This hip happening coffee shop is a bright, happy colorful and stylish place with lots of seating. It is clearly very popular and was busy every time we went in. The coffee is great, and they have a selection of delicious and fresh sandwiches, soup, and house-made baking.
The Granite Room, 1056 Mivvik Street
The Granite Room is located in the Discovery Hotel's Restaurant. The Granite room is touted as being the nicest place in Iqaluit to eat or celebrate. Delicious food and great customer service. The staff was friendly and welcoming. Fancy but expensive restaurant.
Hunters Market, 743 Ben Ell
This is not what it sounds like. It is a small convenience store with take-out pizza. Amazing food! Newfie fries and Italian fries are a good twist on poutine! The poutine and the platters are great as well! Place is a hotspot during lunch and dinner time!
I hope you found my guide to the brewpubs and bars in Iqaluit - Nunavut useful?
Now you just need to get yourself out there and start the beer adventure for yourself!