Fredericton is the capital of New Brunswick in eastern Canada, on the St. John River. A quaint and small city with a big city feel, New Brunswick's capital city is rich in culture, history and riverside beauty. Fredericton is known as the 'city at the edge of nature. Also known for its Historic Garrison District, an 18th century British army base now home to a Changing of the Guard ceremony, artists' studios and an outdoor theatre. The Beaverbrook Art Gallery's Canadian and international collections are nearby. Just south, Fredericton Boyce Farmers Market sells seasonal produce and crafts. For more information check out the official tourism site. Otto's Fun Fact; The world's longest covered bridge, also known as the "kissing bridge" is found in New Brunswick. It is an unwritten rule to kiss when you drive through the bridge. The tradition dates back to the years of horse and wagon traffic when young men stopped halfway inside the bridge to share a couple of kisses with a lady.
Fredericton is known as the craft beer brewing town of Canada! The city has the highest concentration of breweries, meaderies and cideries in Atlantic Canada! Saying that there are only 12 in the city but they produce some great tasting beers.
Trailway Brewing Co. 280 Main St
A wonderful brewery with very knowledgeable and welcoming staff. Lots of variety of beers, ciders and even seltzers. Quite hard to find, located behind a small street mall located at the end of a strip mall off Main street, this place is modern, yet cosy, big patio in the back overseeing a lumber yard. Accessible via the Northside trail for the bikers. 8 Beers on tap and flights of 4, focusing on the juicy, the bold and the funky. I would definitely recommend for anyone in the area.
The Picaroons Roundhouse, 912 Union St
A beautiful place along the St John River, located in a former roundhouse. If you walk there you are able to use the Bill Thorpe Walking Bridge. At Picaroons, they do beer differently. They have an open-fermentation system which is unique in Atlantic Canada. The decor is fantastic, modern meets old Victorian. Friendly staff, and an amazing atmosphere. Prices are reasonable, with the added benefit of supporting a local company. You look around Picaroons and don't see a single unhappy person, it is such a great community vibe to be apart of. A good menu too, with a lot of variety. The outdoor patio in the back is to be seen. Like a gem oasis on the lawn!
Graystone Brewing, 221 King St
Winter, Spring, Summer, or Fall, this place is great. It's always packed, and for a good reason. The selection of local beers on tap is excellent. Typical ex garage set up with sliding doors, big patio, good service, very modern and woody vibe the atmosphere is cool. There's a fireplace inside and for the winter, there's a modern fire pit of sorts outside as well. Occasional food trucks outside.
York County Cider, 38 Main St
A cool cidery on the north side of town, surprisingly good. Located next to a wing spot (same owners), the place looks like a hippie joint, with mix of bric à brac furniture, with tables made of this big wooden rolls for cables, funky vintage couches facing out onto the patio through the open garage door create a cool vibe. Also must mention the "Goat Sofa" in front of the brew vessels! 10 ciders and 4 beers on tap. Some board games if you'd like to play. You can choose your music within a lot of vinyl and the staff to play it for you. Plus occasional live acts. Many things to have a good night.
Red Rover - The CiderHouse Outlet, 880 Hanwell Rd Unit 303
This is definitely a under the radar establishment, they been opened since 2014 and it is quite a unique cidery, from being located in a downtown and not a country like all the rest. The place is a tap room and store, with a patio in the summer, it has a funky vibe to it, definitely not your country atmosphere at all. Some interesting variety of ciders, some more traditional, others more original. They also have beer by local brewers on tap and to go. Service is fast, knowledgeable and friendly and there is no doubt in my mind that if you enjoy local craft beers that this is the place for you. If you get hungry then the Abby Cafe is right beside The Cider house in the same building. Enjoy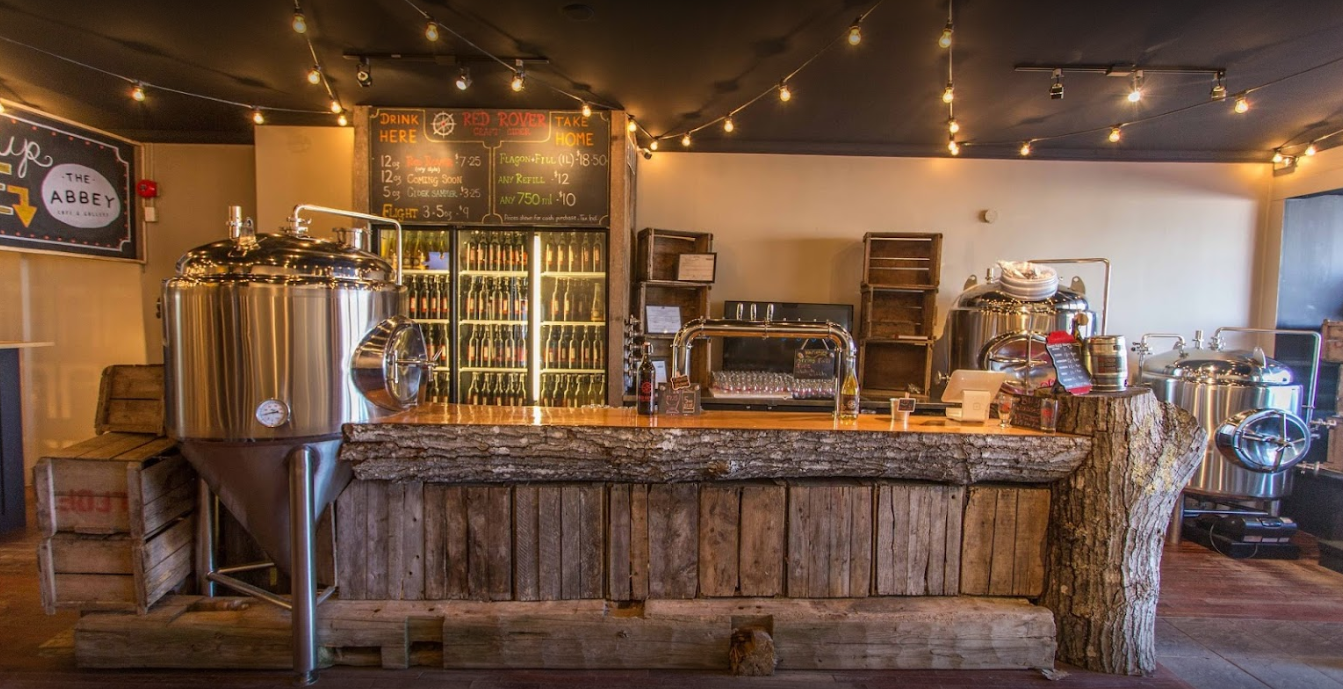 Grimross Brewing, 600 Bishop Dr
Located uptown in an commercial area of malls, and chains, this place is in a little strip mall off the main drag. The place as an industrial vibe, with tables made of this big wooden rolls for cables. They have live music and trivia nights. Snacks only, but they do bring on a food truck on weekend. A plus point is they have a delicious selection of specialty Belgian beers. The staff are friendly. Stop if you are in town for good beer, cool swag, and solid live jams playing.
Maybee Brew Co, 559 Wilsey Rd #4
A great place with a very unique atmosphere. Super friendly staff and hosts for the open mic nights. Located in an industrial sector, a bit far if you dont have a car or bike, this taproom has a large sitting area, in 2 zones, as well as a cosy nook in the back, a big mural and a big patio for summer months, plus super friendly service (in French!). The flight of 4 If you cycle in, the first drink is 15% off!. The beers are all solid, no duds; and they are starting to barrel age some beers. Food trucks on weekend, as well as summer time kitchen coming. A few snacks available (or grab a samosa at the nearby gas station). A very promising place go visit them.
The Cap Record Store, Wilser's Room, and The Nest, 362 Queen St
A cool little brewery/record store/event bar and an on-site nano-brewery (CAP) in downtown. The three different bars give a nice choice in atmosphere and the patio is fantastic in the summer. The Cap team does a great job at supporting local artists and community events and offering a fun diverse lineup of performers throughout the year. Wilser's room has a great selection of local craft beer and a chill atmosphere with friendly staff.
King West Brewing Company - (RustiCo.), 304 King St
Located downtown in a pizza restaurant, the place is cosy, with a dining room and a long bar. Service is friendly. A good menu of locally-sourced food, snacks, pizza, sandwiches and pasta. The brewery is visible behind the bar. Flight of 4
Mama's Brew Pub, 500 Brookside Dr
A vibrant brew pub with delicious choice of food, thet originally opened in 1992. Rustic yet sophisticated decor. Feels very homey and the protocols for COVID19 are well thought out and executed. Friendly staff and delicious food. The prices were really good too compared to similar restaurants in the area. Great house brewed beers for local brew master using locally source ingredients.
Fredericton Craft Beer Festival
The Fredericton Craft Beer Festival was launched in 2013 and has quickly become one of the fastest growing festivals in New Brunswick. Each year, FCBF brings together the largest selection of local beer available on the East Coast. Since it was founded, FCBF has grown exponentially and hosted sold out events that have grown and evolved right along with the industry. For the ultimate beer-tasting experience, add the Fredericton Craft Beer Festival to your East Coast bucket list. Held annually in March, the one-stop-shop lets craft beer enthusiasts and casual drinkers sample a substantial variety of beers, ciders and mead from over 60 breweries across the Maritimes.
I hope you found my guide to the brewpubs and bars in Fredericton - New Brunswick useful?
Now you just need to get yourself out there and start the beer adventure for yourself!