Łódź (pronounced woodge) is a red-brick city that grew fabulously wealthy in the 19th century on the back of its massive textile industry, then went into decline after WWII. Since 2000 it has been gradually reinventing itself as a modern metropolis (it is Poland's third-largest city) and rebuilding its once-crumbling city centre.
The rejuvenation of ul Piotrkowska, the main pedestrian thoroughfare, and the creation of malls and business centres within the decaying husks of old industrial complexes has been followed by the construction of the impressive EC1 complex (opened 2016) and the modernisation of the main Łódź Fabryczna train station.
Łódź today is a city famous for its architecture (both historic and modern), its colourful street art, its Jewish heritage and its many fine museums and art galleries. It is also the centre of Poland's film industry.
Walk Poland's longest street; At 4.2km, Piotrkowska is the longest commercial street in the country – and probably the most eclectic. From its northern tip at Plac Wolnosci (Liberty Square) to the junction with Pilsudskiego, you'll find a hotchpotch of architectural styles from the neo-baroque House of Schiebler to Wilhelm Landau's Bank House, adding some art nouveau into the mix. Then there's "Holly-Lodz", the city's take on Hollywood's Walk of Fame (it makes more sense if you remember how to correctly pronounce Lodz). Pavement stars honour Roman Polanski, a graduate of the city's film school, and pianist Arthur Rubinstein.
Łódź's Jewish cemetery was founded in 1892. The largest Jewish graveyard in Europe, it contains around 68,000 surviving memorials, including the huge, domed Poznanski family mausoleum. The area known as Ghetto Field (Polem Gettowym) is the final resting place for 43,000 victims of the wartime ghetto. Take tram 6 from ul Kościuszki to the end of the line at Doły, continue north to Inflancka, then double back down cobbled ul Zmienna to find the entrance.
Getting there:
Wizz Air (wizzair.com) has several daily departures from Luton and regional airports to Warsaw Chopin, about an hour from Lodz. Ryanair (ryanair.com) flies direct to Lodz Wladyslaw Reymont airport six days a week from London Stansted, plus from Liverpool to Warsaw Chopin, about an hour from Lodz by train.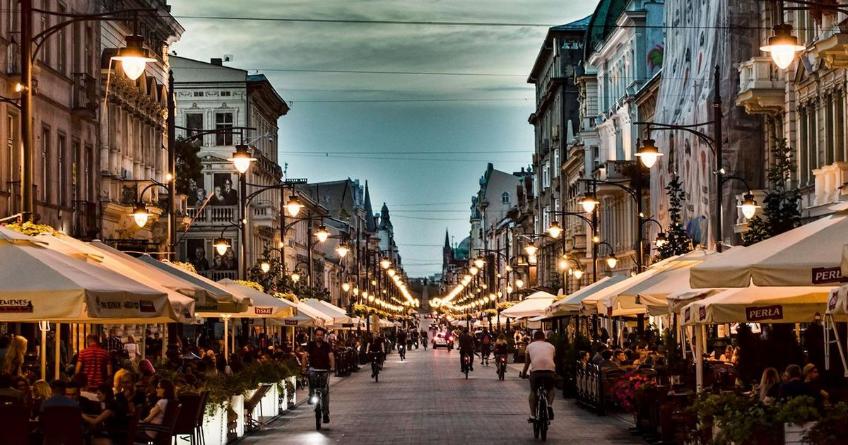 ...... rambling over! So lets get straight at it with the three brewpubs in the city (May 2022);
Księży Młyn Brewery & Restaurant, ul. Tymienieckiego 22/24
Open: Mon - Sun: 10:00 - 20:00 Tues - Thurs: 10:00 - 22:00 Fri - Sat: 10:00 - 23:00
This modern brewpub looks great from a distance, mainly due to the clean, red brick it is built from. Inside you feel like a member of the Łódź elite - the place is decorated with taste, you can see the glamor and "a little bit of" luxury. The combination of post-industrial elements, modern furniture, massive wood and raw brick walls is very interesting. In the main room is a large room with huge windows, practically the entire length of one of the walls is occupied by a huge bar, in front of which the brewing equipment shines with the colour of copper. They have some exceptionally tasty beers such as Extra Special Bitter, Pils, Koźlak, Wheat, Porter, March, American India Pale Ale, Belgian Tripel, Russian Imperial Stout, Pacific Weizen, Schwarzbier, plus they also contract brew for Brewery Piwoteka.
Browar Klubopiwiarnia, Narutowicza 7/9
Open: Sun-Thu 16.00-23.00, Fri-Sat 16.00-01.00
Klubopiwiarnia is a decent place if you want a good burger and you are a big group. They take reservations and the is a huge open space with industrial brewery decor. They make their own beer, but don't expect anything amazing the IPA is the best.
Browary Łódzkie, Północna 35
Open: Daily 10.00 - 18.00 Closed Sun-Mon
A typical brewery store known from the Lodz Brewery everything at an affordable price, but nothing more. Shop spacious and clean. Service very nice and helpful. They are also tour by appointment only.
Piwoteka Narodowa, ul. 6 Sierpnia 1/3
Open: Sun-Thu 14.00-00.00, Fri-Sat 14.00-02.00
Located just off the big main street is the brewery bar of Piwoteka an absolutely essential place to visit in Poland, one of the only places to get Piwa Regionaly on draft, and the only place in Lodz. This is bar has a cool & comfortable interior although it is dimly lit, but the atmosphere was fantastic, & the prices are great. The commitment to presenting beers properly, via 13 taps, and 2 beer engiens, mostly with Polish craft. contribute to the charms. The guys who run it are extremely personable and helpful.A must do visit.
Z Innej Beczki, Moniuszki 6
Open: Sun-Thu 15.00-00.00, Fri-Sat 15.00-02.00
The most beautiful bar in Lodz? You descend to an inner courtyard, that is probably a great place to sit in in summer, as its surrounded by tree's and lots of other plants. The main area of the pub is entered through a wide glass vitrine to a long classically decorated bar full of taps, the excellent choice is displayed on a side board, the service is attentive and the quality of the beer is outstanding. Otto says another must do bar.
The Eclipse Inn, Piotrkowska 80
Open:Mon-Fri 16.00-23.00, Fri-Sat 16.00-01.00 Closed Sun.
A very traditional looking English pub with hand-pumps, a good selection of beer's and courteous staff. Located in basemen the decor is awesome, decorated with coasters, beer posters and an exhibition of old bottles and cans. All this creates a nice atmosphere in this small pub. A great music selection (hard rock, heavy metal and stuff) plus you can order pizzas from next door and they deliver. The draft lines were very clean and beers were fresh.
Piw Paw Łódź, Piotrkowska 147
Open: Daily 11.00 - 00.00
If you have been to the Piw Paw in Warsaw then you know what to expect, 103 taps, pints only. Wall's covered in bottle tops and graffiti with a huge bar along one wall. No food. Friendly staff. Tick central for beergeeks.
All Star Klubokawiarnia, Piotrkowska 217
Open:Mon 15h-21h Tue-Wed 15h-23h Thu 15h-00h Fri 15h-02h Sat 12h-02h Sun closed
Located in a hip and renovated area with small bars and restaurants, this is a really fun late night hangout. There are lots of cosy couches to sit on and modern tables and chairs. You will be more than pleasantly surprised by the amount of (mostly Polish) craft beer they have. All bottles, from Pinta and the like, and very reasonably prices. The pizza is also pretty good. Prices for both beer and food very reasonable, also given the area. Well worth a visit.
Chmielowa Dolina, Piotrkowska 123
Open: Daily 14.00 - 00.00 or later!
Situated in a prime location in the middle of Piotrkowska. Looks more like a Cafe then a bar with low comfy sofas and big wide tables, also hops hanging from the ceiling add a touch. Small but good choice of beer on tap and a large bottle selection that you can also buy to take out at shop prices.Good cafe style food. Overall a nice leisurely place with a pleasant ambiance.
Bobby Burger Manufaktura, Drewnowska 58
Open: Daily 11:00-00:00
The unique combination of a multitap pub and burger bar. The restaurant boasts 8 taps with regional beers and craft brews.
Piwoteka Sklep, ul. 6 Sierpnia 1/3
Open: Mon-Sat 12.00-22.00 Closed Sun.
A bottle shop near the bar by the same name. Probably one of the best in Poland? Hundreds of beers....you could tick a lot of Polish beers here. There were also beers from Mikkeller, To Ol and Evil Twin and a few Italian and English beers as well. Nice place with friendly staff can help you. It is also on-line shop.
I hope you found my guide to the brewpubs and bars in Łódź useful?
Now you just need to get yourself out there and start the beer adventure for yourself!
Go grab a locally brewed pint (or 2) and support your local brewers!